Archive for the 'Events' Category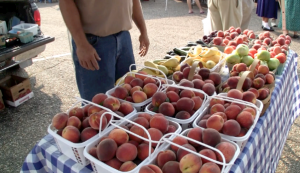 Lake Martin vacationers: MainStreet Alexander City hosts a farmer's market every Saturday morning from 7-11am.  This is a quintessential summer activity;  if you're into fresh produce, local honey, goat cheese, BBQ sauce, soap, herbs, and baked goods, head downtown.
On any given Saturday morning you're sure to run into the Jones family, Lake Martin homeowners from Atlanta, who are hip to things culinary, and fans of local produce. Despite having a world of foodie options in the city, they frequent the Alex City farmer's market (and then the Piggly Wiggly meat counter right up the street) and create fantastic dishes to serve lakeside.  If you're lucky enough to be invited to dine with them, leave your cooler of Natural Light and pimento cheese at home.  Allow Mr. Jones to set the menu.
We took our own family trip to the farmer's market, and filmed this quick video so you can check it out too:
The Lake Martin community extends well past the shoreline into the small towns and countryside around it.  The more you know about the area, the more you will feel at home here.  If you need help finding that perfect lake home, or just want some ideas of things to do while you're here, give me a call at 334 221 5862.
Sea Ray and Russell Marine are once again bringing Aquapalooza to Lake Martin, Alabama, – on July 23, 2011.
Aquapalooza is a free, on the water concert that you can boat up, anchor, and go dance by the stage.  It is tons of fun, and, in my opinion, becoming the 4th big lake holiday behind Memorial Day, 4th of July, and Labor Day.
Lake Martin has experienced two really big Aquapaloozas – the nationally promoted signature event in 2009 featuring Alan Jackson, and this pretty doggone big event in 2010 with John Anderson.
In 2011, the headliner is Sawyer Brown.  Here's the full lineup:
Lake Martin Aquapalooza 2011 Lineup
Sawyer Brown
Rhett Atkins
Chase Rice
Derek Welsh and the Cold Hard Truth
Lake Martin Aquapalooza 2011 Schedule
11 AM – 7 PM on July 23, 2011.
Memo to all you fast timers – we're on Central Time.
Lake Martin Aquapalooza 2011 Setup Tips
The prior years of fun have given us all some valuable experience. I shot a quick video below to go over some tips for Aquapalooza on Lake Martin.

Here are some more Lake Martin Aquapalooza 2011 tips:
Have a sober driver and sober spotter – I say this in the video but it's worth repeating. The driver will need someone at the front of the boat that is looking out for other boats, swimmers, kayakers, etc.
Obey all Alabama laws – if you're coming from out of state, study up.
Idle speed only – west of Kowaliga Bridge is idle speed only until you get to Governor's Island. The surest way to get pulled over by the AL Marine Police is to be above idle in this zone. Make even the smallest wake and they will hammer down on you.  Quite frankly, you deserve it.
If you anchor up, use an anchor line – so many times I see folks throwing out their brand new mushroom anchor that is tied to ski rope.  Bad idea. It may be easy going down, but at the end of the day when you are hauling in 75 feet of it, and it's slick, that thin ski rope will burn your hands.
If you swim to the stage, use a PFD – it looks like a short swim, but trust me, you will get tired. Swim with a life vest on your person.
Bring twice as many boat bumpers than you think you will need – even if you only use 2 to attach to your pier, you will need a bunch more when your friends (old and new) sidle up to you and anchor with you.
Buy all your provisions locally – OK, so I'm a big believer in supporting the Lake Martin locals, yes.  But on the practical side, I can tell you that the local C Stores will have plenty of ice, snacks, and beverages.  It's the same price as your hometown's.  Unless you just like to load a cooler 2 days in advance, the smart move is to get it in theater.
Take plenty of pics and video – you won't believe how much fun it is to look at them later.  Local Lake Martin photographer Kenneth Boone usually has the best ones on his SmugMug account here.
Tweet it out – if you're on Lake Martin and hip to twitter, use hashtags of #lakemartin and #aquapalooza and @SeaRayBoat
Check in on FourSquare – there's a musical event set up on Foursquare – Aquapalooza on Lake Martin
Homes For Sale On Lake Martin Near Aquapalooza 2011
Do you have some time to kill, and maybe would like to cruise by some waterfront homes that are for sale near Lake Martin's Aquapalooza site at Kowaliga Marina?
Click on the Request List link below:
CLICK HERE TO REQUEST HOMES FOR SALE
You will be asked for your name and email, and then you will be emailed two lists we have compiled of waterfront homes for sale on Lake Martin right now. One list is east of Kowaliga Bridge, the other is west of it. This list is from the Lake Martin Area Realtors' MLS, so it's any brokerage's listings, not just mine.  Also, don't worry, we DO NOT SELL, GIVEAWAY, or otherwise distribute your info.
Have a fun and save Aquapalooza 2011 on Lake Martin!
Singleton Marine on Lake Martin hosted the Slingshot Wakeboard, Victoria Wakesurf Demo and Rail Jam on Saturday, June 25th at their eastlake location –  Blue Creek Marina.  I am sorry to post this update so late, but I figure better late than never. It was a really great time.
I took my kids and nephews because I thought it would be fun to watch the pros show off their skilz.  But they did much more than that . . .
They had 4 boats taking folks out for lessons, and we spent at least an hour on the water with these guys.  They were great with the kids, generous with their time, and pretty good behind the boat, too.  I caught it all on tape, so check in out:
My nephews are going back for lessons later this summer. They already knew how to get up on a wakeboard, and the pros helped them fine tune some tricks and tactics.  One of my sons tried it also, he had never ridden a wakeboard before, and they got him up on his 3rd try. After he got up once, he went three or four more times and we all had a blast.
To top it all off, we came back and watched the pros go over a rail that they had floating in the water by the gas docks, and they gave us free pizza!
If you hear about one of these events going on at the lake, I encourage you to go.  They happen all the time at the marinas – boat demos, wave runner demos, etc.  The next event at Blue Creek Marina is on July 22, 2011.
Thanks to Singleton Marine Group & Blue Creek Marina for this one.
It was a class A event and really opened our eyes to a whole new realm of water sports.
Quick Links:
Singleton Marine – Blue Creek Marina
You don't have to own property on Lake Martin to have fun here.  In fact, a day trip on your boat can be a super Lake Martin experience.  I'm not saying you shouldn't buy a home – I need to pay the power bill just like everyone else – but I am saying that you can get a lot of enjoyment out of  just your boat and the people in it.
Pack a cooler.  Find an island and anchor.  Cruise the entire lake.  Tie up at a restaurant for lunch.  Visit friends.  Ski and wake board in the calm waters of a slough.  Enjoy drinks on the boat at sun set.  Not a bad way to spend the day!
I recently sold a home to a couple who had been doing just this : day tripping from Georgia and putting their boat in at River North Marina.  They love to wake board, so they liked the calm waters on the north side of Lake Martin.  They had plenty of Lake Martin day trips and several rented lake houses before they finally decided to buy.  These are great ways to get to know the lake.
If you're interested in day trips to Lake Martin, there are plenty of places to launch your boat.  Click on this link for a list of Lake Martin public boat launches.  Click here for a list of Lake Martin marinas. If you don't have a boat, and would like to rent one for the day, check with the marinas for prices and availability.
If you're a pro at the Lake Martin day trip, comment below and let us know your tips.  Thanks for the input!

New videos of Lake Martin, Alabama, tornado damage and an amazing survival story by a Lake Martin area business.
I spent Friday, April 29, 2011, in the Tallapoosa County Road 34 area.  This area of Lake Martin was the site of much damage – a direct hit from the tornado that passed through on Wednesday, April 27.
The Alabama State Troopers had a roadblock up on County Road 34 to limit traffic flow to the absolutely necessary.  I was shocked and amazed when I saw the damage and destruction the tornado left behind, especially to two area businesses: Kelley's Heating and Air, and The Green Monster Fishing Light.  They are located at about 11003 County Road 34, Dadeville, AL 36853.
I shot a quick video of one of the more amazing scenes I have seen: the tornado picked up weights and threw them about 200 yards.  One of them was a 70 pound dumbbell. It was hard for me to understand how it could pick up something so heavy, with so low a profile and center of gravity. But it did, and did it en route to completely destroying the Kelley metal building and ripping trees from the entrance to Maxwell Gunter Recreation Area.  Check out the video:
I then went and interviewed Ronnie Dennis of The Green Monster Fishing Light.com.  He lives close by ground zero, and his father somehow miraculously survived a direct hit from the tornado while inside the metal building. I found his story to be inspiring, I hope you do, too.
Tomorrow I plan to get back out to the Tallapoosa County area and talk to volunteers and firemen that are working feverishly to help those in need.  As of noon today, Tallapoosa County, Alabama was still not on the disaster area list.  This must be sheer ignorance on someone's part.  If they could see a fraction of the tornado damage here, we would receive some more aid.
Lake Martin stretches over three Alabama counties: Coosa, Elmore, and Tallapoosa.
For more images of the tornado's aftermath at Lake Martin:
Lake Martin Voice Photos on Flickr
Lake Martin Dock Company Photos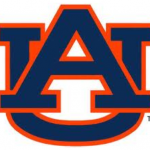 Many people don't realize that Lake Martin is so close to Auburn's Jordan – Hare Stadium. Depending on where you are at the lake, you can be at a football game in 30 minutes or an hour.  In fact, from the extreme east side of Lake Martin you can be there in about 20 minutes. Auburn's home game weekends see a big influx of traffic as college football fans come to the game and spend the rest of the weekend at the lake.  It's a great way to squeeze extra use out of a Lake Martin home.
One if our new listings, 155 Lakeview Drive, has put this Lake Martin/Auburn connection on my mind.  The home is in the Barron Bridge area of Lake Martin, which is as east you can get.  That makes it the absolute closest you can get to Auburn and still have a waterfront home.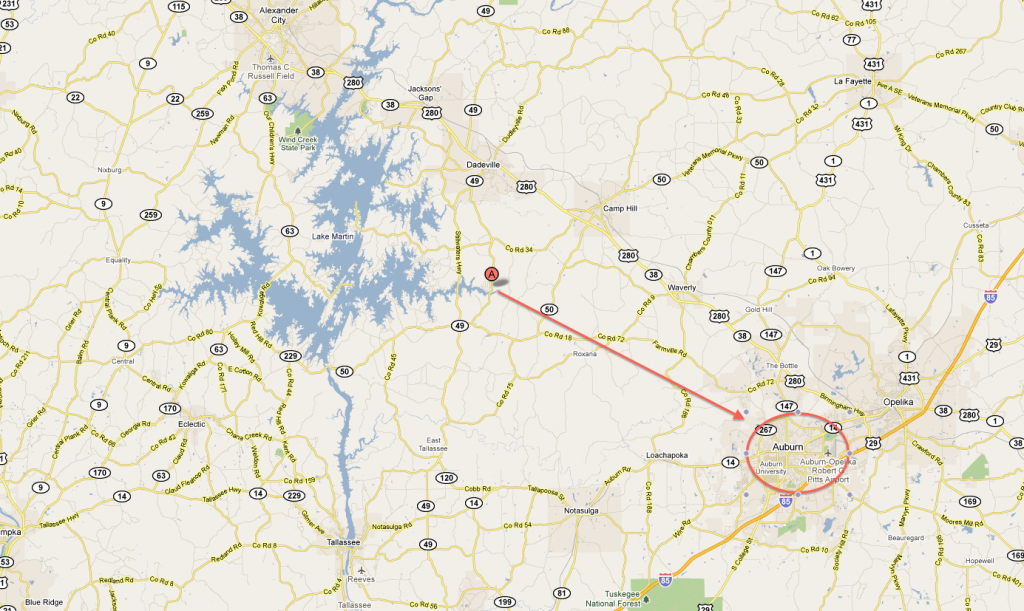 It's an easy drive to the stadium over peaceful country roads.
You've heard about those game day condos –  fans go in together and share them for a few weekends a year. Why not use this home for a game day condo?  Maybe 25 minutes more of a ride, but you get the HUGE bonus of having a waterfront home on Lake Martin to enjoy year round!
Click here for more information on 155 Lakeview Drive.
The Church of the Living Waters at Stillwaters is one of two outdoor, non-denominational, lakeside churches on Lake Martin. It's convenient to those of you who live or vacation on the east side of Lake Martin, and it's a casual (shorts and t-shirts) worship environment right on the shores of Lake Martin.  You can drive your boat to the Sunday morning service – now that's unique experience –  or you can arrive by car, golf cart, or bike.
Guest preachers and musicians rotate through the pulpit from Easter Sunday through Labor Day.  All services (except the sunrise Easter service) begin at 9:00 am.  They also do weddings.
The Church of the Living Waters has a great website, so to get more information and directions, go to  http://www.colw-sw.com/.
Church in the Pines is the other outdoor worship facility, and it's located on the west side of Lake Martin right off of Highway 63, by Kowaliga Bridge and Sinclair's restaurant.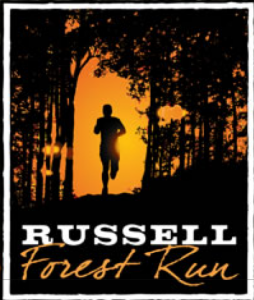 Attention runners (and walkers):  Click here to register for the 2nd Annual Lake Martin Russell Forest Run on Saturday, February 26, 2011!  If you haven't explored the new Russell Forest Trails yet, this is a great way to experience a part of this 20,000+ acre trail system that lies a little north of Kowaliga Bridge, off of Highway 63.  It's also a good reason to make a winter trip to Lake Martin.
I had a good time running the 10K last year, so I'm signing up again. The registration website describes the terrain as "gently rolling," but since I am used to training on some pretty flat ground, it was more than gently rolling to me.  And a little chilly.  But definitely a fun time.  There is a 5K option this year, and you can always walk if you don't like running.  Oh – and the shirts they gave out were that cool, athletic "breathable" kind, – a step up from yet another cotton t shirt (for 10K runners only).  Maybe they'll do that again.
I'm looking for runners and walkers to join the Lake Martin Voice Realty team, and I'd love for you to sign up with us when you register.
Here's a quick video clip from last year's post-party
I recently filmed a hike my family took on some of these trails.  To get a sneak peek at the roads you'll run, check it out:
Looking forward to seeing you there!
Breaking News 10-21-2010 – Steve Northington of Cathouse Marine announces he is opening a long awaited Lake Martin location at 6905 Highway 49 S, Dadeville, AL, 38653.  Their number is (256) 825-3388.
Steve and his staff have long been working their mechanical magic from his Prattville location.  His Lake Martin customers have literally beaten a path to his door because of his awesome service – but they always wondered if he ever would get a little closer to the lake.
Now they have their wish.  Cathouse Marine is located in the former Waterscape Marine building.  It is just north of the Highway 49 aka Blue Creek Bridge. Cathouse Marine's lake location number is (256) 825-3388.
Click Here For A Map To their new location

Cathouse Marine will continue to operate their Prattville location.
As I talked to Steve today, he is lining up work already, so if you would like your boat winterized, or any other work done, contact Cathouse at their site by clicking here!
For those of you that might be unfamiliar with Cathouse's work, he is well known for dispensing free advice on the Lake Martin dot com forum, as well as diagnosing and fixing diverse engine problems – from precision engine timing on offshore racing boats to a restoring power to a sickly antique garden tiller.
Lake Martin Voice Realty congratulates Cathouse Marine on their new Lake Martin location!
Lake Martin Voice Realty clients, Tom and Melissa, recently celebrated the 1 year anniversary of owning their Bay Pine area lake home on Lake Martin.
Imagine my surprise at the Facebook invite to help celebrate!  I mean, who purposely invites their Realtor to anything after a closing?
Well, this family is a lot of fun, and I was flattered to be included, so we tubed the kids all way from Kowaliga Bridge to the 280 River Bridge, and made the trip with a birthday cake (almost) intact:
Tom and Melissa, thanks again for the invite and the testimonial!
We like to show you authentic Lake Martin "moments" and love it when our readers contribute, too.  Check out our fan page on Facebook, and feel free to share your own Lake Martin memories – photos, stories, videos.