Archive for the 'Shopping' Category

Summer officially starts June 20 but at Lake Martin we all know summer starts MEMORIAL DAY WEEKEND. And boy there are so many events to choose from here at the Lake you are going to wish you could clone yourself to enjoy them all.
Here is a list of events in no particular order:
RXR FEST – three nights of great music at Russell Crossroads – featuring Airside, Mose Wilson and The Delta Twang, The Bank Walkers, Raquel Lily, Jordy Searcy and The Jonathan Bloom Band. Bring your chairs and coolers and enjoy a weekend with family and friends. 6-10pm
Art on the Lake at Children's Harbor – Saturday from 9-5 and Sunday from 9-2 this free art festival features art and jewelry from over 40 artisans with a portion of art purchases helping support Children's Harbor.
Bezlo's Cafe – Opened earlier this year in Eclectic. Avondale Brewing Company Tasting Party from 5-8pm on Friday. Live music from Mark Kelley from 8:30-10pm Friday and Saturday.
Chuck's Marina – Your home all summer long. Live music all weekend – Friday at 7:30pm, Rachel Wilson, Saturday at 7:30pm, Blane Rudd and Sunday from 6-9pm River Dan!
Copper's Grill at Stillwaters – Great food, live music, outside venue! Friday 7-10pm music from Blackberry Breeze, Saturday 7-10pm music from Winston Ramble and Sunday 7-10pm the Sid Phelps Band.
McFadden Cup Club Race – Dixie Sailing Club – Racing open to all members. Saturday from 11-5. Not a member? If interested in crewing see their website.
Eagles at Naturalist Cabin in Russell Crossroads – Saturday at 12pm and 1pm. Come visit two of Auburn's popular eagles!
The Landing at Parker Creek – Saturday starting at 6pm, live music from the M-80s and Jenni Foreman Mote.
Interested in knowing what is happening at Lake Martin? Or check the weather? See the water level? Discover new restaurants or shops? Contact one of the area Marinas? Keep up to date with new property listings? Then download the free Lake Martin Voice App! You will be glad you did!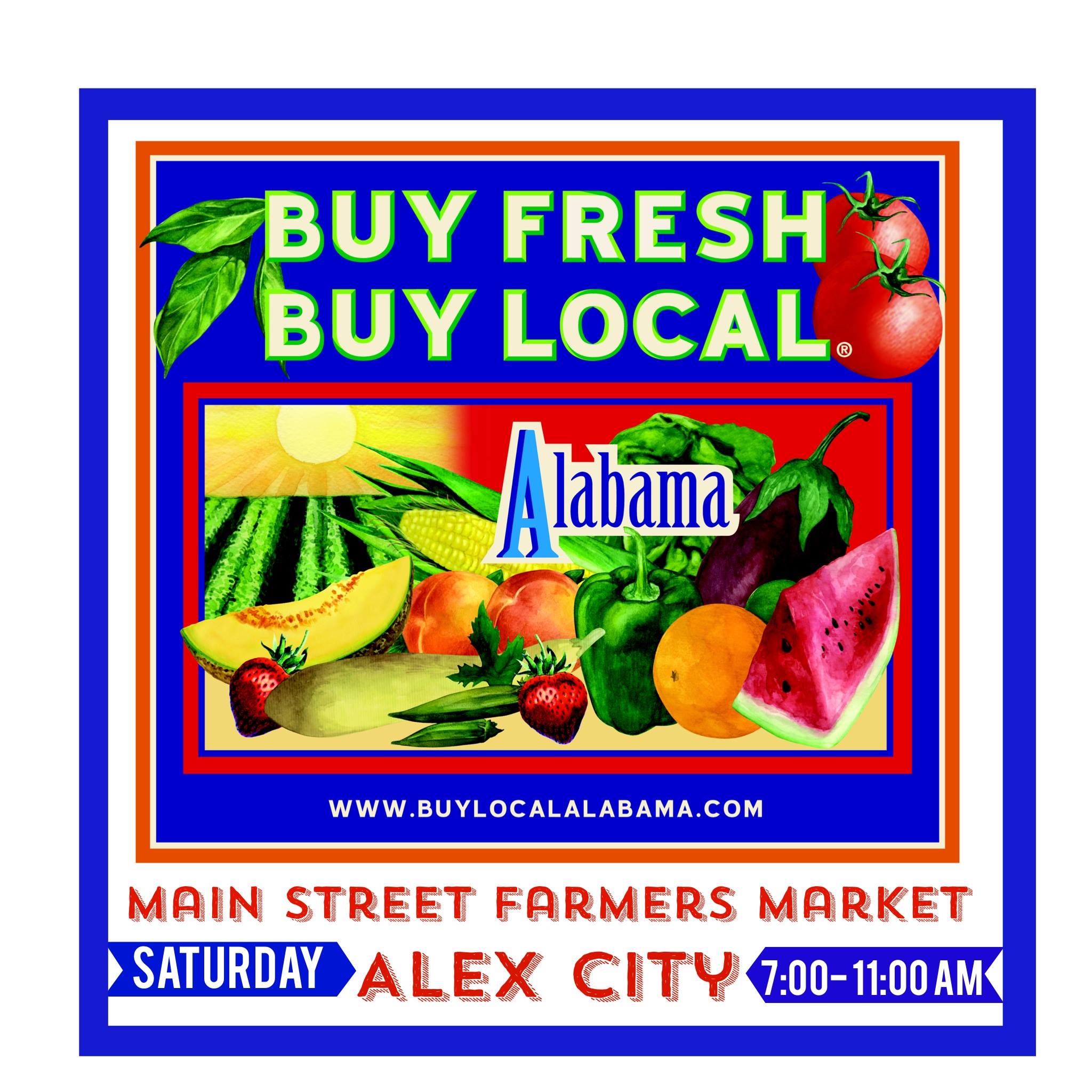 The Main Street Farmers Market in Alex City will have tomatoes and other locally grown produce and fruit on Saturdays from 7 – 11 AM starting June 11 until October 29.  Located on Broad Street in downtown Alexander City, the Market will also have honey, baked goods, fresh eggs, goat cheese, jellies, herb plants, and much more.
Enjoy the best picks of the garden and real flavors! For better quality at a good price shop the Main Street Farmers Market.
Lewis Grizzard once said "It's difficult to think anything but pleasant thoughts while eating a homegrown tomato."  Let's try it and see!
Interested in keeping up with other events around Lake Martin?  Or are you interested in places to eat, homes and lots for sale, where to shop, marinas around the Lake, places to have fun and more?  Check out the free Lake Martin Voice app!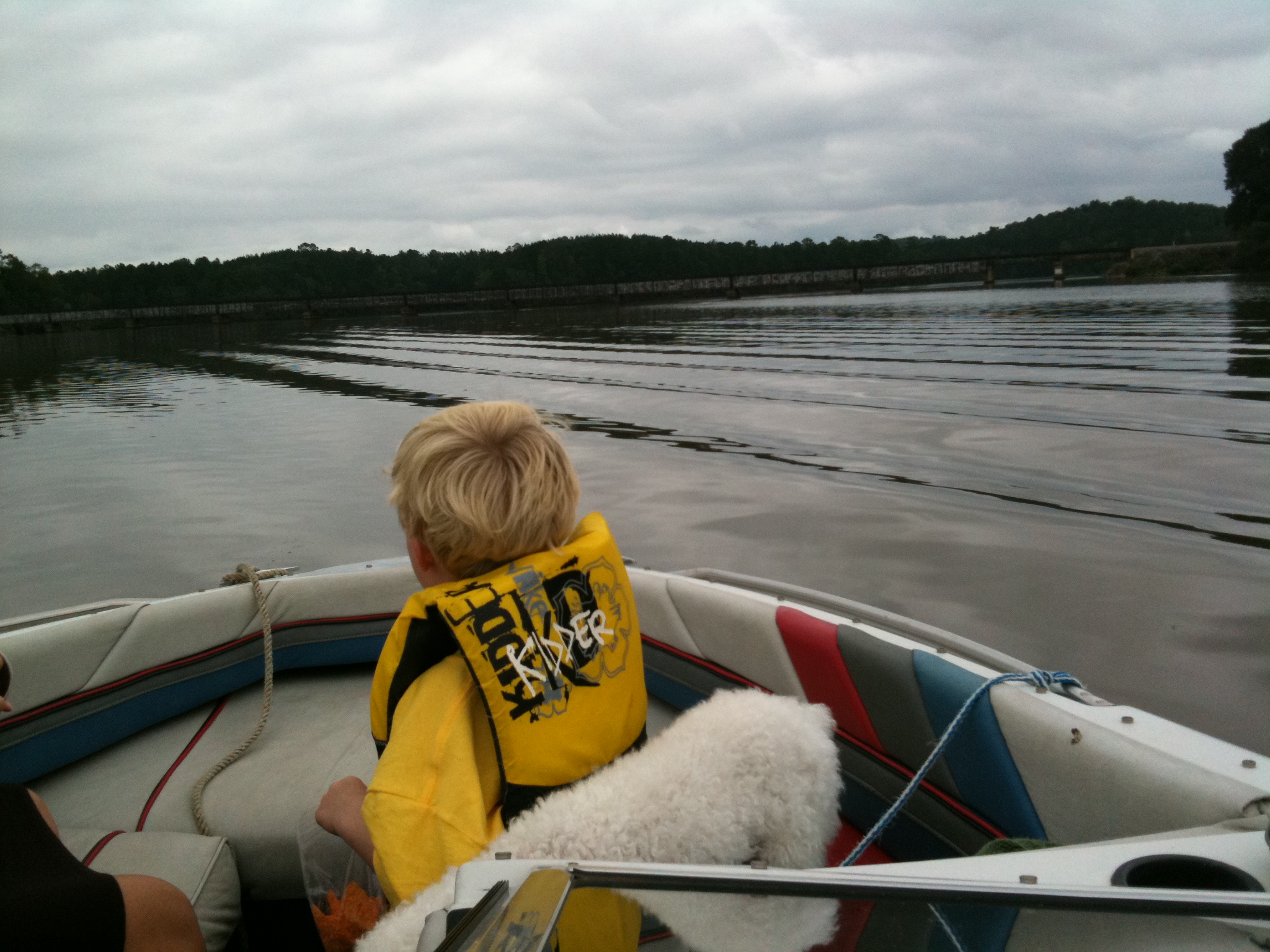 Lake Martin, Alabama, is the place to be on Labor Day.
What else would you expect me to say? I sell real estate here at Lake Martin. But the truth it the truth.
Here are a few things to do, a few events around Lake Martin for Labor Day 2015.  Keep in mind, they are not in order of importance, just order as they come to mind. If you want the best way to keep up with Lake Martin events, and an easy way to find the restaurants, shops, and landmarks I mention, download my FREE APP here.
Lake Martin Labor Day Weekend To Do list:
Friday Night On the Green – at Russell Crossroads
Saturday Pancake Breakfast – at Russell Crossroads
Saturday Lunch into Afternoon – watch football at The Landing at Parker Creek
Saturday Night – get your carb on at Lake Martin Pizza Co. or Oskar's.
Sunday Night – Concert at The Amp – Railroad Earth is the headliner but my money is on the Vegabonds.
The above are all pretty easy spots to find. Are you up for more of a challenge?
If so, then pierce the mysteries of NOCR – North Of Chimney Rock, that is. There is a movement among its adherents that NOCR is always the choice of the Lake Martin fan with discriminating tastes. It's been described as "the non-palooza side of the lake."
OK.
So I will announce a few of its treasures with decided non-palooza vagueness. No websites. No hashtags:
Peanut Point
That Ice Cream Place at Wind Creek Park
Smith Mountain Fire Tower
Tying up at the railroad trestle
An alternative to all of this is to go on a boat ride, 1970s style. In the 1970s, little grasshoppers, there were no cell phones. There were no land line phones, either, pretty much, because there was no sense in paying for service (and leasing a phone) for only half of the year. So when we went to see friends, we could not call them to see if they were there ahead of time. We just drove over there, totally without notice and without a sound track. We were also probably drinking real Cokes, too.
Downside – yes, there were strikeouts. But the upside is that when you found someone at home, it was a real treat. As the person who is potentially being visited, I can tell you it is great. Back in the 70s, when you saw another boat driving towards you in your slough, well, it was better than a package from Amazon.
Friday May 22 was the Grand Opening of a new restaurant – Lake Martin Pizza! If you would like to call them, their number is (256) 373-3337 and they are located at 5095 Highway 49 S, Dadeville. Basically it's at the shopping center that is at the corner of Highway 49 and Tallapoosa County road 34. For their info see their: facebook page.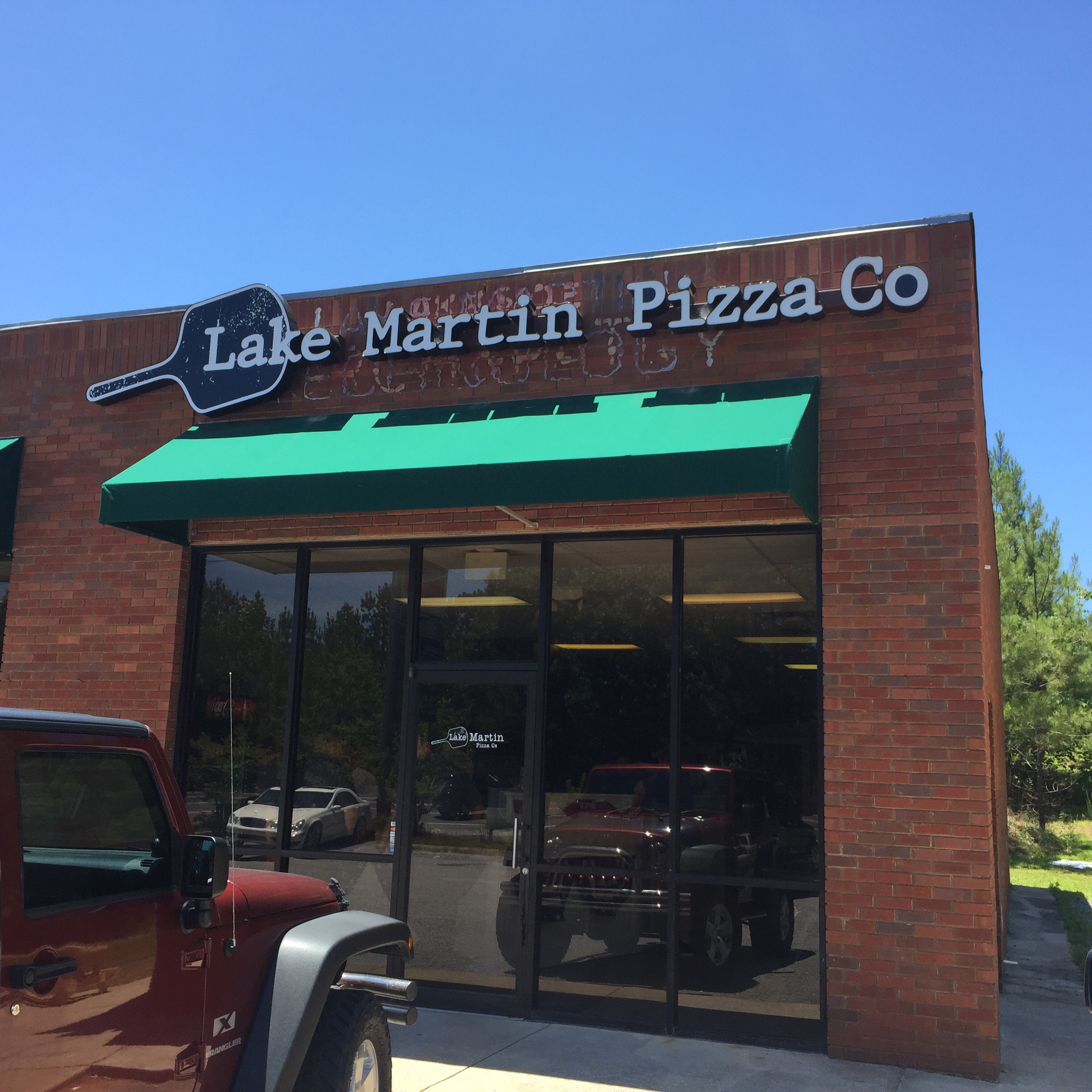 I am happy to report that their pizza is great! I ordered the "Kira's Favorite"– it was a sorta white pizza. It had chicken, pesto, feta, garlic, onions, and sun dried tomatoes. I really enjoyed it as well as the garlic rolls I got. I am not normally a garlic and onions guy but these were not overpowering. They are tasty!
They make their dough and sauce fresh each day and use as many local products as possible.
Plug for my free Lake Martin Voice app:
If you would like the easiest way to see the best Lake Martin area restaurants, on and off the water, plus their hours, their locations, and their menus, please download my Lake Martin Voice app. It's free, available on Apple, Android, and Kindle. Plus it is the best way to see all Lake Martin area events, weather, Marinas, and of course, the best mobile real estate search! CLICK HERE for the Lake Martin Voice App!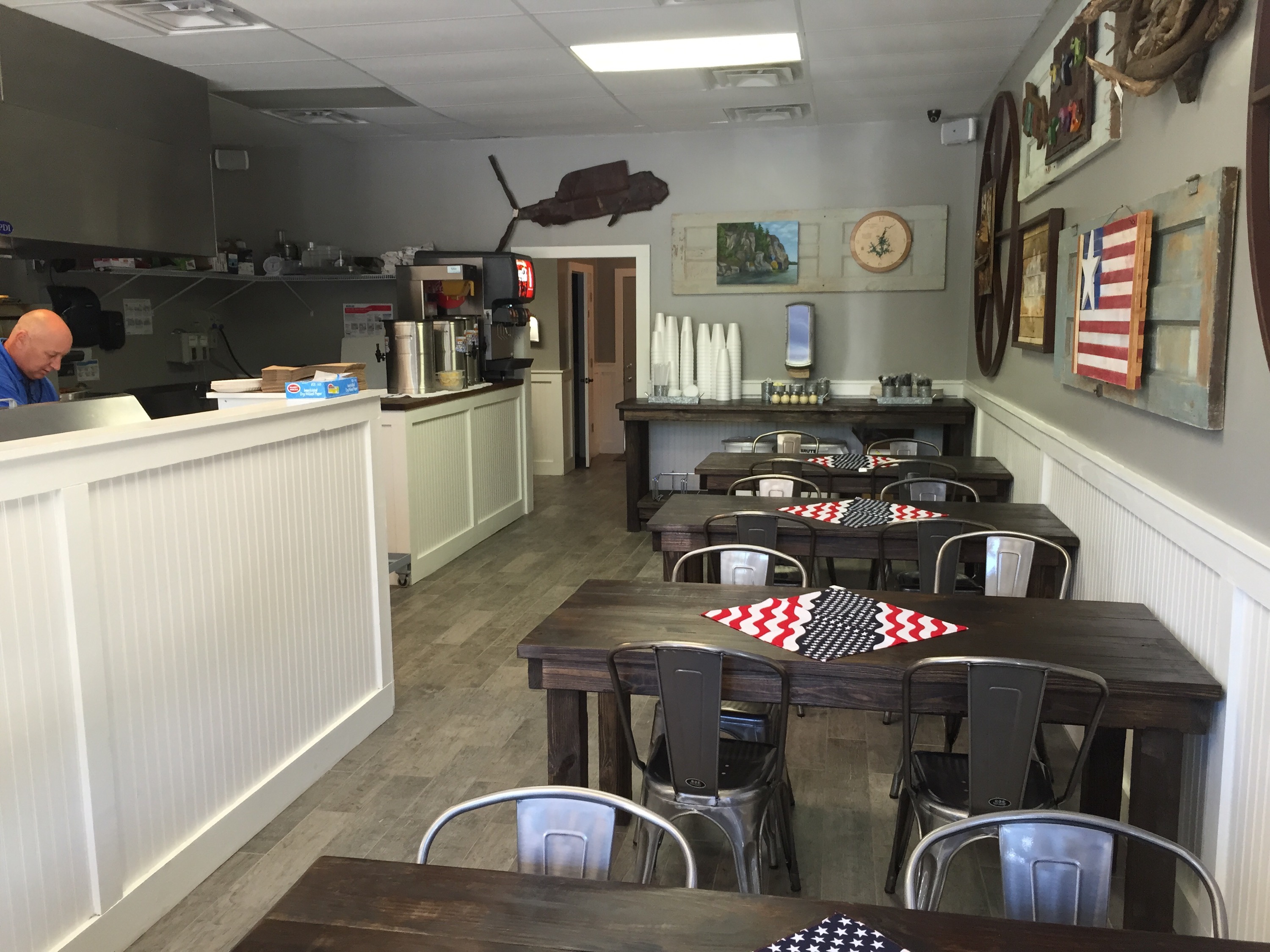 Future Plans for Lake Martin Pizza
I talked to the owner and here are his very near future plans:
Wine Bar – will serve beer and wine. Maybe a speciality drink, but the focus will be on wine and beer
Outside seating – they are creating a covered patio area to the side so they will have outside seating and a guitar player on weekends
We are pleased to announce a brand new free app for the Lake Martin area!   The Lake Martin Voice app is your mobile guide to the Lake Martin, Alabama, area. We offer mobile waterfront real estate search and events, mapped guides to restaurants (with menus), shops, weather, and much more!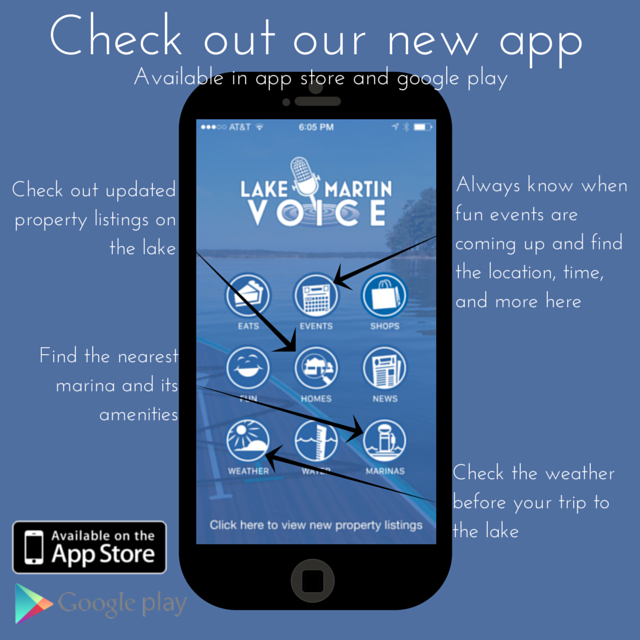 As you can see above, the different tabs you can click through to navigate and learn more about what's near you or happening at the lake are:
Homes – every single home & lot for sale in the Lake Martin MLS, at your fingertips. Use our fast searches like "New Listings" or "Price Drops" or create your own custom search. Cruise by boat and see what's for sale around you if you share your location with the app.
Eats – Restaurants on and off the water around Lake Martin, mapped, with menus
Events – what's going on this week? Next month? Click and scroll to find out.
Fun – Other things to do like where to hike, where to bike, boat ramps, golf courses, churches, and more.
Weather & Water – conditions right now at Lake Martin.
Marinas – mapped locations of all Marinas, plus contact info. Share your location with the app and see where you are, too!
Shops – retail therapy locations on and off water
News – the skinny on Lake Martin stuff
For example, here's what the "Eats" section looks like. If you share your location, you can see where you are in relation to the restaurants. I snapped this screen shot when I was over on the east side of Lake Martin. If you want to browse around the map, you can. Or, if you want to scroll through the list at the bottom, you can do that to. Your call!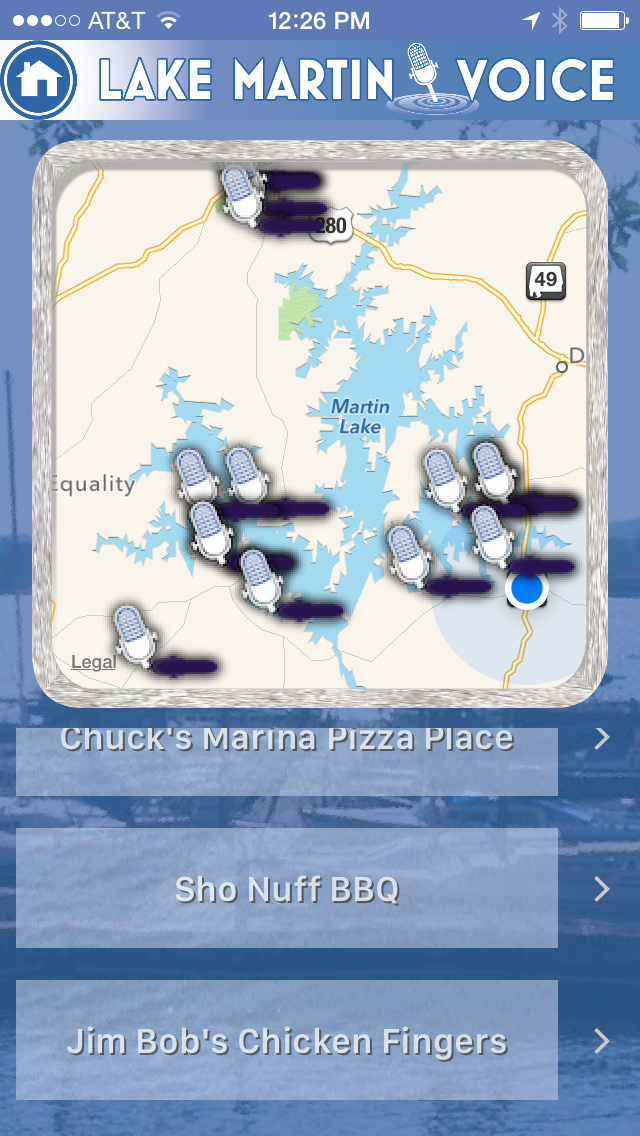 The Shops, Eats, and Marinas sections all work similarly, in that you can browse by map or by list. Every single Lake Martin marina is listed, but you will notice not every restaurant and store are. We purposely left out big chains like Wal-Mart or McDonalds. Nothing against them, but there are plenty of maps and apps that can help you find them easily. Our goal here is to make a special point to mention the locally owned businesses that are so frequently overlooked by visitors. For that matter, there are Alex City folks that are unfamiliar with the Dadeville side, and vice versa, so hopefully it helps them, too!
The Lake Martin Voice app is available in the Apple App Store and on Google Play for Androids.
For more information, please see our FAQ page at: Lake Martin Voice app FAQ 
If you want to request to have an event, restaurant, or shop listed in the app, you can fill out request forms below.
CLICK HERE to request for a shop be added.
CLICK HERE to request for an event to be added.
CLICK HERE to request for a restaurant to be added.
Lately, when selling Lake Martin waterfront real estate, I'm talking a lot more about the growing number of off-the-water Lake Martin activities – things to do that add to the fun we have year round and simply make life here more convenient.  Our exceptional on-the-water activities are the obvious sell, so it's fun to get to brag on our fall, winter and spring attractions, too.  We are becoming a well-rounded second home market.
Take Russell Crossroads, for example.  There's been so much going on there this summer: Yoga on the Green, Friday night concerts, wine tastings.  But did you know that a lot of what Russell Crossroads offers is not summer specific – the restaurants, the grocery and deli shopping, the stables, the trails.  You can enjoy these all year long.
I realized I had not shot a video from Russell Crossroads in a couple of years, so here's quick, updated tour.  For buyers out there who are wondering what Lake Martin offers in the non-summer months, check it out:
I'm a full time Lake Martin real estate agent, and I can help you with any property in the Lake Martin Area MLS.  Give me a call (334 221 5862) and lets talk about making Lake Martin your year round vacation destination.
Related blog posts and videos:
Grab Your Bike and Meet Me at the Market
Russell Forest Trail Hike Video
How to Get to Catherine's Market by Boat
When at Springhouse, Follow Sam's Advice
Warning: Catherine's Market Has Ice Cream
If you're spending Thanksgiving at Lake Martin, you should truly be thankful. I can't imagine a better place to enjoy a long weekend in the fall.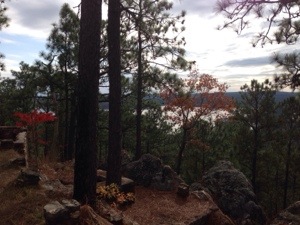 I would recommend, if you plan on going out to eat or shopping, that you call ahead to get everyone's holiday schedules. I can think of a couple of spots like Catherine's and Springhouse that have abbreviated hours. I am not sure about Oskar's and Niffer's and the other spots. Just call ahead.
Shopping – I've been seeing a lot of promotions lately for the shops in downtown Alex City. If I were you I would definitely check out the wine and tapas at Henry Foy's Emporium Wine and Cafe 128. Also I've seen promotions from Cloud Nine, Carlisle's, and Little Black Dress. I don't mean to leave anyone out here, so google them and give them a call to hear what they have going on this weekend.
I can tell you that one under the radar activity would be a donut run to Alex City. Daylite Donuts has opened up. They are about 150 yards down the road from the KFC. Awesomeness galore. My dad would berate me if I didn't mention his favorite order – an Apple fritter. He gets them to put it in the microwave for 12 seconds.
To work off the calories, know that the hiking is stellar this time of year. Russell Forest at Russell Crossroads is nice if you prefer dirt roads with a side of Catherine's coffee. Wind Creek State park is huge – the state's largest. They have tons of trails or you can wander along the shore for miles. Cherokee Alpine Trails' two locations on Overlook Road or Smith Mountain will be the most rugged experience but oh so worth it.
Whatever you do and wherever your Thanksgiving takes you, we wish you well.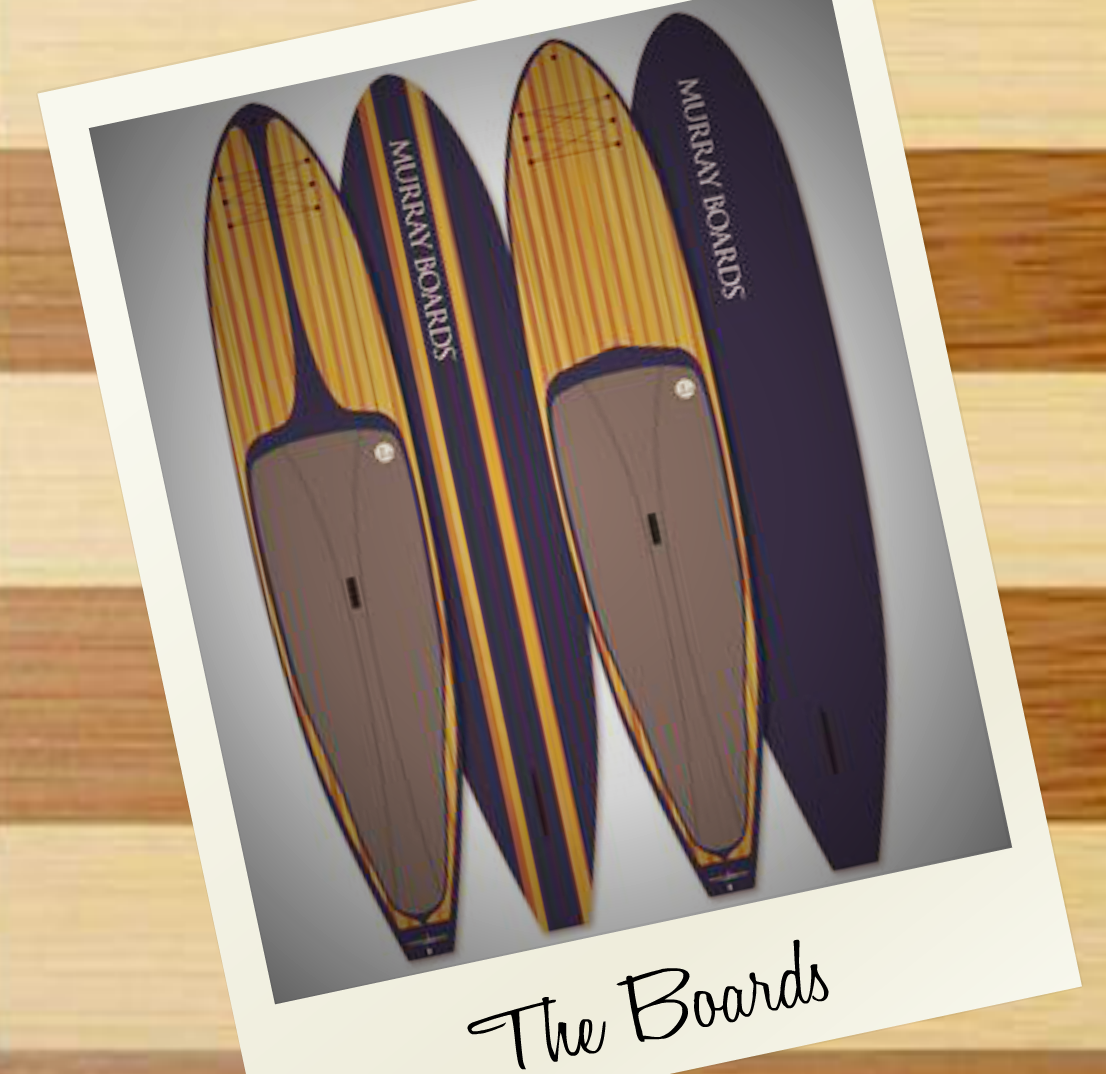 Lake Martin now has its very own paddle board manufacturer!
And it's the only SUP maker in Alabama, also! John Gilbert let me know this a couple of weeks ago, and I have been meaning to get by there and get some pictures. I haven't been able to do so, but I didn't want to delay this news release any longer. I am really excited for Murray Boards and I wish them all the success in the world. I am really into paddle boarding. I think it's a lot of fun, great exercise, and a great way to relax.  Plus, I am still on my quest to catch a striped bass, with my fly rod, from a paddle board! Maybe it will be a Murray Board!
Here is their release:
**********
For Immediate Release
Murray Boards®, LLC launches as 1st SUP manufacturer in the State of Alabama
Birmingham, ALA (Oct 7, 2013):
Murray Boards®, LLC is a Birmingham, AL based stand up paddle board manufacturer and has officially launched operations.  As the only stand up paddle board manufacturer in the State of Alabama, Murray Boards® mission is to expand the sport of paddle boarding within Alabama and the Southeast.  Murray Boards® proudly hand designs and shapes Eco friendly boards that provide function along with a design reminiscent of the vintage Chris Craft boats with the durability and performance of modern boards.
Stand up paddle boarding is the fastest growing segment of the surf industry, and represents fun and fitness for the entire family. In 2012 the stand up paddle board segment of the surf market represented 22% of all sales.  The strong showing of SUP sales illustrates the expanding influence into river and lake communities and other new demographics, which makes Alabama and the Southeast ideal for the sport.
Contacts:
John Gilbert
Owner.Designer.Shaper
Murray Boards®, LLC
(985) 778-9632
[email protected]
www.murrayboards.com
Twitter: @murrayboards

One of the best times I've had with my kids at Lake Martin was the Slingshot Wakeboard Demo at Blue Creek Marina back in 2011.  If you're on the east side of Lake Martin, Blue Creek Marina is a great resource for boats, service, storage, a ship's store, plus cool boating and wakeboard gear.
Last summer we made a special trip over there to buy the kids a wakeboard, new rope, and yes, helmets (my nickname is "Safety John" around the house).  My teenage nephew was mortified by the helmet, and ok, at our skill level we can do without them.  But I do love to be prepared. Plus, I convinced them to wear the helmet by convincing them it was the best way to put a GoPro camera on while you wakeboard.
They have fun demos every summer, so check out their events calendar for the latest updates. If you are trying to reach Blue Creek Marina, call 256-825-8888. Ask for Justin or Kevin in boat sales, they will treat you right.
Here's a quick Blue Creek Marina tour:
and here's the wakeboard demo video we made back in 2011:
If you're interested in waterfront real estate on the eastern side of Lake Martin – or any side of Lake Martin – give me a call at (334) 221-5862 or click here to contact me via email.
I can be mistaken for no one's fashion plate, and certainly being trendy is low on my list of priorities.  I will say, however,  that I get more compliments about these shoes from the preteen kids in my neighborhood than any other thing I've ever bought.  So if you're looking for something a little more presentable than a flip flop that you can wear around the boat, get wet, and still look good, I highly recommend the Columbia Drainmaker.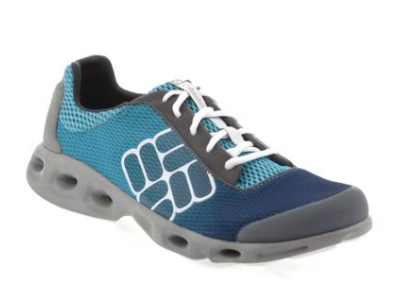 I originally  got these shoes about a year and a half ago to wear to showings and around customers;  I wanted shoes that would be flip-flop comfortable and water proof, yet would cover up my toes. What I found is, I wear them a lot more than just when I'm going to be in the boat (they are non-scuffing).  They've become my go-to warm weather shoes around Lake Martin, and by "warm weather" I mean April thru October.
Because Columbia made them, I knew that they would do well for their stated purpose:  in and around the water.  They dry quickly, are light, and are very comfortable.  Because I wear them around a lot, I found they also did well with non-water things like hiking on trails and walking lots (walking through the woods, off trail when I'm viewing waterfront lots).
What I didn't expect is how supportive they are.  Really, there is nothing more to them than a light sole and an insert.  But never once did my feet hurt at the end of a busy day, in fact this minimalist design caused me to rethink my running shoes, and I bought a similar pair for my morning jogs.
Here's what they look like after about a year and a half of hard wear.  To me, that's the test of a good product: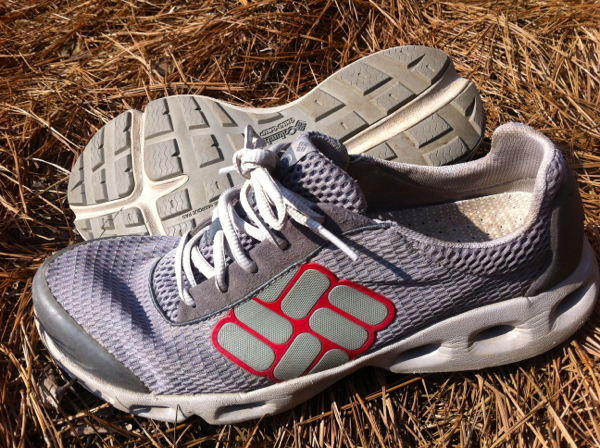 I get a surprising amount of questions from people about the gear I use around Lake Martin.  Also, another fun part of  my job is touring lots of homes and seeing the tricks and tips that other people use to enjoy lake life.  Do you have any?  I would love to hear them!  Reply in the comment box below.