Archive for the 'Seller Tips' Category
"Have Lake Martin sales picked up yet?"
I get this questions a lot.  Waterfront sales on Lake Martin are cyclical anyway, and after a tough Oct – Dec 2008 everyone is anxious to see if 2009 will be the year the market takes back off.
So far, it looks like January – March 2009 (1Q09) is in lockstep with waterfront sales in 1Q08. There were 20 sold in 1Q08 and 22 sold in 1Q09:
I guess I could make a sensational headline like:
"2009 Sales Are Up 10% Over 2008" but when that 10% = 2 sales, well, it seems like (statistically) a close call.
I think the real story lies in the active listings and new listings columns.  In March 2008 we added 110 listings for sale around Lake Martin, and had a total of 418.  In 2009, there was a little more total for sale, at 474, but in March 09 only added 53 to that total.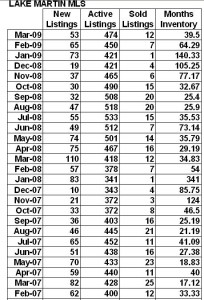 So what?
To me that is a sign of hope that sellers are pulling back a bit, and only selling when they are serious. I also think it is obvious that there is a lack of new spec homes on the market. Waterfront spec homes were still hitting the Lake Martin real estate market back in 08 because the pipeline can sometimes be about 8 months. In other words, new spec homes popping up as new listings in January 2008 were likely started around April 2007. But by April 2008, everyone had figured out that we were in an extreme buyers market, and quit starting spec homes.
The only spec homes now on the market are holdovers from 2007 and 2008, and in some rare cases, 2006.
Foreclosures? Short sales?
Yes,  Lake Martin is starting to see more foreclosures and short sales.
It's hard to come up with an easy list of Lake Martin foreclosures or short sales because there is no field in the Lake Martin MLS to designate as foreclosure or short sale.  In contrast, you can easily search for waterfront homes or lots by choosing "Y" in a Lake Martin MLS search here.  For foreclosures and short sales, you pretty much have to deduce it by the seller (a bank or some other financial sounding company) and also the trusty Lake Martin grapevine.
What will the Lake Martin real estate market do in 2009?
No one can know for sure at this point, of course, but here are a couple of indicators that I watch:
1.)     2009 monthly sales beating 2008 – by this I mean in number of homes sold.  We have already seen in 2008 that average prices fell.  So according to what we know about real estate cycles then we should expect to see individual months in 2009 beating their 2008 counterpart BEFORE we see prices rebound. But, current year MUST start beating prior years.  It happened in the last part of 2008, and 1Q09 beat 2008 timidly, which is why the smart money eyes will be on the crucial period of 2Q09 (April – June 2009).
2.) Cities / States that were Bubble Sources – I am not a real big believer in strong trickle down connections between markets, at least in a 1 to 1 relationship.  But it is interesting to watch with the economy as a whole.  I watch Florida, California, and Atlanta.
Related Posts:
Lake Martin Market Statistics Category
(*)Disclaimers: All of the above info was taken from the Lake Martin Area Association of Realtors Multiple Listing Service. Accuracy is not guaranteed but deemed reliable. The above does not include sales by FSBOs or developers that sell privately and not through the MLS. But, I do think that the above represents a very large majority of all sales on Lake Martin.
A video used to be embedded here but the service that it was hosted on has shut down.
Coach Tommy Tuberville is selling his Lake Martin home. Here is a video tour that I did today during an open house for realtors.
I am not the listing agent. Toni Adcock is, so she is the authority on all listing info.
But, if you or anyone you know is interested in the home, please contact me by calling or emailing me from my info at the top of the page.  As a member of the Lake Martin MLS, I can help you with any property on Lake Martin, regardless of who has it listed.
Thanks again to Toni and Coach Tuberville for putting on a great open house, I wish them the best, and I hope to be bringing the buyer!
Would you like to keep up with Lake Martin real estate news, market reports, and area info?  Here are 3 ways:
1. Subscribe by email – enter your email address in the box at the top left. No spam, just breaking news and analysis, mostly Lake Martin real estate slanted.
2. RSS Feed – for you folks that read news through a RSS Feed, click here to add this blog.
3. Twitter – Here is Lake Martin Voice on Twitter. I usually tweet my blog posts plus other pics and breaking news style tidbits.
Russell Lands, the largest private land owner and developer of Lake Martin, Alabama, has affiliated with the national real estate company of ERA.
This is huge news.
I was flipping through the April issue of Lake Martin Living this afternoon.  I noticed a big, nice ad on page 54 from Russell Lands.  The ad cites their website as Russell Lands On Lake Martin dot com.  This caught my attention as it is a new URL. Formerly everything Russell is on Russell Lands dot com.
So I checked out their new site.  It is really nice, goes over a lot of features of Lake Martin, like the new dining at Russell Crossroads like Catherine's Market and Springhouse Restaurant.  The site also details the many off the water activities like hiking, biking and horse riding in Russell Forest.
Then I clicked on one of the upper tabs marked "Corporate" and then on the "Affiliated Businesses." It details out many businesses of which I am familiar like Russell Marine and Willow Point.  But the last one really caught my eye: "ERA Lake Martin Realty." What?
Check it out.  If you click on that link, it takes you to an entirely different site – ERA Lake Martin Realty dot com.
On that site header it calls ERA Lake Martin Realty "A Russell Lands Affiliated Company." On the page that describes the ERA Advantage, it describes ERA Lake Martin Realty as "formerly Russell Lands Real Estate."
If you click on the "meet the agents" tab, you will see many (but not all) of the agents that have been advertised in past issues of Lake Martin Homes and Land Magazine and those listed as having their license with Russell Lands according to the Alabama Real Estate Commission.
So I guess that we have an entirely new real estate company on Lake Martin – ERA Lake Martin Realty, which is populated by many agents that were "formerly Russell Lands Real Estate." Okay.
I think this will have a interesting impact on the Lake Martin real estate market. It will be really interesting to see how they roll out their new plans.  I will comment on the possible effects of this later, but for now, I give congratulations on the new venture; I wish the company and its agents the very best!
This is the story of Bryan and Allison Jones, who defied the odds of a slow real estate market and sold their Lake Martin waterfront home in 34 days in 2008.
Plus – it was a flip. We have so many spec homes on the Lake Martin market right now and back then.  We also have some foreclosures and bank REO as fallout  – they had to compete against them all.  They excelled.
But how??
1. Great design – their home escaped the noise of a crowded market in Lake Martin because of great design.  Call it unfair, but they had two advantages.  Bryan is an architect at JonesPierce Architects in Atlanta.  Allison is an interior designer with Insight Design Interiors Inc.  They improved on the home structurally by keeping the lake the focus, and topped it off with interior colors and features that Lake Martin buyers want like a claw foot tub in the master bath (not usually seen at that price level).
2. They didn't overbuild – even though they have the chops to build anything they want, Bryan and Allison wisely realized that in order to sell, they shouldn't create a seven bedroom home when most in their neighborhood had three.  Their restraint also kept the home in the meat of the bell curve of the Lake Martin market.
3. They focused on the selling points – get ready for a brilliant observation: people buy homes at Lake Martin for the lake.  The Jones opened up the home with big windows and doors in the great room, and bay windows there and in the master bedroom.  They also added a huge screened in porch that takes in the breeze on three sides while overlooking the water through the cool forest of some Alabama Power timber land.
Bryan and Allison's methods can and should be duplicated by any waterfront sellers on Lake Martin.  If you have been trying to sell your home for a while, ask yourself:
1.  Do I have a good design for my lake home?
2. Am I overbuilt for my area?
3.  Do I highlight the selling points of my home?
If you need help answering these questions, call me at the number at the top of the page, or contact me here.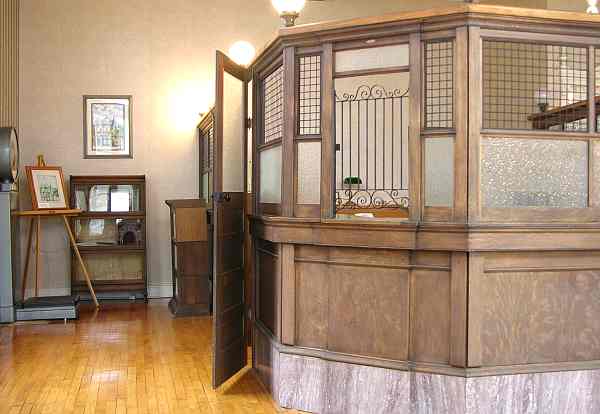 There are now many bank owned foreclosures or REO properties on the market at Lake Martin. We are no different from anywhere else in the country in that respect.
What is different about Lake Martin foreclosures is the curious choice that some banks or mortgage companies make when selecting a broker or real estate company.  I have talked to quite a few lately, and have compiled a few quick reasons why banks will struggle to unload their REO inventory at Lake Martin:
1.  Your agent is not a member of the Lake Martin MLS – don't get me wrong – many foreclosures are listed by LMAAR members.  And I am not saying every LMAAR member is a superhero.  But if you are a bank, and yours is not listed in our area, how smart is that? Like 95% of Lake Martin homes are sold by members of the LMAAR.  If I can't get into your lockbox, how can I sell your home?
2. Your agent does not know anything about the home, or even Lake Martin in general. I have called agents who tell me "I don't know much about that one.  I think the price is $XXX,XXX.  Where is it again?" Please.  I am sure they are very nice agents, maybe even experts in their own local area, but that area is far away from Lake Martin.
3. Just because your agent's office is an hour or so away, doesn't make them a Lake Martin expert. Hey, I live about an hour and a half from Dothan, AL.  Legally, I can list I home there.  Would I? Heck no! I couldn't look someone straight in the eye and tell them I am the best guy for the job.  I would refer to a Dothan real estate expert.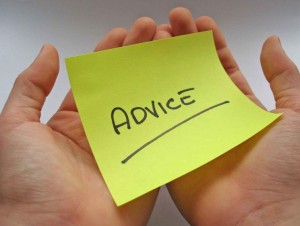 4. Just because your agent is handling 4 other homes for you in East Gotham, don't make the mistake to let her handle Lake Martin like an afterthought.  Remember all that preaching you did to your customer (before you foreclosed) about choosing a high octane agent, marketing, and pricing?  WHY DON'T YOU FOLLOW YOUR OWN ADVICE?
This isn't sour grapes against "interloper" agents from the big city.  More power to them.  I am a huge proponent of wall-less MLS areas.  The above points come from talking with foreclosure agents THIS WEEK. As a bank stockholder, and as a taxpayer that is bailing out banks, it worries me.  If they're this slack about their lake homes, what is going on in the rest of the country?!?  Goodness!!  Give me a call, and I can help you go local and get effective immediately!
Related articles:
Lake Martin Sellers: Don't Pick This Realtor
Lake Martin Seller Tips
The waterfront property sales in the Lake Martin MLS* ended the year by tying 2007's December sales of 4.
When we looked at November 2008 sales for Lake Martin, we saw that 2008 monthly sales were starting to beat 2007.  How did we finish the year?
On a whole, 2008 proved unable to beat the infamous drought year of 2007.  In total, 137 waterfront homes were sold through the MLS on 2008, which was about 12% less than 2007's number of 156.
Check out the graph of cumulative sales:
To put this decrease into perspective, see the below chart.  It shows by month, sales of waterfront Lake Martin residences in the MLS.  You can see the decrease of number of sales from 2007 to 2008 of 12%.   Also consider that this is the third year in a row of consecutive decreases.
What did prices do on Lake Martin in 2008?
Another natural question is to look for evidence of falling prices in such a strong buyer's market.  If you compare 2007 to 2008, it is interesting to note that at the low end and the high end, 2008 actually had more sales. As always, there are some sales that report "0" as the sales price.  If you take these sales out, it looks like:
Looking at the sales, I think this was due to many sales of leased lot mobile homes on the low end, and spec homes on the high end. Of the 24 homes sold at or above $1 million, about 14 were in the Ridge.

But this still does not give us any real feeling of a basic question that I get asked all of the time: Are Lake Martin sellers finally dropping prices?
I have said this many times before, but I will repeat – the Lake Martin area real estate market, especially waterfront property – is a relatively small pool of sales statistics from which to draw.  Sure, the lake itself is huge, but in terms of number of sales, we are small even by Alabama standards.  When you try to draw too many broad conclusions from a small set of data, you get weird results.  Nevertheless, I thought I could see some interesting trends if I looked at statistics like Total Sales Volume, Days On Market, and Average Price.  Check out these factoids covering 2005 – 2008:

Most of these factoids seem pretty logical and follow the pattern that we by hindsight know – that 2005 was the peak of an extreme seller's market, and 2006 saw a transition to a buyer's – and by 2008 we are at the other end of the spectrum, and extreme buyer's market.  The Sold Price as a % of List Price decreases.  OK, check.  I get that.  Average Days on Market for sold listings dramatically increase, OK.  Active Listings balloon, almost doubling.  Right.
But wait – Lake Martin Average Price INCREASES?  Sure it came down a little in 08 but did it almost DOUBLE from 05 to 07?  That is counter intuitive.  My gut tells me no.  My gut tells me that the average is badly skewed by a few high sales prices, and since 2008 sold less than 50% of homes than 2005, it affects the average a lot more.
So is my gut correct?  Only one way to find out.
Searching For A Bell Curve
What will Lake Martin sales look like if I break them up into price categories and then divide by total sales? For example, in 2005, there were 77 homes sold in the $200k – $299k price range, and 284 total that year.  77 divided by 284 is about 27%.  That's what gives you the peak in 2005's line below.  It removes influence of the amount of each sale, and merely looks at each price category as it relates to the whole.  Then we can see how much each particular year is influenced by low or high end sales.  Here it is:
If you care to view the numbers behind the chart, click here.
I believe that this graph clearly shows that the average reported waterfront sales prices of residences on Lake Martin in 2008 was definitely skewed by an unusually large percentage of high end sales.  The aqua line represents 2008.  Fully 18% of 2008 sales were above $1 million – while only 2% were in 2005.  18 divided by 2 is 9 – 9 times more greatly influenced by the high end.  That's NINE TIMES, Ferris. Nine times.
Well, this is because things got more expensive, you might say.  No, I disagree.  If all prices increased, we would see more of a shift of the entire curve – as we saw from 2005 to 2006.  You can see that the peaks of 2006 and 2007 are definitely ahead of 2005 – to me a clear sign of overall price increases.  But check out what happens to the peak in 2008 – it drops back!
On all but the top 20% of sales on Lake Martin, 2008 was a year of decrease prices!  How much I am not willing to say.  Remember, we're dealing with small samples.  For example, to look at this graph and say, since the peak in 2006 and 2007 was in the 400s, and it dropped back to the 300s in 2008 – it would be incorrect to think that the whole market decreased 25%.  But I do think it is OK to say we experienced a downward trend.
SO WHAT MATH NERD??!? WHO CARES? HOW DOES THIS HELP ME?!?
I can think of several applications for 2009:
BUYERS:
1. Anyone that has been waiting until prices come down can quit waiting.  It is happening.
2. Observe that for sellers, their sweet spot came in 2006, when prices were still rising even though more and more homes were flooding onto the market.  It took them a while to catch on that the end was coming.  HOW LONG WILL YOU WAIT TO BUY?
3. This cycle WILL swing back. Will you be burned like some sellers were in 2006, gambling that prices would rise again in 2007, only to be hit with the drought then the bank meltdown?  When else in history have buyers had this perfect storm on their side?
SELLERS:
1. This should show you that now, more than in the last 4 years, buyers are extremely price sensitive.  They are reacting to aggressively priced homes, not homes with crazy list prices.
2. There are TONS of other homes on Lake Martin for sale.  The buyer can pick among several good candidates.  You are not as special as you were in 2005.
3. Know your competition – look at your home and decide, what price point would I be in?  What would be my competition?  Regardless of the price, be competitive within that category.  Also, choose a price that justifies not stepping up or stepping down.
In Summary
Sorry for the long post, but I just couldn't break this info up and it make any sort of sense.
Please note that I am not trying to break the news that it's a buyer's market and prices are dropping.  That's obvious.  Similarly I realize I am not the first to discover the bell curve.  But – I do think it is tremendously exciting to finally have a mechanism to observe pricing trends that isn't too mangled by our small sample size.
Call me a dork, but I love it.  I love Lake Martin real estate, so to me this is big.  Indulge me, OK?
(*)Disclaimers: All of the above info was taken from the Lake Martin Area Association of Realtors Multiple Listing Service. Accuracy is not guaranteed but deemed reliable. The above does not include sales by FSBOs or developers that sell privately and not through the MLS. But, I do think that the above represents a very large majority of all sales on Lake Martin.
Related Posts:
Lake Martin Market Statistics Category
To respond to some readers' comments, I thought I would publish a few more statistics from the Lake Martin MLS* waterfront home sales for August 2008.
Before I get into it, let me first caution all readers not to draw broad conclusions about the Lake Martin real estate market from the following two graphs.  I still maintain that looking too deeply into monthly sales statistics may be misleading, since we have such a very small market in terms of number of sales.  It just doesn't make for a very good sampling pool when there are only 20 sales. So again I stress, this is for illustrative purposes only.  Keep in mind that you are only looking at 20 sales, only in the month of August.
The chart below makes a great case study as to why I am loathe to use trend analysis on monthly sales statistics. I am trying to answer the question, what did waterfront homes sell for relative to list price in August on Lake Martin? As you can see, sale number 18 does not have a sold price listed (no blue bar).  So if I were to include that in the average, it would totally mess up the average calculation.  I am sure that the home wasn't give away for free.  For some reason, the seller chose not to list the sales price in the MLS.  It was a home that listed for around $300,000 – so I imagine it sold for around that amount.  But I don't want to guess, so I left it out of the average calculation.  It's a rolling average, so e.g. only the first 10 sales are averaged in #10, then on #11, 11 are averaged, etc.  On the last one, #20, I only average 19 since #18 was zero.
Nevertheless, here we go.  The blue bar is each sale's % of Original List Price divided into sales price.  Original List Price is the list price used when a home was first entered on the Lake Martin MLS.  So if a home was put on the MLS on January 1 for $450,000 – then the list price was reduced on March 1 to $400,000 – then sold on August 15 for $385,000 – the calculation is $385,000 / $450,000.
Here is another chart, attempting to describe the average Days On Market for each waterfront home sold through the Lake Martin MLS in August.  My old statistics professor (RIP) would have a fit looking at this.  The standard deviation is too huge to be useful.  It goes from zero on the low side to a high of 456.  The rolling average ends up at 159.
Days on Market is defined as Date Sold minus Begin Date.  So if a property was sold on August 15, and it was entered on the MLS on July 1, that would equal 46 Days On Market.  Our average, at the end of August, was 159 Days On Market.  Is that close to our average for 2008?  My gut tells me yes, but I have not confirmed that.  So don't take it as gospel.
I may decide to incorporate these types of charts in the future, but as you can see they get tedious when you have to comb through them to weed out sales which do not publish a sales price or some such other datum.
Hey Buyers – I'm talking to you. Yeah you.  If you have even thought about buying Lake Martin real estate in the last 4 years or 4 minutes, I am talking to you.  Would you like to know the top 5 properties out there in your category (lot, home, condo) that are the best value? Why not email me at the address at the top of this page.  Warren Buffet is buying, so you can say you did it because of him.  You will look smart.
Related posts:
More posts on Lake Martin MLS Statistics
(*)Disclaimers: All of the above info was taken from the Lake Martin Area Association of Realtors Multiple Listing Service. Accuracy is not guaranteed but deemed reliable. The above does not include sales by FSBOs or developers that sell privately and not through the MLS. But, I do think that the above represents a very large majority of all sales on Lake Martin.
Lake Martin Voice readers have noticed this for a while now, but we have recently undergone a redesign. I did this to try and keep my blog on the positive tip of usability and reader friendliness, without indulging myself in a bunch of geeky add ons that distract.
That being said, by far the most popular element of the redesign as been the new way to search the Lake Martin MLS.
Coley Real Estate is proud to offer the area's only (so far as I know) Map Based MLS search. Just click on the Search the MLS tab above to see what I mean.
When you do that, you will be taken to a search portal.  You may have to adjust the up/down and right/left scroll bars on your screen to remove my smiling face and see the map.  You will see that the map shows you the total number of active listings and asks you if you want to plot them (at this writing there were 1,335).
If you don't want to see them all, narrow your results by # of bedrooms, or price, or waterfront, on the left.  Now is when it gets interesting, so let's use the map to restrict the results:
1.  Zoom in to your desired level. You can move the map around by clicking in it and dragging around to get in the perfect location.
2. Select a map drawing tool from the bottom, I like the "irregular polygon" tool.  See this pic to find the tool:

3. Click around the area that you want to, with this tool you can make as many clicks as you want.  The circle tool is different, and so is the rectangle tool.  When you are done defining your area, double click to set it in stone.  Then it looks like:
4. View the results. If it doesn't do this automatically, click "Update" so that the number count is refreshed.  You can view individual listings by zooming in and clicking on each green square, or you can view them all in a list by selecting the "List" tab on the upper right corner.
5. Enjoy! If you have any interest in any of the listings, contact me – you call or email me at my info at the top of the page.  If you have trouble browsing around – email me, I will try to help.
FAQ about the Lake Martin Voice MLS Map Search:
1.   Are you cool or something? How do you have this info and no one else does? I would like to pretend that I am cool, but in reality I am not.  This is the same info that is presented by the Lake Martin Area Association of Realtors, and by many other realtors' sites, for that matter.  The big difference is that here, for the first time, it is presented and organized by each listing's geocode so that you can see it on a map.  The #1 complaint I heard from consumers was that our MLS is hard to search.  This is an attempt to help that problem. A huge thanks to Flex MLS for putting out a great software system for us to use.
2.  Where is my (my neighbor's) waterfront home on the map? I know for a fact it's for sale, I can see the sign from my window, but it's not on your map.  What's up? Keep in mind that this data is a direct feed from the MLS.  If the listing agent has not gone into the system to correctly tell FlexMLS where the listing is, it may be wrong.  Much like if the listing agent enters the wrong number of bedrooms, it will be wrong until each listing agent fixes it.  Nothing I can do about that (unless it's my listing).  The system is imperfect as it is fed data by imperfect people.
3.  So what should I do if my home is for sale and it's wrong on your map? Well, a.) it's not my map, it's info taken from the MLS.  So that means it's wrong on the MLS.  I would say you should b.) call your listing agent and ask him / her to correct it.
4. I want to know of any homes that come up for sale in a certain area, yet I am too busy to check the MLS every day.  Is there some way I can set up a search to automatically notify me of that? Yes, just email me and let me know of the exact borders of your desired area (e.g. Kowaliga Bridge to Chimney Rock on the south) and I will plug it into a search.  It will email you when there is a change in that area.  It's totally free of charge and of guilt.  I only hope that you will call me to help you when the time comes.
5. Are these all your listings? Nope, I wish.  This data is pulling from the entire Lake Martin Multiple Listings Service.  My listings are included, but so are everyone else's.  But, I CAN help you with all of these.  If you are interested in anything you see, contact me, I can help you research or buy something, and it doesn't cost you a dime more.
6. Where is a summary of your listings? Two places – you can click here for a map version and here for a list of my listings.
7.  Would you like to know how to improve this? Yes I would! Please let me know how I can make it better!
Many Lake Martin Voice readers may be interested in the results of the auction of the home at 1355 Sturdivant Rd Jacksons Gap, AL 36861. It is a waterfront home.  According to the auctioneer's website, the home has 3 bedrooms, 2 bathrooms, and was built in 1982.
The waterfront home was auctioned off, along with a bunch of other homes (not necessarily in the Lake Martin area), on 9-08-08 in Birmingham.  I didn't go, but intrepid reporter on the scene, slownez, of Lake Martin forum fame, did.
Here is slow's report, I thought that it makes for an interesting read of how these multi home auctions go:
"AL State House & Land Foreclosure Auction. Birmingham, AL 9/8/2008.
Registration started at 5pm at the Sheraton downtown. There were about 100 people there right at 5pm to sign in. Some had pre-registered and they had lines to register as well as to identify yourself as someone who would be bidding on multiple purchases. They checked to make sure you had a cashiers check for $5k and a valid ID and then given a bidders card to hold up at the auction. We went to grab a bite to eat and came back a few minutes after 6pm to find ~500 people already seated for the auction and they were scrambling to bring in more chairs.
The bidding started at 6:30pm with a practice session for those that had never attended. There 90 properties to be sold and the Lake Martin house was #88. I took them 3 hours to reach #88. Most all of the properties had a listed starting bid of $1,000. The house value was listed at what ever the last person paid for it, note this is a lot different from what the house is actually appraised for or worth. The $1k houses took off at $5k bidding and went up. Most of those sold in the $30k to $100k price range. The auctioneer had several helpers in the aisles that you could call over to ask what the current price was and what the next bid price was, the auctioneer was hard to understand at times as he was going so fast. Once you won a bid and the property was declared sold, you were escorted to table to finish the paper work and provide or apply for financing.
You were supposed to be pre-qualified for the auction, however they had both Chase and Countrywide on hand. A lot of properties came back up for bid a 2nd time because the winning bidder failed to qualify for a loan and had no proof of cash reserves to pay for the house. This slowed the whole process down as they re-bid these properties before moving to new ones.

The lake martin house was listed for a starting bid of $159k and a value of $416k. Bidding started at $165k and quickly hit $225k among several bidders. Then it was down to two bidders who drove the price up to the winning bid of $285k in about 20 seconds. Add on the 5% for the auction company and the selling price was ~$300k.
—Slownez"
Thanks Mr. EZ!!
Readers – was anyone else at the auction, and do you have more to add? If so please leave a comment below.  Or maybe you weren't there, but have an opinion on the price or process.  Leave a comment below!
Or, do you have more Lake Martin newsworthy events?  Contact John Coley by phone or email at the top of this page.  We are always on the hunt for great story ideas.
Related Posts:
Guess What? Nothing Happened At Lake Martin Auctions
A Lake Martin Voice reader submitted these questions to me about the Lake Martin real estate market in general. They were so good that I thought we all would benefit from my attempts to answer. Do you disagree? Then reply below and let me hear about it. The RIQ (reader in question) purchased a Lake Martin waterfront home in 2006. Here are my OPINIONS, for what they are worth, I am neither an appraiser nor soothsayer:
1. We arent looking to sell, but gosh, in this environment, is seems like we just bought at the wrong time. What do you think?

I think that 2006 was the peak of the bull market in Lake Martin waterfront property.
2. Will Lake Martin property values ever come back?
I don't think they have gone anywhere to warrant a "come back." In other words, I don't see evidence that prices have dropped, only evidence that they have ended a scorching run of yearly gains. So if by "come back" you mean will prices someday start going up again? Of course. It's all about supply and demand. In my estimations property values in the period of 2000 – 2006 climbed 30% PER YEAR. No product, not even oil, or bottled water, can sustain that. Since then I think we have had 0% gain for 2 years. Yet, if you average that gain over 8 (2000 – 2008) instead of 6 (2000 – 2006) you still average 22.5% gain per year. I realize you bought in 06, but still you need to know that over the long term (40 years), history has shown us that Lake Martin averages 12 – 15 % per year gain.
3. Do you think our decision on this house will prove to be an œok decision for long term financial objectives?

Don't mean to sound like a smart Alec, but let me know of another investment that has averaged 12 – 15% per year for the last 40 years. I will start selling it instead of Lake Martin real estate. I am too conservative (and cash poor)
of an investor to hop in and out of real estate on the short term. But for the long term, it's hard to beat. Remember, unlike Tampa or Atlanta or whatever, Lake Martin is not growing geographically. Waterfront footage is fixed. Furthermore, practically every inch of undeveloped (450+ miles) shoreline is owned by either Russell Lands or Alabama Power. It's not like you have 100 different landowners or developers that potentially flood the market. I believe that Russell Lands is committed to measured growth. The last thing they want to do is flood the market with supply (which is why I think they have pulled back in the last 18 months). Alabama Power isn't even in the real estate business. About every 5 years they release 15 new lots to lease. On the grand scheme of things, that is not a material amount of supply injection.
4. Do you think we could move our Lake Martin house if we had to?
Absolutely. Even though market wide, the Lake Martin market is still lukewarm, I have been blessed to have sold more real estate so far in 08 than all of 07. That's not bragging because 07 was pretty pitiful. But an interesting point is that about half of the Lake Martin homes that I transacted this year had already been for sale before, some since 06. So did I sprinkle magic dust on their roofs? Did I go to the back yard and bury 6 statues instead of merely 1 statue of St. Whomever, patron saint of the desperate? No. I concentrated on the holy trinity of real estate: pricing, staging, and marketing. In a buyer's market, things are still selling, it just takes a longer time. In 2005, it might take 20 days. in 2008, it might take 100. But it will sell. Sure, there is a lot of stuff on the market that is sitting for over 200 days. But, I am highly confident your home can be sold if properly priced, staged, and marketed. Will you make money? Who knows. I don't know what you paid for it nor what you owe on it. But rest assured, if your goal is simply to "move" it, absolutely it can be done.
Does anyone else have an opinion? Help us all out and comment below. If you can't see the "Leave a Reply" box below, click the "Continue" button then scroll to the bottom.