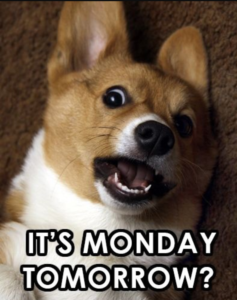 So how do you feel about Mondays? Maybe a free boating clinic at Blue Creek Marina on Lake Martin would help with Monday blues!
One Monday a month from now thru October, captains from Blue Creek Marina will focus on a different boat type to help you learn to safely operate and dock your boat.
Registration is required. Space is limited. Hours for the clinics are 10 a.m. to 3 p.m. Call Jennifer or Nicole at Blue Creek Marina to reserve your free spot. 256-825-8888.
Snacks and bottle water provided – bring your own lunch.
See the schedule listed below.
Pontoons:
March 6, April 3, May 1, June 5, July 10, August 7, September 11, October 2
Towboats:
March 13, April 10, May 8, June 12, July 17, August 14, September 18, October 9
Sterndrives:
March 20, April 17, May 15, June 19, July 24, August 21, September 25, October 16
If you would like the best app for Lake Martin, Alabama, complete with events, eats, home search, and landmarks, please see my Lake Martin Voice App. It's free! Just search "Lake Martin Voice" in the app store.
Don't tell anyone, but a few weeks ago I played hooky from work.
I fished with Drew Morgan of East Alabama Fly Fishing. We floated the Tallapoosa River, just above Lake Martin.We put in at Horseshoe Bend and floated down to the boat ramp at Jaybird Landing. He took me down on his boat, which is perfect for fly fishing like this.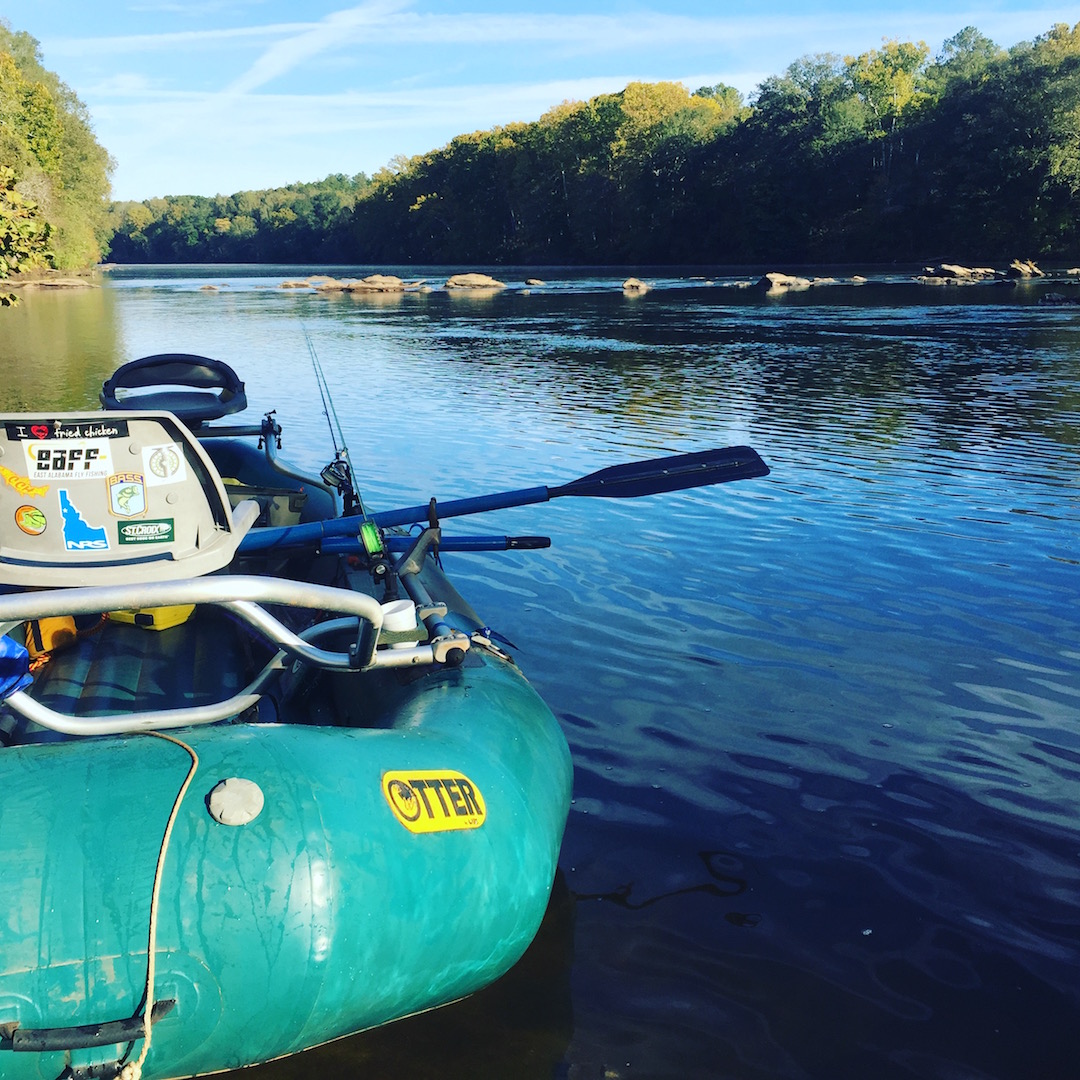 It was a beautiful day! The weather was clear and warm for October. The Lake Martin area is suffering a drought, so river levels were low. The flow was at about three feet when we started. Low, clear water makes fishing a little tougher, and we had to get out and drag the boat over a spot or two.  But other than that, it was picture perfect!
We caught a few spotted bass, a few redeye bass, and several bluegill. White poppers seemed to be the most popular fly of the day. I had to catch my breath when I saw a big (fifteen pounds or so) striped bass cruising the shallows by Jaybird. We were trolling a "Game changer" fly at the time, which I thought might incite a strike. No dice. In hindsight, I sort of wish I would have pulled in the line and cast in his general direction. At the time, however, the fly was trolling and tracking to go right by his line of travel, so I let it go. Seeing a big fish like that sometimes makes me freeze up!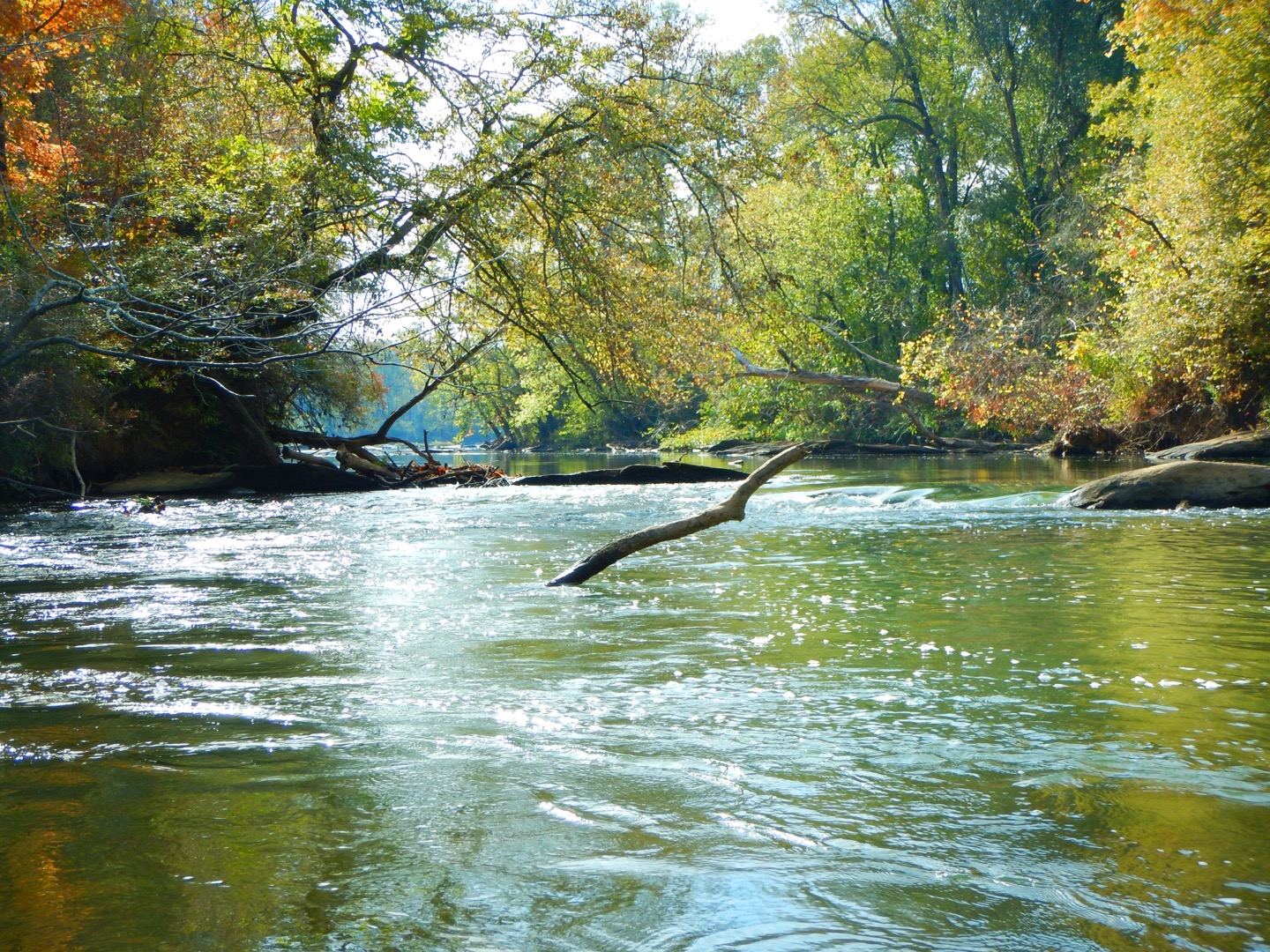 Very few people who visit Lake Martin realize what a beautiful treasure the Tallapoosa River is. The Tallapoosa is what is dammed to create Lake Martin, so if you follow the lake north, you'll hit the River. I can't really blame the lack of knowledge, because even though I grew up here, I didn't realize how cool this area is until I was old (>30).
If you'd like to learn more about fly fishing, spin fishing, or drifting the Tallapoosa River,
CLICK HERE
to contact Drew.
If you like to fish from your own canoe, kayak, inner tube, or rubber ducky,
SAVE THE DATE of

May 13

.
Drew and I are teaming up for a river bass fishing tournament to benefit a local charity. More details later.
For now, enjoy these pictures that Drew took on Monday. That bass with the bulging belly – it was full of crawdads. Plural. It was so stuffed you could feel their hard exoskeletons through the fish's skin. When we looked inside its mouth you could see crawdad antennae poking out of its gullet. It was freaky!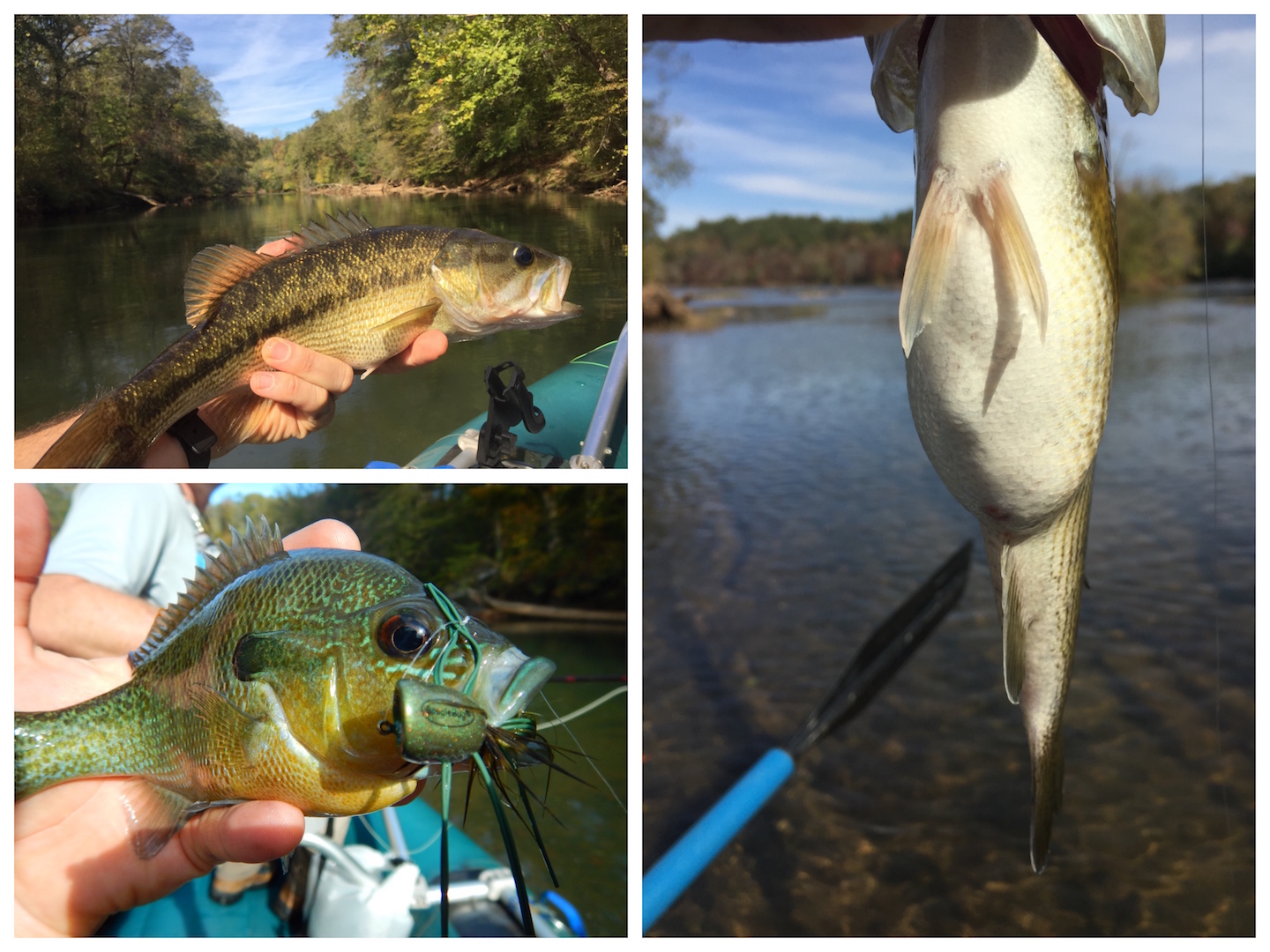 A reminder for you to take advantage of the free Driving and Docking Clinics being offered by Singleton Marine at Blue Creek Marina – lots of dates remaining!  I wouldn't want you to miss the boat!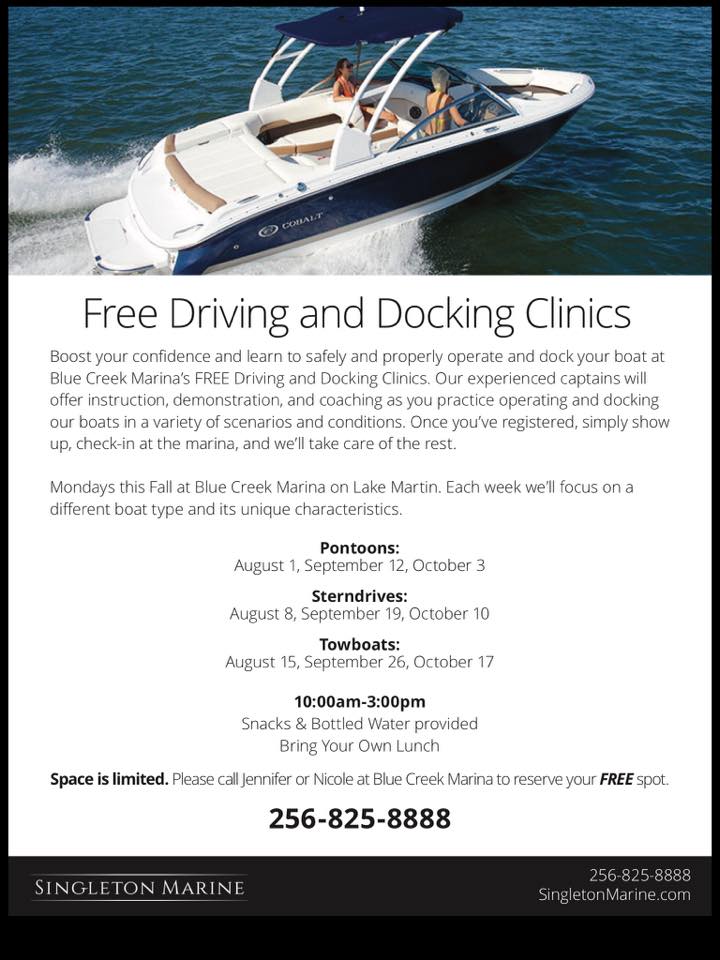 Blue Creek Marina is located at 7280 Hwy. 49 (aka Stillwaters Hwy.) in Dadeville.  Click here for the Google Maps location.
For other events around Lake Martin download my free app:  http://lakemartinvoice.com/app
September is a magical month here at Lake Martin. I love it. The water is still pretty warm, but the nights are cool. Not even the oldest of codgers complain about boat traffic, because there is none. One other factor gets me really fired up about Lake Martin life in the fall: striped bass fishing!
I'm on a continuing quest to figure out how to reliably catch striped bass on my fly rod here at Lake Martin. I have learned a lot over the past few years, mostly by error. One huge thing I have learned is that step one is to find the fish. That may sound pretty simple, but to me it is the biggest element of the game.
That's why I always pay attention to David Hare's striped bass reports. David is the owner and head guide at Alex City Guide Service. Although he is primarily a bait fisherman, no one on the Lake knows the striped bass patterns better than he does.
Please see his report for October below.
I also pay close attention to David's Facebook page.
If any reader out there has some good tips for me to catch them on my fly rod, please let me know!!
9/12/16
Water Level 487.8 ( full pool 491.00)
Surface Temp / 84º–89º
Clarity / Very Clear
As predicted September on Lake Martin was awesome. Both day and night trips were producing numbers of stripers. Of course your better quality stripers were and will always continue to be caught on live bait. We still occasionally do get a trophy on artificial baits trolling. At press time we (
Alex City Guide Service
) have boated numerous trophy stripers this month including several in the 30 + lb. range.  With the Lake record being 52 lbs. (which was caught by Alex City Guide Service) and this year's Lake record so far being 45 lbs. (which I am proud to say also was caught by us) – all were caught on live bait in which we specialize in and it continues to keep us on the map for
one of the best trophy striper lakes in the country.
October will be (if the past holds true) another awesome numbers game. There will be lots of stripers and bass caught this month with the water temps cooling down. Not only will you be able to catch these fish trolling  and live baiting, you will also be able to catch some on top schooling.
Remember October is a transition time and you're most likely to find fish most anywhere on the Lake.
No matter what species you enjoy targeting you can normally have a good time in October.
If you don't know Lake Martin or you just had rather hire a guide to increase your chances of a fun day on the water then give us a call at
256-401-3089
and we will take care of the rest.
Until next tight lines !
Capt David Hare
The Wakeboard Clinic at Blue Creek Marina this summer was fun!  If you hear about one of these events at the Lake – GO!  It is the perfect activity for a warm summer day and the clinic is open for all levels of experience.
And in case you were wondering – the answer is no, that is not me showing off my awesome wakeboarding skills.  But my sons did learn some new acrobatic maneuvers and we want to say a big THANK YOU to Singleton Marine on Lake Martin for hosting the Liquid Force Wakeboard Demo Clinic at their location – Blue Creek Marina.
If you want to know about events around Lake Martin be sure to sign up for my free app!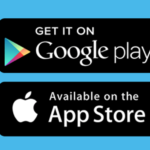 The Lake Martin Voice App is available
on the Apple App Store or on Google Play.
Thanks again to Singleton Marine – Blue Creek Marina!
Driving and Docking Clinics are being offered for free at Blue Creek Marina on Lake Martin!
Are you as confident as these boys about your boat driving and docking skills?  As a new driver or an experienced one learn how to drive and dock in all scenarios and conditions at a free clinic.
Experienced captains at Blue Creek Marina will offer instruction, demonstration and coaching as you practice operating and driving.  Learn how to safely and properly operate your boat.
Each Monday this Fall at Blue Creek Marina a clinic will be held focusing on a different boat type.  Here is the schedule:
Pontoons:  August 1, September 12, October 3
Sterndrives: August 8, September 19, October 10
Towboats: August 15, September 26, October 17
Clinics are from 10am – 3pm – snacks and water provided but bring your own lunch.  Space is limited.
Call Jennifer or Nicole at Blue Creek Marina to reserve your FREE spot.  256-825-8888
And remember – the best way to get good at docking?  Practice, practice, practice.
If you would like the best app for Lake Martin, Alabama, complete with events, eats, home search, and landmarks, please see my Lake Martin Voice App. It's free! Just search "Lake Martin Voice" in the app store.
The Alexander City Boat Ramp floating dock on Stowe Ferry Landing has undergone some updates – bumper and deck boards were replaced.  Great news huh?  The picture below from the Alexander City Public Works Facebook page shows the work being done.  Read more here.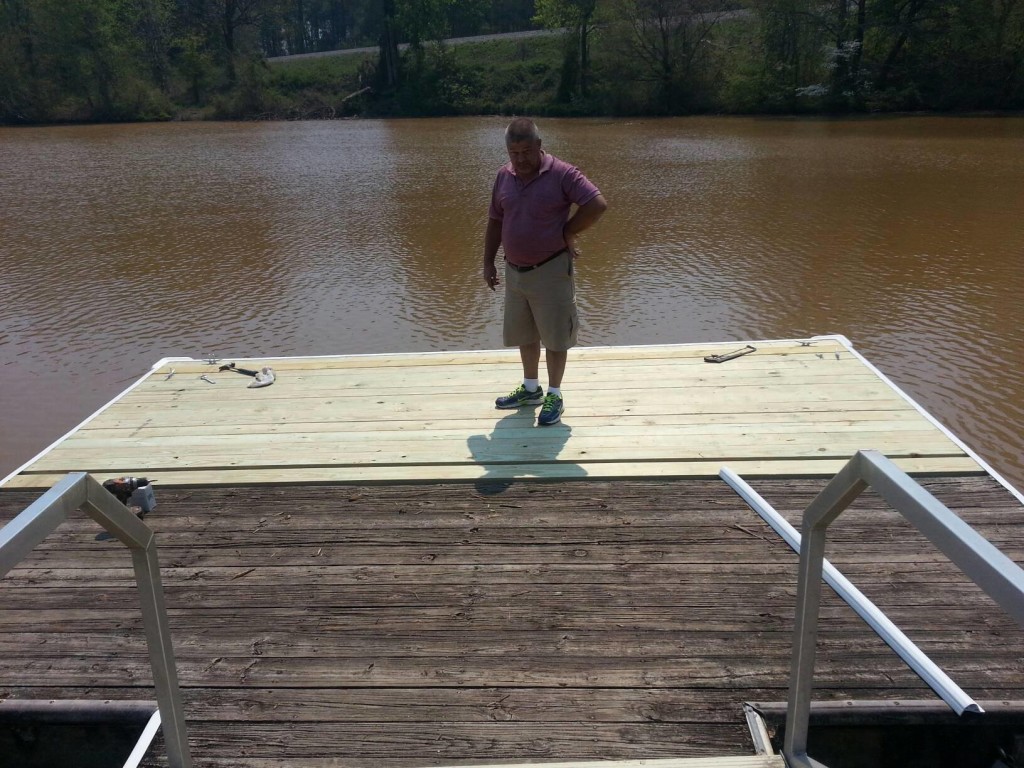 But that is not the only good news for the boat ramp – there will also be a sign welcoming visitors to Alexander City to the area.  Read this article from the Alex City Outlook to learn when the idea originated. Members of  Leadership Lake Martin have adopted the sign project and will also add an enclosed bulletin board with a map of Lake Martin.
Interested in knowing about other boat ramps around Lake Martin? Interested in the current Lake Martin water level? Or Lake Martin area weather?  Also want to keep up with events from around the lake, places to eat, homes and lots for sale, where to shop, marinas around the lake, places to have fun, and more? Check out the Lake Martin Voice app!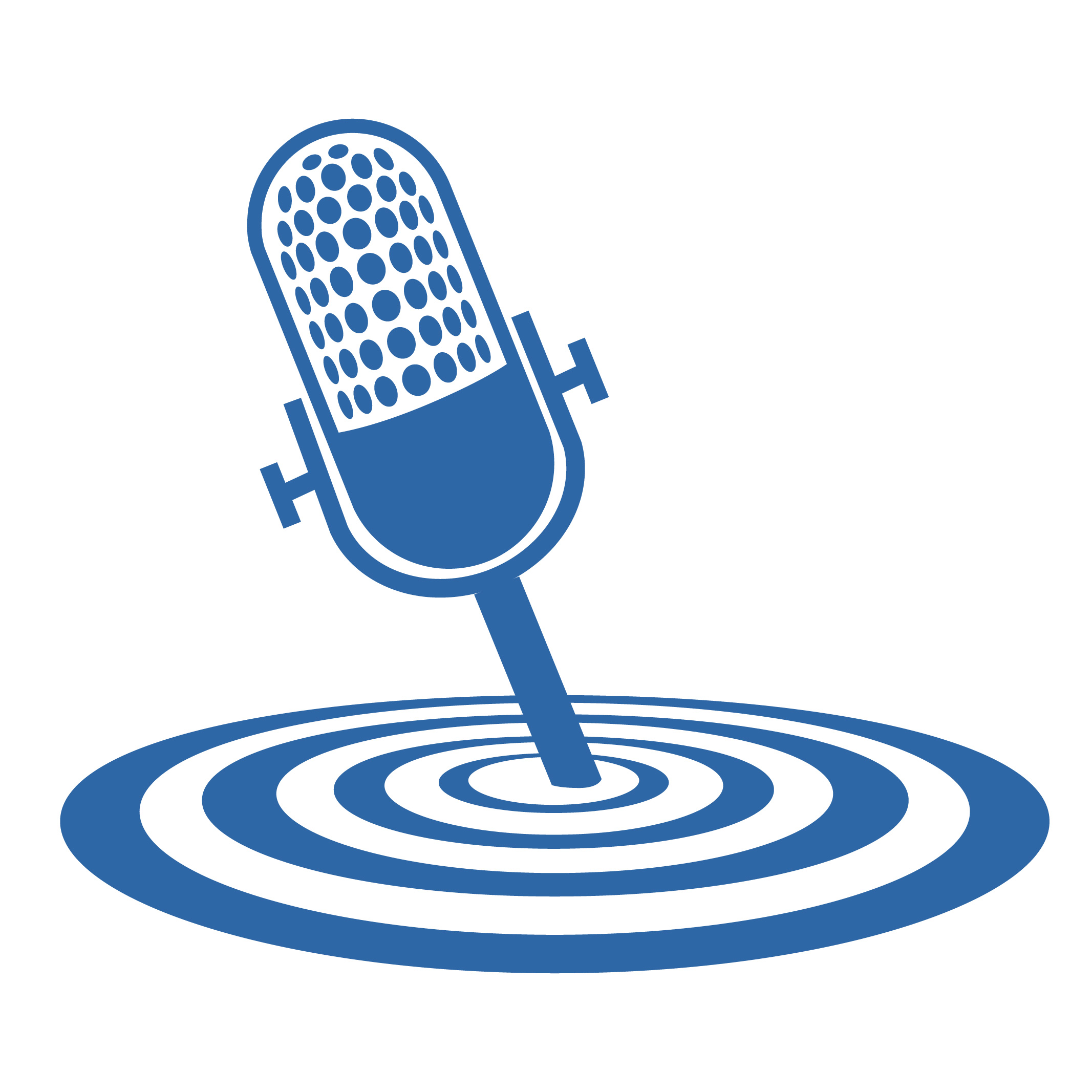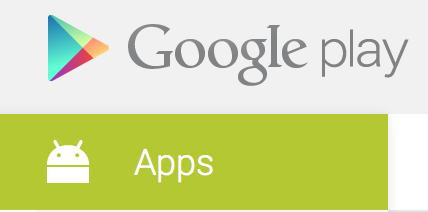 If you're looking to buy waterfront real estate, that means you probably want a boat.  And if you have a boat, you probably need some gas.  When showing Lake Martin waterfront homes, I often get these questions, "Where is the nearest marina?" " How do you get there by land?" and "How do you get there by water?" If you're looking for waterfront homes for sale in the Parker Creek area, then take a look at what Parker Creek Marina has to offer:
I've heard all about this food boat that is operating out of Lake Martin's Parker Creek Marina.  I haven't seen it yet, so I thought I'd drop by.  I went during the week, so the marina was closed and I didn't learn anything about the food boat.  But it was a pretty day and it gave me a chance to video their new dock.
I don't know exactly what Parker Creek has in store for next summer, but something's going on.  If you have any updates, let me know.
If you're looking to buy Lake Martin waterfront real estate in the Parker Creek area, check out my Parker Creek Neighborhood page.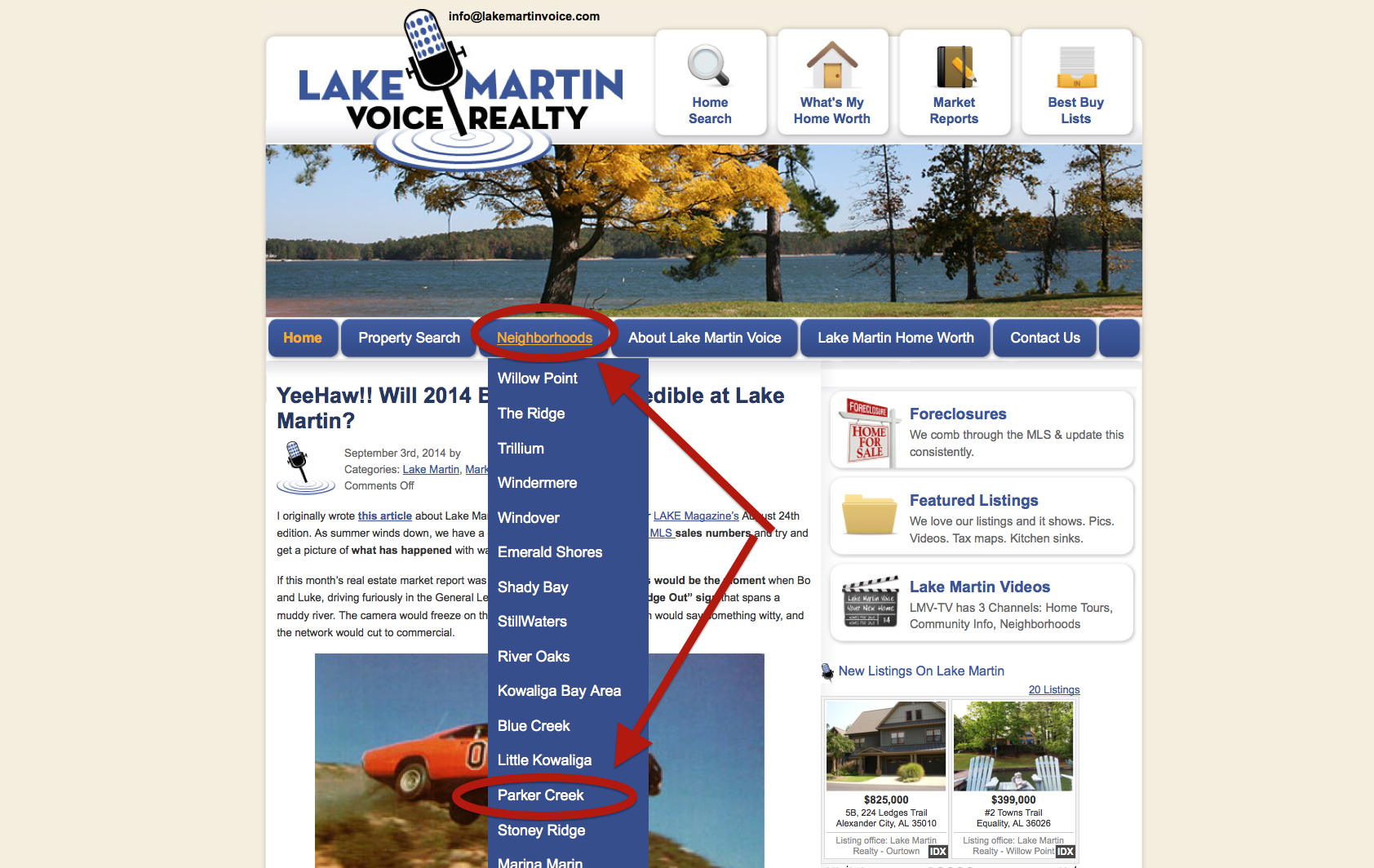 Lake Martin is huge, and it can feel overwhelming to search the entire lake for a home.   I created these Neighborhood pages to simplify the process.  If you know exactly where you want to be on the lake, quickly skim the live feed of current homes for sale in that area.  If you're not sure where you'd like to buy, use these pages to learn about Lake Martin in manageable chunks.  Each Neighborhood page has a video tour, a history of the area, a map showing boundaries, and most importantly, a live MLS feed of homes and lots currently for sale.  These are not just my listings – these are all listings from all agents and brokerages.
And if you see something you like, or you want help sifting through the info, give me a call and let's talk Lake Martin real estate.  334 221  5862.  I'd love to work with you!
I made the call today to Anchor Bay Marina to winterize my boat.  That call always gives me a bit of of the blues.
Enjoy this Muddy Waters video – he sings Honey Bee – live. Maybe I am getting too old but they don't make music like this anymore. Of course, I don't think I was alive when he recorded this so …. whatever. But here is Muddy – aka McKinley Morganfield – live in and full color. He's the man.  I chose "Honey Bee" because my beekeeping buddy and I are cracking open the hives and harvesting honey this weekend, Lord willing. We hope to get at least ten gallons, so let me know if you want any.
I am fortunate that, for work and play here on Lake Martin, I get to use my boat well into the end of October. I guess I should be thankful. But when the temp hit 29 last night, I knew the time had come to winterize.
I will be summerizing in the middle of March or so, so it's not that long of a time away from my boat.
But it still hurts.
It was March 28th, our inaugural boat ride of 2013.  We had come under the power lines and made the turn south so we could see the dam. Goat Island was on our right, and Ghost Hollow and the Overlook were on our left.
Just then we spotted a strange looking duck swimming madly on the water's surface.  As we got closer we realized it was not a duck at all, but the head of a deer.  Her body, obviously, was under the water, and she was swimming faster than Michael Phelps toward Goat Island.  Seeing a deer swimming is not that uncommon this time of year, but still – it was a sight to behold.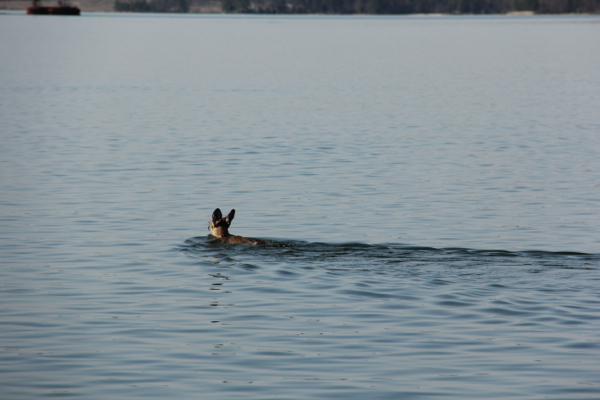 We then spotted two more deer swimming behind her in hot pursuit.  But these deer turned out to be dogs, and suddenly it all made sense.  The dogs must have chased the deer into the water off of Ghost Hollow and she was swimming across to the safety of Goat Island.  We lost her for a little while, but then we spotted her climbing onto dry land at the end of Dopson Point Road.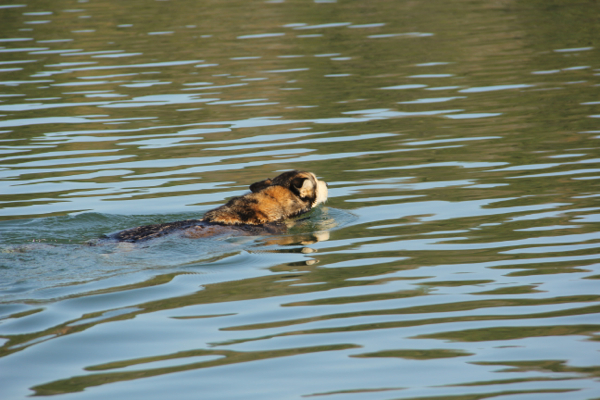 What about you?  Have you taken your first Lake Martin boat ride of the year?  See anything interesting?  Let me know; I'd love to post your pictures or let you retell your tale.
And if you need help with Lake Martin real estate, you know I'd love to hear from you, too!  (334) 221-5862 or CLICK HERE to email me.