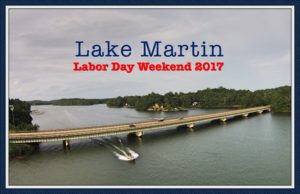 Are you headed to Lake Martin for the long Labor Day weekend? There are plenty of options for things to do as we celebrate the end of the summer season.
Here are a few things to do around Lake Martin for Labor Day 2017. For a full list and more details see my free Lake Martin Voice app – the best way to keep up with Lake Martin events and an easy way to find the restaurants, shops and landmarks.
Friday on the Green at Russell Crossroads – 6:30-8:30 pm, Jilla and Kurt will kick off September with some great music. Enjoy lawn games, sidewalk art. Pet and family friendly.
Old Red Hill Jam at Red Hill School House – local live music, open stage 6:30 – 8:30 pm. Dance, play or just listen!
Saturday – 2nd Annual Cornhole Tournament at The Landing – Noon. Teams of 2 will compete for prize money and the chance to wear the Crown of Corn!
Community Garden Club Pancake Breakfast – Saturday morning from 8-10. Russell Crossroads Artist Cabin.
Labor Day Weekend Blowout – at Bezlo's Bar & Grill, live music Friday from the Shades of Gray band and Saturday – Rob Aldridge & the Proponents Band. Comedy Night on Sunday with E. Craig and the Alcohol Break comedians.
Labor Day Bash – Copper's Grill at Stillwaters. Live music from Matt Smith, Sid Phelps and Blackberry Breeze. Music starts around 6:30 pm.
Sunday night, Labor Day Concert at The Amp featuring "Just Got Started Lovin' You" Nashville recording artist James Otto, the pride of Clarke County, country music singer and writer, Ashton Shepherd, local favorites, The Bank Walkers and Rexton Lee. Gates open at 5. Show starts at 6 pm. Tickets are $10.
Happy Labor Day weekend!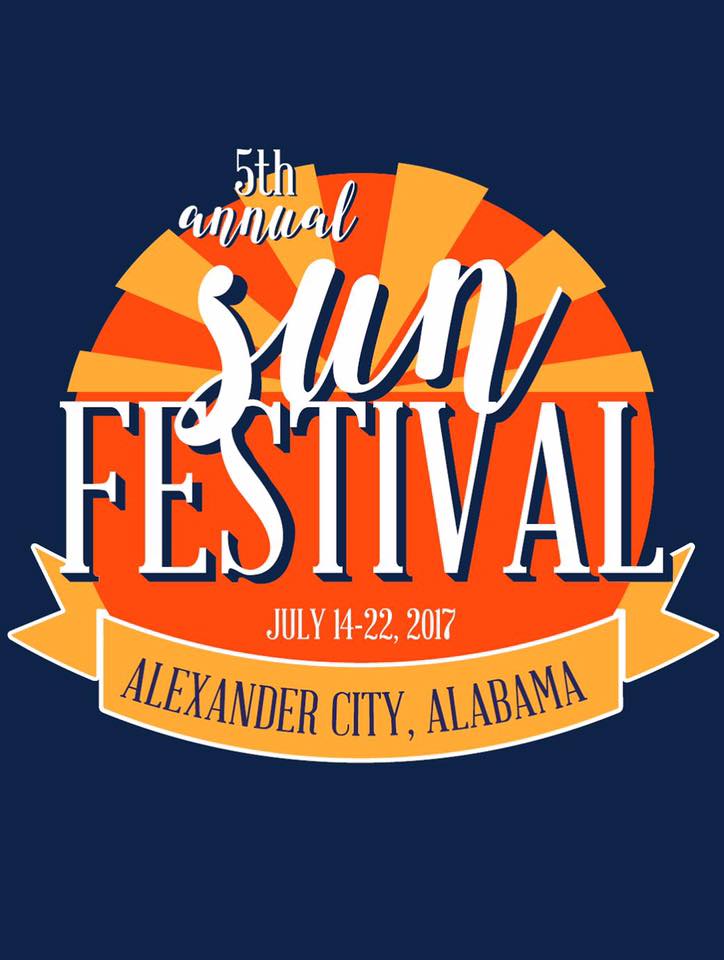 The Alexander City Sun Festival – nine days of fun – July 14- 22, 2017!
I really have to hand it to the Alexander City Chamber of Commerce. I think the Sun Festival is the perfect way to meld the City with Lake Martin. And they always schedule it after July 4th but well before Labor Day. The events are sponsored by local businesses that all bring their own flair. If you are anywhere near the Lake Martin area for this week, you owe it to yourself to catch one of these fun events.
With fun for the entire family be sure to make your plans now because you know you don't want to miss anything! To help with your planning download our free Lake Martin Voice app – all of the events are listed. Be sure to check the Sun Festival's Facebook page and website too for more details. Also the printed day-by-day guide can be picked up at the Chamber office and various businesses around town.
Listed below are a few of my favorite events:
July 15 – Slip-n-Slide 5K and 1 Mile Fun Run – Be sure to pre-register. I saw a pic of the slip-n-slide they will be using. They will end up at Strand Park and that is a great hill for sliding.
July 16 – PaddleBoard Race at Wind Creek State Park – This is sponsored by my friends Nicki and Jackson Dozier at TowBoat U.S. Lake Martin and also by Sharon and the Paddle Lake Martin group. The lake area has a growing paddle community and if you are new, this would be the perfect time to hop in, meet folks, and have fun.
July 17 – Dawg-Gawn Good Parade – Call me a sucker for dogs but I think this is just hilarious. Quintessential small town. You just dress your dog up in a funny costume, show up, and walk the walk. They even have prizes. Don't take it too seriously, this is not Best in Show. It's just for fun.
July 22 – On the Pontoon – two-hour cruises around Lake Martin sponsored by our fellow Lake Martin Voice Realty agent, the ever fun loving Paige Patterson. Paige will need to correct me if I am wrong but I think she has been doing these about three years. She first started them as a way to show real estate to folks new to Lake Martin, and it was such a hit she decided to incorporate a tour during Sun Festival. It's a great way to get to know the Lake. Also, if you absolutely just had to buy a piece of real estate that you saw along the way, Paige probably wouldn't hold you back. Just sayin'.
July 22 – Cornhole Tournament – starting at 4 in Strand Park. Cornhole is a "sport" that requires a minimal amount of effort.
July 22 – Moon Taxi Concert – starting at 6 in Strand Park. End the nine days of Sun Festival fun with a musical celebration! You absolutely need to get tickets ahead of time for this one, but they are only $20. Be sure to check the Chamber website www.alexandercitychamber.com.
Some of the events require registration or tickets. Registration forms can be downloaded at www.alexandercitychamber.com or go by the Chamber office.
Sun Festival is possible due to the Alexander City Chamber of Commerce, the many sponsors and volunteers and the city and county governments. Be sure to thank and support the sponsors and thank the volunteers when you see them!
Happy Sun Festival – enjoy celebrating all that Lake Martin and Alex City has to offer!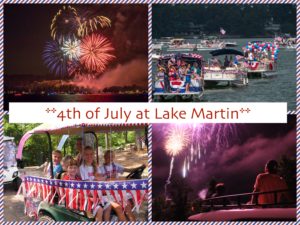 What is there to do at Lake Martin on the 4th of July?
I am glad you asked! Since the 4th is on a Tuesday this year (and hopefully you have Monday off from work) there are loads of events scheduled at the Lake starting Friday, June the 30th. In fact there are too many to list here but don't worry – check out my free Lake Martin Voice app for a full list of events.
As far as July 4th here are some great choices:
The Amp 4th of July Blast – Concert and Fireworks – gates open at 5:00 with music starting at 6:30 from The Bank Walkers and the Sweet Tea Trio. Fireworks will start at 9 featuring the Southeast's largest fireworks show! Tickets are $10 with children 6 and under free.
Russell Marine 4th of July Boat Parade – boats will parade from Kowaliga Marina to Children's Harbor in a "festive and patriotic holiday display." The parade starts at 10. Prizes awarded! Register to enter the parade (call 334-857-2111) or enjoy the parade from the shore!
Blue Creek 4th of July Parade – starts at the North end of Ponder Camp Road at 11 and ends at Niffer's. Watch or enter – fun for all!
Three cheers for the Red, White and Blue!
The Lake Martin Voice app is available for free (click on images below):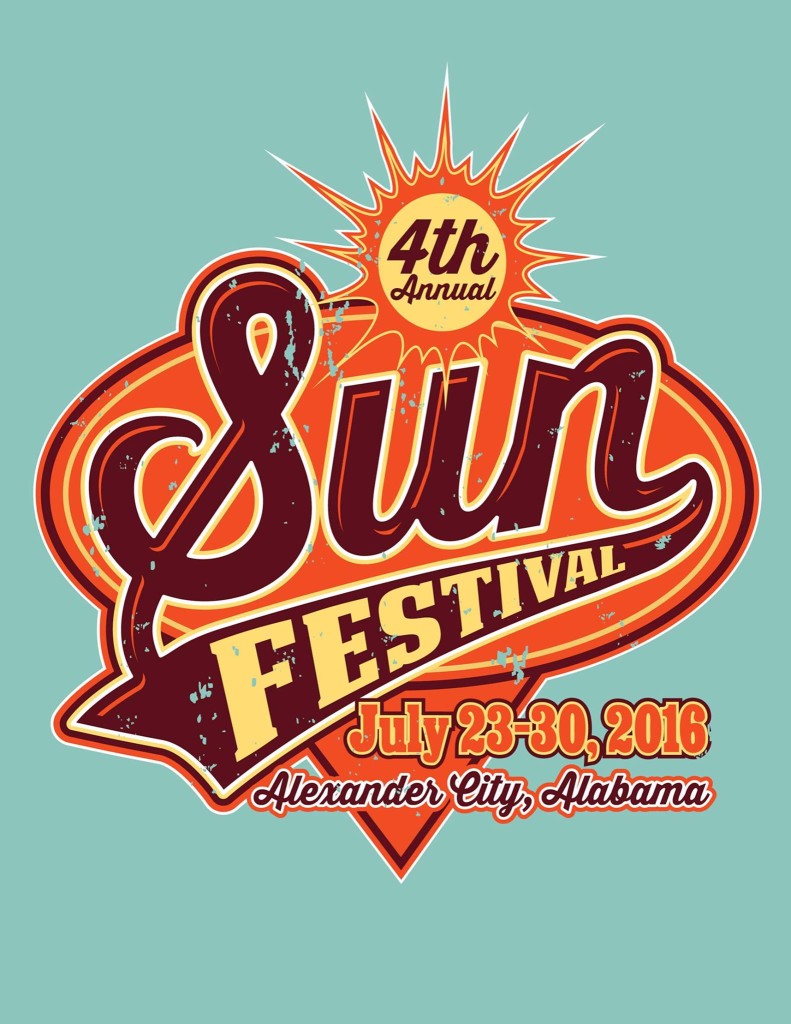 The Alexander City Sun Festival is here again – July 23- 30, 2016!  This Lake Martin area fun filled event is made possible by city and county governments, over 100 sponsors and many, many volunteers.  Sun Fest is coordinated by the Alex City Chamber of Commerce.
This week is packed full of activities for everyone – just to name a few (over 60 events are planned):
Saturday, July 23 – Get your glow on at the 5K Glow Run
Sunday, July 24 – Wind Creek State Park Family Day at the Lake (kayaking, sailing, volleyball, canoe race me?)
Monday, July 25 – Boot Scootin' Boogie in the Park
Tuesday, July 26 – Hittin' the Links Glow-in-the-Dark Golf Tournament at Lakewinds
Wednesday, July 27 – KidsFest Tribal Celebration
Thursday, July 28 – Sunset Hike to the top of Heaven Hill
Friday, July 29 – Band Battle at Strand Park
Saturday, July 30 – Summer Tailgate & BBQ Cook-off AND the grand finale – the Jana Kramer Concert and Fireworks show. Purchase your wristband early at the Chamber, online at www.alexandercity.com or at the gate that day for $20.  This wristband gives you entry to all of the day's events.  Bring your blanket or chair and enjoy the show!
Most events of Sun Festival 2016 are on my free Lake Martin Voice App.  To download a complete Sun Fest day by day guide click here.   You can also see their Facebook page here.  I do suggest you take a look at all 3 sources to help decide what events to attend – you don't want to miss anything!
Happy Sun Festival everyone – you don't want to miss celebrating all that Alex City and Lake Martin have to offer!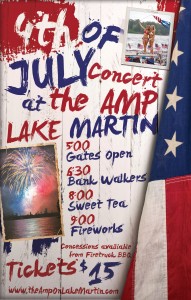 The best place to watch fireworks at Lake Martin for Independence Day? Easy: The Amp – aka The Lake Martin Amphitheater! Lake Martin fans have been watching Fourth of July Fireworks in Kowaliga Bay for generations.
The Lake Martin Amphitheater is located on Highway 63, just south of Kowaliga Bridge. See this Google Map. Don't be tempted to turn on Tecumseh Pt. and Russell Point Roads to get there. The official entrance to The Amp is a dirt road out on Highway 63, across from Prospect Cutoff Road, aka Elmore County Road 389.
Schedule for the Fourth of July Fireworks at the Lake Martin Amp:
5:00 – Gates open
6:30 – Opening is a favorite band of the locals The Bank Walkers.  I have confirmed that guitar prodigy Brian Bice will be wielding his six string, so be sure not to show up late.
8:00 – The Sweet Tea Trio plays until the fireworks begin
9:00 – Fireworks Begin!
For tickets click here to order online – $15 (children 6 and under free).
Happy 4th y'all! I'd like to personally thank Russell Lands for all they do to put on this show every year. The company is the major backer behind the Amp, and coordinates all of the concerts there, as well as the fireworks. It's a huge effort and the Lake Martin community wouldn't be the same without it.
Please see this video for an aerial tour of The Amp.  Also if you're coming to The Amp, bring towels to sit on or low beach chairs.  It's also BYOB but please be sure to have a sober driver.
People always ask me if they should take their boat and watch the Fourth of July fireworks from Kowaliga Bay.  It's a beautiful way to watch the fireworks, arguably the most beautiful, but I discourage it.  If you are new to Lake Martin, or new to boats, or new to boating on Lake Martin at night, forget about it.  If you insist, please make sure to have a sober driver and at least one sober spotter/first mate.  The sketchiest part of the whole affair is after the show is over.  Everybody takes off at once and goes in different directions, and the waves can get problematic.  Be advised.
For other events around Lake Martin for the 4th download my free app –  http://lakemartinvoice.com/app.
Have you ever been to the Lake Martin Amphitheater? If not, check out the above video.
The Lake Martin Amphitheater – aka The Amp – is located just south of Kowaliga Bridge on Alabama Highway 63. The street address is 8878 Kowaliga Rd, Eclectic, AL 36024. You turn in on a dirt road entrance off of highway 63. They have parking in the field before you get there.
The Amp is the host of many concerts (not to mention the annual Fourth of July Fireworks) throughout the year at Lake Martin. The venue is incredible! It's really cool to bring your towels and lawn chairs and sit on the grass to be entertained by some great music with Lake Martin in the background. If you would like a schedule of what's going on at the Amp, please see their website here: The Amp. Ticket prices for events vary widely, so be sure to visit their site or call (256) 329-0835  for the latest info. 
I am just a real estate agent! So please don't call me and expect me to sell you tickets to a concert!
However, if you would like the best app for Lake Martin, Alabama, complete with events, eats, home search, and landmarks, please see my Lake Martin Voice App. It's free! Just search "Lake Martin Voice" in the app store.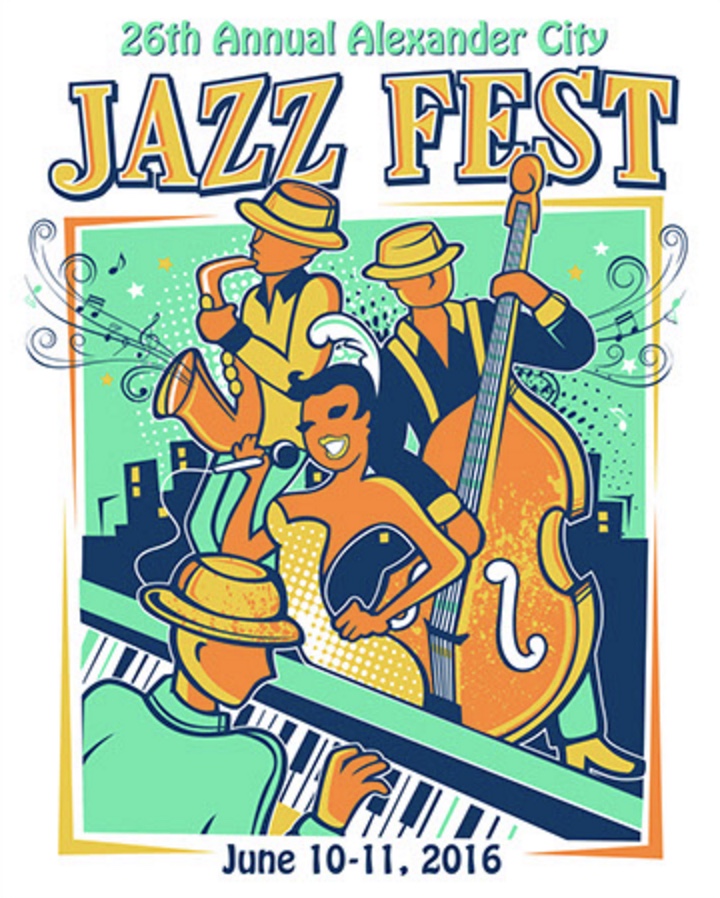 The 2016 Alex City Jazz Fest is being held on June 10 and June 11 this year.
And it's almost time again for a weekend of great live music!  And it's free!  This music festival has earned a great reputation for top notch artists and this year is no exception.  Lake Martin Voice Realty is proud to be a sponsor again this year.
Friday night the festival is held in downtown Alex City at Strand Park and it moves to Lake Martin Amphitheater on Saturday.  Click here for the Alex City Jazz Fest website.
The line up this year:
Friday, June 10 – 6:00 Jonathan Bloom, 7:30 Roman Street, 9:00 Tab Benoit
Many of you know Jonathan Bloom – a resident of Alex City.  He plays songs from bands like the Allman Brothers, Kings of Leon, Marvin Gaye and Tom Petty (and I went to high school with him). Roman Street, founded in 2006 in Daphne, Alabama by two brothers – Noah and Josh Thompson, has been called the "next generation of Jazz Fusion."  Now as a larger instrumental band you will enjoy their jazz, Latin and acoustic sound.  And Tab Benoit?  He hails from New Orleans and is a blues guitarist, musician and singer with primarily a Delta blues sound.  You are in for a treat with this musician.
Saturday, June 11 – 6:30 Gravy, 8:00 Brass-A-Holics, 9:30 Wet Willie 
Created in 2004 Gravy is a Funk & Soul band from New Orleans.  Also from New Orleans is Brass-a-holics – a "brass funk band."  And of course lots of you will know Wet Willie, from the Daphne/Mobile area. Founded by brothers Jimmy and Jack Hall in the 70's they "…have opened for everyone from A to Z: Allman Brothers to ZZ Top."  Their music like "Keep on Smilin' " (top 10 hit), "Weekend" and "Grits Ain't Gravy" will have you out of your seat dancing and singing along in no time!
Keep up with all of the Events around Lake Martin!  Download my free Lake Martin Voice app!
If you missed last night's Jazz Fest in downtown Alex City, fear not, you have a chance tonight.
Every year, the Alex City Jazz Fest puts on one of the state's best free musical events. Friday night is always in downtown Alex City at what is now the Strand Park. Saturday nights are at The Amp, the incredible amphitheater that overlooks Lake Martin.
Tonight, June 13, 2015, the lineup is:
8:00  Hotel Oscar
9:30 The Revivalists
Like I said, The Amp is a really cool venue and the admission is free. You can't beat that. I think that the local VFD takes a collection for parking but it's well worth it.
Lake Martin Voice Realty is a long time sponsor of the Alex City Jazz Fest!!
How to Find Lake Martin Events
The best way to keep up with all events at Lake Martin is to download my FREE app, Lake Martin Voice.  Here's a quick video of how it works for Events:

The app is available for iOS in the Apple Store and Android also. Like I said, it's FREE. The app also has a quick guide to Lake Martin area restaurants, marinas, a real estate search, weather, and more.


Are you spending the Independence Day holiday at Lake Martin?  July 4th is kind of a big deal around here.  In addition to all the regular Lake Martin water activities, here are a few other Lake Martin traditions to be a part of this year: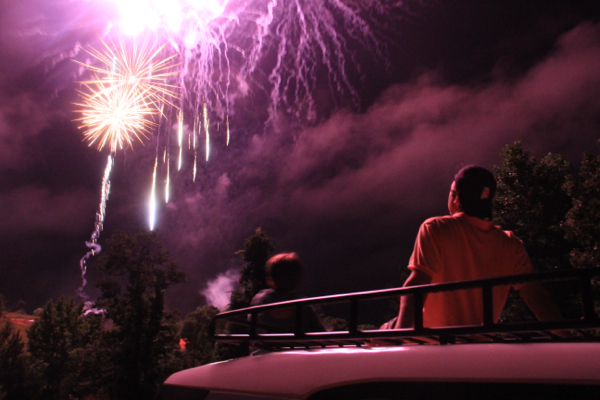 A huge Lake Martin tradition that takes place at The AMP (amphitheater).  Gates open on Friday at 5:30pm, the show starts at 6:30 pm, and the fireworks are at 9:00 pm.  This is a sho-nuff fireworks extravaganza – come prepared to be impressed.  Parking is free and watching the fireworks is free, but the concert is $15.  You can get tickets here.
I made a video of the setup several years ago, and I still think the whole process is really cool:
4th of July Boat Parade
10:00 am on the 4th.  It begins at Kowaliga Marina, crosses under Kowaliga Bridge, turns at Children's Harbor, and heads back to the marina.  To watch the parade, hop in your boat and check out the contestants.  They're being judged on all kinds of flag and patriotic-related categories: biggest flag, most flags, tallest flag, most patriotic, etc.  Sometimes they throw candy.  And by all means, enter the parade if that's your thing.  Registration is free at the Russell Lands marinas. Stop in by July 3rd or call (334) 857-2111.
Alas – this is a tradition that has sadly ended.  We used to go to Jim's on July 3rd and hear The King in the parking lot.  If anyone know where the Elvis impersonator is playing, please let me know.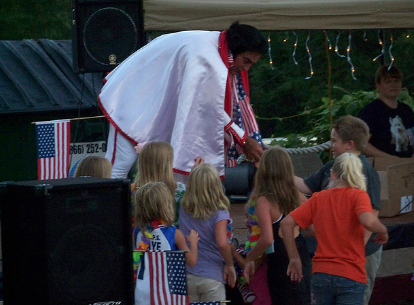 Floating Food
There's a new food boat out of Parker Creek marina.  I don't know much about it, but it's worth checking out.  If you find it and try it out, let us know!  The Nibbler's boat (totally separate boat) has some really good food and they're usually based out of The Ridge marina near the Chimney Rock area.
Crossroads Pancake Breakfast
Thursday, July 3rd.  8-10:30 am at the Arts Cabin at Russell Crossroads.  Last year my dad took us and tried to pay my kids $5 to kiss one of the horses on the mouth while he took a picture.  They declined, but another 10 year old boy at the next table said he'd do it.  And he did. 
Arti Gras
July 5th – Food, crafts and art vendors on the Town Green at Russell Crossroads.  Call (256) 212-1416 for more info.  I guess it's all day.
4th of July Parade at Blue Creek
The parade begins at 11:00am at the north end of Ponder Camp Road and ends at Niffers on Highway 49.  If you'd like to participate, bring your golf carts, bikes, motorcycles, trucks, etc.  Decorating begins at 10:00am at the top of the hill on Olona Drive.  Any questions contact Mickey Forbus at (334) 329-0905.
July 5th. If you're into farmer's market items like fresh produce, local honey, etc., the Farmer's Market in downtown Alexander City is every Saturday morning thru the end of October.  I paid them a visit a couple of summers ago:
Have a fun and safe 4th everyone!  If you're interested in real estate this week, feel free to give me at call at 334 221 5862.
That's right, the 2014 Alex City Jazz Fest is June 13th and 14th, and as always, it's a free weekend of great live music.
If you haven't been to Jazz Fest before, I know this sounds cliche, but it really is fun for all ages.
Friday night the concert is held outdoors in downtown Alex City.  Bring your lawn chairs and your food and drinks, and enjoy a laid back night of really good music.  Young families enjoy the bands while their kids run around the picnic blanket, groups of friends or coworkers set up amazing food and contest winning table decor, and the hip, young crowd stays late to close it down.
Saturday night is at The Amp overlooking beautiful Lake Martin.  Again, bring your lawn chairs, your coolers, and your blankets, and watch out if my dad tries to dance with you.  A designated driver is a good idea, both nights, and FYI, everyone has to get to The Amp by car.  There is no boat parking at this venue.
And it is FREE, thanks to the many local sponsors who make this happen, year after year.  We're proud to be a sponsor again this year.
Here's the schedule for the weekend.  Enjoy!