A reminder for you to take advantage of the free Driving and Docking Clinics being offered by Singleton Marine at Blue Creek Marina – lots of dates remaining!  I wouldn't want you to miss the boat!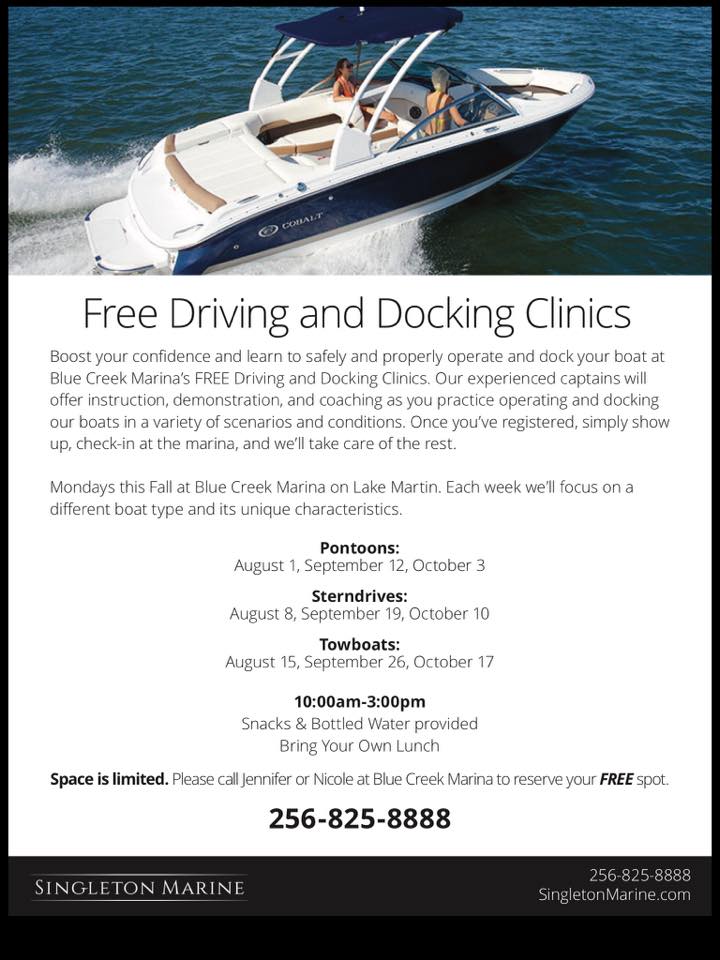 Blue Creek Marina is located at 7280 Hwy. 49 (aka Stillwaters Hwy.) in Dadeville.  Click here for the Google Maps location.
For other events around Lake Martin download my free app:  http://lakemartinvoice.com/app
September is a magical month here at Lake Martin. I love it. The water is still pretty warm, but the nights are cool. Not even the oldest of codgers complain about boat traffic, because there is none. One other factor gets me really fired up about Lake Martin life in the fall: striped bass fishing!
I'm on a continuing quest to figure out how to reliably catch striped bass on my fly rod here at Lake Martin. I have learned a lot over the past few years, mostly by error. One huge thing I have learned is that step one is to find the fish. That may sound pretty simple, but to me it is the biggest element of the game.
That's why I always pay attention to David Hare's striped bass reports. David is the owner and head guide at Alex City Guide Service. Although he is primarily a bait fisherman, no one on the Lake knows the striped bass patterns better than he does.
Please see his report for October below.
I also pay close attention to David's Facebook page.
If any reader out there has some good tips for me to catch them on my fly rod, please let me know!!
9/12/16
Water Level 487.8 ( full pool 491.00)
Surface Temp / 84º–89º
Clarity / Very Clear
As predicted September on Lake Martin was awesome. Both day and night trips were producing numbers of stripers. Of course your better quality stripers were and will always continue to be caught on live bait. We still occasionally do get a trophy on artificial baits trolling. At press time we (
Alex City Guide Service
) have boated numerous trophy stripers this month including several in the 30 + lb. range.  With the Lake record being 52 lbs. (which was caught by Alex City Guide Service) and this year's Lake record so far being 45 lbs. (which I am proud to say also was caught by us) – all were caught on live bait in which we specialize in and it continues to keep us on the map for
one of the best trophy striper lakes in the country.
October will be (if the past holds true) another awesome numbers game. There will be lots of stripers and bass caught this month with the water temps cooling down. Not only will you be able to catch these fish trolling  and live baiting, you will also be able to catch some on top schooling.
Remember October is a transition time and you're most likely to find fish most anywhere on the Lake.
No matter what species you enjoy targeting you can normally have a good time in October.
If you don't know Lake Martin or you just had rather hire a guide to increase your chances of a fun day on the water then give us a call at
256-401-3089
and we will take care of the rest.
Until next tight lines !
Capt David Hare

Q:  Thank you for all of the email updates for homes for sale around Lake Martin.  I see one I like- but it says "Pending" by the home's info. What does Pending (Y) mean on your website?
A:  For my website, (Lake Martin Voice.com) – I pull all of my information from the Lake Martin MLS. Regardless of what bloated sites like Zillow will try and tell you, the Lake Martin MLS is the most accurate and updated database for waterfront property here at Lake Martin. This is because it is made up of the real estate agents and brokerages here.
One of the fields of data we have is "Status." When you see the Status = Active, that means that the waterfront lot or home is currently for sale. When you see Status = Pending, it means that the property is under contract.  There has been an offer, and that offer was accepted, and the parties are working towards closing.
Typically, the time that a home is 'pending' is about five or six weeks to allow for the buyers to do their due diligence, such as the lending process, any inspections, surveys, etc.
Incidentally, once the sale has finalized and closed, the status is changed to "Closed" and it will be removed from the website.  This is because, according to our Lake Martin MLS rules, sold properties are not allowed to be on public facing websites. Sold information is only visible to Lake Martin MLS members, so if you would like info on a sold property, please CONTACT ME HERE and I can help you with that.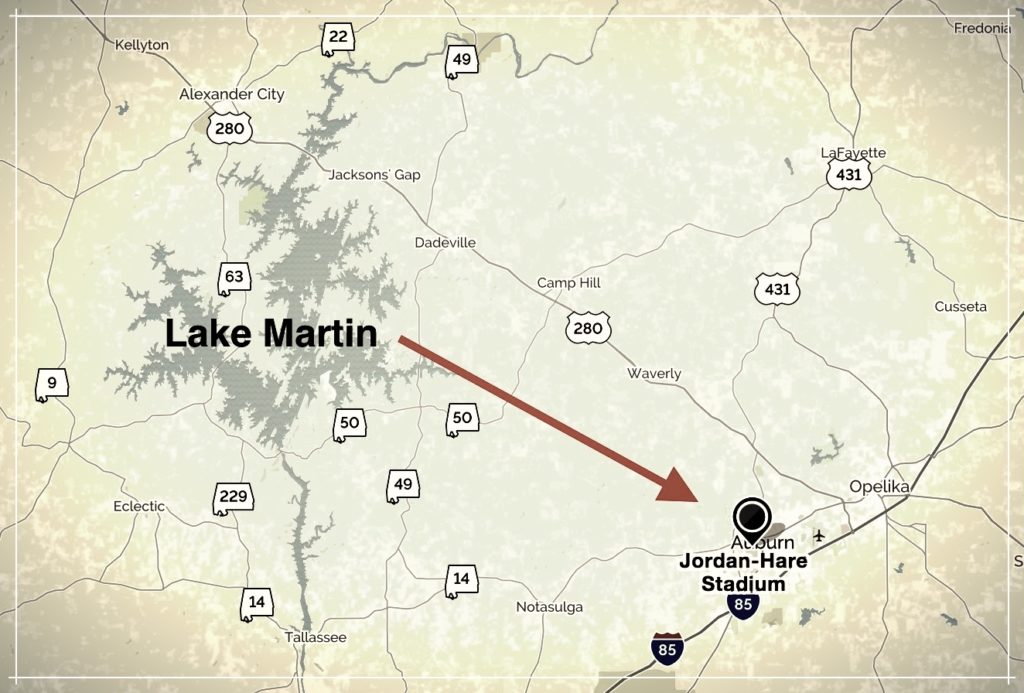 Do people stay at Lake Martin for Auburn games?  I believe the answer is YES. The Lake is a such a short drive to Jordan-Hare Stadium.
According to an article published earlier this month in Alex City Outlook (click here to read) Auburn home football games make a big impact on the economy around the Lake Martin area. Local merchants, businesses and restaurants report increased revenue for home game weekends.
And rentals at Lake Martin are popular for football weekends – enjoy the game in Auburn on Saturday and the Lake on Sunday!  What could be better?  (besides a winning season).
Even if you don't plan on going to the Auburn football game, if you are coming to look at waterfront real estate, it affects you, too.  As an example, I recently had a couple from Atlanta coming in to look at some homes and lots on Lake Martin.  They happened to be coming on a football weekend, and hadn't made any reservations.  Most of the local hotels around the Lake were booked up!  So it always pays to think ahead, even if you are not a football fan.
Since we are talking about Auburn and Lake Martin … were you one of the few that missed Auburn's kicker, Daniel Carlson's, Instagram video from this summer?  He and teammate Will Hastings were at Lake Martin "working hard in the offseason."  Click here to see the video and read the article from AL.com.
Whether or not you Roll with the Tide, yell Waaarrr Eagle, scream Go Vols, support the Bulldogs (Mississippi State or Georgia), geaux with the Tigers, get fired up about the Gators, Gamecocks, Razorbacks, Rebel Black Bears or any other team – enjoy the Fall with Faith, Family, Friends and Football!
The Wakeboard Clinic at Blue Creek Marina this summer was fun!  If you hear about one of these events at the Lake – GO!  It is the perfect activity for a warm summer day and the clinic is open for all levels of experience.
And in case you were wondering – the answer is no, that is not me showing off my awesome wakeboarding skills.  But my sons did learn some new acrobatic maneuvers and we want to say a big THANK YOU to Singleton Marine on Lake Martin for hosting the Liquid Force Wakeboard Demo Clinic at their location – Blue Creek Marina.
If you want to know about events around Lake Martin be sure to sign up for my free app!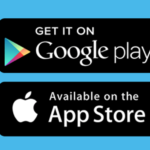 The Lake Martin Voice App is available
on the Apple App Store or on Google Play.
Thanks again to Singleton Marine – Blue Creek Marina!
When ready to buy a Lake Martin home, Randy and Jennifer did their homework. Let the house hunting begin!  They researched, looked, and researched some more.  They took advantage of a key tool that I give to my buyers – a constantly updated list of every potential dream home – emailed right to their phones.
When their dream home hit the market, they knew they had to move fast.  In a seller's market, speed is critical for the buyer.  But you don't want to rush into anything!
By receiving custom curated search results, and by walking through a few homes, Randy and Jennifer were ready to move with informed confidence when their time came.  They got my email alert on Sunday, we saw the home on Monday and we were under contract by Tuesday.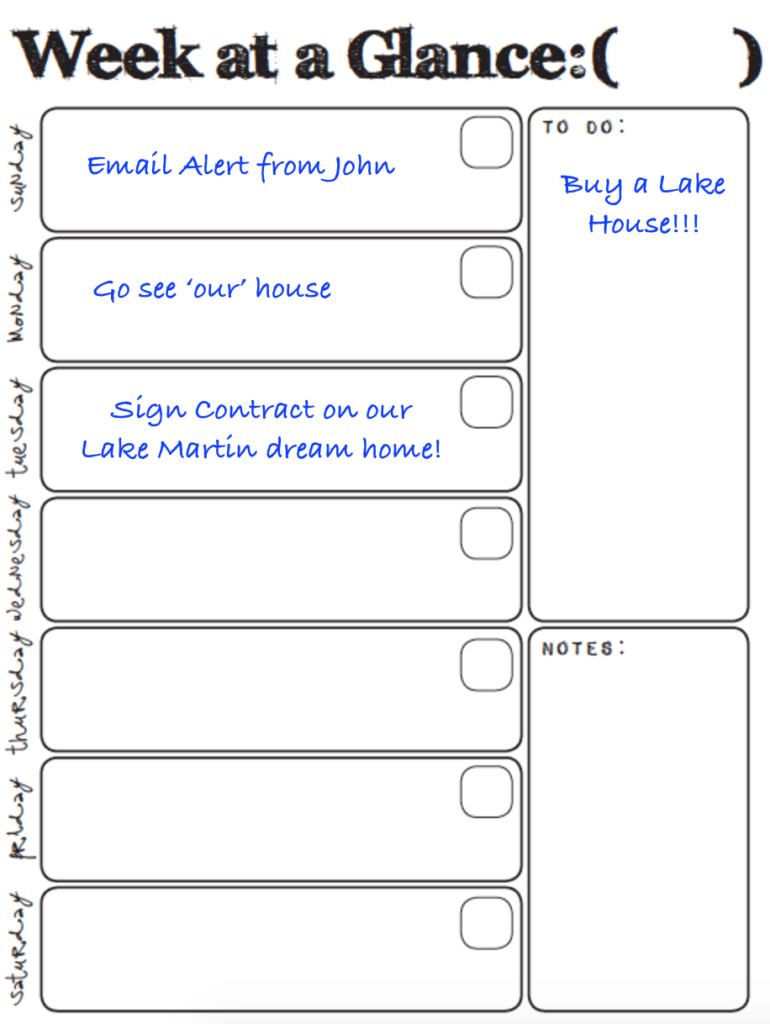 Cheers to Randy and Jennifer on securing their Lake Martin dream home!
Buying a home is exciting and can sometimes be overwhelming but with the right agent  you can find your dream home too! As your agent I would love to talk to you about how I can help you find your home on Lake Martin by using this key tool – giving you the latest and most accurate list of homes that fit your 'must-haves'!
Please call or text me at the number at the top of this page or contact me Here.

Check out this cool, outdoor living area in my newest listing – a waterfront home for sale at 570 Wake Robin, Eclectic – Lake Martin!
Built right on the beach area of this home in Trillium, the rustic outdoor area is like having another living room to enjoy year round.  The beautiful stone fireplace makes a great gathering spot for family and friends.
Entertain and relax here – watch the game on TV, enjoy a cold beverage from the built in cooler or just boat watch and enjoy the sunsets – your choice, your retreat.  Enjoy.
For more info on 570 Wake Robin CLICK HERE.
Do you have a waterfront property you are considering selling on Lake Martin?
Please let me talk to you about how I can help you.  We put the best of today's useful technology to work for you – reaching buyers in a multitude of ways: the web, social media, email, and good ol' word of mouth.
Contact me HERE or call me directly at the number at the top of this page.
Come have some great family fun at the Cornhole Tournament being held at The Landing at Parker Creek – Lake Martin on Labor Day Monday, September 5th at Noon!
No entry free!
Cash prizes awarded per team!  1st place – $200, 2nd place $100, 3rd place $50!
What? You've never played cornhole? Just learn a few cornhole terms and you will be yelling "Let's toss some!" before you know it.  For starters a slider is when the bean bag (or bag filled with corn) slides into the hole.  A swish is when the bag lands straight into the hole.  A Sally is a toss made a little too short – it lands on the ground before reaching the actual board.  And an Eddie the Eagle is when the bag goes beyond the board without hitting the board.  Oops.
Let me end on this note – like Herb Winches, owner of The Landing and longtime Birmingham sportscaster likes to say, "Hit 'em straight!"
Google Maps location for The Landing at Parker Creek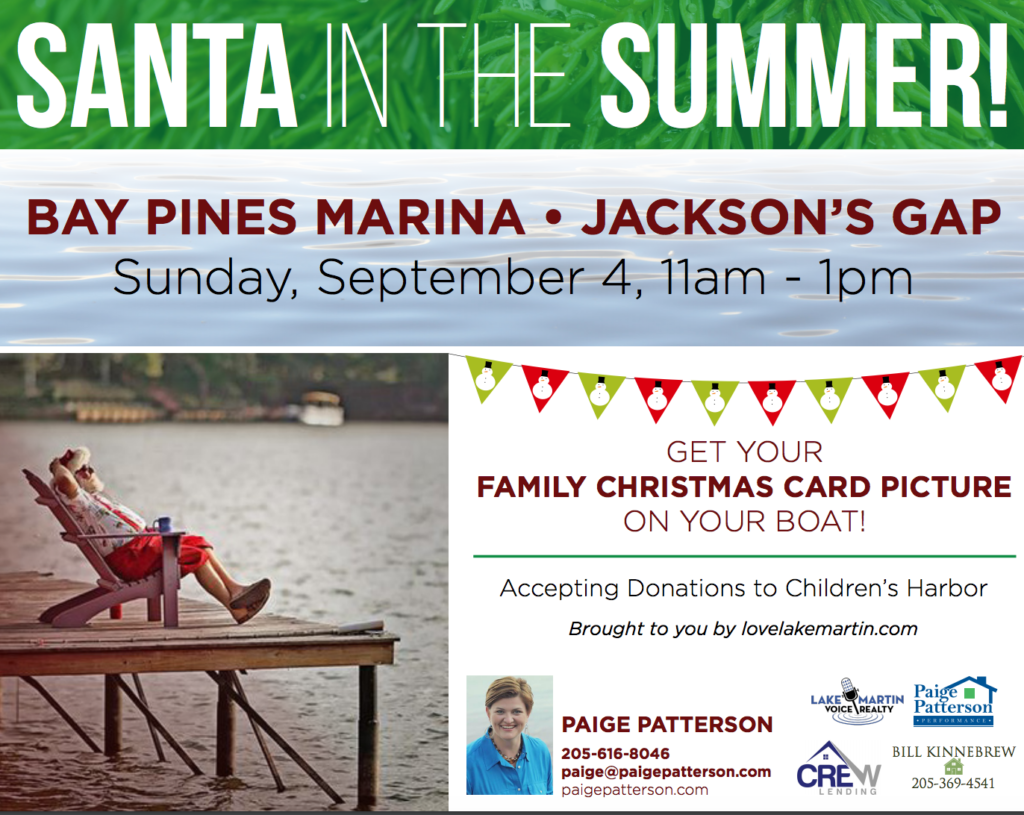 Shhhh…don't tell the kids but Santa vacations at Lake Martin.  Who knew?
You can take advantage of his being on the Lake on Sunday, September 4 and get a family Christmas card picture made on your boat!  Meet at Bay Pines Marina between 11-1 and be ready to smile and say Jingle Bells.  But don't bring your Christmas list because remember – Santa is on vacation.
Brought to you by Paige Patterson – lovelakemartin.com.  Donations will be accepted for Children's Harbor.   Click here for Paige's Facebook page for more info.
Google map for Bay Pines Marina
Ho Ho Ho and away we go!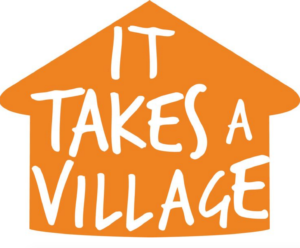 Note: I originally published this article in my monthly column in Lake Magazine.  I am proud to write about Lake Martin Real Estate for Lake Magazine.
It truly takes a village of people to help buyers purchase a home here at Lake Martin.
Sure, you might be tempted to think that the only people involved are real estate agents and lenders.  While they are a great idea, agents and lenders are not necessary.  I will say that, according to the National Association of Realtors, 87 percent of buyers used Realtors last year to help them in their purchases.  Since I am an agent, this recommendation won't surprise you, but I do think a great agent more than pays for himself or herself.  Choose one wisely.
Your agent should also be able to help you find additional people to assist in your purchase.  An effective agent should have the contact information of the below folks ready at a moment's notice.
A first person you might need is a good general contractor or GC.  A GC's advice can give you the data you need to be confident about your decision to negotiate with the seller and get a written contract.  You may need them to walk through the home on which you have selected to make an offer if there are big repair items, but please do not drag the GC around to every single home you view.  You want them to actually return your call when it really counts.
One of the first things to do after you have a written contract is to think about the land on which the home sits.  Before you even get to the house, it is a good idea to hire a surveyor.
When you consider that most of the value of a waterfront home is in the dirt, it's a good idea to get data on that dirt.  A surveyor can help.  Some buyers elect to go pretty light here and only ask the surveyor to "mark the corners."  This means simply finding each point of the property line and putting up some sort of marker.
Another option, albeit more expensive, is to get a complete survey of the property and its improvements.  At the end of this operation, you would be handed (or emailed) a survey that shows the home, the dock, the driveway and just about anything else that is on the lot.  A drawing like this can be extremely useful for future expansions but also could be helpful in case your neighbors get – shall we say – liberal with the placement of their yard art.
Most buyers are attuned to the fact that a home inspector is a critical part of the process. Make sure the one you hire after you are under contract is certified.
My personal theory on home negotiation is not to use the inspector as a way to nickel and dime the seller into having to repair every little scratch on the home; remember, most of the time the value of a Lake Martin home is in the lot anyway.  It's just my opinion, but even though I like an inspector to point out every blemish, I am just looking for the big things.  I am mainly concerned about the expensive systems or potential repairs.  I think buyers should approach inspections with the mindset of priority, ranking the repairs according to their preferences.
Contrastingly, some aggressive buyers in our current seller's market are forgoing a home inspection.  The mindset of these buyers is that they want to make their offers more attractive to the sellers, thus beating out any potential competing offers, since the purchase is not subject to an inspection.  If you choose that route, be careful, and be sure you understand all the risks.
A septic inspector is also a very important person, and this inspection also should be set up after the contract is signed.  A septic inspector is needed because of two factors: 1) most home inspectors will not include the septic system in the scope of the home inspection; and 2) almost every single home on Lake Martin is on a septic system.
Many of the septic tanks were built in a time when there was no building code in effect.  In fact, the only time the word 'code' came up back then was to describe the Lake's temperature in January.  Septic inspections are not a must for every purchase, but a buyer would be wise to at least consider it.
Next comes a termite inspector, who is usually paid by the seller, but that's negotiable.  This is a totally separate inspection, done by a pest control professional.
Usually a termite inspector issues a Wood Infestation Report, or a WIR.  A WIR will tell you if, on the particular day and time inspected, the home had active or previous infestations of termites, powder post beetles and/or wood-decaying fungi.
Many people I talk to think this is a bond that guarantees against the cost of future infestation. It is not the same thing.  If you want a termite bond, negotiate for it.  A WIR is only a snapshot of that day.
Also, unless the house is brand new, I would expect previous infestation.  Most waterfront homes on Lake Martin are older and have battled the humidity of the South.  This usually yields some sort of previous infestation.  Don't let this freak you out unless the damage is so great that your home inspector is concerned.
An active infestation, however, is a showstopper.  You had better get those nasties out of there before you buy the house.
A dock person is another lake-specific professional that might not translate to your hometown.  Every Lake Martin home is different, but this could potentially be an expensive repair or an important part of a planned renovation.
If the home you like has a dock that only needs a few top boards replaced, then it is no problem. Your solution could be a carpenter if the job is that light; however, if the dock is about to fall in, or if illegal foam has been used on the floating dock, you need to get the advice of a contractor that specializes in dock construction.  A regular home inspection does not usually cover the dock or seawall; so don't rely on it here.  Get a specialist to review the situation.
Similarly, you might need to get a dock contractor's advice if you plan a big expansion.  What if your planned expansion would run afoul of dock regulations?  Is that a deal breaker for you? Then you had better include that in your negotiations with the seller.
Selecting a good attorney is often the last choice made in the purchase process, but that does not mean it is an unimportant one.
First of all, pick someone that is a good explainer.  I have been selling real estate on Lake Martin for more than 10 years, and I still learn something new at each closing.  When you have questions about something as important and expensive as a home purchase, it helps to have a good teacher on your side instead of a person that just spouts legal jargon.
Another critical point in selecting an attorney is his or her local title search expertise.  Just because your cousin Vinny is awesome at health care law in New Jersey doesn't mean he is good at searching title at Lake Martin.  Our lake counties are rural areas (thank the Lord), and the title chain often includes some cornbread and collards stains.  The local title agents know the twists and turns of the local courthouses.  Pick a good one and trust the one you pick, but get the title insurance anyway because no one is perfect.
I may have left a few villagers out, but hopefully, I have named most of them.