Country Living magazine chose their 2017 Lake House of the Year location at Lake Martin! Their July/August issue (which goes on sale at news stands this week) has been dubbed The Water Issue. And since you love Lake Martin like I do you will agree they made a wise choice in choosing Lake Martin as the site of the Lake House of the Year! This issue celebrates life on the water so be sure to pick up an issue today!
This beautiful, relaxed home was built in a collaboration with architect Jonathan Torode of Nashville (Pfeffer Torode Architecture), builder Chad Calhoun of Alexander City (Classic Homes), and Russell Lands on Lake Martin. The home is located at 321 Paddock Point in The Ridge, a Russell Lands development.  Click here for Google map.
The lake home's exterior features rough cedar siding and a natural stone chimney and outdoor spaces that we all love such as a screened in porch, a lakeside fire pit and a deck area to watch the sunset. Inside the 2,900 sq. ft. home are expansive windows – each room taking advantage of natural light, oak hardwood floors, tongue and groove pine walls, a smooth cypress ceiling in the open living room, a natural stone fireplace, beautiful finishes in the kitchen such as subway tile quartz countertops and a pecky cypress kitchen island, 3 bedrooms, 4 1/2 bathrooms with patterned porcelain tile, an upstairs bonus room, a pantry and more.
And guess what? You can take a tour between June 26 and July 9 from 10-5 daily. Tickets are only $15 and will benefit Children's Harbor. Click here to purchase tickets now.
Check out one of the videos Country Living did (click play arrow):

To read the online article and see photos and more videos from Country Living click here.
If you are ready to find your Lake Martin home to enjoy life on the water give me, John Coley, a call or text me at the number at the top of this page, email me [email protected] or contact me here.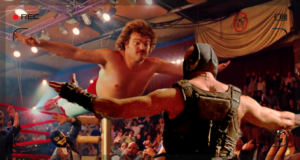 Just like Nacho knew it was the right time to drop down on Ramses, we know it is the perfect time for a price drop on this home in The Ridge!
190 Eagle Ridge is a spacious lake 
home –

 4 bedrooms/4 bathrooms with a wrap around porch on a wooded lot with an outstanding view.
Being located inside The Ridge has so many advantages – two swimming pools, workout center, members-only clubhouse, tennis courts, hiking trails and more; as Nacho would say "… it's the baaayste."
New price of $529,000!
Take a full tour below! (click play arrow)


Heads-up! A great Lake Martin townhouse for sale at The Ridge has just had a price drop.
184 Ledges Trail at The Ridge is a gorgeous home with upscale finishes, an open, spacious floor plan, 5 bedrooms, 4 1/2 baths, a deeded boat slip and an easy care exterior – plus all the extras of The Ridge. AND it is right on the waterfront! New price of $539,000!
Take a 3D and 360 Tour below: (click Play Arrow):
Happy Friday and Congratulations!! You just saved $10,000 on Lot 61, Phase II of The Ridge!
We just dropped the price on Lot 61, Phase II of the Ridge. It's an awesome waterfront lot on Lake Martin. Just think of it, you didn't have to lift a finger and you saved $10,000. The price has been reduced to $229,000 from $239,000. CLICK HERE for more info on the lot.
Lot 61, Phase II is on Eagle Ridge in one of Lake Martin's most prestigious neighborhoods: The Ridge!
Waterfront lot and home sales are beating last year by 26% on Lake Martin, and 2014 was a record year. Now is the time to take advantage of a great new price on this  wonderful lot!
Call John Coley at 334 221 5862 or john (at ) lakemartinvoice (dot) com.
More Info: The Ridge in Lake Martin
Lake Martin developer, Russell Lands, is expanding in Phase III of The Ridge.  They've had plans to do this for a while, but the old Dixie Sailing Club occupied part of that area designated for Phase III.  When Lake Martin's real estate market picked up, Dixie Sailing Club's location was moved to a new location in Young's Basin.  Once the club was moved, the signs were clear for everyone that Russell Lands felt optomistic about the future of waterfront real estate and Phase III in The Ridge.
On Columbus Day, I was out on the boat doing market research – by that I mean my family was taking our the last tube ride of the year on a beautiful, sunny, October Monday.  I saw some smoke billowing up from the old Dixie Sailing Club area near Chimney Rock, so I drove closer to check it out.  Russell Lands had their heavy equipment out, tearing down and burning the old Sailing Club cabins.  Check out the picture and video below of the house-less docks, the burn pile, and the big machines.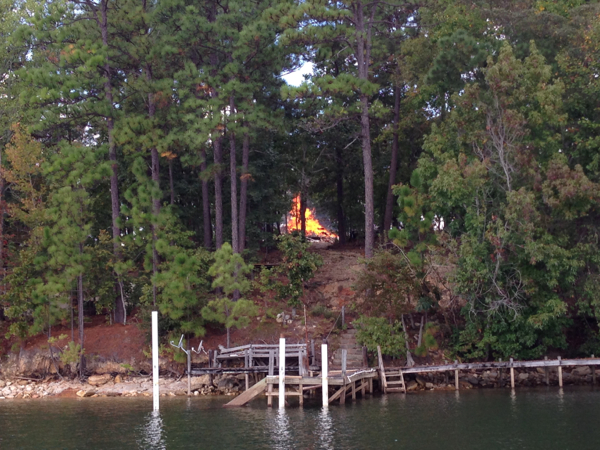 The Ridge is a huge , gated development that is centrally located on Lake Martin.  I just helped a family close a house last week in Phase III of The Ridge.  I love that area – some of the lots and homes in Phase III have views of Kowaliga Bay, and others have views toward the Chimney Rock area. It's close to The Ridge Marina, and all home owners have access to The Ridge amenities like the clubhouse, tennis courts, pool, beach club, etc.
If you'd like more info on The Ridge, check out my Neighborhood Page.  Here you'll find a history of the development, map, video tour, PLUS a live feed from the MLS of all homes and lots currently for sale.  I design my Neighborhood Pages to be one-stop-shops for the different developments and geographic areas around Lake Martin.  There are over 700 miles of shoreline at Lake Martin, and I want to make it as quick and easy as possible for you to learn our market.
I wrote about this part of Phase III in my LAKE Magazine column, "Peek into the Big Boys' Mind" (Dec 2012).  To read the entire article, click here.  If you're interested in waterfront real estate on Lake Martin, give me a call and let's talk about why I think the progress on Phase III of The Ridge is good for our entire market.  I sell Lake Martin property exclusively, everyday, and I'd love to be your realtor.  Call me at (334) 221-5862, email me at [email protected], or click here to contact me.  Thanks!
There's been a lot of talk lately about the new "Russell Cabins at the Lake."  These are new cabins within the The Ridge development that are supposed to channel the simple feel and nostalgia of Russell rental cabins, but will be deeded homes that you'll own and not rent.  Basically, it is Russell Lands' solution to people who have asked, "Can I buy my Russell Cabin?"  They are in the $800-$1m price range.   The homes will be on the Kowaliga Bay part of Lake Martin, and are only a small part of The Ridge's total development.
If you would like to see waterfront homes and lots for sale right now in The Ridge, CLICK HERE to go to my Ridge Neighborhood page. I have a report that shows every waterfront home and lot for sale – by all agents, all brokerages, on Lake Martin. It pulls from the Lake Martin MLS so it will be current no matter when you visit the page.
The Ridge is a huge waterfront development in the middle of Lake Martin, AL.  Like most newer developments, The Ridge has all kinds of neighborhood amenities like sidewalks, a clubhouse and pool, beach area, tennis courts, hiking trails, etc.  It is home to The Ridge Marina, and was developed by Russell Lands, a company that builds high end neighborhoods on Lake Martin.
The Ridge has an Alexander City address, and has all the city utilities you would expect. By car it's convenient to some of the more city-fied, hip shopping and eating spots like Catherine's Market and SpringHouse, so if you forget your gluten-free brownie mix, you're in luck. By water, The Ridge is in the center of Lake Martin – Chimney and Acapulco rocks are right around the corner.
Lots vary, of course, because this is Lake Martin.  Some lots in The Ridge are steep and rocky with huge deep water views.  Some are further back in a slough and are more quiet and gently sloping.  Basically, you're paying for the location on the lake, the strict architectural review of structures, the list of approved builders, the sense of exclusivity, and the neighborhood amenities. If this fits your style, The Ridge might be a good match.
There's also a townhouse community called The Ledges at The Ridge within this neighborhood that offers waterfront town homes.
If you have questions about The Ridge, or want to know more about a specific home for sale in The Ridge, give me a call at (334) 221-5862, or click on this page for my live feed of homes for sale in the MLS in The Ridge .    I can talk about and show any waterfront home in the Lake Martin MLS, regardless of who has it listed.
ALDOT has Highway 63 under heavy construction. I shot this video today, about a mile north of Lake Martin's Kowaliga Bridge. It's across the road from where Windermere Road intersects Highway 63, aka Our Children's Highway. The construction zone stretches from Russell Crossroads (location of Catherine's and the Springhouse) south to just below Windermere Road.  As of this writing, the highway is passable, you just need to slow down a bit.

I think that Russell Lands is also using this opportunity to create a golf cart path that will go under the highway. The theory is that you would be able to walk, jog, etc. continuously from The Ridge Club to Willow Point.
Will you be at Lake Martin this Saturday, May 16, 2009, and enjoy touring waterfront homes on Lake Martin?
Then you may be interested in the Third Annual Lake Martin Tour of Homes. Proceeds from the tour will benefit Children's Harbor. Children's Harbor serves seriously ill children and their families at the Family Center at Children's Hospital in Birmingham and at Lake Martin, which is just south of Kowaliga Bridge on Highway 63
Last year the tour was of homes in Trillium. This year the tour will visit four homes in The Ridge designed by architects Bill Ingram and Bobby McAlpine.
The tours will begin at The Ridge Club from 10 a.m. to 3 p.m.
Tickets are $25 in advance and can be purchased in Alexander City at MacDavid & Company, Cloud Nine, The Shoppes of Queens Attic, and Catherine's Market. Tickets will also be available the day of the tour at the Ridge Club.
To learn more about Children's Harbor, an extremely worthy cause, visit www.childrensharbor.com.
Since I have a waterfront lot listed for sale in Lake Martin's The Ridge, I get a lot of questions about the various amenities of the Ridge. One of the huge benefits to owning a waterfront home or town home in the Ridge is access to all of the "stuff."
If you would like to see waterfront homes and lots for sale right now in The Ridge area, CLICK HERE to go to my Ridge Neighborhood page. I have a report that shows every waterfront home and lot for sale – by all agents, all brokerages, on Lake Martin. It pulls from the Lake Martin MLS so it will be current no matter when you visit the page.
Though I have been in the neighborhood countless times, I had never been by road to The Ridge's Beach Park before yesterday.  It was really nice, it has a big covered pavilion, changing / rest rooms, and, of course, a big beach.  The water view is of Lake Martin icons Chimney and Acapulco Rock Islands.
While I was there, I also hiked a bit on some Ridge Trails (download a map). The developer, Russell Lands, has done a really nice job about incorporating off the water features here.  There are tons of mulch lined trails through the woods, that explore common areas and various other parks in the Ridge.
One example is Red Oak Trail and Hickory Hill Trail, I took these down to Hidden Park.  Hidden Park has its own gazebo, boardwalk, and fishing pier.  It was really nice and peaceful.  Now that the leaves are down, you can sit up on the gazebo and get a nice view of woods and water of Lake Martin.
If trail hiking is not your thing, you can stick to the sidewalks.  There are many of those around The Ridge, too.  Check out my video of the morning:
For an updated 2011 Ridge Video Tour, see below:
If you are interested, see my listing info for Lot 72 The Ridge.
Related Posts:
The Ridge Amenities Video Tour
Lake Martin Voice Neighborhood Spotlight: The Ridge
The article that follows is fine, but it's just old.  The above link will take you to a history of The Ridge, a video tour by car and by boat, PLUS a list current homes for sale in The Ridge.  Much more timely.
From 2008 . . .
I am working with a couple of buyers in The Ridge, a Russell Lands development in Lake Martin. I always get asked lots of questions about the amenities at the Ridge, so I thought I would shoot a video to show some of them.
Basically, if you own a home, a lot, or a town-home in the Ridge, you have the right to access all of the amenities, like the pool, the Ridge Club, the tennis courts, walking trails, boat launch, and Beach Club. The Ridge Marina is public, but of course easily accessed by Ridge owners.
Here is the video:
I should have shot more footage of all the walking trails and sidewalks of the Ridge, a lot of people like to use them. Maybe it's material for a future video.
Properties for sale in The Ledges at The Ridge:
276 Ledges Trail (click here for property description)
here is a video tour of the townhome:
Related Posts:Lake Martin Real Estate Spotlight: The Ridge
Lake Martin Real Estate Spotlight: The Ridge Update