It is no secret that I love to fish for striped bass at Lake Martin.  And I am always looking to improve my game.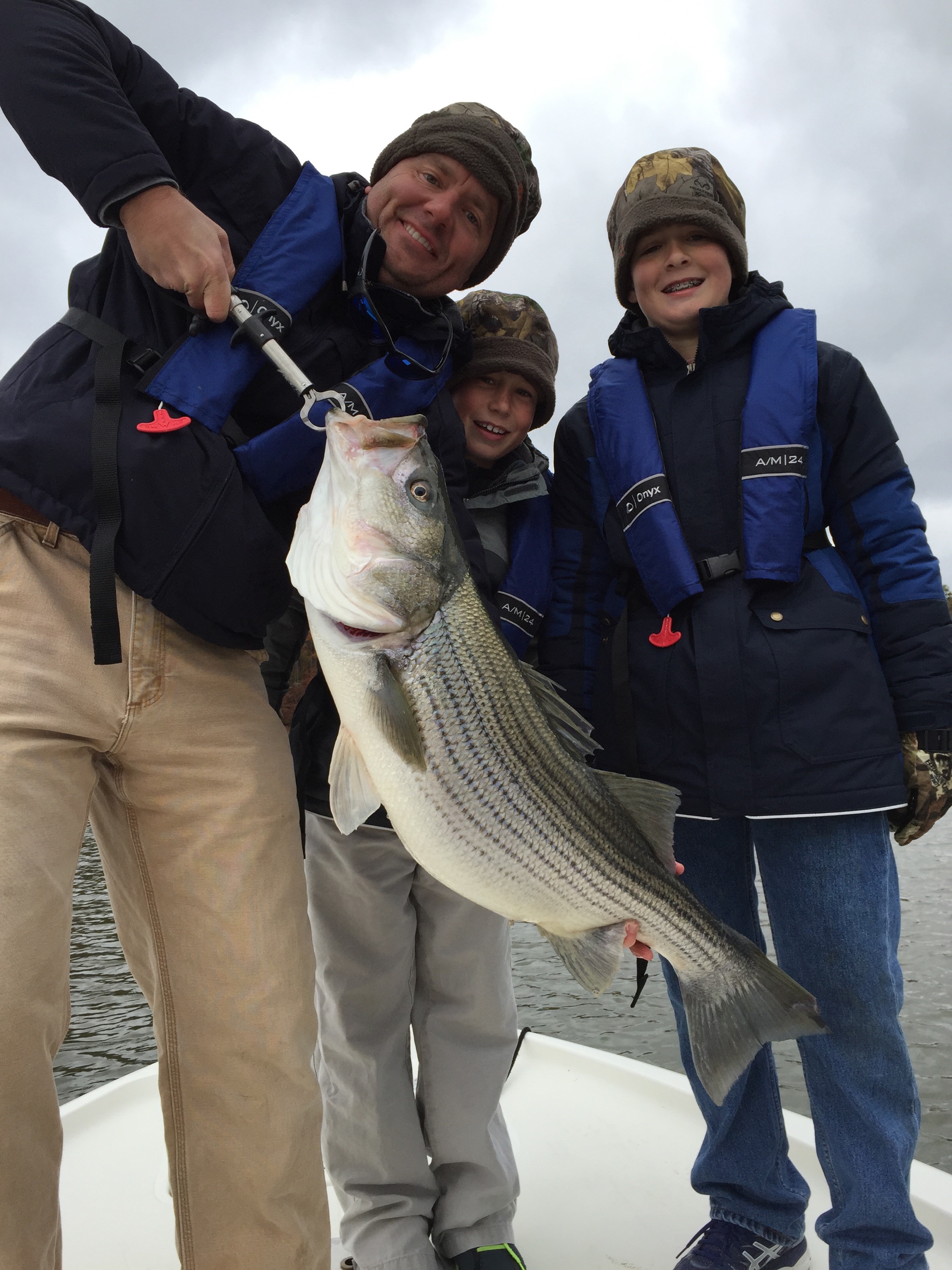 This picture from a few years ago was taken here at Lake Martin in the Fall and yes it was chilly. Here it is March and it is time for a March report from David Hare.
I always pay attention to David Hare's striped bass reports. David is the owner and head guide at Alex City Guide Service.
Please see his report for March below. Also pay attention to the Striped Bass Class (bet you can't say that fast without laughing). The class is March 25 – it is a great opportunity to get some help with catching striper.  Click here for more information about the class.
I also pay close attention to David's Facebook page.
If you have any questions, please contact David directly at:
Alex City Guide Service
Captain David Hare
256-401-3089
[email protected]
Lake Martin Striped Bass March Report, by Captain David Hare
Sitting here on 2/08/17 trying to give you a March report! Well I'm going to tell you what should be happening based on past years of guiding here and living on this lake.
March is a month that you could find stripers on most any part of the lake, however some of my favorite places in March are in the creek channels for example: (but not limited to) Elkhatchee, Blue Creek, Big Sandy, and others. Creeks do not hold all the stripe by any means but for me they produce very well. The next several weeks (12-14 weeks) you can have lots of fun fishing creeks for trophy size stripers. In fact a couple years back on March 13th one of our guides boated a record 52 lb. 'er at the mouth of a creek channel. That same day we had several fish in the 30 to 40 lb. range. That being said – March produces monsters.
I know, I know I haven't told you what to fish with or how? It's no secret that we (Alex City Guide Service) specialize in live bait fishing which for most people is a very challenging way to fish due to catching shad and not to even mention being able to keep them alive, so what you can do is go out and catch you some bream on a hook and line, keep them alive and go right then and fish them on planer boards in these areas. Take your time and your patience and work creek areas and you just might be surprised at what you catch.
Say that sounds like a lot of work, time and trouble? Well that's when you just pick up the phone and call me to book a trip of a lifetime. We are considered the go to guide service on Lake Martin and year after year we entertain thousands of clients and produce some of the best catches in the South.
Now for you anglers that want to learn techniques to be able to catch stripers on most any striper lake we have a seminar here locally on March 25, 2017. This seminar is going to focus on live and artificial baits, locating fish, planer boarding, downlines, trolling, tackle, rigs and rigging, gear, electronics training and more ….. Pro's Capt. Cefus McRae of Nuts & Bolts of Fishing, Capt. Mack Farr of the popular Capt. Mack Umbrella Rigs and Tackle, and myself – Capt. David Hare, owner and guide of Alex City Guide Service on Lake Martin are going to be giving presentations. This seminar is a must for the novice and an eye opener for the most advanced striper fisherman. It starts at 9:00 a.m. and ends at 3:00 p.m. Lunch is included and there will be door prize drawings. It's a no brainer when you get all this at only a $75.00 admission fee. For reservations and more info contact Capt. Cefus McRae by logging on to Nuts & Bolts of Fishing 2017 Seminar Series. Seminar will be rain or shine inside the Alexander City SportPlex Cabin. 

Until next time tight lines!
Capt. David Hare
256-401-3089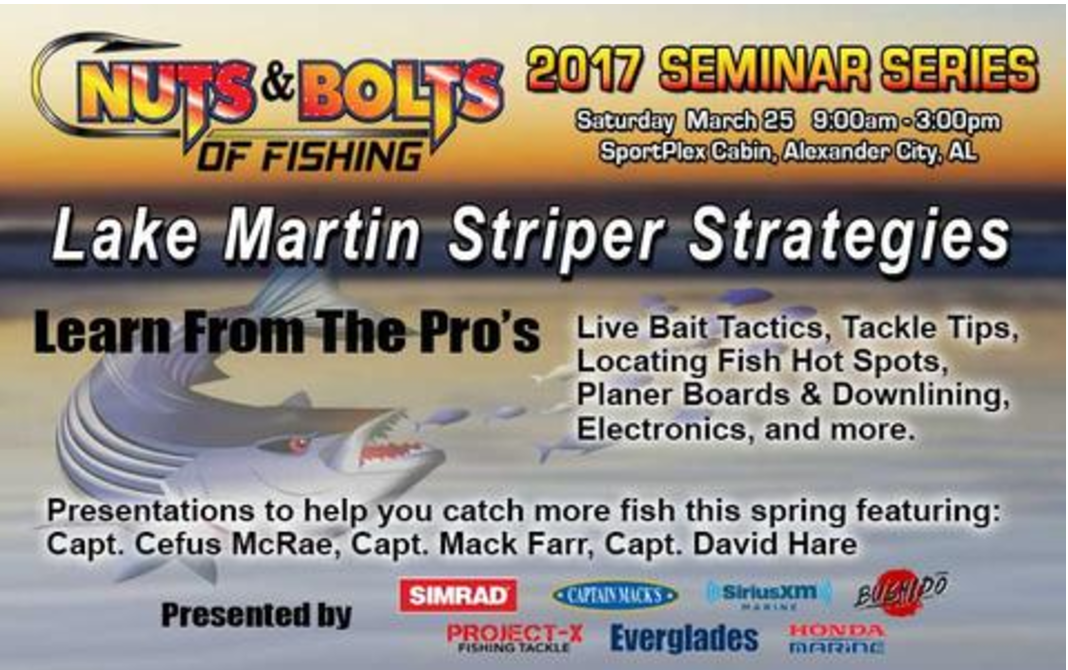 Mr. Daniel Powell, a spokesman with the Alabama Black Bear Alliance (ABBA), will be the guest speaker.  ABBA's goal is to "…work cooperatively and voluntarily for the conservation of the black bear in Alabama through research, education, and habitat management."  Mr. Powell lives in Washington County where there is a sizable population of the black bear.
According to Mr. Powell, black bears are expanding their territory into central Alabama.  It is important for us to have as much information as possible about the expansion of the black bear and its impact in the communities near Lake Martin.
Red Hill Community Center google map
Click here to read a story published in the Alex City Outlook from June of this year about black bears sighted in the Lake Martin area.
With several local sightings around the Lake Martin area recently, this sounds like a good meeting for us folks around the Lake to attend.
I have seen a few black bears in the wild in my lifetime. The first time I ever saw one, I was working in Yellowstone National Park one summer after my freshman year in college. I wasn't too impressed by black bears back then. I think it was because: 1.) I was too young and too dumb to have proper reverence and 2.) I was extremely scared of grizzlies, and maybe black bears paled in comparison.
I also have seen some in the Great Smoky Mountain National Park when trout fishing with my friends Ian and Charity Rutter at R&R Fly Fishing. Maybe I was old enough to appreciate them, or maybe the Rutters did a good job of explaining the bear's part in the ecosystem to me, but I was fascinated to see them.
It fires me up that there's a decent possibility that black bears will return to the Lake Martin area. They were once an apex predator around here, like the striped bass in the water. Let's hope and pray that we humans handle the bears' return in a responsible way.
September is a magical month here at Lake Martin. I love it. The water is still pretty warm, but the nights are cool. Not even the oldest of codgers complain about boat traffic, because there is none. One other factor gets me really fired up about Lake Martin life in the fall: striped bass fishing!
I'm on a continuing quest to figure out how to reliably catch striped bass on my fly rod here at Lake Martin. I have learned a lot over the past few years, mostly by error. One huge thing I have learned is that step one is to find the fish. That may sound pretty simple, but to me it is the biggest element of the game.
That's why I always pay attention to David Hare's striped bass reports. David is the owner and head guide at Alex City Guide Service. Although he is primarily a bait fisherman, no one on the Lake knows the striped bass patterns better than he does.
Please see his report for October below.
I also pay close attention to David's Facebook page.
If any reader out there has some good tips for me to catch them on my fly rod, please let me know!!
9/12/16
Water Level 487.8 ( full pool 491.00)
Surface Temp / 84º–89º
Clarity / Very Clear
As predicted September on Lake Martin was awesome. Both day and night trips were producing numbers of stripers. Of course your better quality stripers were and will always continue to be caught on live bait. We still occasionally do get a trophy on artificial baits trolling. At press time we (
Alex City Guide Service
) have boated numerous trophy stripers this month including several in the 30 + lb. range.  With the Lake record being 52 lbs. (which was caught by Alex City Guide Service) and this year's Lake record so far being 45 lbs. (which I am proud to say also was caught by us) – all were caught on live bait in which we specialize in and it continues to keep us on the map for
one of the best trophy striper lakes in the country.
October will be (if the past holds true) another awesome numbers game. There will be lots of stripers and bass caught this month with the water temps cooling down. Not only will you be able to catch these fish trolling  and live baiting, you will also be able to catch some on top schooling.
Remember October is a transition time and you're most likely to find fish most anywhere on the Lake.
No matter what species you enjoy targeting you can normally have a good time in October.
If you don't know Lake Martin or you just had rather hire a guide to increase your chances of a fun day on the water then give us a call at
256-401-3089
and we will take care of the rest.
Until next tight lines !
Capt David Hare
Have you ever thought, "Lake Martin is almost perfect, but what if it were a little more like the Smoky Mountains?"
If so, your dream may have come true. Black bears have been spotted around Lake Martin. See this article in the Alex City Outlook. I must admit that I often have wished Lake Martin could be more Smoky like, but it has to do mainly with wild trout. If some mad plan could be hatched so that the Tallapoosa below Martin Dam could sustain trout, maybe we could become the next South Holston.
Back to reality, this story reminds me that I have many waterfront lots for sale in Shady Bay. They range in price from $57,000 (Lot 23 Ph I) to $190,000 (lot 5 Ph II). If you would like to see the entire list, see Shady Bay Lots For Sale. Or, if you would like to learn about Shady Bay real estate in general, see the Shady Bay neighborhood page.
Since the black bear article first appeared, the sightings have decreased. Maybe the bears have moved on, or maybe they are getting camera shy.
But one thing's for certain – Shady Bay on Lake Martin is a great spot to build your waterfront home. There are homes underway on lots 9 – 14, and they are going to be some really nice ones!
If you have any questions about the lots in Shady Bay, or anywhere else, please don't hesitate to contact me. I can put you in contact with builders and architects to answer your design and construction questions, if you would like me to do so.
Wildlife diversity, for sure!
Every time I head to StillWaters to show a home or condo for sale, my "web staff" knows I'm coming back with new wildlife photos.  To date, I've captured lots of deer, ducks, and herons.  In fact, I have a wildlife photo file on my computer just for StillWaters.
I was in StillWaters twice last week, and both times I saw turkeys on the golf course.  The first time, it was this crowd below:  two jakes (immature males), and one mature long beard.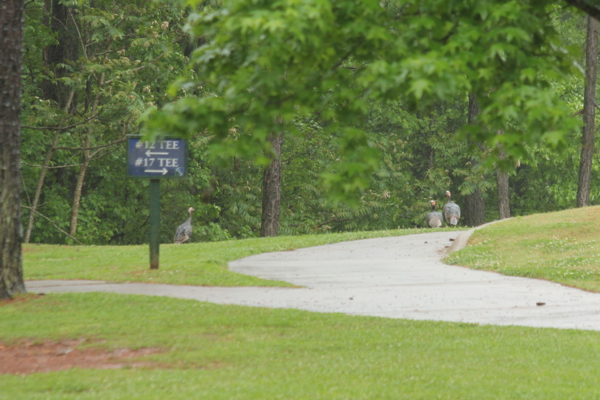 This guy was definitely the boss. He was standing by the road, and let his minions above walk ahead of him to clear the way and make sure there were no dangerous golfers around. For those of you unfamiliar with turkeys, I will let you know, the length of his beard (that straw looking hair poking out of his chest) is pretty impressive. I tried to get a little closer, but this was the best I could do from 100 yards with a 300 mm lens: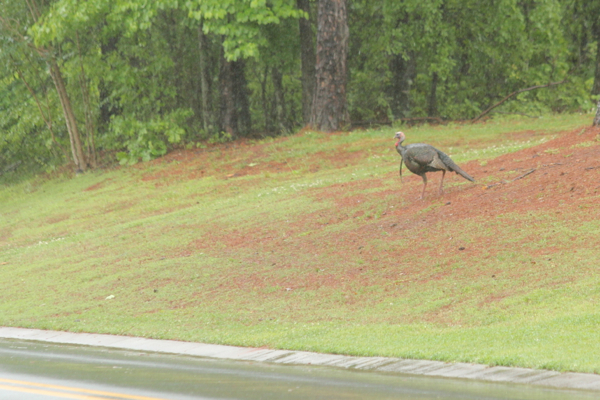 A week later I was leaving a listing appointment in StillWaters. I got to almost the same bend in the road and noticed another turkey was standing with one foot in the road, gobbling his head off. A car passed him, he took three steps back, then stepped back out and double gobbled. As an avid turkey hunter, I was amazed. This was a week into May, and turkey season was over on April 30. It just goes to show you that, even in the wilds of StillWaters, the primal procreative drive of nature does not hew to man's law. I eased my car up to him, and he walked back into the woods. This was the best shot I got of him, below. Maybe he was the same boss I saw a week earlier: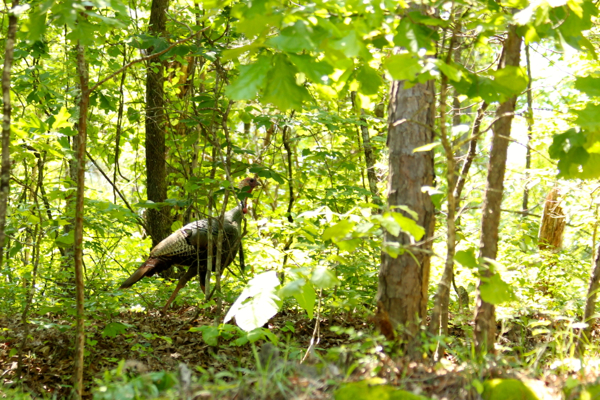 So many people come to Lake Martin because of its natural setting; wildlife sightings are just a normal part of the day.  It's different than some other popular getaways in the South – it's a place to slow down and enjoy people, the water, wildlife, and the peace and quiet.  You can bring your kids and they may actually hang out with you!
That reminds me of a favorite Lake Martin testimonial I shot while at a school function a few years ago that sort of goes along with this theme.  See if you don't agree . . .
If this is the kind of vacation spot you've been looking for, check us out at Lake Martin!  I'd love for you to use this website to explore the neighborhoods, the people, the events, and the waterfront properties.  Check out my Lake Martin Voice Realty YouTube Channel where I have over 300 Lake Martin videos divided into five playlists (Community Info, Neighborhoods, How to Use the MLS, Home Tours, and Client Testimonials).
And if you'd like to talk Lake Martin real estate, give me a call at (334) 221-5862 or click here to email me.  I'd love to be your realtor!
Lake Martin Voice Realty agent, John Christenberry, won first place in the Fowl Division of the Lake Martin chapter of the Alabama Wildlife Federation's Wild Game Cookoff.  He and Paul Barry put together a wild turkey flatbread pizza that wowed the judges! I wish I could take some credit for his success, but my only contribution was the sign in the background.  So congratulations, John and Paul!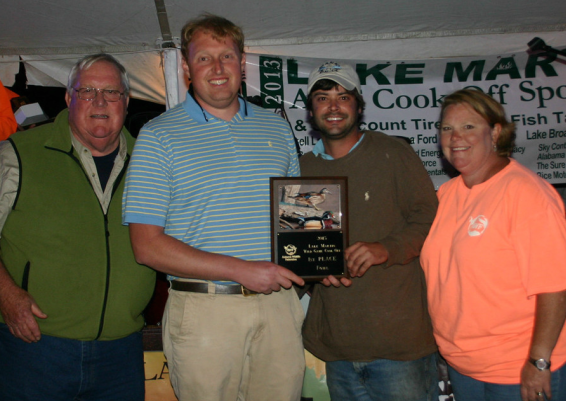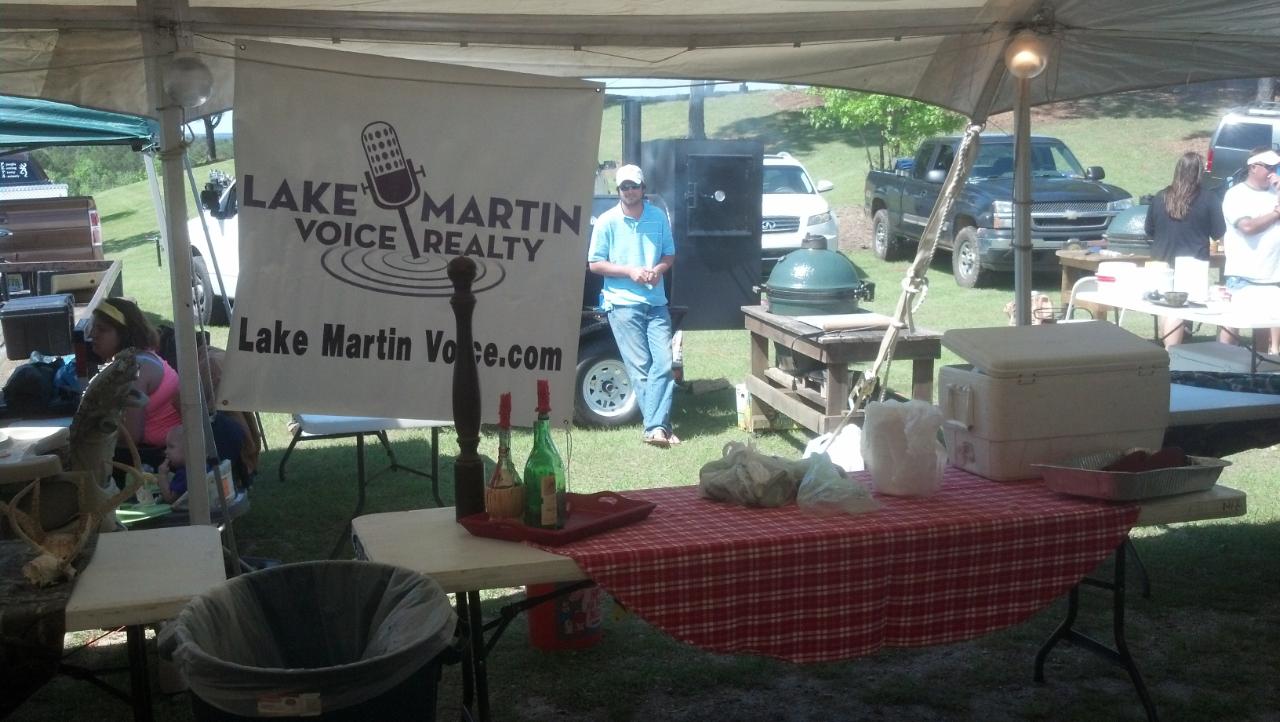 Christenberry is known hither and yon as a great cook.  I won't say that's his best skill, as he is a great Lake Martin agent as well.  One time he a drove a crock pot full of red beans and rice in his boat over to my cabin – it was awesome!
Flush with victory, his fans have talked him into another AWf contest.  If you are attending the Central Alabama chapter of AWF's cook off in Prattville, stop by his tent and sample his wares.
It was March 28th, our inaugural boat ride of 2013.  We had come under the power lines and made the turn south so we could see the dam. Goat Island was on our right, and Ghost Hollow and the Overlook were on our left.
Just then we spotted a strange looking duck swimming madly on the water's surface.  As we got closer we realized it was not a duck at all, but the head of a deer.  Her body, obviously, was under the water, and she was swimming faster than Michael Phelps toward Goat Island.  Seeing a deer swimming is not that uncommon this time of year, but still – it was a sight to behold.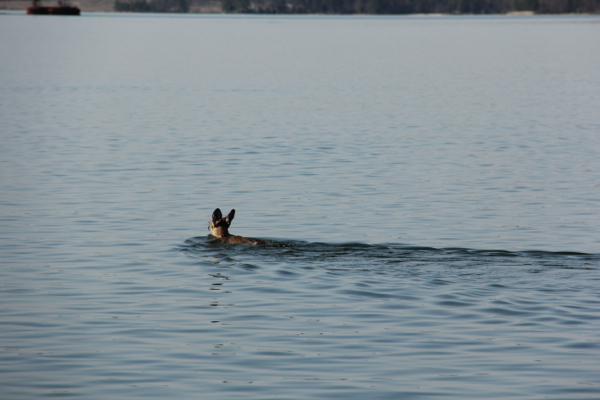 We then spotted two more deer swimming behind her in hot pursuit.  But these deer turned out to be dogs, and suddenly it all made sense.  The dogs must have chased the deer into the water off of Ghost Hollow and she was swimming across to the safety of Goat Island.  We lost her for a little while, but then we spotted her climbing onto dry land at the end of Dopson Point Road.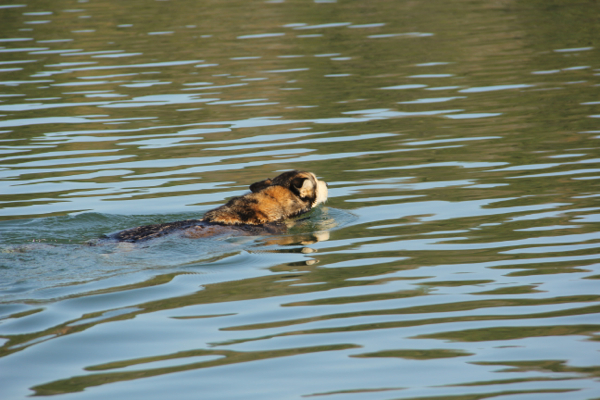 What about you?  Have you taken your first Lake Martin boat ride of the year?  See anything interesting?  Let me know; I'd love to post your pictures or let you retell your tale.
And if you need help with Lake Martin real estate, you know I'd love to hear from you, too!  (334) 221-5862 or CLICK HERE to email me.
I take Lake Martin wildlife pictures all over the lake, but I need to create a specific photo file for "Wildlife I Have Seen in StillWaters."  Lake Martin is a rural area, so animals coexist with lake lovers on all sides.  StillWaters is a huge gated golf/lake community with on and off the water homes, townhouses and condos, and it seems that wildlife like the deer I spotted last week call it home, too.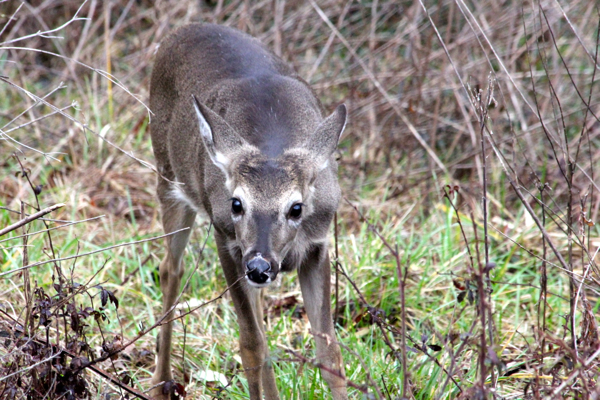 This one was grazing on the side of the road as I drove to a new listing of mine in StillWaters, 100 Harbor Point Place Unit 613.  If you look closely you can see the early formation of his antlers.  It's amazing how deer were created to blend in so well with their environment.  You can barely see his back in the photo below: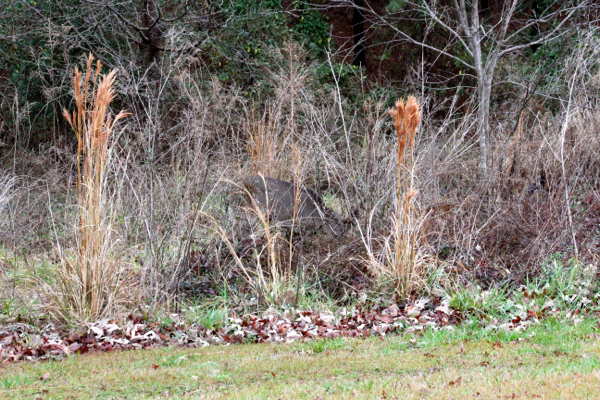 If you like the idea of being in an established, gated golf  and waterfront community, and enjoy neighbors of all kinds, StillWaters might be a good fit.  If you'd like access to all StillWaters' amenities, but prefer to leave the yard work and home maintenance to someone else, check out my listing, 100 Harbor Pointe Place Unit 613.  It's a 2 bed/2 bath off-the-water condo with a deeded boat slip, and it's right across the street from Harbor Pointe Marina.
It's currently listed for $131K – a great deal when you consider its location within StillWaters and all of the amenities owners can access.
Here's one more parting shot of our friend and StillWaters neighbor.  If you're interested in homes or condos in StillWaters, or real estate anywhere on Lake Martin, give me a call at (334) 221-5862, or contact me by CLICKING HERE.  I'd love to be your realtor.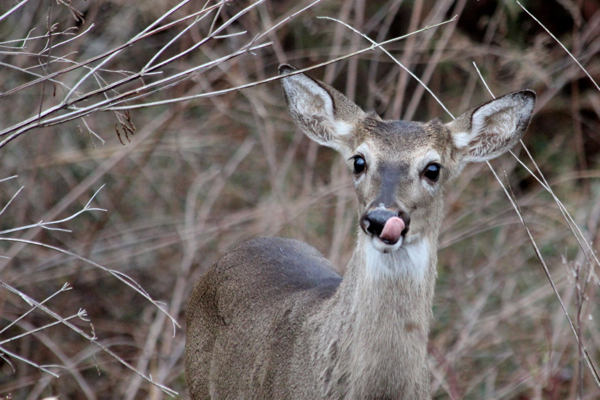 Any reader of this real estate blog knows that I am way into the recent trend of paddle boarding that has hit Lake Martin. I am a proud fan of the Paddle Lake Martin fan page on Facebook and enjoyed putting on a paddle board race in June.
But I am blown away by, and supremely jealous of, Harold Banks of Dadeville.  Harold is the original Lake Martin paddler in my book. I have been reading his day by day account of paddling from Fort Toulouse (the confluence of the Tallapoosa and Coosa Rivers, aka The Alabama River) to Mobile Bay.  If you have not read this account, give yourself a treat and read these links on The Alexander City Outlook and his account in Lake Martin Living Magazine.
This amazing adventure reminded me that Mr. Banks became the first person to canoe the entire Tallapoosa River a few years ago.  The Tallapoosa is what feeds Lake Martin, and it has its origins as a humble creek in Georgia. Banks took a few weeks in 2009 and started at its Georgia headwaters, paddled through the state line into Alabama, through a few lakes including Lake Martin, all the way to Fort Toulouse near Wetumpka.  You can google "harold banks tallapoosa" for more info.  He is mentioned on the Alabama Scenic River Trail site, but if you want to read his amazing travel journal from the trip, click here.
He has really inspired me. I have been wanting for years to do that, but per his advice I will take it in chunks. I am shouting out to my fellow Paddle Lake Martin folks, let's take down the Lake Martin leg this fall! We could start at the shoals at Jaybird Landing, then end up at the dam.  If we do it over two days, we could even camp one night!
One of these days I promise we're going to go from Lake Wedowee to Jaybird to soak in the scenery and wildlife. But in the meantime, here's a good article in Lake Magazine with some shorter trips!
The Piedmont Plateau Birding Trail officially opened on November 17 with a nice ceremony held at Horseshoe Bend National Military Park.
The Piedmont Plateau Birding Trail is the central Alabama version of the popular birding trails like the Alabama Coastal Birding Trail and the North Alabama Birding Trail.
What is a birding trail?
A birding trail is a collection of locations where bird lovers and other folks can go to observe some of Alabama's renowned diversity of bird species.  The Piedmont Plateau Birding Trail is organized into three "loops."
The Lake Martin Loop, obviously, is the part of the trail that will be closest to Lake Martin. Some of the observation points are directly on the water of the lake, such as the DARE Park and the Cherokee Ridge Alpine Trail head.  Others will take you off the water, but to nonetheless interesting spots like Horseshoe Bend National Military Park.
The new trail has already earned some attention.  Deborah Storey covered it in this Hunstville Times article.
For what it is worth, I think this is an outstanding idea and brilliant marketing on the part of the various Chambers of Commerce that worked together to get this done.  I congratulate the Alexander City Chamber for taking the lead on it.  Even if you are not a "birder" – you should realize that birding related tourism is a really big business, and Alabama is a mecca.
Furthermore, it offers yet another thing to do off of the water for people who love Lake Martin.  Fall is the time of year that I think gives you the best chance to hike, bike, and explore the area around the lake.
Speaking of things to do, how many of you have never been to Horseshoe Bend National Military Park?  Why not? It is only about 10 miles off of highway 280 between Dadeville and Alex City.  The dedication ceremony gave me a perfect excuse to tour through it again. When I was growing up, we had oodles of school trips out there.  As a child, I never appreciated the sheer beauty of that park, nor did I grasp the historical significance of a battle that shaped the destinies of millions of acres of land, entire nations of native Americans, and at least one President.  (Hint: check a $5 bill).
After my tour the other day, I was really getting my nature, my history, and my local pride groove on.  I went wild in the Park's gift shop, buying several (my wife rolled her eyes) books about The Battle, this area's history, and nature.  My fellow nerds will please note I added them to my Lake Martin Voice Library.  Check them out, they are excellent reads.
To see my other pictures of the opening of the Piedmont Plateau Birding Trail, and Horseshoe Bend Park in general, please see: