Archive for the 'Events' Category
The Church of the Living Waters at Stillwaters is one of two outdoor, non-denominational, lakeside churches on Lake Martin. It's convenient to those of you who live or vacation on the east side of Lake Martin, and it's a casual (shorts and t-shirts) worship environment right on the shores of Lake Martin.  You can drive your boat to the Sunday morning service – now that's unique experience –  or you can arrive by car, golf cart, or bike.
Guest preachers and musicians rotate through the pulpit from Easter Sunday through Labor Day.  All services (except the sunrise Easter service) begin at 9:00 am.  They also do weddings.
The Church of the Living Waters has a great website, so to get more information and directions, go to  http://www.colw-sw.com/.
Church in the Pines is the other outdoor worship facility, and it's located on the west side of Lake Martin right off of Highway 63, by Kowaliga Bridge and Sinclair's restaurant.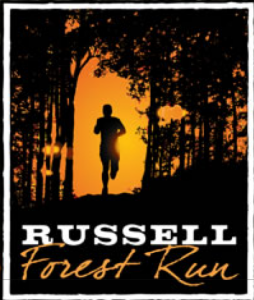 Attention runners (and walkers):  Click here to register for the 2nd Annual Lake Martin Russell Forest Run on Saturday, February 26, 2011!  If you haven't explored the new Russell Forest Trails yet, this is a great way to experience a part of this 20,000+ acre trail system that lies a little north of Kowaliga Bridge, off of Highway 63.  It's also a good reason to make a winter trip to Lake Martin.
I had a good time running the 10K last year, so I'm signing up again. The registration website describes the terrain as "gently rolling," but since I am used to training on some pretty flat ground, it was more than gently rolling to me.  And a little chilly.  But definitely a fun time.  There is a 5K option this year, and you can always walk if you don't like running.  Oh – and the shirts they gave out were that cool, athletic "breathable" kind, – a step up from yet another cotton t shirt (for 10K runners only).  Maybe they'll do that again.
I'm looking for runners and walkers to join the Lake Martin Voice Realty team, and I'd love for you to sign up with us when you register.
Here's a quick video clip from last year's post-party
I recently filmed a hike my family took on some of these trails.  To get a sneak peek at the roads you'll run, check it out:
Looking forward to seeing you there!
Breaking News 10-21-2010 – Steve Northington of Cathouse Marine announces he is opening a long awaited Lake Martin location at 6905 Highway 49 S, Dadeville, AL, 38653.  Their number is (256) 825-3388.
Steve and his staff have long been working their mechanical magic from his Prattville location.  His Lake Martin customers have literally beaten a path to his door because of his awesome service – but they always wondered if he ever would get a little closer to the lake.
Now they have their wish.  Cathouse Marine is located in the former Waterscape Marine building.  It is just north of the Highway 49 aka Blue Creek Bridge. Cathouse Marine's lake location number is (256) 825-3388.
Click Here For A Map To their new location

Cathouse Marine will continue to operate their Prattville location.
As I talked to Steve today, he is lining up work already, so if you would like your boat winterized, or any other work done, contact Cathouse at their site by clicking here!
For those of you that might be unfamiliar with Cathouse's work, he is well known for dispensing free advice on the Lake Martin dot com forum, as well as diagnosing and fixing diverse engine problems – from precision engine timing on offshore racing boats to a restoring power to a sickly antique garden tiller.
Lake Martin Voice Realty congratulates Cathouse Marine on their new Lake Martin location!
Lake Martin Voice Realty clients, Tom and Melissa, recently celebrated the 1 year anniversary of owning their Bay Pine area lake home on Lake Martin.
Imagine my surprise at the Facebook invite to help celebrate!  I mean, who purposely invites their Realtor to anything after a closing?
Well, this family is a lot of fun, and I was flattered to be included, so we tubed the kids all way from Kowaliga Bridge to the 280 River Bridge, and made the trip with a birthday cake (almost) intact:
Tom and Melissa, thanks again for the invite and the testimonial!
We like to show you authentic Lake Martin "moments" and love it when our readers contribute, too.  Check out our fan page on Facebook, and feel free to share your own Lake Martin memories – photos, stories, videos.
Aquapalooza 2010 on Lake Martin was not Sea Ray's "Signature Event" this year, but all reports indicate that it was very well attended.
Here's a quick video I shot of the early hours of the concert:
Depending on whose estimates you read, anywhere from 15-20,000 people showed up (as compared to 25,000 last year).  That's a lot of folks.
It was a lot of fun.  My family (yes – I brought kids) anchored up with some really nice people from Columbus, GA and spent most of the afternoon floating in our tubes. We made it up to the front and hung out at the stage, and saw lots of friends along the way.  We made the swim back to our boat just before John Anderson started playing.  For those of you who have not made it to Aquaplaooza yet, we've decided the raft/tube/float is key.
We want to thank Russell Marine and Sea Ray for what has turned out to be not just one of the best events on Lake Martin, but one of the best summer events in the southeast.
Once again, local photographer and newspaper baron,  Kenneth Boone, aka "Mr. Perfect,"  has what I think is the greatest collection of pictures from Aquapalooza.  If you'd like to see if he caught you in the action, check out his gallery here.
How would you like to enter to win a free weekend stay at a waterfront home on Lake Martin?
Yes!! It's true.  Fill out the form linked below and you will be entered to win a free stay at a very nice 3 bedroom, 2 bathroom lake home at Water's Edge on Lake Martin.
CLICK HERE TO FILL OUT THE ENTRY FORM   CONTEST ENDED!
No entries will be accepted after 10 PM Central time on Wednesday, July 28th.
The winner will be announced the next day.
Some pics of the home:
And:
The home where you stay if you win is normally rented out on this site, but the developers of Water's Edge have approved this free weekend to a lucky winner! You will have to sign a rental agreement, but if you behave, your security deposit is returned, and you will have spent a weekend at a cool Lake Martin home for free!!
WHEN: Free weekend will be Thursday, August 5 – Monday August 9, 2010
DEADLINE: Everyone must enter by 10 PM central time Wed. July 28, 2010
HOW TO ENTER: You must fill out THIS FORM.
MORE INFO ON RENTAL HOUSE: See THIS LINK
WINNER ANNOUNCED: Thursday July 29, 2010
If you are having difficulty with the form you can email me at promo [at] lakemartin voice dot com.  I will walk you through filling it out.
WHY: Water's Edge is celebrating the soon to be completion of their two waterfront homes for sale:
Lot 1 Water's Edge – $589,000

Lot 2 Water's Edge – $569,000
They each have 3 beds and 3 baths, and are sitting literally on the water's edge.  The view is stunning – jaw dropping even – you can see for miles, from its spot at the end of Coosa 20.  You can see much of Parker Creek, the old Veazy's Marina, Willow Point, and all the way to Sand Island.
The free weekend rental home is not one of the new ones, it is out on the end of the "island" portion that almost touches other side of the lake near the old Veazy's marina.  The new homes are side by side, and face down the big water, in a general southeast direction.
Obviously, the purpose of all of this is to draw attention to the two new homes that will be complete soon. I have been working on this project for a while now and I am really excited about the homes.
I think they are an awesome deal, new homes that are custom designed by Bryan Jones of Jones Pierce Architects in Atlanta.  Bryan created this design from the ground up to take advantage of the view and the terrain here.  This is NOT your typical spec home that is shoe-horned into a site. Wade Wilmeth is our builder. He has a tremendous amount of well earned respect around Lake Martin for doing things the right way.
To top it all off, Aliant Bank is creating some special financing for qualified buyers.
So if you've ever wished for a free weekend rental of a waterfront home on Lake Martin, here's your big change.  Please only enter once per person or I will just disqualify you. Please spread the word!
Good luck!!
Lake Martin's Aquapalooza 2010 is this Saturday, July 24th.  The free concert is from noon to 7 pm in front of Sinclair's restaurant in the Big Kowaliga area of Lake Martin (by Kowaliga Bridge, aka Highway 63 Bridge).
The featured artist, John Anderson, will wrap up the show (Think, "Seminole Wind").
I went by Kowaliga Bridge this morning and shot some video of the set up.  The logistics worked last year, so bring your boat and enjoy a really fun afternoon on Lake Martin.   Take a look:
What: Lake Martin's Aquapalooza 2010
When: Saturday, July 24,  12pm -7pm
Where: In the Kowaliga area of Lake Martin between Church in the Pines and Sinclair's Restaurant (off of Highway 63)
Reservations: not required
Church in the Pines on Lake Martin is an integral part of lake life for many families.  It's an outdoor, casual, nondenominational, Sunday morning worship service.  Guest preachers and musicians from the area rotate through the pulpit, and all ages are invited to attend.
You may have seen Church in the Pines if you've driven by boat to Sinclair's restaurant. It's just north of Kowaliga Bridge.  If you come by car (most folks do), there is parking off Hwy 63 as you turn into Kowaliga Marina.
For the worship schedule visit the Children's Harbor website.
[edited 9-12-12]: ALL BRIDES TO BE, PLEASE NOTE: I am a mere real estate agent. This is a real estate blog. Please do not contact me about reserving Church in the Pines or Children's Harbor Chapel.
To reserve Church in the Pines or Children's Harbor Chapel, contact:
To contact Children's Harbor call:(334) 857-2694
If you decide to call me, please don't get mad at me when I explain I am merely a Lake Martin real estate agent. I am not trying to prevent you from booking your wedding. I understand that booking a wedding at Lake Martin is really cool, and I understand that finding a venue for a wedding is stressful. But please know that I am not the one you need to contact.
The Lake Martin Amphitheater is the place to be for 4th of July fireworks.  Like any good southern boy, I like to blow up stuff.   For several years I've tried to get this video, and now I finally have it.
I'd like to thank James Hart of Night Magic Display for walking us through the massive setup for this show.  And, as always,  I'd like to thank Russell Lands for putting on a great fireworks show.  For future reference, here's a link to the  Lake Martin Amphitheater.
Play the video below to see the fireworks setup up close!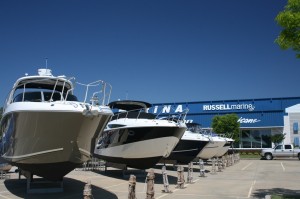 The Ridge Marina is having "the largest inland in-water boat show in the southeast" this weekend and next.
I stopped by this morning to give you a preview.  (This has nothing to do with that "boat fever" I've mentioned before.)  Not a bad way to spend a beautiful spring morning on Lake Martin.
According to the Russell Marine website, they will have more than 100 boats on display and 60 you can drive.
It's happening this Saturday and Sunday, April 24 & 25, 10am – 5pm and  Saturday and Sunday, May 1 & 2, 10 am – 5 pm.  Here's your Google map to get there!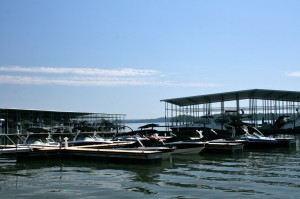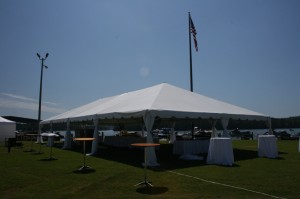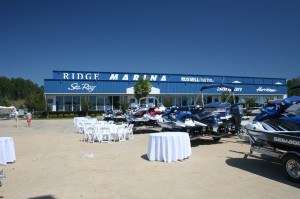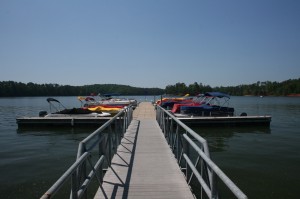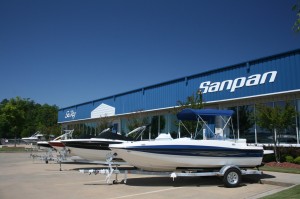 Related articles:  Amenities of The Ridge, Lake Martin /  Video Tour of The Ridge – Beach Park, Ridge Trails /   The Ridge Marine In Water Boat Show 2008 /  Lake Martin Real Estate Spotlight: The Ridge