Archive for the 'Events' Category
Aquapalooza 2010 on Lake Martin was not Sea Ray's "Signature Event" this year, but all reports indicate that it was very well attended.
Here's a quick video I shot of the early hours of the concert:
Depending on whose estimates you read, anywhere from 15-20,000 people showed up (as compared to 25,000 last year).  That's a lot of folks.
It was a lot of fun.  My family (yes – I brought kids) anchored up with some really nice people from Columbus, GA and spent most of the afternoon floating in our tubes. We made it up to the front and hung out at the stage, and saw lots of friends along the way.  We made the swim back to our boat just before John Anderson started playing.  For those of you who have not made it to Aquaplaooza yet, we've decided the raft/tube/float is key.
We want to thank Russell Marine and Sea Ray for what has turned out to be not just one of the best events on Lake Martin, but one of the best summer events in the southeast.
Once again, local photographer and newspaper baron,  Kenneth Boone, aka "Mr. Perfect,"  has what I think is the greatest collection of pictures from Aquapalooza.  If you'd like to see if he caught you in the action, check out his gallery here.
How would you like to enter to win a free weekend stay at a waterfront home on Lake Martin?
Yes!! It's true.  Fill out the form linked below and you will be entered to win a free stay at a very nice 3 bedroom, 2 bathroom lake home at Water's Edge on Lake Martin.
CLICK HERE TO FILL OUT THE ENTRY FORM   CONTEST ENDED!
No entries will be accepted after 10 PM Central time on Wednesday, July 28th.
The winner will be announced the next day.
Some pics of the home:
And:
The home where you stay if you win is normally rented out on this site, but the developers of Water's Edge have approved this free weekend to a lucky winner! You will have to sign a rental agreement, but if you behave, your security deposit is returned, and you will have spent a weekend at a cool Lake Martin home for free!!
WHEN: Free weekend will be Thursday, August 5 – Monday August 9, 2010
DEADLINE: Everyone must enter by 10 PM central time Wed. July 28, 2010
HOW TO ENTER: You must fill out THIS FORM.
MORE INFO ON RENTAL HOUSE: See THIS LINK
WINNER ANNOUNCED: Thursday July 29, 2010
If you are having difficulty with the form you can email me at promo [at] lakemartin voice dot com.  I will walk you through filling it out.
WHY: Water's Edge is celebrating the soon to be completion of their two waterfront homes for sale:
Lot 1 Water's Edge – $589,000

Lot 2 Water's Edge – $569,000
They each have 3 beds and 3 baths, and are sitting literally on the water's edge.  The view is stunning – jaw dropping even – you can see for miles, from its spot at the end of Coosa 20.  You can see much of Parker Creek, the old Veazy's Marina, Willow Point, and all the way to Sand Island.
The free weekend rental home is not one of the new ones, it is out on the end of the "island" portion that almost touches other side of the lake near the old Veazy's marina.  The new homes are side by side, and face down the big water, in a general southeast direction.
Obviously, the purpose of all of this is to draw attention to the two new homes that will be complete soon. I have been working on this project for a while now and I am really excited about the homes.
I think they are an awesome deal, new homes that are custom designed by Bryan Jones of Jones Pierce Architects in Atlanta.  Bryan created this design from the ground up to take advantage of the view and the terrain here.  This is NOT your typical spec home that is shoe-horned into a site. Wade Wilmeth is our builder. He has a tremendous amount of well earned respect around Lake Martin for doing things the right way.
To top it all off, Aliant Bank is creating some special financing for qualified buyers.
So if you've ever wished for a free weekend rental of a waterfront home on Lake Martin, here's your big change.  Please only enter once per person or I will just disqualify you. Please spread the word!
Good luck!!
Lake Martin's Aquapalooza 2010 is this Saturday, July 24th.  The free concert is from noon to 7 pm in front of Sinclair's restaurant in the Big Kowaliga area of Lake Martin (by Kowaliga Bridge, aka Highway 63 Bridge).
The featured artist, John Anderson, will wrap up the show (Think, "Seminole Wind").
I went by Kowaliga Bridge this morning and shot some video of the set up.  The logistics worked last year, so bring your boat and enjoy a really fun afternoon on Lake Martin.   Take a look:
What: Lake Martin's Aquapalooza 2010
When: Saturday, July 24,  12pm -7pm
Where: In the Kowaliga area of Lake Martin between Church in the Pines and Sinclair's Restaurant (off of Highway 63)
Reservations: not required
Church in the Pines on Lake Martin is an integral part of lake life for many families.  It's an outdoor, casual, nondenominational, Sunday morning worship service.  Guest preachers and musicians from the area rotate through the pulpit, and all ages are invited to attend.
You may have seen Church in the Pines if you've driven by boat to Sinclair's restaurant. It's just north of Kowaliga Bridge.  If you come by car (most folks do), there is parking off Hwy 63 as you turn into Kowaliga Marina.
For the worship schedule visit the Children's Harbor website.
[edited 9-12-12]: ALL BRIDES TO BE, PLEASE NOTE: I am a mere real estate agent. This is a real estate blog. Please do not contact me about reserving Church in the Pines or Children's Harbor Chapel.
To reserve Church in the Pines or Children's Harbor Chapel, contact:
To contact Children's Harbor call:(334) 857-2694
If you decide to call me, please don't get mad at me when I explain I am merely a Lake Martin real estate agent. I am not trying to prevent you from booking your wedding. I understand that booking a wedding at Lake Martin is really cool, and I understand that finding a venue for a wedding is stressful. But please know that I am not the one you need to contact.
The Lake Martin Amphitheater is the place to be for 4th of July fireworks.  Like any good southern boy, I like to blow up stuff.   For several years I've tried to get this video, and now I finally have it.
I'd like to thank James Hart of Night Magic Display for walking us through the massive setup for this show.  And, as always,  I'd like to thank Russell Lands for putting on a great fireworks show.  For future reference, here's a link to the  Lake Martin Amphitheater.
Play the video below to see the fireworks setup up close!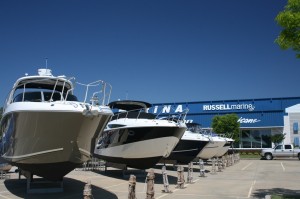 The Ridge Marina is having "the largest inland in-water boat show in the southeast" this weekend and next.
I stopped by this morning to give you a preview.  (This has nothing to do with that "boat fever" I've mentioned before.)  Not a bad way to spend a beautiful spring morning on Lake Martin.
According to the Russell Marine website, they will have more than 100 boats on display and 60 you can drive.
It's happening this Saturday and Sunday, April 24 & 25, 10am – 5pm and  Saturday and Sunday, May 1 & 2, 10 am – 5 pm.  Here's your Google map to get there!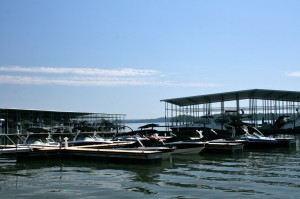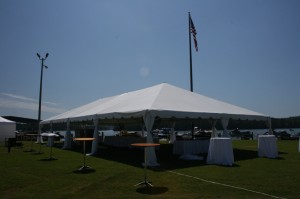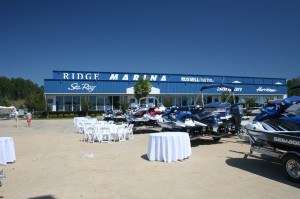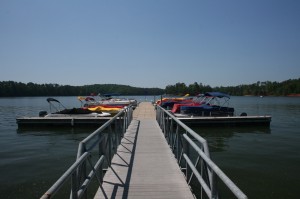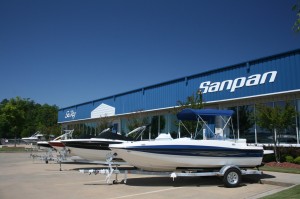 Related articles:  Amenities of The Ridge, Lake Martin /  Video Tour of The Ridge – Beach Park, Ridge Trails /   The Ridge Marine In Water Boat Show 2008 /  Lake Martin Real Estate Spotlight: The Ridge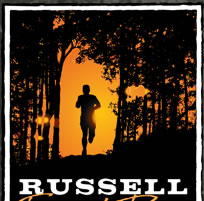 The Russell Forest Run is this Saturday Feb 27th.
 The 10k starts at 8 am.  10k is equal to 6.2 miles. $40 entry fee until feb 26th it is $50 the day of the race.
The one mile fun run starts at 9 am.  Entry fee is $10
You can pick up your packet at the Discovery Center in between Catherine's Market and Spring House on Friday afternoon  between 4 and 6 pm, or on Saturday morning from 6 to 7:30 am. Good luck, hope to see you there.
I am pleased to say that in the February 2010 issue of Lake Magazine – Lake Martin Edition, we received a nice mention.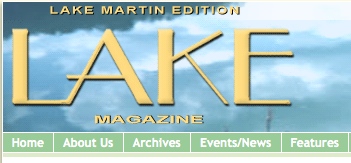 I am really thankful to Kenneth Boone and Emily Gregg for the ink. We made the "Lake Martin News" section of the magazine, on the bottom of page 11, under the title "New Real Estate Agency Opens on Lake."
If you haven't already, please pick up a copy of February's issue. Here are a few of the articles:
Drop Anchor – succinctly written and illustrated, tells you the how, when, and what of using anchors on Lake Martin, along with a rule of thumb so simple that I can remember it.
Soaring Socialites – an article about Cedar Waxwings. As I age I am becoming alarmingly out of the closet about my birdwatching. I try to tell myself it's a manly pursuit of knowledge, not only for old ladies.
Passage Of Wine – Henry Foy urges passage of Alabama State laws that would be more friendly to fortified wine, and I raise my glass to the idea. However, as a friend and frequent customer, I hope Henry plans a follow up article on jerez, the rich types and uses of which he scantily describes as "used for cooking and sipping." I know where he's going with it, as most Americans identify sherry as something to buy in Winn-Dixie along with Worcestershire sauce. But you could say the same thing about Dom Perignon or, for that matter, the excellent Chimay I bought from him recently.
Check out this old ad for Lake Martin's Kowaliga Beach.  I think it was from the 1950s. You can't rent a cabin on Lake Martin for $60 / week anymore.
Thanks to reader sprink56 of the Club Sea Ray forum for supplying this picture of a vintage newspaper ad of Kowaliga Beach on "Beautiful Lake Martin."
You could rent a cabin for $5 a night.  Can you believe it?  It says this was for an Open House at Kowaliga Beach, even gives directions to Lake Martin and brags about the road being paved. I can't tell if this is from the original opening or just a seasonal opening.
Can anyone help out on this that was around back then, or worked for Mr. Toppy?
If you know, please comment below!
Related Posts:
Pictures of the Old Kowaliga Indian, Restaurant, and Kowaliga Kubbard
Here are more pictures and video of the auction of Richard Scrushy's Lake Martin waterfront home, lots, and hangar at Willow Point Airport.  HealthSouth shareholders forced the auction to recover part of the $2.9 billion judgment against Scrushy.
As expected, the HealthSouth shareholders were the high bidders on both parcels.  They "bought" the hangar for $435,000 and the lake front home and 2 adjacent lots for $7,4000,000.  They arrived at these prices by getting appraisals, so Richard Scrushy will be given full appraised value as credits against the judgment.  Now the shareholders are the official owners of the Lake Martin properties and seek to sell them as soon as possible, according to their attorneys. Obviously, as a Lake Martin realtor, I would love to help anyone buy it. Please contact me at the number and email at the top of this page.
Video Of Scrushy Lake Martin home auction
If you would like to see a video of the home auction only, see my earlier post here.
The below video is for both the hangar and the waterfront home and lots in Willow Point, plus a little wrap up.  The whole auction process lasted about 2 minutes:
Since the auction was over so fast, most of my time was spent listening to the attorneys for the Plaintiffs explain the process. The TV news never has time for full explanations, so I thought it would be helpful to publish the below explanations.
The Attorney speaking is John Somerville of Galloway and Somerville, LLC.  He answered most of the post auction questions.
Another Attorney for HealthSouth was John Haley of Hare, Wynn, Newell, and Newton, LLP.  He did some interviews but I didn't get them on tape.  Another attorney also present from that firm was Judge Ralph Cook.
Pictures of Scrushy Lake Martin Home Auction
A crowd gathers before the auction:
Sheriff Jimmy Abbett explains the process:
Page One of the Order of Sheriff's sale:
To download a PDF full copy of the Sheriff's Sale of the Scrushy Lake Home click here.
HealthSouth Attorneys John Haley and Ralph Cook confer before the auction:
Lead Plaintiff Wade Tucker (l) and Attorney John Somerville (r) answer media questions after Scrushy auction had ended:
Attorney for the Plaintiff John Somerville meets with media:
For a complete set of all pictures I took at the Scrushy Lake Martin Home acution, see this set on Flickr.
Lake Martin Voice Reprint / Use / Re Broadcast / Link Policy:
Anyone or any company is free to download, use, re-print, re-broadcast any and all of my pictures and / or video that I have published on the Scrushy story.  I do ask that if you use on the web please cite a hyperlink of this article or if you are using it in a broadcast, please cite LakeMartinVoice.com.
I have already been contacted by a few different media members for my content, and I am glad to help in any way.  For quotes, analysis, or perspective, please contact me at the email and number at the top of the page.
To read all of my coverage on Scrushy and HealthSouth, see: "Scrushy Category" – or look on the left side bar and select Scrushy.