Archive for the 'Events' Category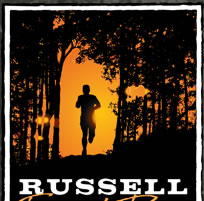 The Russell Forest Run is this Saturday Feb 27th.
 The 10k starts at 8 am.  10k is equal to 6.2 miles. $40 entry fee until feb 26th it is $50 the day of the race.
The one mile fun run starts at 9 am.  Entry fee is $10
You can pick up your packet at the Discovery Center in between Catherine's Market and Spring House on Friday afternoon  between 4 and 6 pm, or on Saturday morning from 6 to 7:30 am. Good luck, hope to see you there.
I am pleased to say that in the February 2010 issue of Lake Magazine – Lake Martin Edition, we received a nice mention.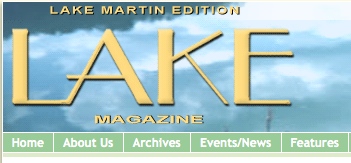 I am really thankful to Kenneth Boone and Emily Gregg for the ink. We made the "Lake Martin News" section of the magazine, on the bottom of page 11, under the title "New Real Estate Agency Opens on Lake."
If you haven't already, please pick up a copy of February's issue. Here are a few of the articles:
Drop Anchor – succinctly written and illustrated, tells you the how, when, and what of using anchors on Lake Martin, along with a rule of thumb so simple that I can remember it.
Soaring Socialites – an article about Cedar Waxwings. As I age I am becoming alarmingly out of the closet about my birdwatching. I try to tell myself it's a manly pursuit of knowledge, not only for old ladies.
Passage Of Wine – Henry Foy urges passage of Alabama State laws that would be more friendly to fortified wine, and I raise my glass to the idea. However, as a friend and frequent customer, I hope Henry plans a follow up article on jerez, the rich types and uses of which he scantily describes as "used for cooking and sipping." I know where he's going with it, as most Americans identify sherry as something to buy in Winn-Dixie along with Worcestershire sauce. But you could say the same thing about Dom Perignon or, for that matter, the excellent Chimay I bought from him recently.
Check out this old ad for Lake Martin's Kowaliga Beach.  I think it was from the 1950s. You can't rent a cabin on Lake Martin for $60 / week anymore.
Thanks to reader sprink56 of the Club Sea Ray forum for supplying this picture of a vintage newspaper ad of Kowaliga Beach on "Beautiful Lake Martin."
You could rent a cabin for $5 a night.  Can you believe it?  It says this was for an Open House at Kowaliga Beach, even gives directions to Lake Martin and brags about the road being paved. I can't tell if this is from the original opening or just a seasonal opening.
Can anyone help out on this that was around back then, or worked for Mr. Toppy?
If you know, please comment below!
Related Posts:
Pictures of the Old Kowaliga Indian, Restaurant, and Kowaliga Kubbard
Here are more pictures and video of the auction of Richard Scrushy's Lake Martin waterfront home, lots, and hangar at Willow Point Airport.  HealthSouth shareholders forced the auction to recover part of the $2.9 billion judgment against Scrushy.
As expected, the HealthSouth shareholders were the high bidders on both parcels.  They "bought" the hangar for $435,000 and the lake front home and 2 adjacent lots for $7,4000,000.  They arrived at these prices by getting appraisals, so Richard Scrushy will be given full appraised value as credits against the judgment.  Now the shareholders are the official owners of the Lake Martin properties and seek to sell them as soon as possible, according to their attorneys. Obviously, as a Lake Martin realtor, I would love to help anyone buy it. Please contact me at the number and email at the top of this page.
Video Of Scrushy Lake Martin home auction
If you would like to see a video of the home auction only, see my earlier post here.
The below video is for both the hangar and the waterfront home and lots in Willow Point, plus a little wrap up.  The whole auction process lasted about 2 minutes:
Since the auction was over so fast, most of my time was spent listening to the attorneys for the Plaintiffs explain the process. The TV news never has time for full explanations, so I thought it would be helpful to publish the below explanations.
The Attorney speaking is John Somerville of Galloway and Somerville, LLC.  He answered most of the post auction questions.
Another Attorney for HealthSouth was John Haley of Hare, Wynn, Newell, and Newton, LLP.  He did some interviews but I didn't get them on tape.  Another attorney also present from that firm was Judge Ralph Cook.
Pictures of Scrushy Lake Martin Home Auction
A crowd gathers before the auction:
Sheriff Jimmy Abbett explains the process:
Page One of the Order of Sheriff's sale:
To download a PDF full copy of the Sheriff's Sale of the Scrushy Lake Home click here.
HealthSouth Attorneys John Haley and Ralph Cook confer before the auction:
Lead Plaintiff Wade Tucker (l) and Attorney John Somerville (r) answer media questions after Scrushy auction had ended:
Attorney for the Plaintiff John Somerville meets with media:
For a complete set of all pictures I took at the Scrushy Lake Martin Home acution, see this set on Flickr.
Lake Martin Voice Reprint / Use / Re Broadcast / Link Policy:
Anyone or any company is free to download, use, re-print, re-broadcast any and all of my pictures and / or video that I have published on the Scrushy story.  I do ask that if you use on the web please cite a hyperlink of this article or if you are using it in a broadcast, please cite LakeMartinVoice.com.
I have already been contacted by a few different media members for my content, and I am glad to help in any way.  For quotes, analysis, or perspective, please contact me at the email and number at the top of the page.
To read all of my coverage on Scrushy and HealthSouth, see: "Scrushy Category" – or look on the left side bar and select Scrushy.
Ex HealthSouth CEO Richard Scrushy's Lake Martin home was auctioned today on the courthouse steps in Dadeville, Alabama.  HealthSouth shareholders won a $2.9 billion judgment against the "CEO of Fraud" and are now attempting to recover the cash.
The above video shows the home and its adjoining lots being auctioned.
The auction actually included two parcels:
1. The Hangar at Willow Point Airport– 644 Willow Way North – Scrushy owned a hangar there, one of only 2 or 3 at the airport, which is adjacent to the neighborhood of Willow Point.  It was the site of the boat auction a couple of weeks ago.  The shareholders bought it for $435,000.
2. The Waterfront Home and Lots – 1470 Willows End – this is the home and the surrounding lots in Willow Point.  They had an opening bid for $4 million and the shareholdersof HealthSouth bought it for $7.4 million.
Related Posts:
More Pictures And Video – Richard Scrushy Lake Martin Home Auction
For everything I have written on Scrushy, see Scrushy Category
For now pictures, video, and text I cranked out on the scene at:
Lake Martin Voice on Posterous
Follow me on Twitter – Lake Martin Voice

or become a fan on:
Lake Martin Voice Page on Facebook
Richard Scrushy's Lake Martin home in Willow Point is being auctioned today on the courthouse steps in Dadeville, AL.  The HealthSouth shareholders are forcing the sale so that they can take possession if they end up being the high bidder.
Registration is at 10 AM and the auction is at 11 AM central.
I will be putting up pics and video.  I thought this would be a good time to try my new account at Posterous.
So for updated info as the day wears on, see Lake Martin Voice on Posterous.
As always you can also see my Twitter Stream here.
Related Posts:
For everything I have written on Scrushy, see Scrushy Category
I shot this video of the action at the Willow Point Airfield today around 11:00 AM Central today.  Ex HealthSouth CEO Richard Scrushy had a huge cigarette boat, a bass fishing boat, some PWCs, and a golf cart auctioned today by the Sheriff.  Tallapoosa County Sheriff Jimmy Abbett auctioned them off on behalf of the HealthSouth shareholders, who have claimed them through winning a lawsuit against Scrushy.
Scrushy once owned this airplane hangar on a private airstrip near the neighborhood of Willow Point at Lake Martin, Alabama.
Here is a shot of the cigarette boat that went for $53,000:
I just missed the big boat's auction since I went to the Alex City airport and then had to zip down to Willow Point.  By the time I arrived the Sheriff was auctioning the Sea Doos.  Here is a quick video of the action:
There were probably 50 or 60 people there to watch, and probably another 10 real estate agents.  My guess is that about half of those had registered to bid.  The Sea Doos and the golf cart went for about $3,000 each.
Also present were some of the lawyers representing the HealthSouth shareholders.  Logically, all of the local TV news crews were busy interviewing them.  I believe that one of them was Ralph Cook. Here is a video of another attorney, John Haley, being interviewed:
I talked to a couple of the camera crews about the eventual auction of Scrushy's lake home at Willow Point.
It is easily the most conspicuous home on the waterfront of Lake Martin.  Currently the plans are for the Sheriff to auction it on the Tallapoosa County Courthouse steps on November 9, 2009.  I don't expect there to be much bidding going on with it.  My guess is that it will go kind of like a foreclosure auction.  That is, the entity foreclosing (in this case the HealthSouth shareholders) will put in a minimum bid that will be pretty high.  Anyone is welcome to bid above it and buy it but more than likely they will be the highest bidder as they have the biggest stake in it right now.
Related Posts:
For everything I have written on Scrushy, see Scrushy Category
Ex HealthSouth CEO Richard Scrushy had an airplane hangar full of Lake Martin toys.  The Tallapoosa County Sheriff's office will be auctioning off its contents on Monday October 19, 2009.
Auction Time:
11:00 AM Central Time, Monday October 19, 2009
What Will Be Auctioned:
According to the Sheriff's office, only the contents of the airplane hangar will be auctioned at this time.  The auction will NOT include any of the contents of Scrushy's Lake Martin home at Willow Point, nor the waterfront home itself.
How To View What Will Be Auctioned:
The hangar will be open from 9:00 AM to 11:00 AM on Monday October 19, 2009 for all potential bidders to view the contents.
I asked the Sheriff's office if they had a list online, they said no.  They have looked for one also and couldn't find it.  Earlier this year, WSFA posted a list: Contents of Scrushy Airplane Hanger at Lake Martin.  Please note I don't know if this is official or not.  The Sheriff's office said that it would be "2 boats, a golf cart, and several personal watercraft." In a related story, the ex CEO's wife Leslie is suing to claim ownership of other seized assets.
At this point, it seems the only way to know for sure is to show up and inspect yourself.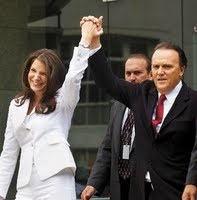 Where Will The Auction And Viewing Take Place:
The auction will be at the T.C. Russell Field Airport – 997 T C Russell Dr, Alexander City, AL 35010. Edited 10-19-09 – It was at Scrushy Airplane Hangar at Willow Point Airfield.
What about Scrushy's Lake Martin home and its contents?
The waterfront home in the neighborhood of Willow Point on Lake Martin will be auctioned on November 9.  I will post more details about that auction later.
DISCLAIMERS:
As with any auction, caveat emptor. Do your own research and due diligence.  Do not rely on anything I have posted.  I plan to be in attendance and may very well bid on something, so satisfy yourself as to the ownership, reliability, or any other aspect of anything you plan to buy.  I am no expert.
Related Posts:
For everything I have written on Scrushy, see Scrushy Category
CMT will air Alan Jackson's Aquapalooza Lake Martin concert tonight at 7 PM central.
Aquapalooza, which was truly Lake Martin's biggest party ever, was on July 25, 2009.  CMT filmed the whole day, all acts, and will air the show:
Friday, September 4, 2009 – 7 PM Central Time, 8 PM fast time and left coast time.
Replays will be September 5 and 6 at 8:30 AM Central.
u
Lounge on the Spanish Isle of Mallorca or Abaco Island in the Bahamas. Fly fish in pristine Idaho or Colorado. Hunt at local favorite Enitachopco Creek, or explore the village of Alcester, England.
Do any or all of these – CHEAP – and get some feel good warm and fuzzies to boot.
How?
Come to the 13th Annual Auction benefiting Main Street Alexander City on Saturday, August 15, 2009 at the Aliant Bank Building on Highway 280, Alexander City.  Preview starts at 6:00 PM and Live Auction starts at 8:00 PM.
Supporters of Main Street Alexander City have donated these trips, and much, much more so that you can bid on them and win, and support the great cause at the same time.
In the past, these trips of a lifetime have sold for VERY low amounts. Now is your chance to treat yourself and claim it's for charity!
How much?
Tickets are $30 in advance from Main Street Alexander City, $35 at the door. But you will get plenty of beverages and heavy appetizers.  Call 256-329-9227 to get advance tickets.
Detail on The Trips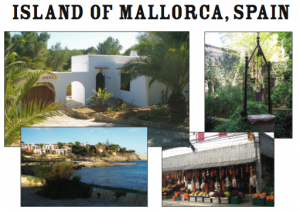 Mallorca – Mallorca is a Spanish island in the Mediterranean Sea.  It's known as a playground for European elite and celebrities.  And you, too.  Enjoy this two bedroom, two bath villa – schedule a custom time to fit your convenience.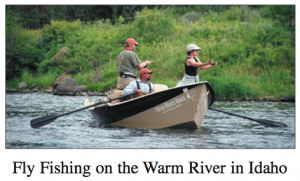 Fly Fish On the Warm River in Idaho – have you ever been out west to fly fish for trout? It's the best.
Warwickshire, England – visit and explore the quaint village of Alcester, England.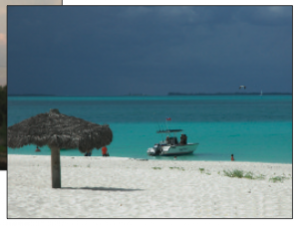 Treasure Cay – Abaco Island – The Bahamas – relax for 5 days and 4 nights in cottage that sleeps 6.
Silverthorne in Summit County, Colorado – room for 3 couples in this Colorado getaway.
Enitachopco Creek Hunting – 3 days and 2 nights of hunting on 1,400 acres of professionally managed hunting preserve, just north of Alex City.
Other cool stuff to win:
Dinner for 10 at Five Star Plantation * 3 hours of live, full band acoustic music by the Robin Hill Band * $1,400 off of a set of braces *  mailbox from Robinson Iron * MUCH MORE
SPECIAL FOR LAKE MARTIN VOICE READERS:
Mention that you read about it here and famed Auctioneer Walter Coley will personally serve you your beverage of choice at the auction, maybe in the middle of bidding!  Just write down your name and drink choice and give it to the person at the door.
On a personal note, I would like to compliment Main Street Alexander City on what a wonderful job they have done / are doing to preserve downtown.  They have realized that it takes a combination of helping local businesses, preserving history, and bringing meaningful, fun places to shop and spend time.  If you are a Lake Martin part timer and have not been downtown Alex City for a while, GO!  You will find something you like, I guarantee.