Archive for the 'Wildlife' Category
Don't tell anyone, but a few weeks ago I played hooky from work.
I fished with Drew Morgan of East Alabama Fly Fishing. We floated the Tallapoosa River, just above Lake Martin.We put in at Horseshoe Bend and floated down to the boat ramp at Jaybird Landing. He took me down on his boat, which is perfect for fly fishing like this.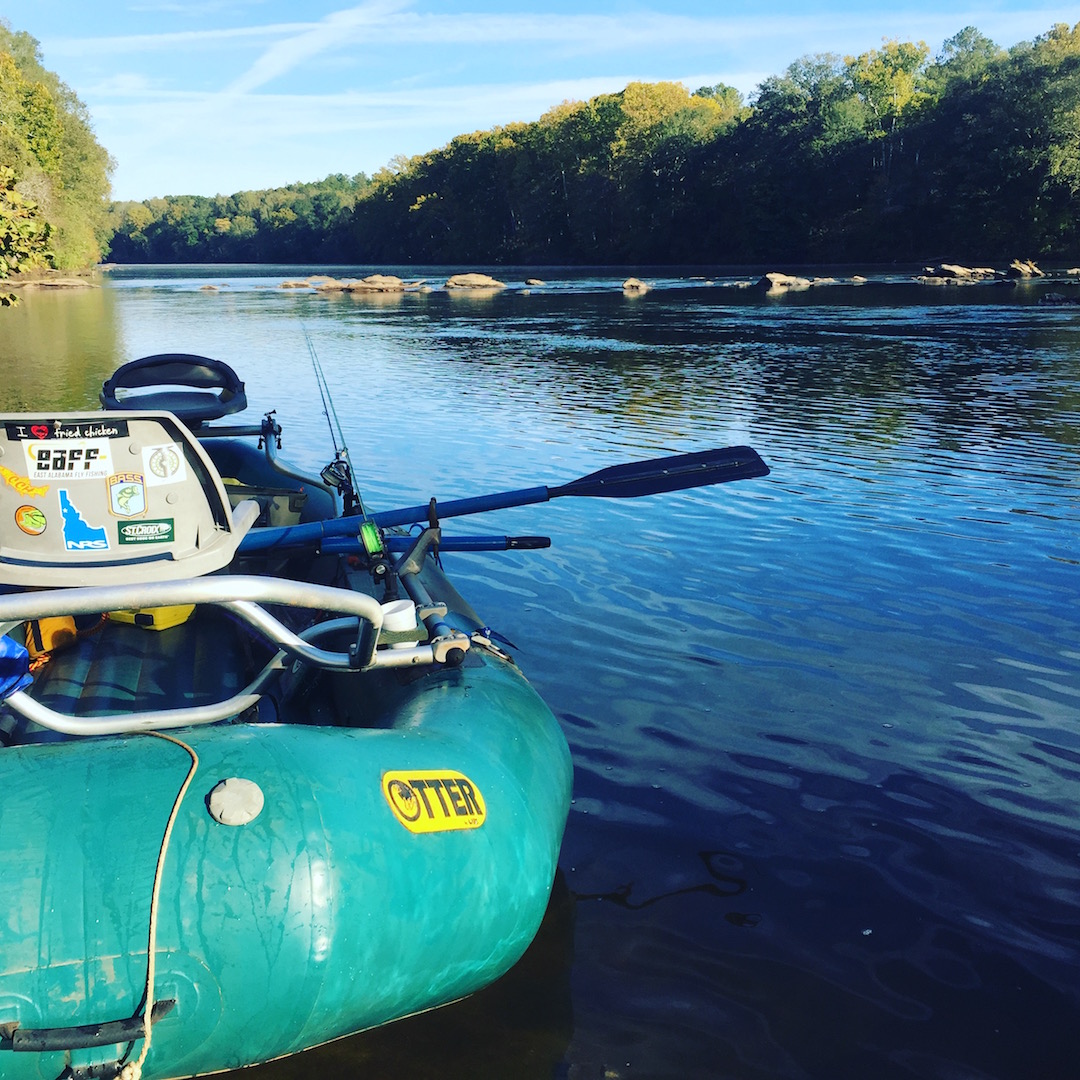 It was a beautiful day! The weather was clear and warm for October. The Lake Martin area is suffering a drought, so river levels were low. The flow was at about three feet when we started. Low, clear water makes fishing a little tougher, and we had to get out and drag the boat over a spot or two.  But other than that, it was picture perfect!
We caught a few spotted bass, a few redeye bass, and several bluegill. White poppers seemed to be the most popular fly of the day. I had to catch my breath when I saw a big (fifteen pounds or so) striped bass cruising the shallows by Jaybird. We were trolling a "Game changer" fly at the time, which I thought might incite a strike. No dice. In hindsight, I sort of wish I would have pulled in the line and cast in his general direction. At the time, however, the fly was trolling and tracking to go right by his line of travel, so I let it go. Seeing a big fish like that sometimes makes me freeze up!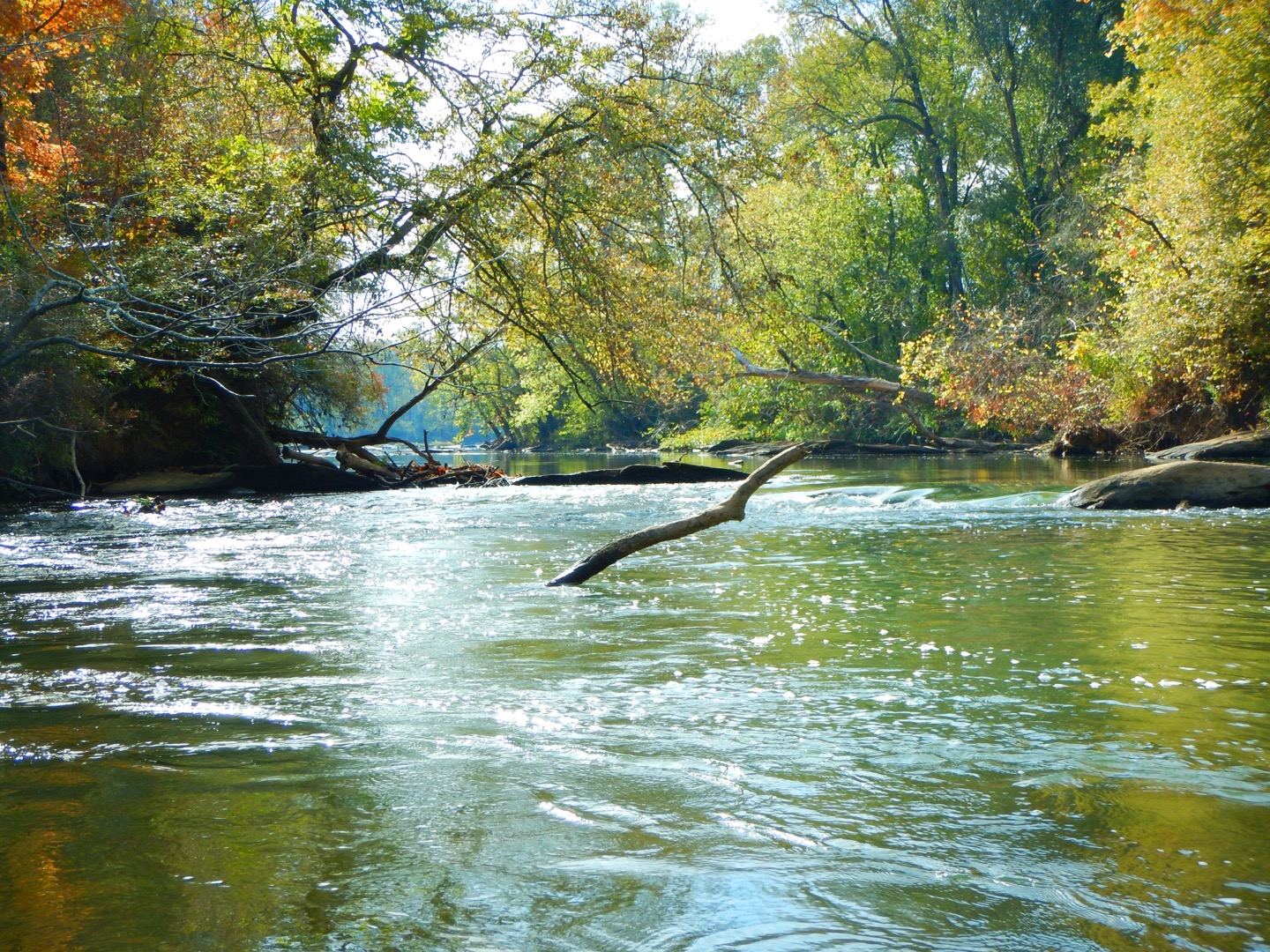 Very few people who visit Lake Martin realize what a beautiful treasure the Tallapoosa River is. The Tallapoosa is what is dammed to create Lake Martin, so if you follow the lake north, you'll hit the River. I can't really blame the lack of knowledge, because even though I grew up here, I didn't realize how cool this area is until I was old (>30).
If you'd like to learn more about fly fishing, spin fishing, or drifting the Tallapoosa River,
CLICK HERE
to contact Drew.
If you like to fish from your own canoe, kayak, inner tube, or rubber ducky,
SAVE THE DATE of

May 13

.
Drew and I are teaming up for a river bass fishing tournament to benefit a local charity. More details later.
For now, enjoy these pictures that Drew took on Monday. That bass with the bulging belly – it was full of crawdads. Plural. It was so stuffed you could feel their hard exoskeletons through the fish's skin. When we looked inside its mouth you could see crawdad antennae poking out of its gullet. It was freaky!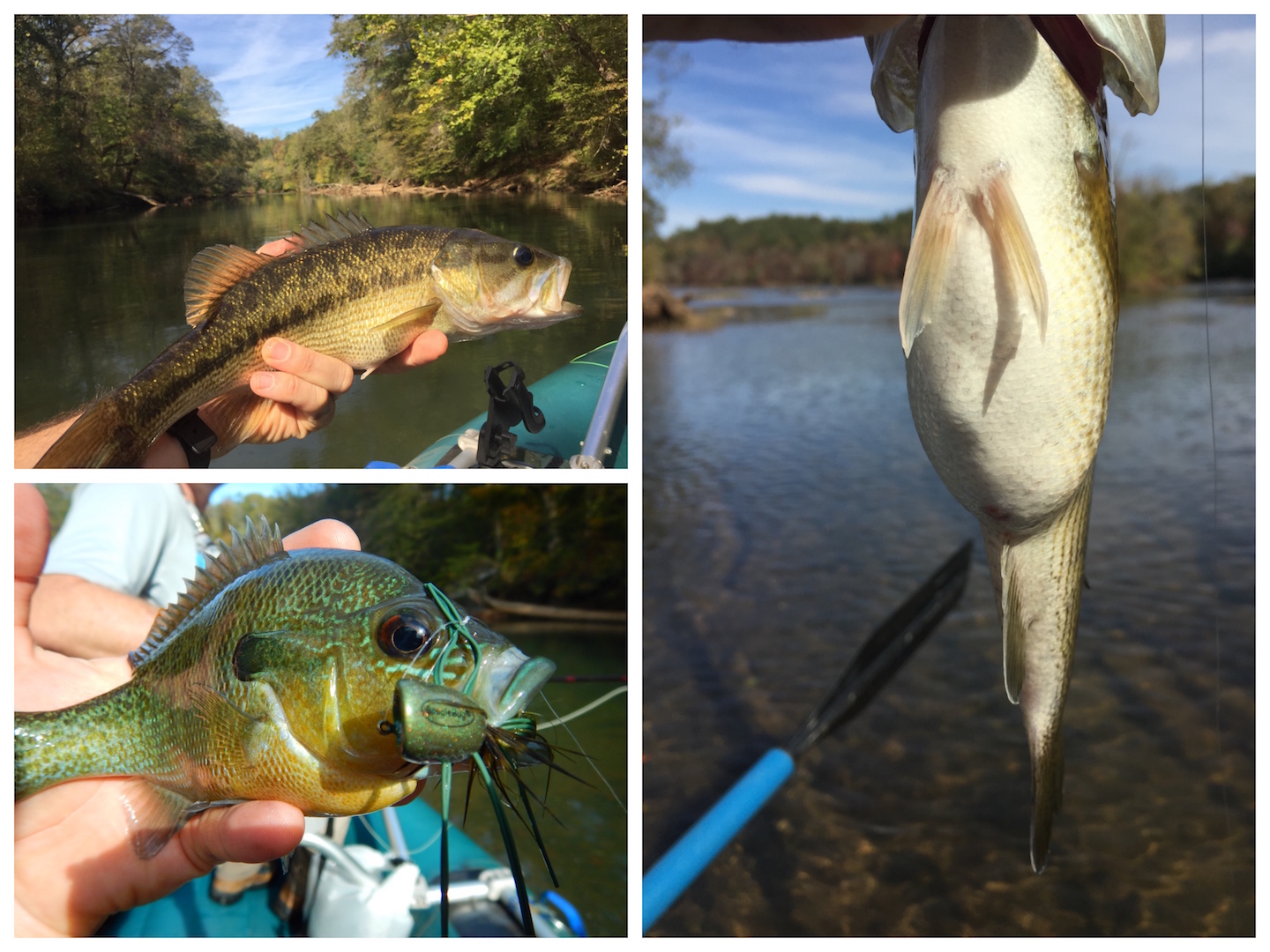 Mr. Daniel Powell, a spokesman with the Alabama Black Bear Alliance (ABBA), will be the guest speaker.  ABBA's goal is to "…work cooperatively and voluntarily for the conservation of the black bear in Alabama through research, education, and habitat management."  Mr. Powell lives in Washington County where there is a sizable population of the black bear.
According to Mr. Powell, black bears are expanding their territory into central Alabama.  It is important for us to have as much information as possible about the expansion of the black bear and its impact in the communities near Lake Martin.
Red Hill Community Center google map
Click here to read a story published in the Alex City Outlook from June of this year about black bears sighted in the Lake Martin area.
With several local sightings around the Lake Martin area recently, this sounds like a good meeting for us folks around the Lake to attend.
I have seen a few black bears in the wild in my lifetime. The first time I ever saw one, I was working in Yellowstone National Park one summer after my freshman year in college. I wasn't too impressed by black bears back then. I think it was because: 1.) I was too young and too dumb to have proper reverence and 2.) I was extremely scared of grizzlies, and maybe black bears paled in comparison.
I also have seen some in the Great Smoky Mountain National Park when trout fishing with my friends Ian and Charity Rutter at R&R Fly Fishing. Maybe I was old enough to appreciate them, or maybe the Rutters did a good job of explaining the bear's part in the ecosystem to me, but I was fascinated to see them.
It fires me up that there's a decent possibility that black bears will return to the Lake Martin area. They were once an apex predator around here, like the striped bass in the water. Let's hope and pray that we humans handle the bears' return in a responsible way.
September is a magical month here at Lake Martin. I love it. The water is still pretty warm, but the nights are cool. Not even the oldest of codgers complain about boat traffic, because there is none. One other factor gets me really fired up about Lake Martin life in the fall: striped bass fishing!
I'm on a continuing quest to figure out how to reliably catch striped bass on my fly rod here at Lake Martin. I have learned a lot over the past few years, mostly by error. One huge thing I have learned is that step one is to find the fish. That may sound pretty simple, but to me it is the biggest element of the game.
That's why I always pay attention to David Hare's striped bass reports. David is the owner and head guide at Alex City Guide Service. Although he is primarily a bait fisherman, no one on the Lake knows the striped bass patterns better than he does.
Please see his report for October below.
I also pay close attention to David's Facebook page.
If any reader out there has some good tips for me to catch them on my fly rod, please let me know!!
9/12/16
Water Level 487.8 ( full pool 491.00)
Surface Temp / 84º–89º
Clarity / Very Clear
As predicted September on Lake Martin was awesome. Both day and night trips were producing numbers of stripers. Of course your better quality stripers were and will always continue to be caught on live bait. We still occasionally do get a trophy on artificial baits trolling. At press time we (
Alex City Guide Service
) have boated numerous trophy stripers this month including several in the 30 + lb. range.  With the Lake record being 52 lbs. (which was caught by Alex City Guide Service) and this year's Lake record so far being 45 lbs. (which I am proud to say also was caught by us) – all were caught on live bait in which we specialize in and it continues to keep us on the map for
one of the best trophy striper lakes in the country.
October will be (if the past holds true) another awesome numbers game. There will be lots of stripers and bass caught this month with the water temps cooling down. Not only will you be able to catch these fish trolling  and live baiting, you will also be able to catch some on top schooling.
Remember October is a transition time and you're most likely to find fish most anywhere on the Lake.
No matter what species you enjoy targeting you can normally have a good time in October.
If you don't know Lake Martin or you just had rather hire a guide to increase your chances of a fun day on the water then give us a call at
256-401-3089
and we will take care of the rest.
Until next tight lines !
Capt David Hare
Would you like to fly fish around the Lake Martin area? This time of year (June) has hot weather that chases fish from shallow water. That's why local anglers point their rods toward the Tallapoosa River-the headwaters of Lake Martin.
The Tallapoosa River, especially the portion from Horseshoe Bend down to Irwin Shoals, is excellent water for fly fishing for many kinds of bass and sunfish. The problem in the past has been finding someone with the gear and the know how to teach you or take you. Enter my new friend Drew Morgan.  He has been killing it lately on the Tallapoosa. Check his IG for pics.
Stealth bomber, deceiver, game changer, popper, woolly bugger…what are these?
They are a few of the flies that Drew Morgan of East Alabama Fly Fishing  recommends.  Watch the video above and learn more about the gear he recommends for fly fishing on the Tallapoosa River. Drew covers it all- fly rod types, line types, flies themselves, etc.
Contact Drew and book your trip!
To directly contact Drew Morgan of East Alabama Fly Fishing, please go to his website here or his Facebook page!
Related Posts:
Fly Fishing the Tallapoosa and Best Times to Fish the Tallapoosa
As promised here is the next video from Drew Morgan of East Alabama Fly Fishing – an awesome fly fishing guide in the Lake Martin area.
In this video I shot last November, Drew talks about the different fishing seasons on the Tallapoosa River. If you are new to the area, the Tallapoosa River is dammed by Martin Dam, which creates Lake Martin. We locals refer to the area just upstream from Lake Martin as "the River," but it is more accurately called the Tallapoosa River  – from Irwin Shoals all the way up to the dam on Lake Wedowee.
The mid-spring season is soon to start.  I am already receiving reliable reports that the striped bass are in the rivers and creeks now, so I am looking to target them with my fly rod. With higher water needed to fish from now until July we should be finding our "own kind of paradise" soon.
And don't forget as Drew reminds us the mini season in the fall from mid October – mid November is still a great time to take your canoe, kayak, or his boat out.
While we all love to be out on the water catching fish, part of the lure (pun intended) of fly fishing is wading through in search of different species. When the water is lower on the river – July, August and September, the time is right for wading.
As you watch the video listen out for Drew's version of the "Tallapoosa Slam".  His long list of the different species biting year round is sure to get you "Wishin' I was knee deep in the water somewhere got the blue sky, breeze and it don't seem fair the only worry in the world…" How soon can I get my gear together and call Drew?
If you are interested in fishing, directly contact Drew Morgan of East Alabama Fly Fishing, please go to his website here or his Facebook page!
If you would like to see what waterfront homes for sale on Lake Martin are closest to the Tallapoosa River area, see THIS PAGE that takes you to the River Oaks Neighborhood Page on my blog. If I can help you with any homes or lots there, please call me at the number at the top of the screen!
Drew Morgan of East Alabama Fly Fishing is a fly fishing guide in the Lake Martin area and my new go-to authority when I want to fish around here with my fly rod.
I recently stumbled across Drew's Instagram account and couldn't believe my luck. For years I have been trying to improve my skill and effectiveness of fly fishing for the native species around the Lake Martin area. It just so happens that Drew does just that.
East Alabama Fly Fishing is mainly focused on guiding people along the many beautiful rivers and streams in the area. Drew frequents the Tallapooosa River, which flows into and creates Lake Martin. He also spends a lot of time in the Saugahatchee Creek watershed. 
Ever since I read in Lake Magazine about the discovery of new species of red eye bass, I've been itching to get better at targeting them with my fly rod. Obviously, I still love to fish for trout in The Smokies, but being able to have more options locally is a great thing.
My problem is, even though I grew up here, and dabble a tad at fly fishing, I never really learned the ins and outs on how to do it on the Tallapoosa. Casting a Rapala from a bass boat in fifty feet of clear water is not the same as dead drifting a hellgrammite pattern while wading knee deep in the flow.
I was really excited when Drew made some time for me last November. The result of that trip is I got a ton of (hopefully) helpful video footage where Drew really lays out the details. I'll be posting these over the next few weeks.
The day we went in November was not cooperative. After weeks of clear, warm weather, that day was soaking wet and the water was high and muddy. Not exactly the best for fly fishing or video.
Nevertheless, Drew delivered with great info and a wonderful guided float down the Tallapoosa. 
Please enjoy his intro video above, and be sure to stay tuned for future installments. I have two more videos that will cover the fly fishing gear he uses on the Tallapoosa River, and how the seasons affect the fishing here.
To directly contact Drew Morgan of East Alabama Fly Fishing, please go to his website here or his Facebook page!
When the weather gets cold on Lake Martin, the striped bass fishing heats up!
Last November I happened to be up near the Irwin Shoals area of Lake Martin, where the Tallapoosa River sort of becomes the lake. Low and behold I saw my friend David Hare there, trolling for stripes around Jaybird Landing. I happened to have my "aerial camera" with me so I sent it out to get a few clips of David and his clients.
David is a super nice guy, and you won't find a more knowledgeable guide on Lake Martin when it comes to striped bass. Contact Alex City Guide Service at 256-401-3089 for more information or visit their website here: http://www.alexcityguideservice.com/
I will say this, too, about David. He cares about Lake Martin and the surrounding area. He's from here and lives on the lake and fishes it just about every day of the year. He does not breeze in from another city with flashy marketing yet no substance. You are not going to find him doing stuff like "guides" Michael Perry and James Blanks – who were cited for introducing illegal bait fish into Smith Lake.
It totally blows my mind that people that hold themselves out as guides would (allegedly) break the law like this and introduce an invasive species like blueback herring. Folks from the state Department of Natural Resources say they have also found blueback herring in Lake Martin. I pray that they don't take hold.
Henry Cowen – a guide par excellence and a nationally recognized expert in freshwater striped bass, told me personally that the illegal blueback herring was the worst thing to ever happen to Lake Lanier.
In my constant pursuit to learn how to catch the striped bass on the fly rod on Lake Martin, I have been fortunate enough to go fishing with a few guides this fall. I will write about all of this later.
But one thing continues to be reinforced to me – if you are considering hiring a fishing guide on Lake Martin, or anywhere for that matter, be sure to do your homework. Make sure you're not giving your hard earned money to some ya-hoo.
Lake Martin, Alabama has awesome striped bass fishing in the fall.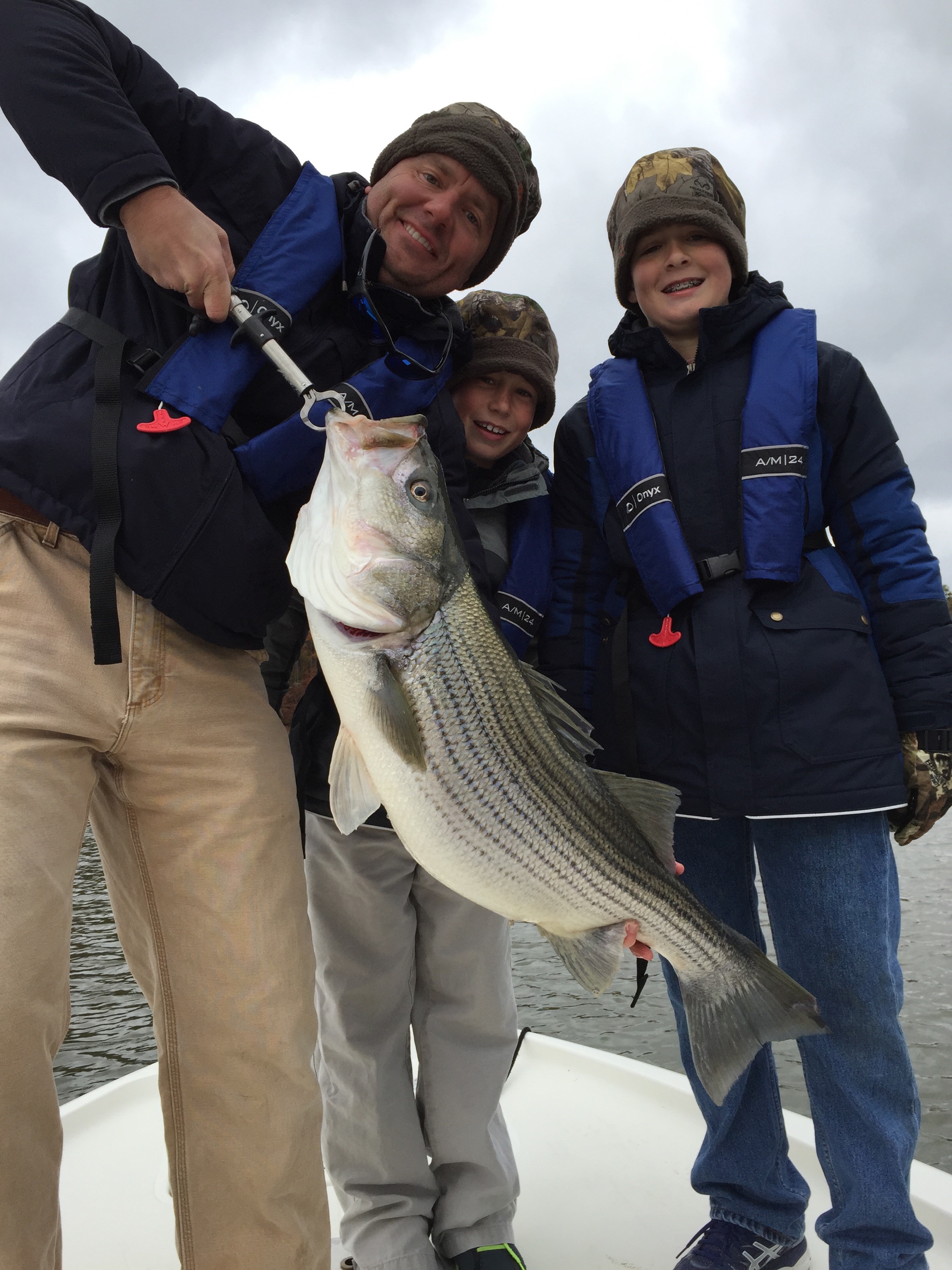 Here at Lake Martin we are proud to be one of the best freshwater fisheries for the Striped Bass in the USA. Fall is one of the best times to fish for them since the water temperatures cool down and the big boys come up from the depths. Above is a picture of a nice striper that one of my sons caught this time last year. We had a cold snap in the middle of last October and it was chilly, but the fishing was awesome!!
I continue to try and crack the code on how to reliably catch striped bass on Lake Martin with my fly rod. If anyone out there has any tips- please contact me here or call at the number at the top of the page and let me know!!
I recently found this article that gives some really good tips for fly fishing for saltwater stripes on inland lakes. Here's another one (featuring none other than Dave Whitlock) that gives a plug for Lake Martin: Fly Fisherman Magazine. I also have discovered a ton of great fly tiers online – like Brandon Bailes of Panther Branch Bugs.
One great tip I have seen online is to hook up with and learn from the local guides, no matter their fishing method. The above saltwater striped bass was caught when I was being guided by David Hare of Alex City Guide Service. David fishes with bait most of the time, but he has an unparalleled knowledge of the stripers on Lake Martin. Therefore, I pay close attention to what he says! Here are his two most recent Lake Martin Striped Bass fishing reports. They tell you what to expect when fishing in November, and then October (because I was too slow to post it last month). If you have any questions, please contact David directly at:
Alex City Guide Service
Captain David Hare
256-401-3089
[email protected]
Lake Martin Striped Bass November Report, By David Hare
Date Written: October 13, 2015
Water Levels 487.15 (490.00 full pool)
Clarity / Clear to very clear
Surface Temp: 70* – 74*
November starts my favorite time for big, big stripers! In fact for the next 8 months the day trips will be awesome!!!!! With water temps cooling down I will be focusing on the biggest of the big stripers by spending most of my time in shallower areas of Lake Martin, then the creek channels, and for sure not overlooking the river channel. Each day I will prepare my bait well with different size baits but making sure I load some of my largest shad I have.
Every year around this time I read articles that some say the bite slows down in the winter because of the fish's metabolism! Well maybe for some but for the fish that I target (trophy stripers) my action and bites actually seem to get much better. It seems to never fail that we keep our taxidermist plenty of work through out the winter.
If you have trouble with boating stripers just try your luck with much bigger baits including much bigger artificial baits. Again, don't rely on all big bait but as I fish 6 rods or baits at a time I will always have at least 4 of the 6 loaded with bigger size baits.
Until next time get off that couch and get on the water for a big fish!
As always call me for your trip of a lifetime.
Lake Martin Striped Bass October Report, By David Hare
Date Written: September 11, 2015
Water Level: 488.3 (full pool 490.00)
Very Clear on lower end to clear on upper end
Surface Temp 82*-85.5*
Sitting here on my deck next to the water, there's a nice breeze coming across the water and feeling early fall in the air. Dressed with a long sleeve shirt on which actually feels good and makes me want to start my fall fishing pattern but I know I actually have several more days before the water temps get me or I should say get the fish in the fall pattern. By the time you're reading this hopefully water temps have fallen and the stripers have once again started that transition to a new feeding pattern on Lake Martin. Every October, I burn more gas than any other month of the year just staying on these fast moving creatures. Each day can be a different location for catching so I always tell my clients patience as always is the key to landing these monsters and October can definitely test even the most patient fisherman. However, don't worry! We still come to the docks most days with great catches just a little more gas burned, a little more patience used up and several more baits used up.
Do not overlook any area of the lake this month when fishing, this is one month you are liable to catch a striper anywhere and anytime of the day and yes night too! That's right, not all stripers are going to switch to the day bite at the same time so if you're a night owl get out there and boat yourself a night time monster!
All of our bass guides are excited because they say fall bass fishing is awesome here on Lake Martin and produces some very large bags of spotted bass. They will be spending a lot of time in the mouths of creeks in search of the amazing fish. Break out your spinner baits and go see what you can put in your boat. Be prepared for that monster strike from a striper while doing this because, yes, Lake Martin striped bass will blow up on a spinner bait. Just 3 years ago I was talking to a bass fisherman that had boated a 42 pound striper on a spinner bait that morning near the Wind Creek boat ramp area.
For you laid back fisherman that don't care what bites as long as something is pulling on the line I would suggest trolling some crank baits that run several different depths. By doing this trolling method you are liable to catch big stripe, white bass, crappie and yes, spotted bass! If I didn't have a umbrella rig I would go purchase a couple to put out while I was trolling. Better yet, put one big rig and one Alabama rig out (much smaller) at the same time to increase your chances, I think you will be pleased at the results. In October, the best trolling speeds is 2.5 mph to 3.5 mph.
As always folks, wear a PFD (life jacket), show respect for fellow fishermen, and be a defensive driver. Constantly watch out for other boaters and for sure this time of year the shallow spots that you do not have in the summer.
Have you ever thought, "Lake Martin is almost perfect, but what if it were a little more like the Smoky Mountains?"
If so, your dream may have come true. Black bears have been spotted around Lake Martin. See this article in the Alex City Outlook. I must admit that I often have wished Lake Martin could be more Smoky like, but it has to do mainly with wild trout. If some mad plan could be hatched so that the Tallapoosa below Martin Dam could sustain trout, maybe we could become the next South Holston.
Back to reality, this story reminds me that I have many waterfront lots for sale in Shady Bay. They range in price from $57,000 (Lot 23 Ph I) to $190,000 (lot 5 Ph II). If you would like to see the entire list, see Shady Bay Lots For Sale. Or, if you would like to learn about Shady Bay real estate in general, see the Shady Bay neighborhood page.
Since the black bear article first appeared, the sightings have decreased. Maybe the bears have moved on, or maybe they are getting camera shy.
But one thing's for certain – Shady Bay on Lake Martin is a great spot to build your waterfront home. There are homes underway on lots 9 – 14, and they are going to be some really nice ones!
If you have any questions about the lots in Shady Bay, or anywhere else, please don't hesitate to contact me. I can put you in contact with builders and architects to answer your design and construction questions, if you would like me to do so.
I continue my quest to learn how to consistently catch striped bass on Lake Martin from my paddle board, with my fly rod.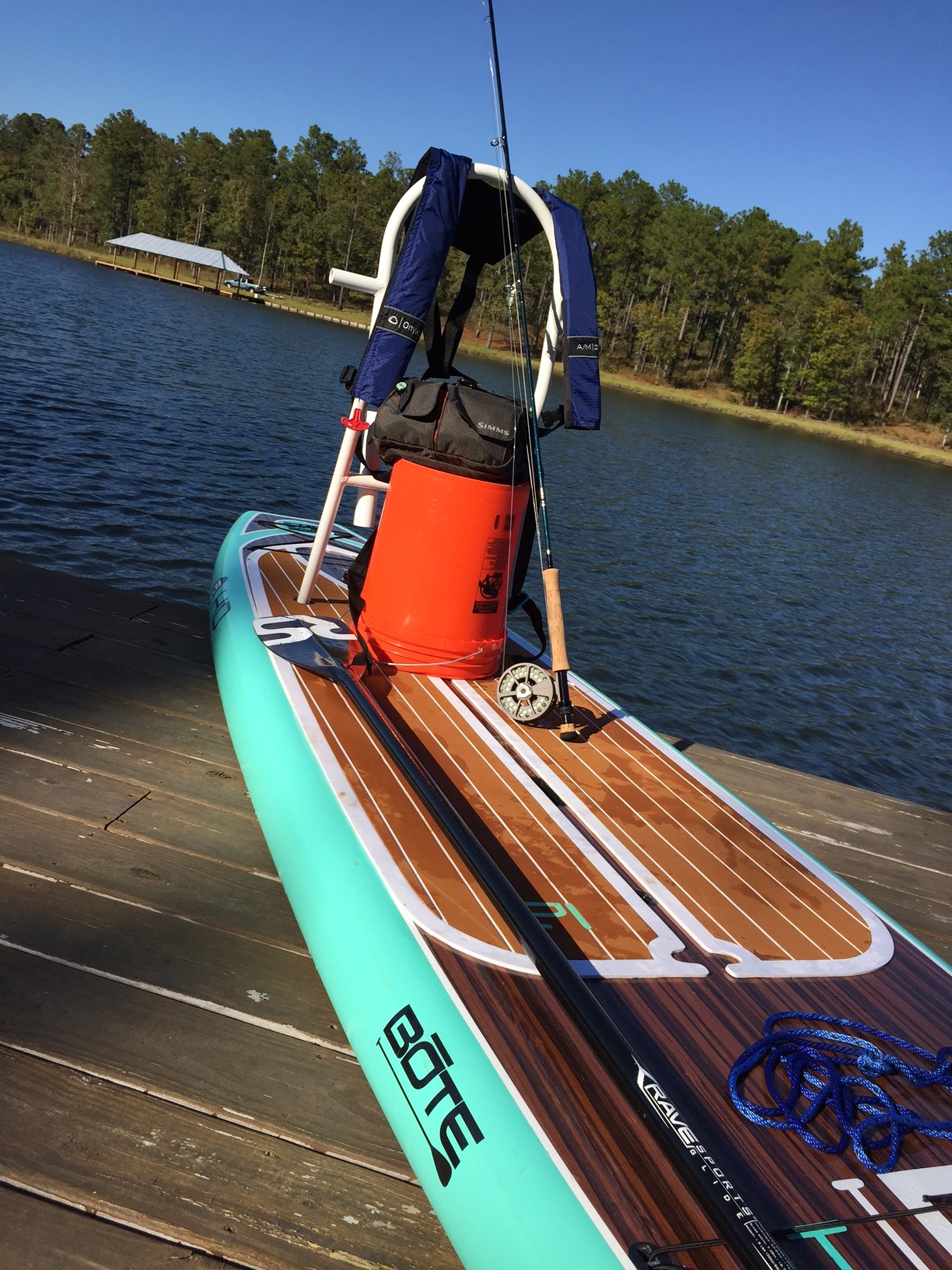 I wish I had a lot of success to report. I have not, but I am looking forward to getting after it again in the spring.  I think it's because I am trying to learn four disciplines at one time: cast a 9 wt, maneuver a paddle board, catch stripes, not fall off. I can't really do any of these very well right now and when you combine all four it's pretty comical to watch.
I have learned a little from my setup to know what I need and don't need:
Paddle – I have an adjustable paddle. It's not optimal for racing or touring but I am glad I have it when I flyfish from my paddle board.  I wish it broke down even shorter.  Most of the time when I am paddling it is small quick maneuvers when I am sitting down, trying to get in position so you really don't need a long paddle. I guess if you are paddling a long way to your fishing spot then the adjustable would be nice.
Line catchers – if I thought fly fishing from a boat was line grabby, I am telling you that there are tons of things that can grab your fly line on a paddle board.
Stripping basket – I need to buy one of these. I think the bucket I sit on can double as this but then I would lose my seat and I would have to change back and forth in between spots. Plus I found that after I have stripped all my line in and am readying for another cast, the line is all over the place, in the water, etc. I think it would just be a lot simpler to have a stripping basket or bucket. I am considering a DIY project here.
Go with the wind – you might as well plan on going on a windy day. That way if it's not as windy as you expected it is a positive. Every time I have been out, gale forces kick up. So I have tried to not fight it, I just paddle like a dog upwind and then drift back and fish with the wind. Of course, this entails keeping at the proper angle so I don't catch myself with a 1/0 hook in my scalp. Some SUP boards have built in anchors but my Bote does not. I guess I could rope in to some structure. I am up to suggestions here.
Coolers and weight- all of the SUP fly anglers I see in magazines and online have a really nice cooler strapped in with them, and it doubles as their seat. At this point I cannot imagine adding a lot more weight to my already heavy rig but I would really like to have a cooler also. I don't know, but I don't think it would drag me down too much.
My setup- just FYI I list my setup for fly fishing for striped bass from a paddle board. If you have any better ideas for substitutions or additions, please let me know. I clearly don't know what I am doing:
Fly fishing related:
Sage 3 piece 9 weight RPLXi
Lamson Konic reel
Simms fanny pack
Flies tied by BaileBr3
Paddle Board related (purchased at Lake Martin Dock):
Board – Bote HD – 12' (love it but if I bought another I would upgrade to the brand new Rackham)
Paddle – Rave adjustable paddle
Tackle Rac – Bote makes this, it helps store gear on the board
Also, I recently read a great article on the subject, by a much more accomplished angler than I:
Top 5 Must Have Items for SUP Fishing
He has an interesting use for 5 gallon buckets: wind anchors.
At any rate, I hope to be more successful in the future!