Archive for the 'Wildlife' Category
Wildlife diversity, for sure!
Every time I head to StillWaters to show a home or condo for sale, my "web staff" knows I'm coming back with new wildlife photos.  To date, I've captured lots of deer, ducks, and herons.  In fact, I have a wildlife photo file on my computer just for StillWaters.
I was in StillWaters twice last week, and both times I saw turkeys on the golf course.  The first time, it was this crowd below:  two jakes (immature males), and one mature long beard.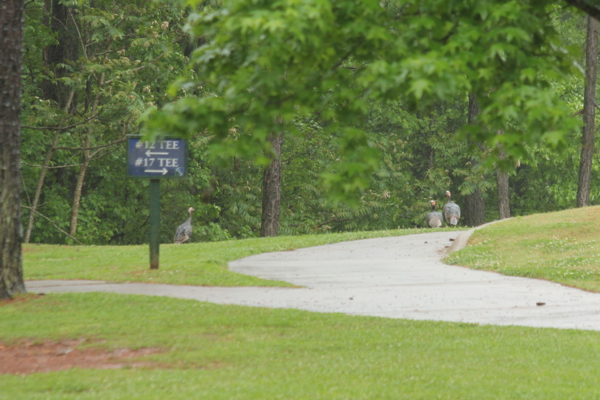 This guy was definitely the boss. He was standing by the road, and let his minions above walk ahead of him to clear the way and make sure there were no dangerous golfers around. For those of you unfamiliar with turkeys, I will let you know, the length of his beard (that straw looking hair poking out of his chest) is pretty impressive. I tried to get a little closer, but this was the best I could do from 100 yards with a 300 mm lens: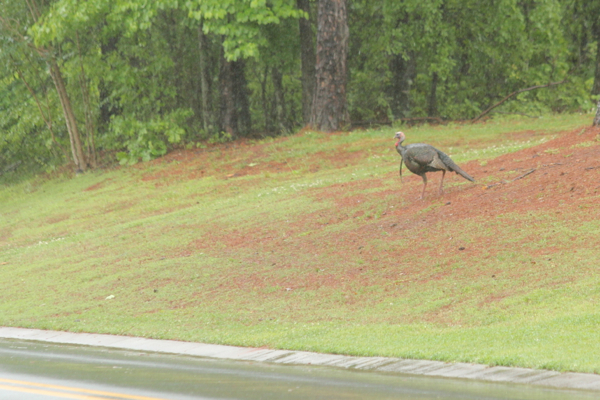 A week later I was leaving a listing appointment in StillWaters. I got to almost the same bend in the road and noticed another turkey was standing with one foot in the road, gobbling his head off. A car passed him, he took three steps back, then stepped back out and double gobbled. As an avid turkey hunter, I was amazed. This was a week into May, and turkey season was over on April 30. It just goes to show you that, even in the wilds of StillWaters, the primal procreative drive of nature does not hew to man's law. I eased my car up to him, and he walked back into the woods. This was the best shot I got of him, below. Maybe he was the same boss I saw a week earlier: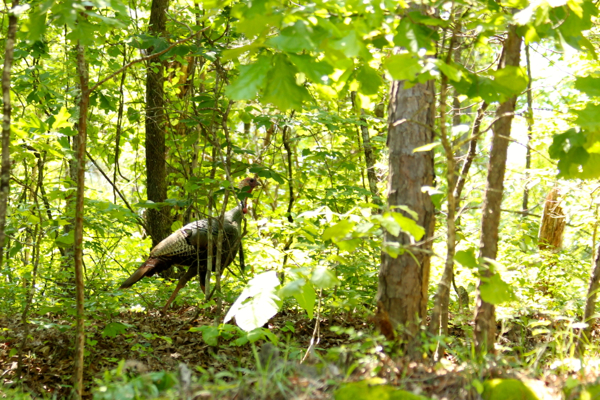 So many people come to Lake Martin because of its natural setting; wildlife sightings are just a normal part of the day.  It's different than some other popular getaways in the South – it's a place to slow down and enjoy people, the water, wildlife, and the peace and quiet.  You can bring your kids and they may actually hang out with you!
That reminds me of a favorite Lake Martin testimonial I shot while at a school function a few years ago that sort of goes along with this theme.  See if you don't agree . . .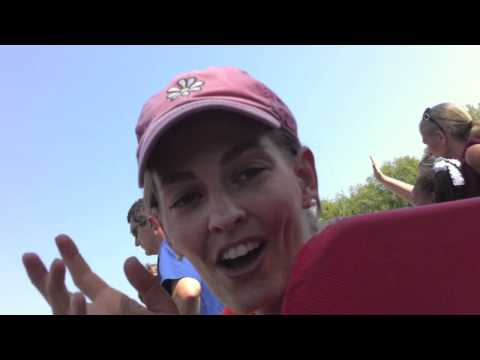 If this is the kind of vacation spot you've been looking for, check us out at Lake Martin!  I'd love for you to use this website to explore the neighborhoods, the people, the events, and the waterfront properties.  Check out my Lake Martin Voice Realty YouTube Channel where I have over 300 Lake Martin videos divided into five playlists (Community Info, Neighborhoods, How to Use the MLS, Home Tours, and Client Testimonials).
And if you'd like to talk Lake Martin real estate, give me a call at (334) 221-5862 or click here to email me.  I'd love to be your realtor!
It was March 28th, our inaugural boat ride of 2013.  We had come under the power lines and made the turn south so we could see the dam. Goat Island was on our right, and Ghost Hollow and the Overlook were on our left.
Just then we spotted a strange looking duck swimming madly on the water's surface.  As we got closer we realized it was not a duck at all, but the head of a deer.  Her body, obviously, was under the water, and she was swimming faster than Michael Phelps toward Goat Island.  Seeing a deer swimming is not that uncommon this time of year, but still – it was a sight to behold.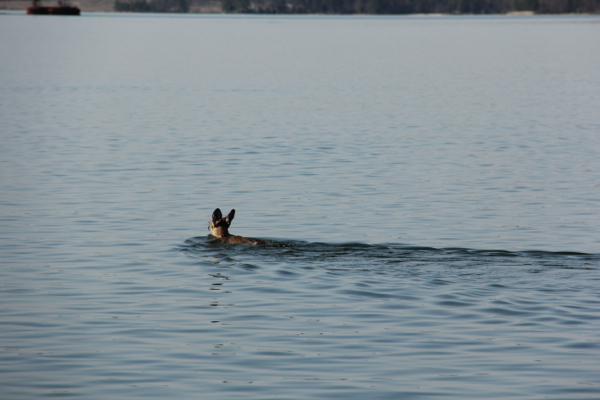 We then spotted two more deer swimming behind her in hot pursuit.  But these deer turned out to be dogs, and suddenly it all made sense.  The dogs must have chased the deer into the water off of Ghost Hollow and she was swimming across to the safety of Goat Island.  We lost her for a little while, but then we spotted her climbing onto dry land at the end of Dopson Point Road.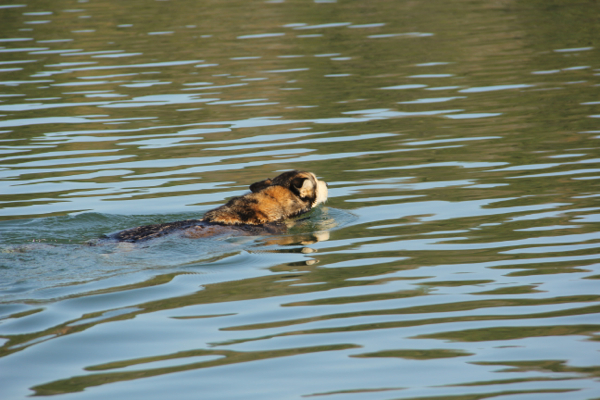 What about you?  Have you taken your first Lake Martin boat ride of the year?  See anything interesting?  Let me know; I'd love to post your pictures or let you retell your tale.
And if you need help with Lake Martin real estate, you know I'd love to hear from you, too!  (334) 221-5862 or CLICK HERE to email me.
I take Lake Martin wildlife pictures all over the lake, but I need to create a specific photo file for "Wildlife I Have Seen in StillWaters."  Lake Martin is a rural area, so animals coexist with lake lovers on all sides.  StillWaters is a huge gated golf/lake community with on and off the water homes, townhouses and condos, and it seems that wildlife like the deer I spotted last week call it home, too.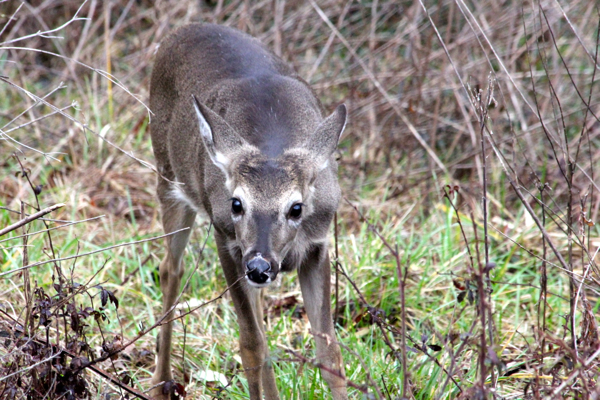 This one was grazing on the side of the road as I drove to a new listing of mine in StillWaters, 100 Harbor Point Place Unit 613.  If you look closely you can see the early formation of his antlers.  It's amazing how deer were created to blend in so well with their environment.  You can barely see his back in the photo below: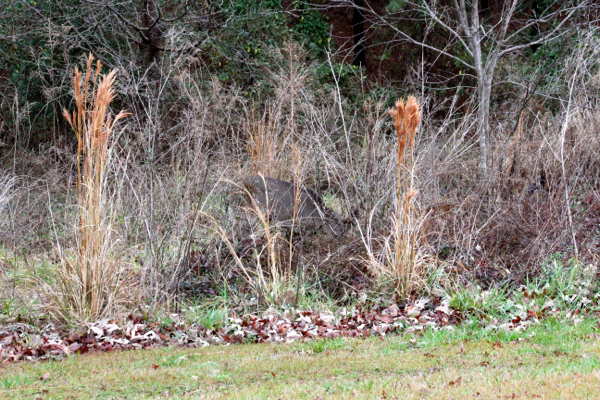 If you like the idea of being in an established, gated golf  and waterfront community, and enjoy neighbors of all kinds, StillWaters might be a good fit.  If you'd like access to all StillWaters' amenities, but prefer to leave the yard work and home maintenance to someone else, check out my listing, 100 Harbor Pointe Place Unit 613.  It's a 2 bed/2 bath off-the-water condo with a deeded boat slip, and it's right across the street from Harbor Pointe Marina.
It's currently listed for $131K – a great deal when you consider its location within StillWaters and all of the amenities owners can access.
Here's one more parting shot of our friend and StillWaters neighbor.  If you're interested in homes or condos in StillWaters, or real estate anywhere on Lake Martin, give me a call at (334) 221-5862, or contact me by CLICKING HERE.  I'd love to be your realtor.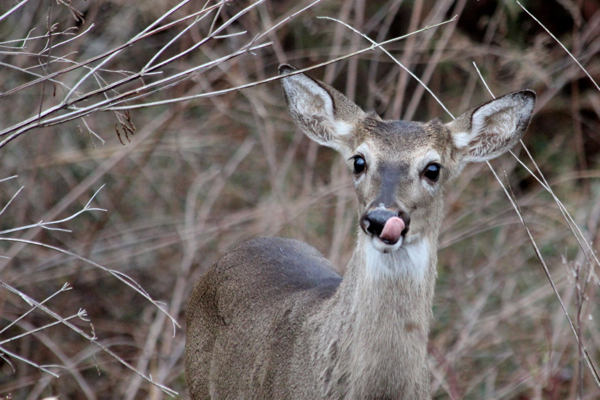 Around Lake Martin, if I can't be in a boat, put me on a hiking trail.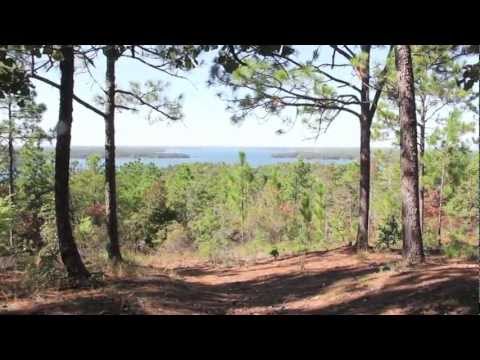 The cooler months at Lake Martin are perfect for hiking.  We've got lots of elevation here, and I never miss an opportunity to remind my kids that Lake Martin is at the southern tip of the Appalachian Mountains.  These trails include great views from high points, and woodsy paths that take you right down to the water.
If you want more info on hiking the Cherokee Ridge system of trails at Lake Martin, go to CRATA.org.  This is the Cherokee Ridge Alpine Trail Association's website, and they're the folks who maintain these trails.  Please don't call me – I am but a realtor who likes to hike.
I also wanted to review and plug a cool smartphone app that I downloaded from AllTrails.com.  AllTrails is a database for thousands of trails across the U.S., plus it allows you to map and save your own trails, and view and rate trails that other hikers have entered. FYI -  I hiked the Chimney Rock Loop trail and here's what the app recorded: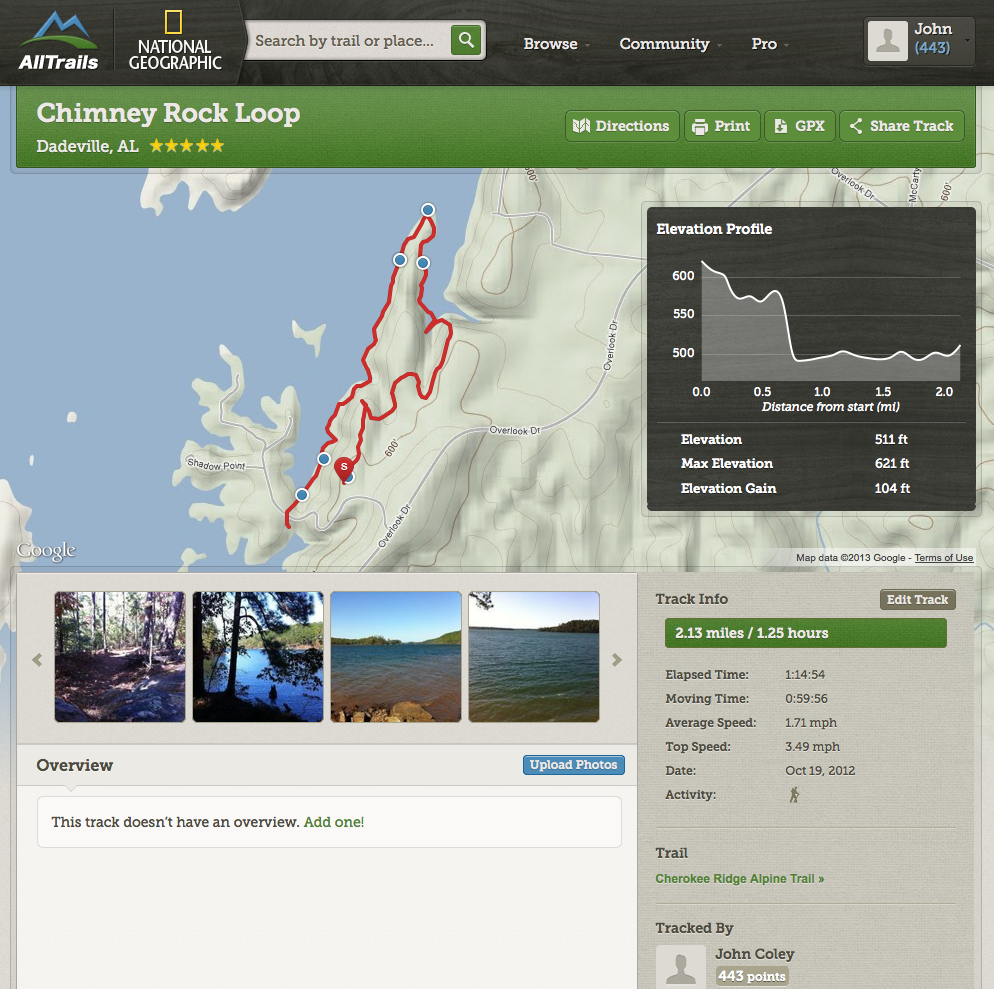 Pretty cool!  I hope to enter more trails and share them with fellow Lake Martin hikers.  If you get out there, try the AllTrails app and let us know where you've been!  A comprehensive record of Lake Martin trail hikes would be a useful tool for hikers, plus it would be a great marketing tool for businesses looking to attract new visitors to the area.
If you see a great Lake Martin property for sale while on your hike, give me a call at (334) 221-5862 or click here to contact me and put me to work.  I'd love to be your realtor, and I'd love to help you find your Lake Martin home.
I have literally spent a lifetime on Lake Martin, but the other day I felt like I met a totally new side Lake Martin for the very first time.  It was kind of like driving the boat home from my kids' first wake board demo at Blue Creek Marina and realizing we'd just scratched the surface of this Lake Martin subculture – like an onion, the lake has many layers. Except it's not like an onion in that it doesn't stink or make you teary when you cut it.
The layer I discovered a couple of weeks ago was the striped bass layer, courtesy of David Hare of Alex City Guide Service.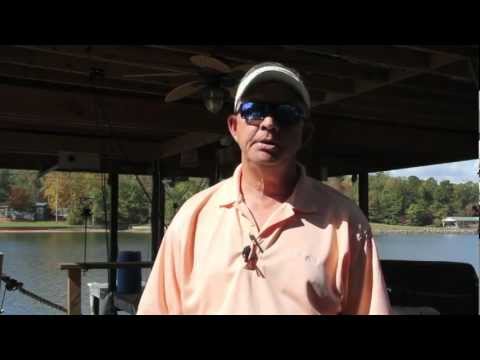 I had already shot this video series with him when I bumped into him around the north lake area, near the River Bridge (Highway 280 bridge).  Even though I'd heard him talk about fishing Lake Martin, I was not prepared for the amount of fun I had. He took Lake Martin fishing to a whole new level for me.
The above video is the first in a trilogy of interviews with David about fishing for striped bass, in particular. If you're antsy to fish and can't wait for the next video post, you can 1) go to my LakeMartinVoice YouTube Channel and watch all three interviews there, or 2) go ahead and call David at Alex City Guide Service and schedule a trip. David's number is (256) 401-3089.
After fishing with David, my only regret was that I was in my wife's car, and didn't have a cooler to bring home the fish fillets. Rookie mistake.
Check out the photos from my trip with David below:
Any reader of this real estate blog knows that I am way into the recent trend of paddle boarding that has hit Lake Martin. I am a proud fan of the Paddle Lake Martin fan page on Facebook and enjoyed putting on a paddle board race in June.
But I am blown away by, and supremely jealous of, Harold Banks of Dadeville.  Harold is the original Lake Martin paddler in my book. I have been reading his day by day account of paddling from Fort Toulouse (the confluence of the Tallapoosa and Coosa Rivers, aka The Alabama River) to Mobile Bay.  If you have not read this account, give yourself a treat and read these links on The Alexander City Outlook and his account in Lake Martin Living Magazine.
This amazing adventure reminded me that Mr. Banks became the first person to canoe the entire Tallapoosa River a few years ago.  The Tallapoosa is what feeds Lake Martin, and it has its origins as a humble creek in Georgia. Banks took a few weeks in 2009 and started at its Georgia headwaters, paddled through the state line into Alabama, through a few lakes including Lake Martin, all the way to Fort Toulouse near Wetumpka.  You can google "harold banks tallapoosa" for more info.  He is mentioned on the Alabama Scenic River Trail site, but if you want to read his amazing travel journal from the trip, click here.
He has really inspired me. I have been wanting for years to do that, but per his advice I will take it in chunks. I am shouting out to my fellow Paddle Lake Martin folks, let's take down the Lake Martin leg this fall! We could start at the shoals at Jaybird Landing, then end up at the dam.  If we do it over two days, we could even camp one night!
One of these days I promise we're going to go from Lake Wedowee to Jaybird to soak in the scenery and wildlife. But in the meantime, here's a good article in Lake Magazine with some shorter trips!
The Piedmont Plateau Birding Trail officially opened on November 17 with a nice ceremony held at Horseshoe Bend National Military Park.
The Piedmont Plateau Birding Trail is the central Alabama version of the popular birding trails like the Alabama Coastal Birding Trail and the North Alabama Birding Trail.
What is a birding trail?
A birding trail is a collection of locations where bird lovers and other folks can go to observe some of Alabama's renowned diversity of bird species.  The Piedmont Plateau Birding Trail is organized into three "loops."
The Lake Martin Loop, obviously, is the part of the trail that will be closest to Lake Martin. Some of the observation points are directly on the water of the lake, such as the DARE Park and the Cherokee Ridge Alpine Trail head.  Others will take you off the water, but to nonetheless interesting spots like Horseshoe Bend National Military Park.
The new trail has already earned some attention.  Deborah Storey covered it in this Hunstville Times article.
For what it is worth, I think this is an outstanding idea and brilliant marketing on the part of the various Chambers of Commerce that worked together to get this done.  I congratulate the Alexander City Chamber for taking the lead on it.  Even if you are not a "birder" – you should realize that birding related tourism is a really big business, and Alabama is a mecca.
Furthermore, it offers yet another thing to do off of the water for people who love Lake Martin.  Fall is the time of year that I think gives you the best chance to hike, bike, and explore the area around the lake.
Speaking of things to do, how many of you have never been to Horseshoe Bend National Military Park?  Why not? It is only about 10 miles off of highway 280 between Dadeville and Alex City.  The dedication ceremony gave me a perfect excuse to tour through it again. When I was growing up, we had oodles of school trips out there.  As a child, I never appreciated the sheer beauty of that park, nor did I grasp the historical significance of a battle that shaped the destinies of millions of acres of land, entire nations of native Americans, and at least one President.  (Hint: check a $5 bill).
After my tour the other day, I was really getting my nature, my history, and my local pride groove on.  I went wild in the Park's gift shop, buying several (my wife rolled her eyes) books about The Battle, this area's history, and nature.  My fellow nerds will please note I added them to my Lake Martin Voice Library.  Check them out, they are excellent reads.
To see my other pictures of the opening of the Piedmont Plateau Birding Trail, and Horseshoe Bend Park in general, please see:
Flickr Photo Set by Lake Martin Voice

"Black Bear Spotted In Dadeville" – when I read this headline in the Dadeville Record a couple of months ago, I literally did a double take.
What? Bears in the Lake Martin area?
I grew up here. I work here. I hunt, fish, boat, hike, and generally enjoy the outdoors here. While I am no Marlin Perkins, I at least have a pretty decent knowledge of our local flora and fauna. But bears? This is a first.
Apparently we have at least one black bear roaming the countryside around the Point Cloxson area of Lake Martin. This is on the north east section, generally near homes with Jacksons Gap or Dadeville in their addresses.
I am excited. I have seen wild bears before: grizzlies in Yellowstone National Park and plenty of black bears while trout fishing in the Smokies. But those were at safe distances and I was on the alert.
I want a picture.
The Outlook article quoted multiple sightings from plenty of credible people. But no picture. I would love one. I will be on the lookout myself, and would love to scoop Kenneth Boone on this story. Kenneth, known locally as "Mr. Perfect" for his dapper and occasion appropriate attire is our region's newspaper magnate and a legitimately talented photographer.
Imagine his professional chagrin if, a lowly realtor like me that uses all auto settings on my camera, am able to get a picture of the bear first. Granted, I am relying totally on luck. The bear will literally have to walk out in the road in front of me and stay there for at least 30 seconds while I fumble for my iPhone.
I have one advantage – I have a waterfront home for sale near the bear's lair. 173 Wood Duck Loop is right off of Point Cloxson Road, not 2,000 feet from the sightings. This may be the only time I ever get to use this tease:
Would you like to own a Lake Martin home near a known black bear habitat?
173 Wood Duck Loop is a nice one. It's a 2 bed 1 bath home that is fixed up to the nines. The seller has completely renovated it. Completely new wiring, installed beautiful granite in the kitchen, put in stainless appliances, vaulted the ceilings, even put in a Rennai tankless water heater. All this for well under $300k.
Click here for more info on 173 Wood Duck Loop and watch the full motion video tour.
By the way, would you like an easy way to keep up with Lake Martin area news? Lake Martin Buzz is the way to do it. It combines news headlines from companies like the Alex City Outlook with tweets and status updates from local people and small businesses. It combines them all and tweets them here or posts them all on one website here.
Cold weather means deer season here in Alabama. Whether or not you are a deer hunter, you can't help but notice the increase of pickup trucks dragging loaded down trailers, driven by hunters in orange clothing.  It's definitely a little more dangerous to be a deer this time of year.
Except in one neighborhood.
You still see deer in the Lake Martin neighborhood of StillWaters.
StillWaters is a gated community on the Dadeville side of Lake Martin. It is large by Lake Martin standards, and has a mixture of off water homes, waterfront homes, and waterfront condos. It also has a golf course and marina.  If you would like to see waterfront homes and lots for sale right now in the StillWaters area, CLICK HERE to go to my StillWaters Neighborhood page. I have a report that shows every waterfront home and lot for sale – by all agents, all brokerages, on Lake Martin. It pulls from the Lake Martin MLS so it will be current no matter when you visit the page.
Stillwaters also has a large herd of whitetail deer. It is not uncommon at all to see them on the side of the road, placidly grazing, not a care in the world.
I have seen a doe in this same general area several times. I guess this is her fawn. They are almost tame. Check out this video to see how close I got to them in my car. I originally posted this on my media blog on posterous.
I filmed this when I was on the way back from one my listings. I have a waterfront condo for sale in StillWaters, inside one of the condo developments named Villas on the Harbor.
Would you like to see deer like this on your morning walk?
Just like any waterfront home, lot, or condo on Lake Martin, I can help you with it, regardless of who has it listed. I would love to be your real estate agent. CLICK HERE to contact me, or you can email me (info @ lakemartinvoice . com), or you can call me at (334) 221-5862.
What a cool picture of a glass minnow trap made right here at Lake Martin:
I found this pic in the Lake Martin dot com forum. A fellow on there is researching its origin. Another reader pointed out an old sign near McCain Road and highway 229. If you know anything about them, feel free to comment below or on the post thread on the forum.
I love to fly fish but I also am fascinated by traps of all sorts, used in the live bait fishing world. Two totally different extremes, I know. We still have the wire minnow trap that I used as a kid to get spot tail minnows. Later on my dad bought a bunch of clear plastic ones that a local dude made out of 3 liter coke bottles (remember those?). They worked well but were fragile.
Last year I bought my dad this trap from Cabela's, thinking it would harvest a bounty of crawdads for bait. We put it out in a likely spot but all we caught were a bunch of turtles that nearly destroyed the trap. If anyone has any crawdad trapping tips (like how to keep out the turtles), please advise.