Archive for the 'Wildlife' Category
Have you ever thought, "Lake Martin is almost perfect, but what if it were a little more like the Smoky Mountains?"
If so, your dream may have come true. Black bears have been spotted around Lake Martin. See this article in the Alex City Outlook. I must admit that I often have wished Lake Martin could be more Smoky like, but it has to do mainly with wild trout. If some mad plan could be hatched so that the Tallapoosa below Martin Dam could sustain trout, maybe we could become the next South Holston.
Back to reality, this story reminds me that I have many waterfront lots for sale in Shady Bay. They range in price from $57,000 (Lot 23 Ph I) to $190,000 (lot 5 Ph II). If you would like to see the entire list, see Shady Bay Lots For Sale. Or, if you would like to learn about Shady Bay real estate in general, see the Shady Bay neighborhood page.
Since the black bear article first appeared, the sightings have decreased. Maybe the bears have moved on, or maybe they are getting camera shy.
But one thing's for certain – Shady Bay on Lake Martin is a great spot to build your waterfront home. There are homes underway on lots 9 – 14, and they are going to be some really nice ones!
If you have any questions about the lots in Shady Bay, or anywhere else, please don't hesitate to contact me. I can put you in contact with builders and architects to answer your design and construction questions, if you would like me to do so.
I continue my quest to learn how to consistently catch striped bass on Lake Martin from my paddle board, with my fly rod.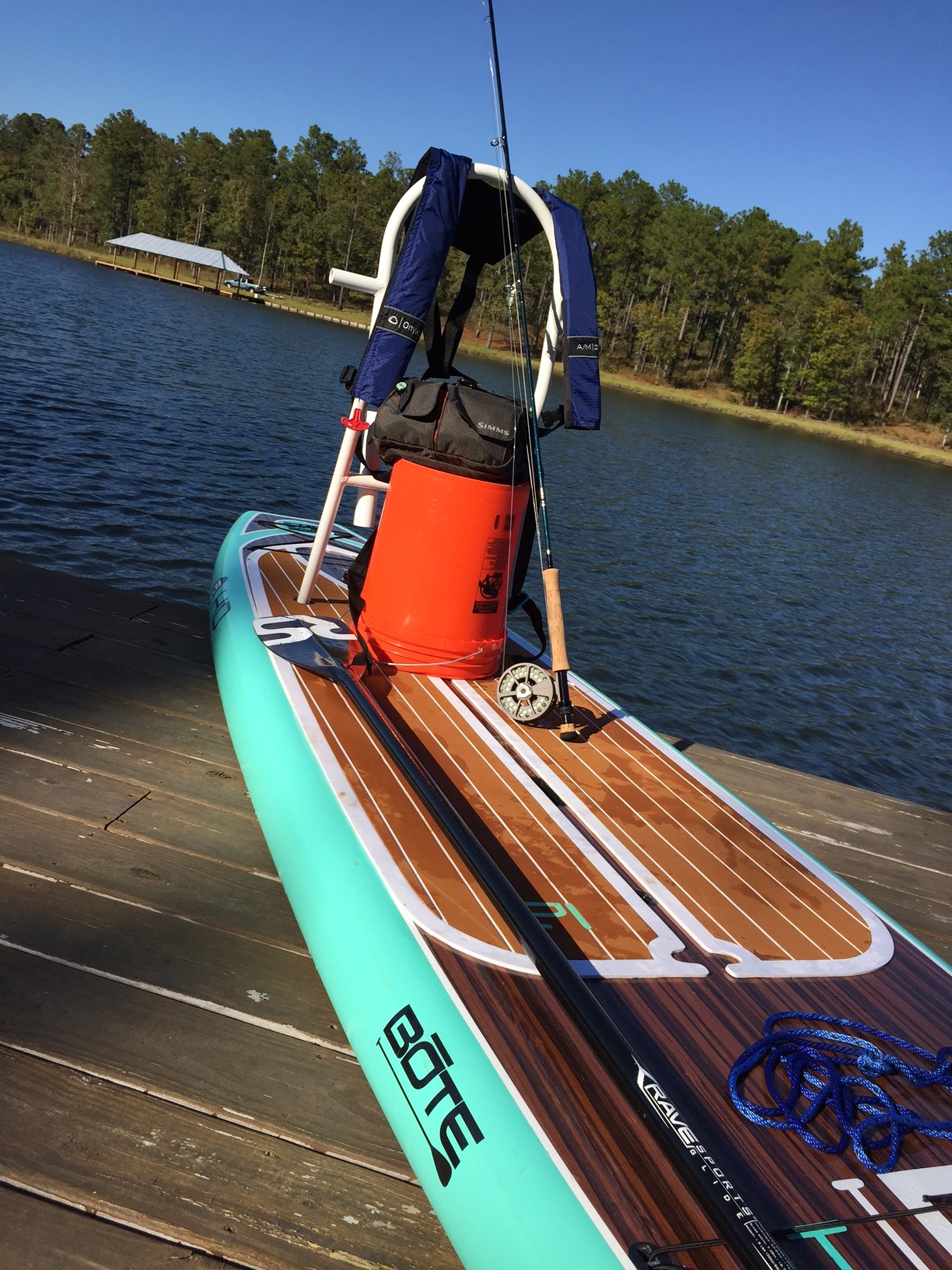 I wish I had a lot of success to report. I have not, but I am looking forward to getting after it again in the spring.  I think it's because I am trying to learn four disciplines at one time: cast a 9 wt, maneuver a paddle board, catch stripes, not fall off. I can't really do any of these very well right now and when you combine all four it's pretty comical to watch.
I have learned a little from my setup to know what I need and don't need:
Paddle – I have an adjustable paddle. It's not optimal for racing or touring but I am glad I have it when I flyfish from my paddle board.  I wish it broke down even shorter.  Most of the time when I am paddling it is small quick maneuvers when I am sitting down, trying to get in position so you really don't need a long paddle. I guess if you are paddling a long way to your fishing spot then the adjustable would be nice.
Line catchers – if I thought fly fishing from a boat was line grabby, I am telling you that there are tons of things that can grab your fly line on a paddle board.
Stripping basket – I need to buy one of these. I think the bucket I sit on can double as this but then I would lose my seat and I would have to change back and forth in between spots. Plus I found that after I have stripped all my line in and am readying for another cast, the line is all over the place, in the water, etc. I think it would just be a lot simpler to have a stripping basket or bucket. I am considering a DIY project here.
Go with the wind – you might as well plan on going on a windy day. That way if it's not as windy as you expected it is a positive. Every time I have been out, gale forces kick up. So I have tried to not fight it, I just paddle like a dog upwind and then drift back and fish with the wind. Of course, this entails keeping at the proper angle so I don't catch myself with a 1/0 hook in my scalp. Some SUP boards have built in anchors but my Bote does not. I guess I could rope in to some structure. I am up to suggestions here.
Coolers and weight- all of the SUP fly anglers I see in magazines and online have a really nice cooler strapped in with them, and it doubles as their seat. At this point I cannot imagine adding a lot more weight to my already heavy rig but I would really like to have a cooler also. I don't know, but I don't think it would drag me down too much.
My setup- just FYI I list my setup for fly fishing for striped bass from a paddle board. If you have any better ideas for substitutions or additions, please let me know. I clearly don't know what I am doing:
Fly fishing related:
Sage 3 piece 9 weight RPLXi
Lamson Konic reel
Simms fanny pack
Flies tied by BaileBr3
Paddle Board related (purchased at Lake Martin Dock):
Board – Bote HD – 12' (love it but if I bought another I would upgrade to the brand new Rackham)
Paddle – Rave adjustable paddle
Tackle Rac – Bote makes this, it helps store gear on the board
Also, I recently read a great article on the subject, by a much more accomplished angler than I:
Top 5 Must Have Items for SUP Fishing
He has an interesting use for 5 gallon buckets: wind anchors.
At any rate, I hope to be more successful in the future!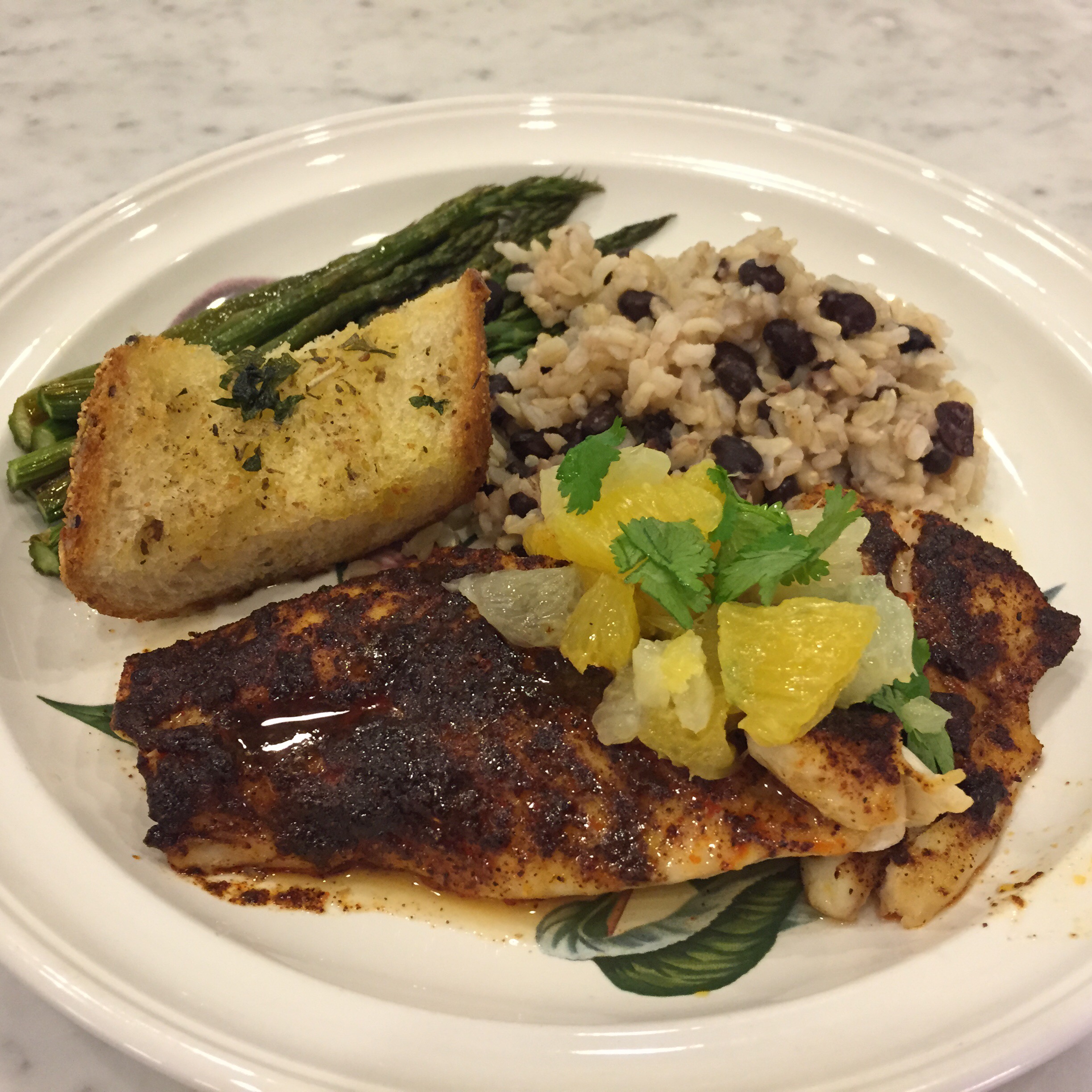 My family is all about that bass.
Striped Bass, that is. No tilapia.
It might be too cold to fish on Lake Martin today (16 degrees) but it's not too cold to eat fish. We caught these striped bass back in November on a fishing trip with David Hare with Alex City Guide Service. It was a mere 38 degrees that day, and thanks to David, we slayed 'em.
We fileted them and have had them twice, and both times they were excellent. The first batch we cooked a day after we caught them. We blackened them in the cast iron skillet and they were awesome. This particular batch we froze in a Ziplock bag water after thoroughly cleaning them. We thawed them out and then broiled them in the oven.
My sons helped out, their job was prep the fish. They just put salt, pepper, and chili powder on them. That's it! My wife made the fresh fruit top – she cut out sections of oranges, grapefruit, and sprinkled in cilantro. It was really good!
One of the hugest part of our latest Lake Martin fishing adventures is that it has converted my wife into a wild game eater, just based on its pure organic nature. It doesn't get any more "real food" than eating a wild animal. No preservatives, no nothing. Now, I would not say she is making her own rabbit hash or roasting wild boars over the spit, but for her, eating something we caught is a big step.
It helps that the fish tastes incredible and is easy to prep!
If you're not able to be here in person, rest assured that spring has come to Lake Martin and it is beautiful.  It doesn't feel quite as spring-y as I write this post today (April 15, 47 degrees) as it did last week when I took these pictures, but summer will be here soon, no matter.  And it is still beautiful!
I took the pictures below near the Russell Forest Trails.  Hiking is a great spring activity at Lake Martin, and there are really good trails all around the lake.  The Russell Forest Trails allow horses and bikes, as do the trails at Wind Creek State Park.  If you're looking for more of an Appalachian Mountain hiking experience, try some the the Cherokee Ridge Alpine Trail Association's trails on the eastern and southern sides of the lake.  These include high, woodsy paths and waterfront trails.  I've written about the Chimney Rock and Little Smith Mountain trails several times.
If spring has Lake Martin real estate on your mind, give me a call.  I'd love to talk to you about the homes, lots, condos and town homes that are nestled over our 770 miles of shoreline.  Call 334 221  5862 or click here to contact me.
It's hot now and summer at Lake Martin is on.  But back in the spring I took these pictures, so I'm winding back the clock for a minute to share them with you.   Before my gig as a Lake Martin realtor, I rarely got in the boat before the middle of May.  Since I'm blessed to get to see it year round, now, I thought I'd share a little bit of April on the water with you.
I was passing by Chimney Rock to do some filming near Shady Bay on the eastern side of the lake.  I wish these pictures had turned out better, but I had never noticed what I think are wild azaleas blooming on the cliffs south of Acapulco and Chimney Rocks.  They're gone before Memorial Day, and I had always missed them.  It's humbling to be surprised by the beauty of nature: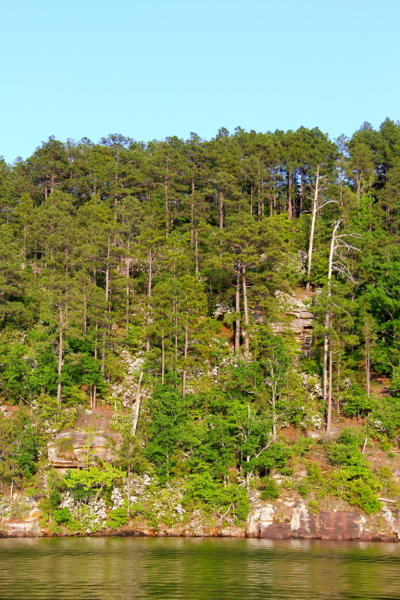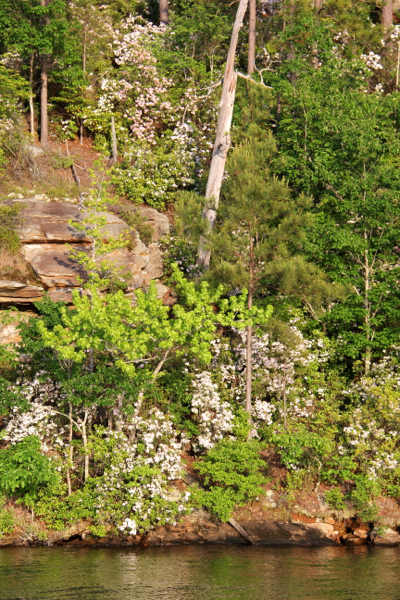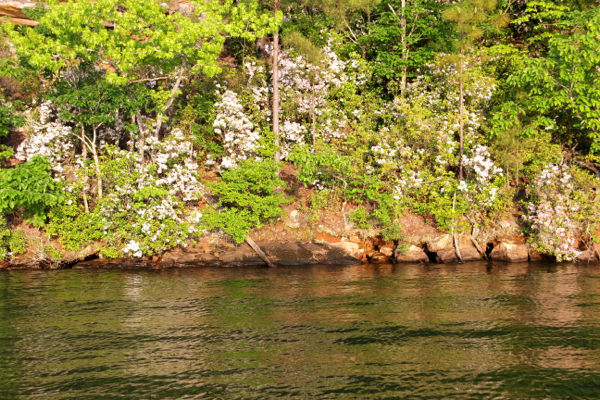 Lake Martin is definitely evolving from a summer-only to a year round vacation destination.  Businesses, restaurants, and other service providers are stepping up to meet the demand of a market that is moving from a 4 month season to a 12 month season.  I predict that many homeowners (or future homeowners) will begin to take in these off season sights with me in the future.
If you're looking for a waterfront home, townhouse, condo, or lot at Lake Martin, give me a call at (334) 221-5862, or click here to email me.  I sell Lake Martin all day, year round, and I'd love to be your realtor.
 If you're not on the water at Lake Martin, hiking is another activity that's a lot of fun.  I've posted several times on the Cherokee Ridge Alpine Trail Association's (CRATA) hiking trails that branch off of the Scenic Overlook on the south side of the lake.  CRATA is responsible for the explosion is quality hiking trails at the lake – these are not the wide red-clay and gravel hiking trails (that are more like roads) that you find on the western side of the lake.  These are amazing alpine trails that instantly transport you to real mountain hiking vistas, combined with large swaths of waterfront footage.
My family hiked the Chimney Rock Loop over spring break, and as we were leaving, we ran into CRATA guru, Jimmy Lanier.  Mr. Lanier told us about a new trail they were currently constructing on Smith Mountain (eastern side of Lake Martin).  There is already a Smith Mountain Alpine Trail that begins at the base of Smith Mountains and ascends to the Smith Mountain Fire Tower.  If you haven't climbed the restored Smith Mountain fire tower, put it on you 2013 Lake Martin To-Do List.  The views are incredible.
Mr. Lanier said that CRATA is creating another new trail there – The Little Smith Mountain Trail – and volunteers were needed to, literally, pave the way.  Two weeks later I spent the morning with a group of volunteers digging out a portion of this new trail.  The trail's route was already marked, so we used the yellow tools you see in a picture below to dig up the ground and make the trail flat and hike-able.  It's not a technical job, but there is a little artistry involved.  The other volunteers knew what they were doing and helped me refine my craft – although I was a good bit slower than the rest of the crowd.
I'm not sure if this new trail is open to the public yet, but when it does open, I'm there.  For more info on hiking at Lake Martin, go to CRATA's website.  They have some beautiful pictures they've taken along their trails, histories of these trails, and info for hikers wanting to check them out in person.
Our crew heading out to dig: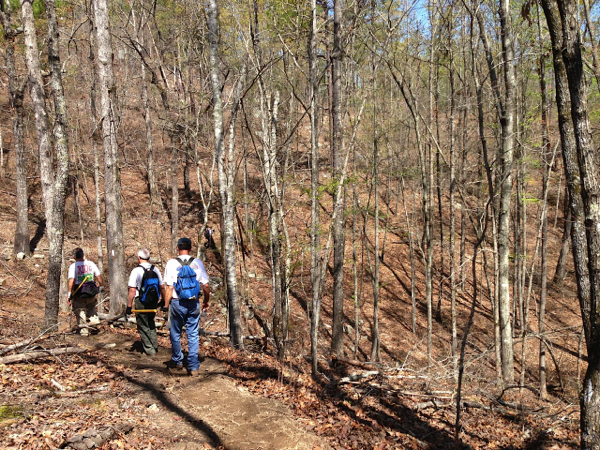 These are the tools we used to dig the trails: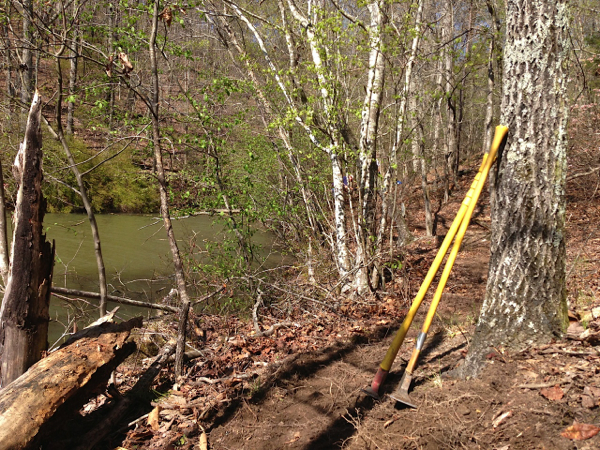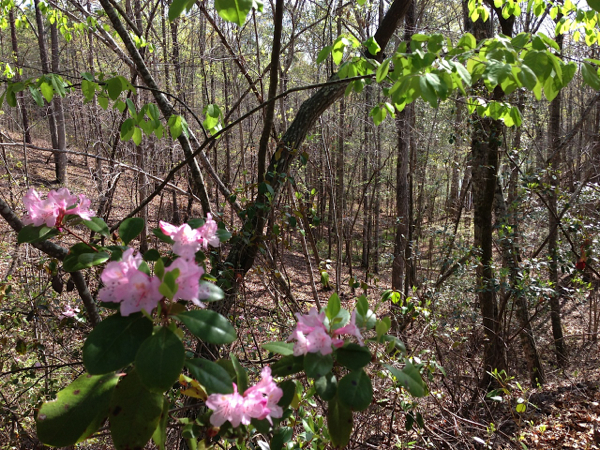 I'm not a professional trail blazer, just a Lake Martin realtor who likes to hike, so I'd love for you to call me with questions about waterfront real estate.  (334( 221-5862)
Wildlife diversity, for sure!
Every time I head to StillWaters to show a home or condo for sale, my "web staff" knows I'm coming back with new wildlife photos.  To date, I've captured lots of deer, ducks, and herons.  In fact, I have a wildlife photo file on my computer just for StillWaters.
I was in StillWaters twice last week, and both times I saw turkeys on the golf course.  The first time, it was this crowd below:  two jakes (immature males), and one mature long beard.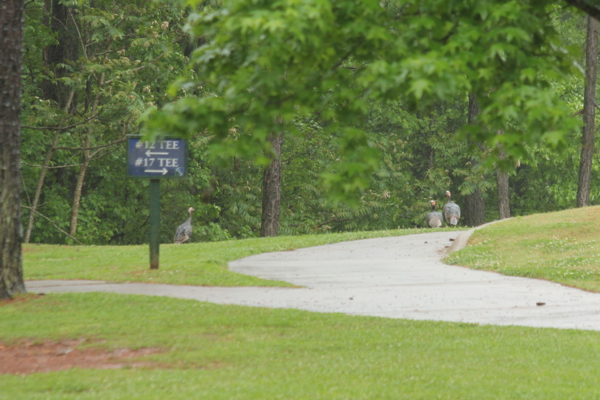 This guy was definitely the boss. He was standing by the road, and let his minions above walk ahead of him to clear the way and make sure there were no dangerous golfers around. For those of you unfamiliar with turkeys, I will let you know, the length of his beard (that straw looking hair poking out of his chest) is pretty impressive. I tried to get a little closer, but this was the best I could do from 100 yards with a 300 mm lens: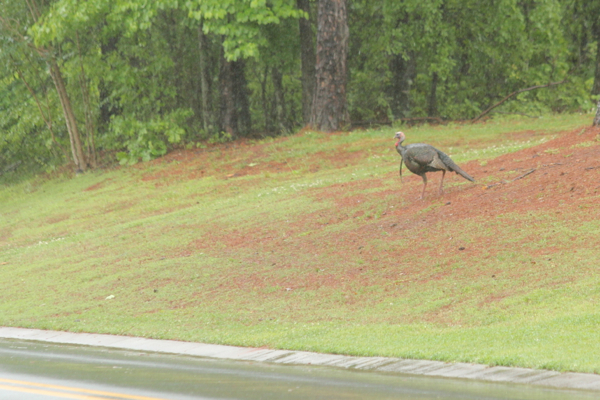 A week later I was leaving a listing appointment in StillWaters. I got to almost the same bend in the road and noticed another turkey was standing with one foot in the road, gobbling his head off. A car passed him, he took three steps back, then stepped back out and double gobbled. As an avid turkey hunter, I was amazed. This was a week into May, and turkey season was over on April 30. It just goes to show you that, even in the wilds of StillWaters, the primal procreative drive of nature does not hew to man's law. I eased my car up to him, and he walked back into the woods. This was the best shot I got of him, below. Maybe he was the same boss I saw a week earlier: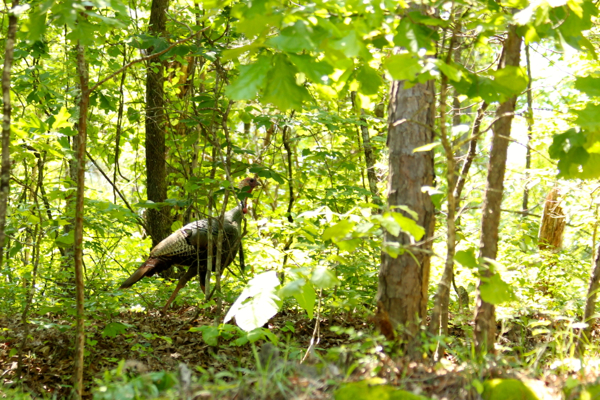 So many people come to Lake Martin because of its natural setting; wildlife sightings are just a normal part of the day.  It's different than some other popular getaways in the South – it's a place to slow down and enjoy people, the water, wildlife, and the peace and quiet.  You can bring your kids and they may actually hang out with you!
That reminds me of a favorite Lake Martin testimonial I shot while at a school function a few years ago that sort of goes along with this theme.  See if you don't agree . . .
If this is the kind of vacation spot you've been looking for, check us out at Lake Martin!  I'd love for you to use this website to explore the neighborhoods, the people, the events, and the waterfront properties.  Check out my Lake Martin Voice Realty YouTube Channel where I have over 300 Lake Martin videos divided into five playlists (Community Info, Neighborhoods, How to Use the MLS, Home Tours, and Client Testimonials).
And if you'd like to talk Lake Martin real estate, give me a call at (334) 221-5862 or click here to email me.  I'd love to be your realtor!
It was March 28th, our inaugural boat ride of 2013.  We had come under the power lines and made the turn south so we could see the dam. Goat Island was on our right, and Ghost Hollow and the Overlook were on our left.
Just then we spotted a strange looking duck swimming madly on the water's surface.  As we got closer we realized it was not a duck at all, but the head of a deer.  Her body, obviously, was under the water, and she was swimming faster than Michael Phelps toward Goat Island.  Seeing a deer swimming is not that uncommon this time of year, but still – it was a sight to behold.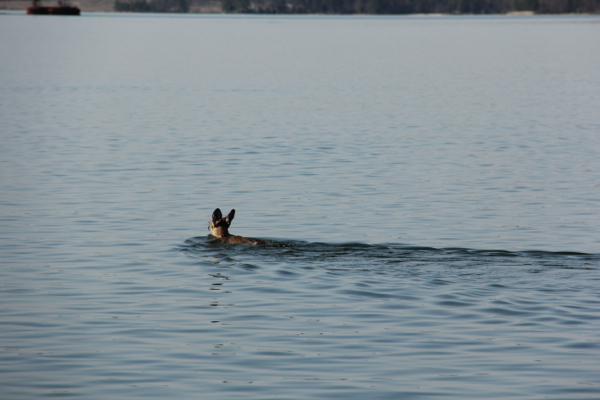 We then spotted two more deer swimming behind her in hot pursuit.  But these deer turned out to be dogs, and suddenly it all made sense.  The dogs must have chased the deer into the water off of Ghost Hollow and she was swimming across to the safety of Goat Island.  We lost her for a little while, but then we spotted her climbing onto dry land at the end of Dopson Point Road.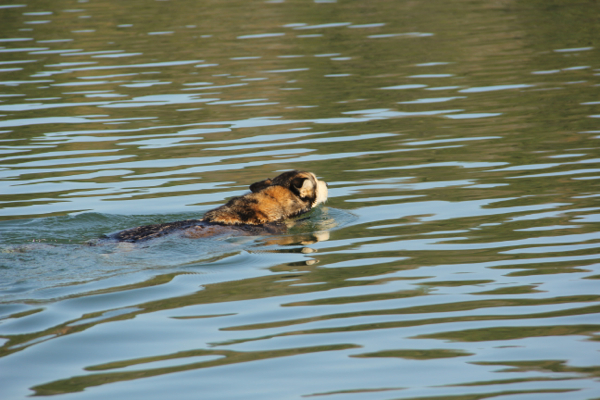 What about you?  Have you taken your first Lake Martin boat ride of the year?  See anything interesting?  Let me know; I'd love to post your pictures or let you retell your tale.
And if you need help with Lake Martin real estate, you know I'd love to hear from you, too!  (334) 221-5862 or CLICK HERE to email me.
I take Lake Martin wildlife pictures all over the lake, but I need to create a specific photo file for "Wildlife I Have Seen in StillWaters."  Lake Martin is a rural area, so animals coexist with lake lovers on all sides.  StillWaters is a huge gated golf/lake community with on and off the water homes, townhouses and condos, and it seems that wildlife like the deer I spotted last week call it home, too.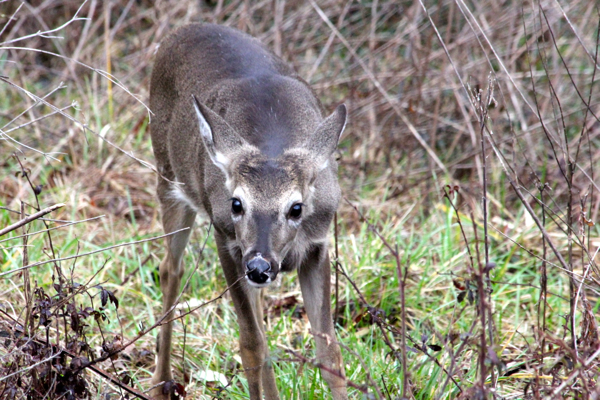 This one was grazing on the side of the road as I drove to a new listing of mine in StillWaters, 100 Harbor Point Place Unit 613.  If you look closely you can see the early formation of his antlers.  It's amazing how deer were created to blend in so well with their environment.  You can barely see his back in the photo below: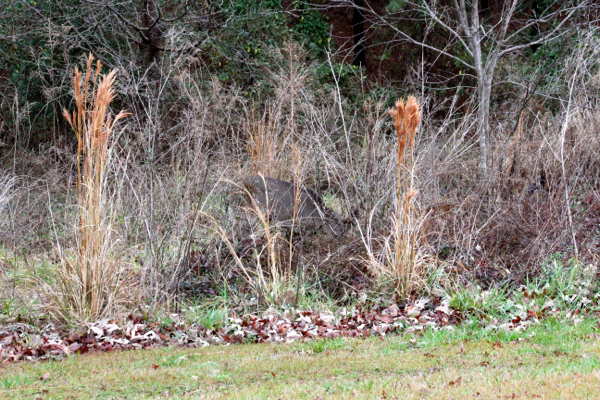 If you like the idea of being in an established, gated golf  and waterfront community, and enjoy neighbors of all kinds, StillWaters might be a good fit.  If you'd like access to all StillWaters' amenities, but prefer to leave the yard work and home maintenance to someone else, check out my listing, 100 Harbor Pointe Place Unit 613.  It's a 2 bed/2 bath off-the-water condo with a deeded boat slip, and it's right across the street from Harbor Pointe Marina.
It's currently listed for $131K – a great deal when you consider its location within StillWaters and all of the amenities owners can access.
Here's one more parting shot of our friend and StillWaters neighbor.  If you're interested in homes or condos in StillWaters, or real estate anywhere on Lake Martin, give me a call at (334) 221-5862, or contact me by CLICKING HERE.  I'd love to be your realtor.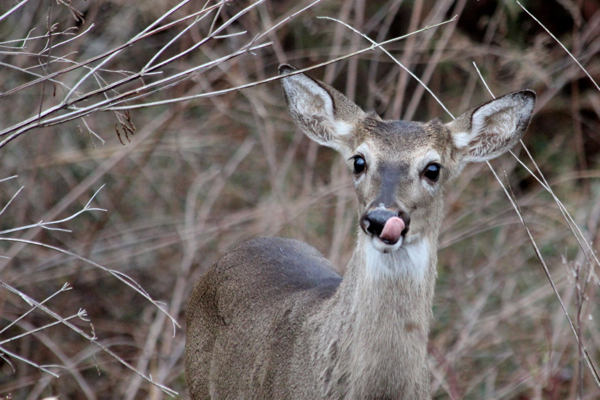 Around Lake Martin, if I can't be in a boat, put me on a hiking trail.
The cooler months at Lake Martin are perfect for hiking.  We've got lots of elevation here, and I never miss an opportunity to remind my kids that Lake Martin is at the southern tip of the Appalachian Mountains.  These trails include great views from high points, and woodsy paths that take you right down to the water.
If you want more info on hiking the Cherokee Ridge system of trails at Lake Martin, go to CRATA.org.  This is the Cherokee Ridge Alpine Trail Association's website, and they're the folks who maintain these trails.  Please don't call me – I am but a realtor who likes to hike.
I also wanted to review and plug a cool smartphone app that I downloaded from AllTrails.com.  AllTrails is a database for thousands of trails across the U.S., plus it allows you to map and save your own trails, and view and rate trails that other hikers have entered. FYI –  I hiked the Chimney Rock Loop trail and here's what the app recorded: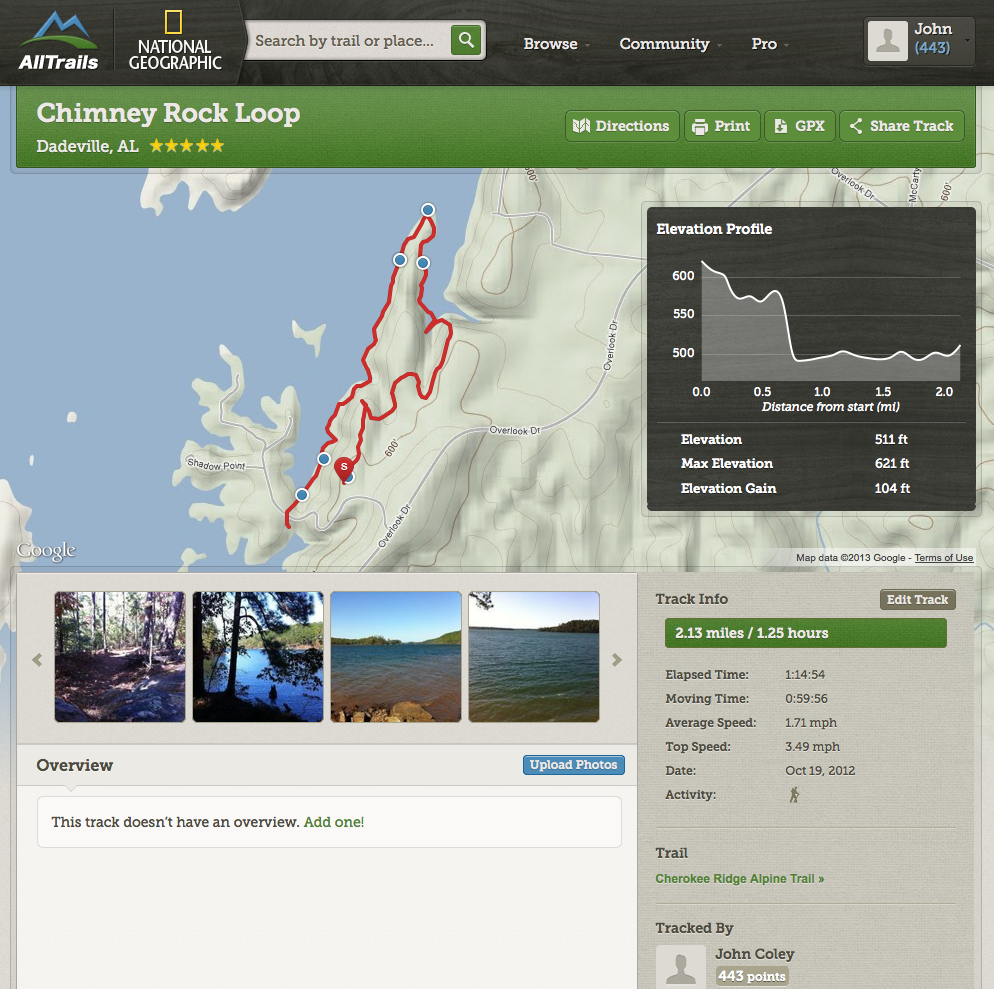 Pretty cool!  I hope to enter more trails and share them with fellow Lake Martin hikers.  If you get out there, try the AllTrails app and let us know where you've been!  A comprehensive record of Lake Martin trail hikes would be a useful tool for hikers, plus it would be a great marketing tool for businesses looking to attract new visitors to the area.
If you see a great Lake Martin property for sale while on your hike, give me a call at (334) 221-5862 or click here to contact me and put me to work.  I'd love to be your realtor, and I'd love to help you find your Lake Martin home.