Archive for the 'Events' Category

One of the best times I've had with my kids at Lake Martin was the Slingshot Wakeboard Demo at Blue Creek Marina back in 2011.  If you're on the east side of Lake Martin, Blue Creek Marina is a great resource for boats, service, storage, a ship's store, plus cool boating and wakeboard gear.
Last summer we made a special trip over there to buy the kids a wakeboard, new rope, and yes, helmets (my nickname is "Safety John" around the house).  My teenage nephew was mortified by the helmet, and ok, at our skill level we can do without them.  But I do love to be prepared. Plus, I convinced them to wear the helmet by convincing them it was the best way to put a GoPro camera on while you wakeboard.
They have fun demos every summer, so check out their events calendar for the latest updates. If you are trying to reach Blue Creek Marina, call 256-825-8888. Ask for Justin or Kevin in boat sales, they will treat you right.
Here's a quick Blue Creek Marina tour:
and here's the wakeboard demo video we made back in 2011:
If you're interested in waterfront real estate on the eastern side of Lake Martin – or any side of Lake Martin – give me a call at (334) 221-5862 or click here to contact me via email.
I was glancing through the February issue of LAKE Magazine – looking for my monthly column –  and I had to grin when I saw this article.  Allison Trumbull got engaged at Children's Harbor.  I helped her parents find a lake home a few years ago, and clearly Lake Martin has become a big a part of their lives.  And now their daughter has added a Lake Martin engagement as a part of their family's "story. " Very cool.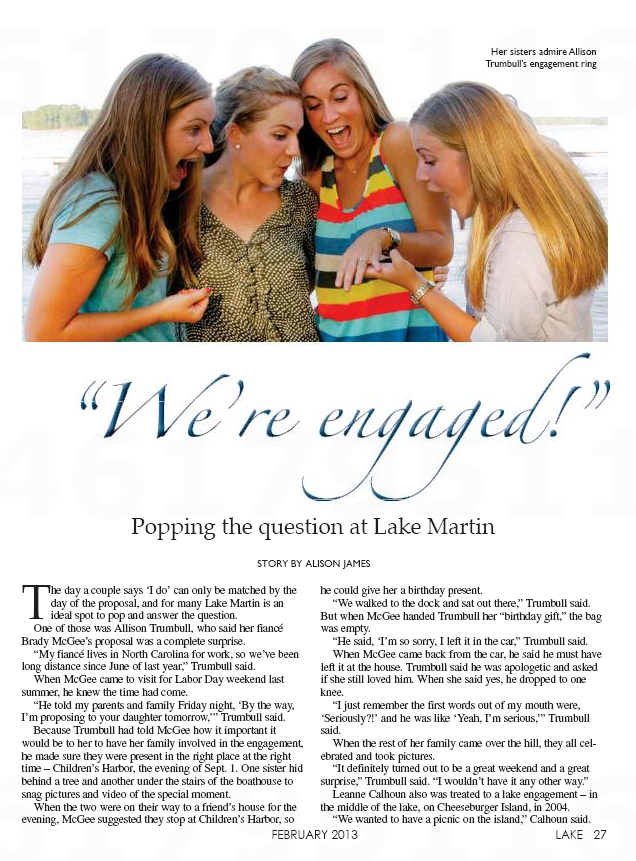 The fact that LAKE Magazine now has a "Wedding Edition" in February is proof that there are more couples getting engaged and married here. Maybe Lake Martin is becoming a destination to rival Cabo?  Glancing through LAKE's Wedding Edition, I can see that the Lake Martin community is responding with more venues, caterers, photographers, etc.  That's a great sign for the Lake Martin area economy.
Have you been to a wedding at Lake Martin?  Do you have any pics or advice to share? Use the comment box below and let us know about your experience.  And if any of your wedding guests decide they, too, need a Lake Martin home, I'm your man.  Give me a call at (334) 221-5862 or CLICK HERE to contact me.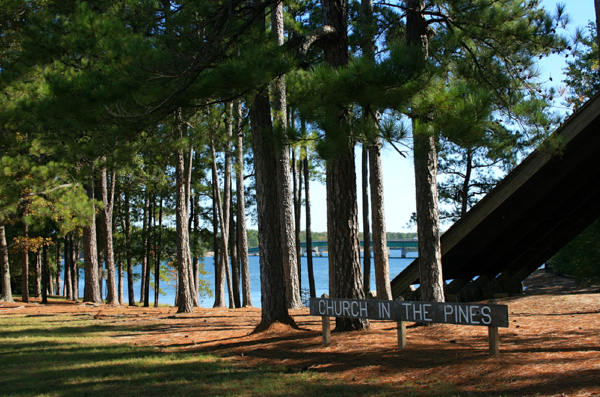 The other day I got a phone call from a lady in Pike Road, AL, asking about the above picture I took of Church in the Pines a few years ago.  Her friend plans to have a wedding there this summer, and wanted to send out a Save-the-Date postcard. They ran across this picture on my Lake Martin Voice Flickr account and wanted to use it on their card.  Of course I said yes!  What an honor.
For people who love Lake Martin, Church in the Pines is a popular place to get married.  It's a beautiful, open air, non-denominational worship facility that sits at the foot of Kowaliga Bridge on the western side of Lake Martin.  There's seating under the roof for up to 850 people, and areas on the lawn for more guests, if needed. It's part of the Children's Harbor's Lake Martin Campus, so FOR CHURCH IN THE PINES INFO AND SCHEDULING, CALL WANDA COKER AT (334) 857-2040, OR EMAIL HER AT [email protected] You can also visit their website by CLICKING HERE.

Here's a video I shot of a Sunday morning worship service a few summers ago.  The building has been renovated since then – they switched out the benches, and poured concrete walkways to help people get in and out more easily.
I have heard from several people that Church in the Pines books up quickly, so be sure to call as early as you can.  Children's Harbor also has the Children's Chapel available for weddings.  It's that pretty white church next to the lighthouse (on the opposite side of Kowaliga bridge from Church in the Pines).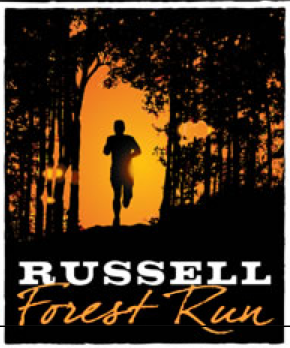 The 4th Annual Russell Forest Trail Run is Saturday, February 23rd.  I've enjoyed running it the past three years, and I plan on being there again this year.  Proceeds from the race benefit the Alexander City Schools Education Foundation (ACSEF), and there's always a super good reception after the  race with food from SpringHouse Restaurant. 
The trails are sand, clay and gravel roads, so it's a good change of pace for those of us who regularly run on asphalt.  The elevation is more than I am used to, but it's doable and fun because of the scenery.  People always ask me how hilly it is, so I've got the elevation and the route documented on RunKeeper.  CLICK HERE if you want to check it out.
You can CLICK HERE to register at Active.com
Race Information:
Saturday, February 23rd
10K at 7:45 am CST ($40)
5K at 8:45 am CST  ($20)
Race packets can be picked up on Friday, Feb. 22 from 4:00 – 6:00 pm and Saturday morning from 6:00 – 7:30 am (until 8:00 for 5K participants) at the Discovery Center at Russell Crossroads.
Here is a screen shot of the race route that I tracked on RunKeeper. RunKeeper tracks the elevation, too, so CLICK HERE to go to the live version and get the scoop: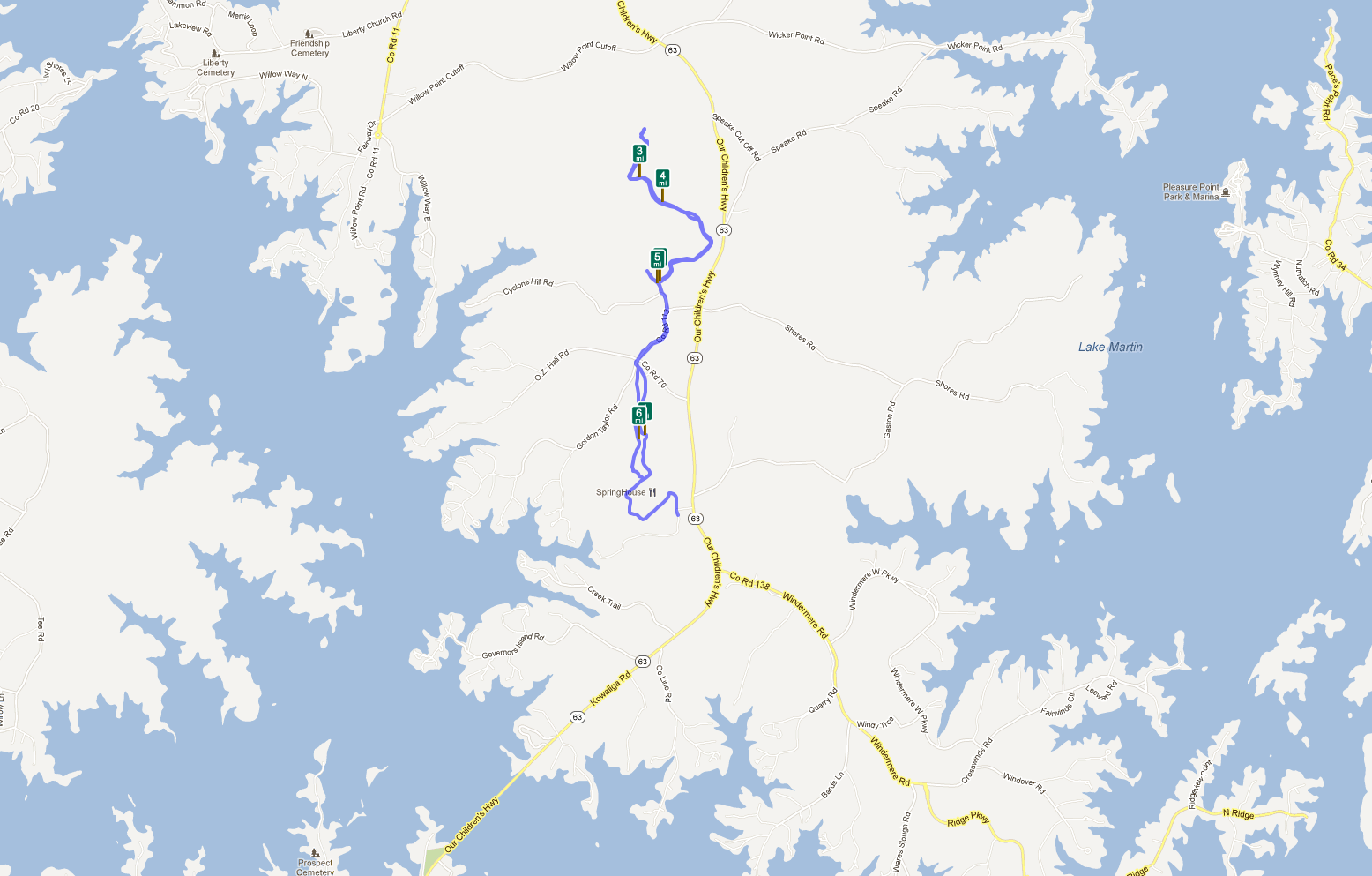 Here are pics from the starting and finish lines of a past race: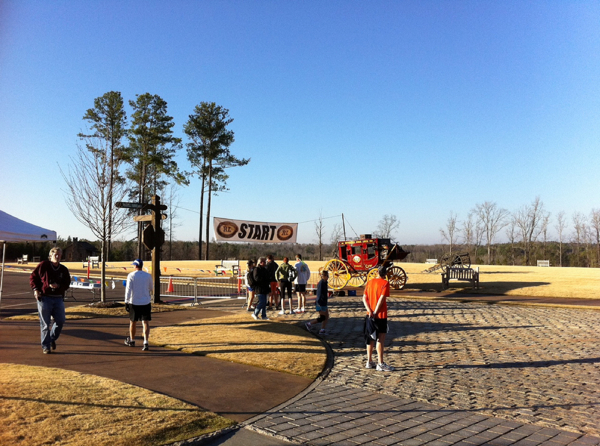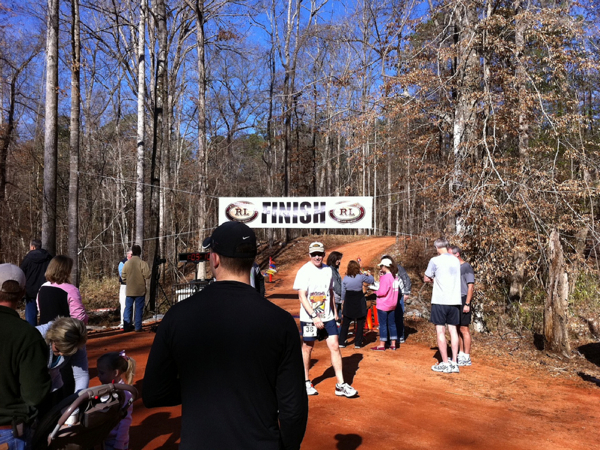 Hope to see you there!
Related Posts:
Yesterday, a good friend of mine (and fellow Elvis fan) called to remind me about Elvis's birthday.  This causes a quick pause while I remember the King of Rock and Roll and repost these pictures, which are definitely the best reader-submitted pics this blog has ever seen.
Robert M. took these pictures of an Elvis "impersonator" at the annual patriotic concert at Jim's Bait Shop.  I am convinced that, were he alive today, Elvis would live at Lake Martin.  Who knows? Maybe he is alive and living here already.
Related Posts:
Robert M Wins Reader of the Month Award for Elvis Photos
Elvis Will Be at Jim's Bait Shop Tonight at 6:30
You read correctly, this post at Lake Martin Voice is all about you. In honor of 100% of the Lake Martin Voice Realty team's birthdays falling around this time of year, we serve up a huge tip to some legitimate, awesome travel.
You will likely beat out your competition. Just don't lose this by a mere $200 or so.
How?
MainStreet Alex City is doing their annual Auction PURELY ONLINE this year. CLICK HERE for more info.
Where?
go to Idaho, Mallorca, Bahamas, Colorado, Enitachopco, the lovely village of Alcester in Warwickshire, England, see below.
Why?
It benefits MainStreet Alex City. A worthy organization if there ever was one. You don't care, I am sure. What it means to you is, huge discounts on awesome destinations. The people making the donations of their vacation spots love Alex City and are passionate about the MainStreet movement. Their largess is your gain. They have donated, for example, time in their vacation destinations for you and want to let it benefit MainStreet Alex City. You will NOT find places like these on cheapo online reservations.
When?
You must bid by the DEADLINE Oct 15, 2012, 5:00 PM
How much can I save?
I did a little online research. On these trips, you must get there, OK. But after that, I make an attempt to show you retail versus the insultingly (to the owners) low amounts you can travel and enjoy. People will think you are some sort of rock star, little will they know that you helped a great cause with one severely under priced vacation.
EXAMPLES:
for the full MainStreet Auction page, CLICK HERE
Mallorca, Spain. Honestly, do you know anyone, and I mean anyone, (except the Kennedys, the Trumps, and anyone in line for the throne of England) that has vacationed on the Spanish isle of Mallorca? This is something that you can tell your grand kids so they can brag to their grand kids. Literally six generations of boasting for a low minimum bid of $900.
I looked online and I found a comparable home to rent on the island for the week for anywhere from $2,000 to $5,500 a week on Holiday Lettings.com
Another spot, in no ranked order, except for
the John Coley scale of travel envy, is :
Bid on this trip to fly fish in Idaho. As if a week at a cool home out est is not enough, they have to further tempt with a full day of guided fly fishing for two.
My father in law is my CPA. I don't have the courage to approach him with the argument that this trip would be tax deductible for a humble Lake Martin realtor.
Maybe you don't have the same situation. Maybe you are a friend of a friend who is the man when it comes to selling trout river property out west.
I don't know. My guess is it would cost anyone at least $600 a night to rent, plus the guide. That's $4,200 plus fishing, which I am guessing to be at least $2k. They don't really post their guide rates which should be a sign to the uneducated… "if you have to ask…"
That's a $6,200 vacation. The minimum bid of $900 probably won't win it, especially since my dad will be strongly encouraged to celebrate his son's 40th by surprising him with an Idaho trip of a lifetime. But why don't you bid, and take a shot? You're a winner either way.
Never you mind.  Bid and if you win I hope it's yours.
NEXT BRUTALLY AWESOME DEAL:
Those who look to afar sometimes miss what is native to their soil. Let's face it – bird hunting is as Alabama as it gets. Look no further than Alabama to find a hamlet with a statue of a dog at point as their landmark. In fact, I like to drop the term "bird hunting" on folks to see if they know I mean quail.
Casting to native brook trout with hand tied flies might make their argument for the quintessential eastern US sporting experience, but I would challenge the Garden and Gun crowd to top this quail hunting experience. It just feels right.
Have you ever been? Do you long for that experience? Bid on this trip to 5 Star Plantation on the outskirts of Lake Martin. True, the first trips sent you far away, but you could drive to 5 Star within 30 minutes of most homes on Lake Martin.
I can't publish their rates because they don't exist. You can't blow in there on a NASCAR weekend and get a room and hunt. Posh.
Five Star is the real deal precisely because it is almost inaccessible. How do I know?
Because I have never hunted nor fished there..
Despite my constant hints to the two members that I know, I have never graced the place. It mocks me not from afar, but so near I can hear the flush of the covey, the jangle of the dogs' bells; and smell sportish quaff of gunpowder. My dad still brags about a bird hunt he attended years ago. I seethe.
Yet with a mere online bid, here, it can be yours.
OK, so you are not a hunter.
Are you an eater?
Five star doesn't let you starve. BID HERE FOR A FIVE STAR DINNER.
Nay, one of the best pre wedding rehearsal dinners I have ever known was at Five Star.
You can eat there, too! And you don't even have to find a daughter and pay for her wedding.  You can just bid and eat there.
A good friend of the family once said that having your daughter get married was like buying a brand new Mercedes and driving it off of a cliff, watching it explode, and filming the whole time.  When it is over, you had a heck of a time, and awesome pictures, but are left with little else.
Bid on the auction for dinner at Five Star and it can be yours for  a fraction of the cost of a new Mercedes.
What Else?
Really? That's not enough?
I am running out of time tonight but let me highlight that there is another beach trip to the maritime folks:
Bahamas trip – nice, not spring break accommodations but less than church camp prices.
English Countryside – forget downtown London and its depressing Dickensesque themes of soot and struggle. Haven't you heard? That's not cool anymore.  Make like the Crowleys, breathe the open air, trim the verge a la Downtown Abbey and BID HERE to win.
also, for you continental mountain fans:
Colorado – Get your Rocky Mountain High on.  John Denver, John Shmenver. See why they call it "out west." Dr. Warr, old lady doctor though he was, was right.  It looks completely different out there and is breathtaking.
For all the rest, click here and go to MainStreet Alex City's site.  I repeat, it's pure online bidding this year. No telling how cheap you will be able to travel.
Sorry I haven't posted this info, but July 4 tends to be a wee bit busy around Lake Martin.
Firstly, any Lake Martin area paddle boarders please note – there is another race this coming weekend (July 14, 2012).  It starts from and is organized by Kowaliga Marina.  If you are interested, please call Scott Goslin at Kowaliga Marina at 334-857-2111 or 256-496-0713 or email Scott at [email protected]
Their race is going to be a lot of fun.  It is also free, and registration is at 8:30 AM on race day, with the race starting at 9:00 AM.  The course is a one mile race, starting from the beach by the restaurant near 255 Kowaliga Marina Road, Alex City (where the Aquapalooza stage was set up) and it goes under Kowaliga Bridge, and around the island in front of the lighthouse at Children's Harbor.
They will have prizes for first and second places in each category. Instead of having multiple races, they will have multiple categories of racers: 1.) Under 18, 2.) Men's Open (age 19 – 55), 3.) Women's Open (age 19-55), and 4.) Masters (55+).
I think this is a great concept – and I can't wait to be there to see the sight of lots of paddlers heading out under Kowaliga Bridge.  I plan to be there to volunteer to help Scott.  He was super nice to help us at the Castaway Island race as our official time keeper. That was one of those things I forgot about until race time. Someone asked, "who will keep time?" and I had a blank stare on my face until Scott stepped up.
So I am putting the call out to all Lake Martin paddle boarders. Let's step up and support this event at Kowaliga, I think that Russell Marine has an awesome idea here, and I would love to see this race swamped with paddlers.
Again, to sign up or get info on the July 14, 2012 race, please don't call me, I am not officially involved. If you are interested, please call Scott Goslin at Kowaliga Marina at 334-857-2111 or 256-496-0713 or email Scott at [email protected]
Results from the Castaway Island Paddle Board Race
For those of you who have not seen them on our Facebook Event Page, here are the results of the Castaway Island Paddle Board Race held at Anchor Bay Marina on June 30, 2012: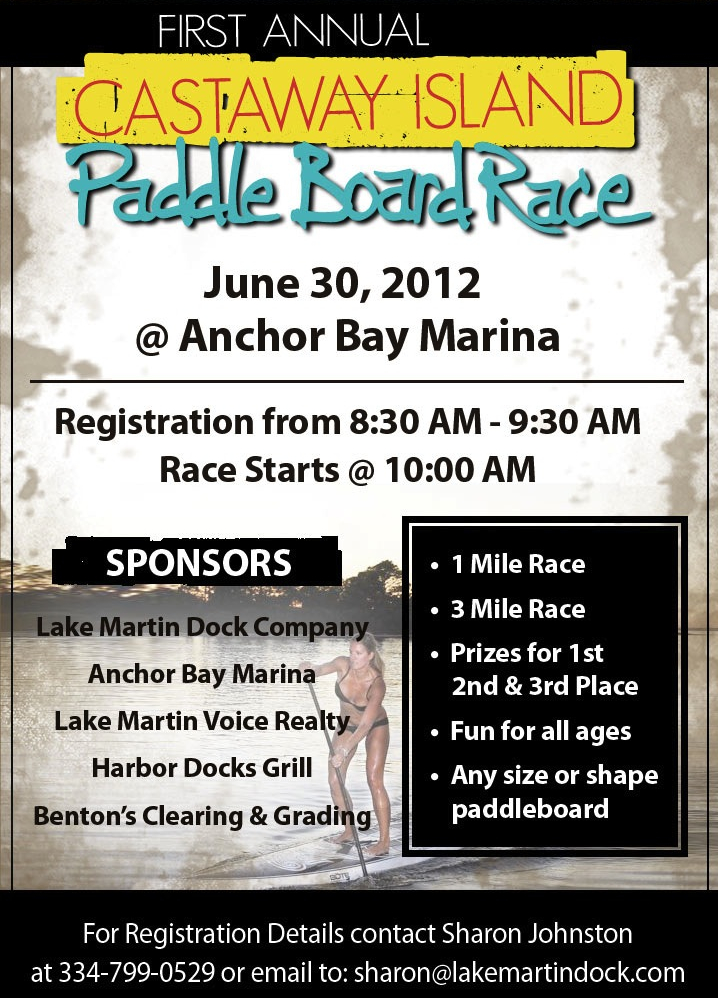 Castaway Island Paddle Board Race Results, The One Mile Race [place. time (min:seconds) name]:
1. 13:55 Guy Huie; 2. 14:39 Ben Morris; 3. 14:49 Banks Petrey; 4. 15:15 Ross Bailey; 5. 15:28 Micheal Payne; 6. 15:57 Kevin Voyles; 7. 16:20 Tony Gaede; 8. 17:56 Kristine Dobbs; 9. 18:54 Ashlyn Jones
Castaway Island Paddle Board Race Results, The Three Mile Race [place. time (min:seconds) name]:
1. 35:44 Pete Buzzelli; 2. 38:34 Magda Cooper; 3. 39:32 Corey Cooper; 4. 39:53 Rick Moore; 5. 43:51 Michael Etienne; 6. 43:58 Chris Pignato; 7. 45:46 Mike Pearson; 8. 47:17 Travis Krauel; 9. 48:43 Kim Moore
The 1/2 Mile Sprint Race [place. time (min:seconds) name]:
1. 6:11 Pete Buzzelli; 2. 6:22 Corey Cooper; 3. 6:38 Rick Moore; 4. 6:41 Magda Cooper; 5. 6:54 Michael Etienne; 6. 7:26 Ben Morris; 7. 7:54 Guy Huie; 8. 8:12 Kevin Voyles; 9. 8:56 Tony Gaede; 10. 9:07 Banks Petrey; 11. 9:12 David McGirt; 12. 9:43 Michael Payne; 13. 10:04 Jodie McGirt; 14. 11:47 Minerva Huie; 15. 11:56 Jake Litz; 16. 11:57 Luke Knight; 17. 12:09 Jack Coley; 18. 12:22 David Powers; 19. 12:52 Keith Hamrick; 20. 13:01 Tricia Hurd Reaves
Pictures from the Castaway Island Race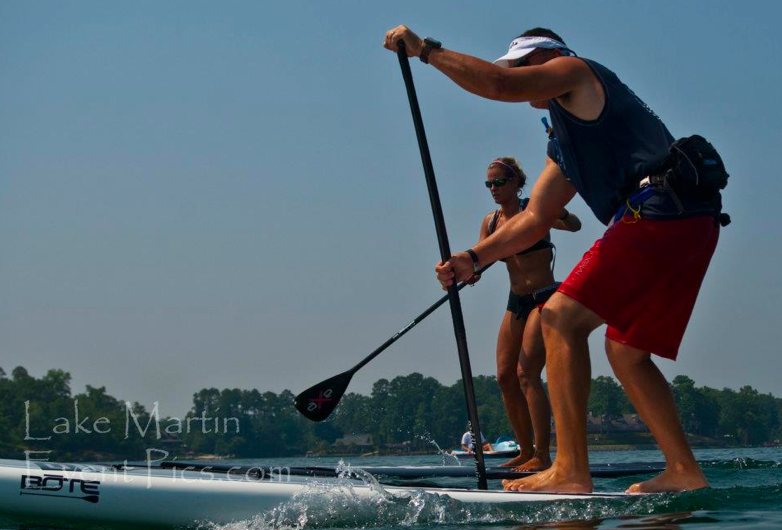 We were extremely fortunate to have Mike McKay of Lake Martin Event Pics to step up and be our event photographer. He took so many really cool photos, you just have to go to his page and check it out. Scroll down and click on his 2012 Lake Events link, then see the two albums he made for the Paddle Board Race. Incredible footage, even if you didn't participate. He even got in the water at a swimmer's level to capture some unique angles. In the course of planning this race, I scoured the web for races all over the country, and did not find a finer set of pictures than Mike did, right here in little ole Lake Martin.
A Huge Thanks To All
I have already thanked all of the sponsors, but I would again like to say thanks to Corey and Magda Cooper, and Ross Bailey of Bote Boards, who came up from Destin. They made the race legit with their presence and know how, and it was great to meet them. I also can't imagine the race without all of the fun crowd from Paddle Destin. Until this race, I had no idea that paddle board clubs existed. Not only do they exist, they thrive, and are a heckuva lotta fun. If you are in the Destin area and like to paddle, these guys are who you want to know. Not only can they offer you training buddies, but they are a lively bunch! Please come back next year!
The biggest thanks I will reserve for the Lake Martin community which embraced the event. Thank you for coming out and supporting it, we all really appreciate it. Hopefully we will have even a bigger turnout next year.
Beyond
Sharon Johnston of Lake Martin Dock Company has already taken the next step – forming a paddle board club of our own here on Lake Martin! Contact her by clicking here – Lake Martin Dock Company – to get involved – or go to the Paddle Lake Martin page.
See you at Kowaliga's race on the 14th!
Here's a quick update to give you the latest news on the Castaway Island Paddle Board race to be held on Saturday, June 30, at Anchor Bay Marina, Lake Martin, Alabama.
With only four days until the race, we are really excited about it. Here are three important points:
Already signed up? Bring your own PFD, board, and paddle! Come at 9 AM to check in and complete registration. Be sure to bring a life vest, the Marine Patrol is requiring it.
If you have not pre registered yet – CLICK HERE to do it. We are giving away special prizes to early bird registers and there are still spots left.
Not racing, just watching? CLICK HERE to sign up anyway. We would love to know that you are coming to watch, and we are giving away prizes to non-racers, also.
Castaway Island Paddle Board Race Details:
When: racing starts at 10:00 AM on June 30, 2012 (registration starts at 8:30 AM).  If you have pre-registered, please come at 9 AM to check in and pick up your race packet.  You will want to get there early, there are some pretty cool freebies for you.

Where: Anchor Bay Marina – Lake Martin, 2001 Castaway Island Road, Eclectic, AL 36024

Cost: FREE!!  (contrary to the ad in Lake Magazine, we worked it out so there's no charge!)

Registration: 3 ways:
CLICK HERE to fill out an online form, or
Go by Anchor Bay Marina or Lake Martin Dock Company
Walk up at 8:30 on race day, fill out a form or print this one and bring it before race time
Course: We will start on the sandy beach and paddle in a 1/3 mile triangle towards Kowaliga Bay and back.

Distance:  This will depend on who signs up, but we are planning to do two races: a 1/3 mile Sprint Race and a 1 mile Race.

What To Bring: Bring your own paddle board (any type or size), paddle, PFD (aka life jacket, required by AL Marine Police), hydration, and any other water safety gear that you need.
Spectators: They have cleared out the point going out to the big water, so if you plan to just watch, register anyway, let us know you're coming, and bring some chairs and refreshments and hang out to cheer!
After Party: Everyone is invited back to Harbor Docks Grill for the after race party.  It's all within easy walking distance of Anchor Bay Marina and the race site.
Parking: Signs will be up race day, but there will be more room to park if you come by car.  We'd love you to come by boat, too, but there is a limited amount of boat slips available.  If you come by car, drive down to the Anchor Bay store to drop off your board and sign up. There will be some room to park out on the point, and also room to park back up on the hill behind the restaurant, right by the Anchor Bay sign.
Sponsors: Lake Martin Dock Company, Anchor Bay Marina, Harbor Docks Restaurant, Benton's Grading and Paving, and little ole us: Lake Martin Voice Realty, have all pitched in to make this a free event.
Photos: we are very pleased to have Lake Martin Event Pics there to take pictures of all of the racing action. Photographer Mike McKay has sponsored the trophies.  Mike is a really nice guy and is a talented photographer.  If you have spent any time on the water this summer, you probably have seen his boat.  Check his website to see if he has a shot of you on your boat!
For more information about the race, see this post.
Attention Lake Martin paddle boarders – or those who might want to be:
– there is a free paddle board race at Anchor Bay Marina on Saturday, June 30, 2012!  Anchor Bay Marina, Lake Martin Dock Company, Harbor Docks Grill, Benton's Grading and Paving, along with Lake Martin Voice Realty, are sponsors. We are really excited to bring a little race to the lake.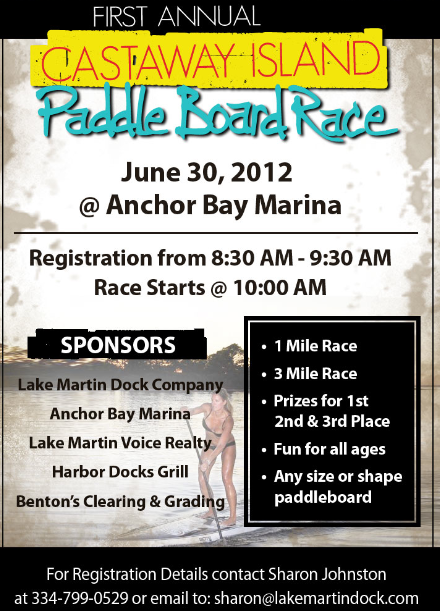 Castaway Island Paddle Board Race Details:
When: 10:00 AM on June 30, 2012 (registration starts at 8:30 AM).

Where: Anchor Bay Marina – Lake Martin, 2001 Castaway Island Road, Eclectic, AL 36024

Cost: FREE  (contrary to the ad in Lake Magazine, we worked it out so there's no charge!)

Registration: 3 ways:
CLICK HERE to fill out an online form, or
Go by Anchor Bay Marina or Lake Martin Dock Company
Walk up at 8:30 on race day, fill out a form or print this one and bring it before race time
Course: We will start on the sandy beach and paddle in a 1/3 mile triangle towards Kowaliga Bay and back.

Distance:  This will depend on who signs up, but we are planning a 1/3 mile Sprint Race and a 1 mile Race.

Gear: Bring your own paddle board (any type or size), paddle, PFD (aka life jacket, required by AL Marine Patrol), hydration, and any other water safety gear that you need.
Spectators: They have cleared out the point going out to the big water, so if you plan to just watch, register anyway, let us know you're coming, and bring some chairs and refreshments and hang out to cheer!
After Party: Everyone is invited back to Harbor Docks Grill for the after race party.  It's all within easy walking distance of Anchor Bay Marina and the race site.
Parking: Signs will be up race day, but there probably will be more room to park if you come by car.  We'd love you to come by boat, too, but there is a limited amount of boat slips available.
If you have never paddle boarded before, it would be a good time to come try one out. Paddle boarding, aka Stand Up Paddling (SUP) is super popular on the coast and increasingly so here at Lake Martin.
This race is the brainchild of Sharon Johnston of Lake Martin Dock Company. Sharon caught SUP fever when visiting the Destin area a couple of years ago. She fell in love with a local paddle board company named BOTE, owned by Magda and Corey Cooper. She ended up buying a board and loving it so much that she wanted to help bring the sport to Lake Martin. Sharon is an enthusiastic person, so she figured the next logical step was to become a dealer for BOTE Boards here at Lake Martin.
This race is an extension of that same passion – a love for the sport and a desire to help spread it here at Lake Martin. Following that theme, the race will be free to anyone that would like to come. We do ask that you register by CLICKING HERE and filling out the form so we can know how many to expect!
Speaking of RSVPs, without Anchor Bay's sponsorship and volunteering the spot, we wouldn't have a place to race! Anchor Bay has areas to park cars and boats, but if you could let us know how you plan to arrive;  that will help us plan for parking. Mike and Linda Sharman at Anchor Bay have been so gracious to hop into the spirit of the event and will be great hosts, I know.
Goals Are Safety And Fun
Our #1 goal is that everyone be safe. We have registered with the Alabama Marine Police to make sure they approve of everything. Our #2 goal is for everyone to have fun. This will not be a super serious, high testosterone, Iron Man / Ninja Warrior race. I'm sure there will be some paddlers that will race very hard and want to win, but again, we are just happy to get together with fellow and potential paddlers. This is what this race is about.
If you have never tried a paddle board, this would be a great time to try. A few representatives from Lake Martin Dock will have BOTE Boards that you can demo. Make sure to mention the "John Coley discount" :)! If you wanted to buy one there, I'm sure they wouldn't object, but again, that isn't what this is all about.
Aliant Bank held a real estate auction for the Lake Martin waterfront neighborhood called Water's Edge on Saturday, March 10, 2012. Since I have written a lot about this auction in the past, and have many inquires about it, I thought I would write this post to summarize my thoughts and the results of the auction.
Please Read This Disclosure
Before I begin, please be clear that I am in no way affiliated with Aliant Bank, though I am a retail customer of theirs. Neither am I affiliated with the auction company J.P. King, Water's Edge subdivision, or any party whatsoever. I am merely an independent Licensed Real Estate Broker in the State of Alabama. I was once the Listing Agent for only the homes at lots 1 and 2 of Water's Edge. I stress that it was for those two homes only, and that agency relationship ended Memorial Day Weekend of 2011. I have no inside information. I gathered information used for my below observations by simply attending the event and writing down what happened, just like any person in America could have. To get any sort of official results or comment on the auction, the best source is either the seller, Aliant Bank, or the auction company, J.P. King.
Waterfront Auction Results
If you are merely wondering what happened and what sold, the short answer is: Nothing.
We all knew, and it was fairly and clearly disclosed by Aliant and J.P. King, that this was not an absolute auction. The bank had reserve prices for everything and they were not under compulsion to sell. Apparently none of the winning bids for the waterfront homes, waterfront lot, nor off water lots were high enough to meet reserve prices. So if that's all you want to know, you can stop reading here.
Video And Audio Lockdown Enforced By J.P. King
Readers of this blog know that I am a big believer in real estate video. Pictures are great and I take plenty of them, but video is a category killer, especially for our waterfront, rural, second home market. My heavy use of video to market homes, lots, and the area in general has been huge blessing. I can't really take credit for this phenomenon, because I owe it mostly to my clients' questions like "what does the view look like from the dock?" or "what does the neighborhood look like from the water?"
I made no secret about my intention to video the Water's Edge auction. I think it was the most significant real estate event for Lake Martin this winter. Why wouldn't I video it? I studied the auction rules and found no prohibition. So there I was, about 45 minutes before the bidding started, with my trusty camera in hand. People were milling about, chatting, and enjoying the complimentary cookies and cokes. I stood back and panned once about the crowd.
I was immediately approached by a lady in J.P. King garb. She stuck out her hand to me as if to shake and introduce, but she didn't offer up her name. I believe "Beverly" was on her name tag, but I could be mistaken. Once I introduced myself, she wagged a finger at me and said, "No video. You will have to turn that off."
Me: "Don't worry, if you don't want me to tape the bidding, I won't. When it starts at 1:00, I will turn it off."
Beverly: "No, you can't video right now either."
Me: "Not even before the auction starts?"
Beverly: "Nope."
Me: "I'm sorry, I didn't see that prohibition in the auction rules."
Beverly: "Well, it's in there."
Then I walked over to the registration table and carefully read through the rules again. I didn't see any such prohibition in the rules, so I walked back over to Beverly.
Me: "Excuse me. I don't mean to be a pest, but I can't find anywhere in the rules that says I can't video."
Beverly: "Hang on." She turns and beckons to another lady that's standing near the front table. As the lady come near, Beverly turns to me and says "This is Christie King." I assume by Beverly's verbal emphasis on "King" and the lilt of her eyebrows as she said it that Ms. King is of relation to the company ownership. This is only an assumption as our introduction was brief and Ms. King's title was not offered to me.
Ms. King: "You have to put that away. No videoing. It's not negotiable."
Me: "I'm sorry, I would have never brought my camera if I knew it was against the rules, but I didn't see anything prohibiting it in the auction rules."
Ms. King: "It's not in the rules. It's our company policy. We don't allow it."
Me: "Why not?"
Ms. King: "It just isn't. We are videoing and we don't allow anyone else. Period. You can't video."
Me: "Not even the pre-auction festivities?"
Ms. King: "No. Why would you want to video anyway?"
Me: "I've been promoting this a lot on my blog. I am in the Lake Martin real estate business and I film big events here at the lake. I think it's a big event for the lake, don't you?"
Ms. King: "Yes, it's a big event."
Me: "I think a lot of people would want to watch a video about a big event like this."
Ms. King: "Well, you can't video anything. What would you do with the video, anyway?"
Me: "I would put it on my YouTube Channel and on my blog."
Ms. King: "Well, you can't. Our policy."
Me: "Yes ma'am."
I turned and went back to my truck and put up all of my video equipment. Fast forward 45 minutes to 1:00, auction time. The auctioneer takes the podium and asks everyone to gather under the tent. Everyone sat down and got quiet as the auctioneer read through the red tape and disclosures. That took about five minutes.
Then he said, "okay ladies and gentlemen, we are now ready to auction, err… hold on."
This same Ms. King was talking with him and apparently asked him to stop. She got up from her position next to him at the head table and started walking determinedly in my direction. Please keep in mind that I am standing outside the tent behind a buyer that I helped register. Also keep in mind that I had my iPhone in one hand and the bid sheet in the other. I am pretty sure that 90% of the other 100 people there had smart phones as well, but Ms. King walked directly up to me, and only to me.
Ms. King: "Are you audio taping this?"
Me, kind of incredulously: "What?"
Ms. King: "Are you audio taping this?"
Me: "No ma'am."
Ms. King: "Audio taping is against the rules, too."
Me: "I'm not taping anything."
Ms. King: "Because if you are audio taping this…"
Me, interrupting: "Ms. King, I am a rule follower. I am not here to disrupt anything. I give you my word I am not recording in any way. I don't recognize your right to ask to see my phone, but I do volunteer to let you look at it to assure yourself I am not taping."
Ms. King, flicks a hand up in the air and walks away: "OK, well, that's fine, if you say you're not taping…"
Me: "I'm not."
Again, I stress, she didn't talk to anyone else. Neither did the auctioneer make a public announcement against taping anything. Ms. King sat down at the table, nodded to the auctioneer, and he began, "OK, ladies and gentlemen, at this time we will start to receive bids…." and away he went.
Detailed Account of Water's Edge Auction Results
Many of you readers have asked me exactly how the auction was conducted. There was lots of curiosity out there on how it would happen, like, would they try to auction the entire thing first? Or break it into parcels? Would you get to pick your lot? In general, the auction order was:
1. The "Island" portion, they marketed this as Narrow's Point at Water's Edge – but most people know it as the end of Coosa 20. It had 2 older waterfront homes and 9 waterfront lots.
2. The Cottages portion – this is where the 2 new homes were built. Only one of the new homes was in the auction, but 8 other waterfront lots were included in the bidding.
3. Off water lots
1. The Island Portion
First up, they auctioned the older but fixed up and woodsy waterfront home on the end of the point. They called it Lot 1. The high bidder there was $300,000. Next was Lot 2, an older and less craftsman home, and the high bidder was at $215,000. After those two were completed, I felt there was only a small chance that the bank would take bids that low. I also felt this did not bode well as an indicator for the rest of the auction.
Next, they auctioned the rest of the waterfront lots on the island, but here they did it as "buyer's choice." They explained that they would auction in general, and the high bidder could buy which ever or how many lots he or she desired at that price. The highest bid first was $85,000, and the buyer picked Lot 11, or the one right next door to the home on Lot 1. The second and third bidders were at $85,000 also, and chose lots 10 and 8, respectively. The other six waterfront lots went from a low of $67,500 to a high of $70,000.
The next phase was extremely, extremely, curious to me. They announced that they would "re-bid" any parcel that anyone wanted. The auction company said that there was "great demand" to re-bid some parcels and they would put them back on the block. If you were the winning bidder the first time around, don't worry, they said, because you will have a fair chance to "defend your original bid" aka bid higher. Perhaps this is normal, but it struck me as odd. Why not re-bid 4 more times? I was anxious to see how the crowd would respond, and if this would spur prices more acceptable to the bank. In the end, by my count, they only re-bid 4 lots. The bids were higher the second time around by an average of about $9,000. For example, Lot 9 bid for $70k the first time and $79k the second.
Next, the auctioneer announced that the bank has decided to offer a "once in a lifetime, unique opportunity" to buy the entire Island portion, unfinished, as is. The high bidder for the entire parcel, if acceptable to the bank, would take precedence over the individual lot high bidders. The bidding began, and the high bidder was $1,350,000. Since that was only slightly higher than (by my unofficial count) the $1,183,000 sum of all the individual bids, I thought it inconsequential. After this, the auctioneer announced that they would take a short break to let the bank consider all of the bids.
About five minutes passed. The auctioneer came back to the podium, thanked everyone profusely for bidding, but said something like "at this time, Aliant has selected to keep these pristine lots rather than sell them for too low a price." This caused a great degree of grumbling in the crowd. Ten or fifteen people abruptly left. A few asked questions like, "so the bids weren't above their reserve price?" And he answered, "no." I can't imagine that anyone thought the bids were absolute. Aliant and J.P. King did a good job of disclosing the there were reserve prices on everything, so if anyone was mistaken about that it's certainly not Aliant or King's fault, in my opinion.
2. The Cottages Portion
The auctioneer didn't hesitate for long, but flowed right into bidding the Cottages area. This consisted of the one remaining new home, and 8 waterfront lots. He talked briefly about the unique opportunity to own such a pristine place on Lake Martin, and started the bidding on the home at lot 2. Here's where I got nervous.
I was concerned because I had a friendly "loser buys lunch" wager with fellow Lake Martin Voice Realty agent John Christenberry. He thought that the older home on lot 1 on the island would bid within 10% of the new home on lot 2 of the Cottages portion. I disagreed, and came out the winner, as lot 2 of the Cottages' high bid was $390k, or a comfortable 30% above lot 1 on the Narrows. Confident in my win, I settled back to watch the rest of the auction, dreaming of a Gulf Shrimp Po Boy and wine lunch at Springhouse. Appetizer. Dessert. I plan to stick it to him.
Back at the auction, J.P. King then moved on to the waterfront lots of the Cottages section. Since no more waterfront homes were available, and (I guess) since many buyers realized the bank had high reserve prices, most all of the bidders got up and left. Maybe 20 bidders were left under the tent. There were still plenty of people around, mind you, but they were lake realtors like myself, Aliant Bank folks, auction staff, and neighbors walking their dogs. J.P. King auctioned these waterfront lots just like the ones before, or buyer's choice. The high bidder selected the lots.
Lot 10 was selected first by a bidder at $75k. Lot 7 followed at the same price, then lot 3 went at $72.5k. The rest went for decreasing increments with the last at $67.5k.
3. Off Water Lots
The off water lots of Water's Edge were the last to be auctioned. I will admit a bit of confusion on this portion. I was paying attention very carefully but I had a hard time keeping track of which lots were selling. They bid this as a buyer's choice also, so sometimes the bidders would shout out their desired lot by the lot number, and then sometimes it was by the parcel number designated by the auction sheet.
It seemed to me that only 9 or 10 people were left that were really bidding. Each high bidder had to announce their bid number and I wrote that down on the form provided. The highest off water lot went at $6,500 and the lowest at $1,250. By that point in the day, the bidding was loose and casual. One guy was even letting his kid bid by going "yeeeeeep" like they do on Storage Wars. It was funny.
The End
After all the bidding was completed, the auctioneer asked for more patience as they talked with the bank to see if they would accept the bids received on the Cottages portion and the off water portion. After about 10 minutes the auctioneer came back and said they haven't decided yet, but all high bidders would be contacted by noon, Monday, March 12, by the bank. He thanked us all, and that was that. It was over.
I have since talked to some winning bidders, and they were eventually contacted by Aliant. They were told that the bank has a buyer for the entire project, that they were currently negotiating with them, and they would let the bidders know what happens. I don't really know what to make of this. Did Aliant have a large buyer in their pocket the entire time? If so, why the auction? Was it an attempt to demonstrate value, or just a grand negotiating tactic? Mine is not to reason why. One thing is clear – the auction on March 10 did not produce one single real sale at Water's Edge. I can't know if this accomplished Aliant's goals or justified the cost of the auction, because I don't know their goals. I also don't know how much it cost them to hire J.P. King to do this. I have talked to people familiar with auctions of this size, and they said it can cost anywhere from $100,000 to $300,000, depending on things like advertising, signage, and entertainment.
Statement On Consumer Preference Of Lake Martin Buyers
Lack of real sales aside, the Water's Edge auction to me was always much more interesting as a study in consumer preferences. By consumer preferences, I mean, are Lake Martin real estate buyers desiring an auction format rather than dealing with realtors? Would they be swept up in a fever pitch to pay at or above market values? You never know. Music industry execs didn't think that consumers would want to buy one song at a time, either. Boy were they wrong about iTunes.
My general opinion was that the bidders were unfazed by the pace or the presentation of the auction format. Occasionally, the auctioneer would pause and describe what a pristine opportunity this was. This didn't seem to increase bids. Also occasionally the fellows working the crowd for J.P. King would take part in the excitement. Their official job seemed to be to help the auctioneer spot bids, but sometimes they would holler out something like "woo-hoo!" or "that's what I'm talkin bout!" when someone would bid. They would mill about the crowd, offering to lighten the mood with jokes like "at these prices, I'd give em for Christmas presents!" which drew chuckles the first time but not the second. They also tried well meaning picture painting by saying, "hey folks, can't you imagine waking up to that nice view every morning, ya-hoo!" Still other times they would pause the action and ask a procedural question like, "Mr. Auctioneer, is it true that there is no buyer's premium if these good people purchased today?" whereas the auctioneer would respond with, "that's right, ladies and gentlemen, with no buyer's premium, what you bid is what you pay. What do you say, folks, let's …."
This whole process fascinated me. People bid, it is true, and occasionally the above encouragement led to a few more additional bids from where it had stalled before. But those additional bids were, for example, from $65k to $66k, not to $120k like I think the seller had hoped.
Maybe other auctions are different, I sure am not an expert. But I can say that at Lake Martin, on that day, for Water's Edge, buyers did not seem to be swept up into a mindless, piranha feeding frenzy of buying. In other words, they did not check their brain at the door, they had a good idea of what they wanted, and stuck to it.
Obviously, I am biased as I am a real estate agent. But the whole thing confirmed for me what I hear from my buyers: second home and lot purchases are a big deal. Quite often my buyers have been thinking or dreaming for years about this, and dedicate many months to research and consider all of their options while they are actively looking. They don't like pressure, and they don't like to feel rushed.
What's Next With Water's Edge
Many people have asked me what I think Aliant will do with Water's Edge. I have no idea. Is it true that they have a buyer for the entire development? You had better ask them. I still say, after all of these years, that Water's Edge, Eagle Point, whatever you want to call it, has tremendous potential. It has had some snags in the past, it is true. But I have seen what someone with talent can do with it. Bryan Jones looked intensely at Water's Edge and drew up one of the coolest master plans I have ever seen. Can someone buy it all and flip it and become rich? I doubt it. But I still like it, and will be watching just like everyone else.
I'm sorry this post is so long, but I didn't want to break it up. If you actually read the entire thing, I thank you. Come by my office and I will buy you a Slim Jim as a reward. I'm exhausted.