Archive for the 'Events' Category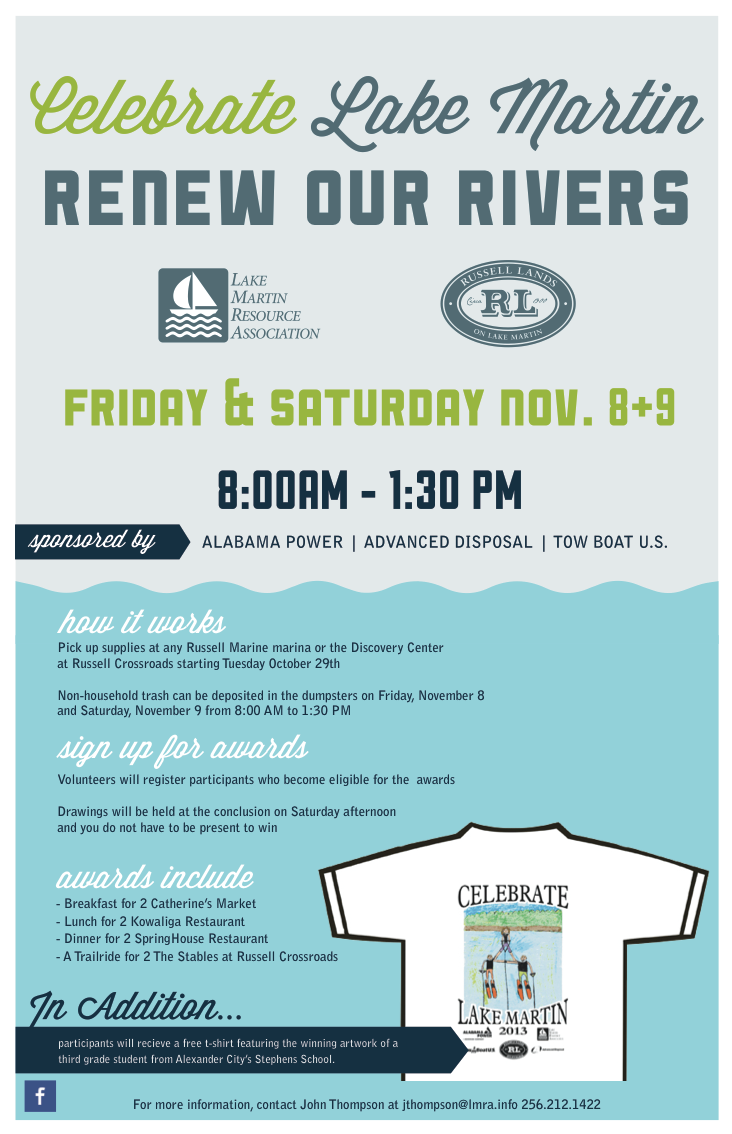 Alabama Power's Renew our Rivers annual Lake Martin cleanup days are Friday, November 8th and Saturday, November 9th.
It's easy to participate:
1) Contact John Thompson at (334) 323-7880,  of the Lake Martin Resource Association to learn what sites around the lake will be cleaned.
OR
Pick up supplies at any Russell Marine Marina or the Discovery Center at Russell Crossroads starting Oct. 29th.
2) Show up
Volunteers are welcome. Bring the whole family.  Free t-shirts and prizes!

Sometimes it helps me get excited about a cause when I can see a bigger picture or greater goal.  I'm just one guy, just a realtor.  Is it really worth my time to drive to the lake to pick up a little trash?
It is.
The Lake Martin Cleanup is a part of a HUGE effort begun by Alabama Power in 2000 that now reaches across the entire Southeast.  The amount of trash and debris collected is enormous; according to the Alabama Power website, "More than 10 million pounds of trash and debris has been removed from Alabama, Georgia, Mississippi and northwest Florida waterways with the assistance tens of thousands of volunteers who have participated in the volunteer-led cleanups."
That's a lot of trash that is now out of our rivers and lakes!  As we've learned through the Martin Dam relicensing process, Lake Martin stakeholders are not just the waterfront property owners.  If you have visited Lake Martin for a day of boating, or work for a small business in the area, you are a stakeholder.
And kudos to Alabama Power for creating and organizing such a beneficial event.
You can check out past Renew Our Rivers events on the Renew Our Rivers YouTube page.
Related Posts:
Clean Lake Martin and Get a T-Shirt to Prove It! 2008
Clean Up Lake Martin Tomorrow 2009
If you're at Lake Martin today, you might want to check out the Fall Festival at Russell Crossroads. They have all kinds of activities and it should be in beautiful weather. Scavenger hunts, duck pulling, pie contests… wow! Check their flyer below or click here for more info.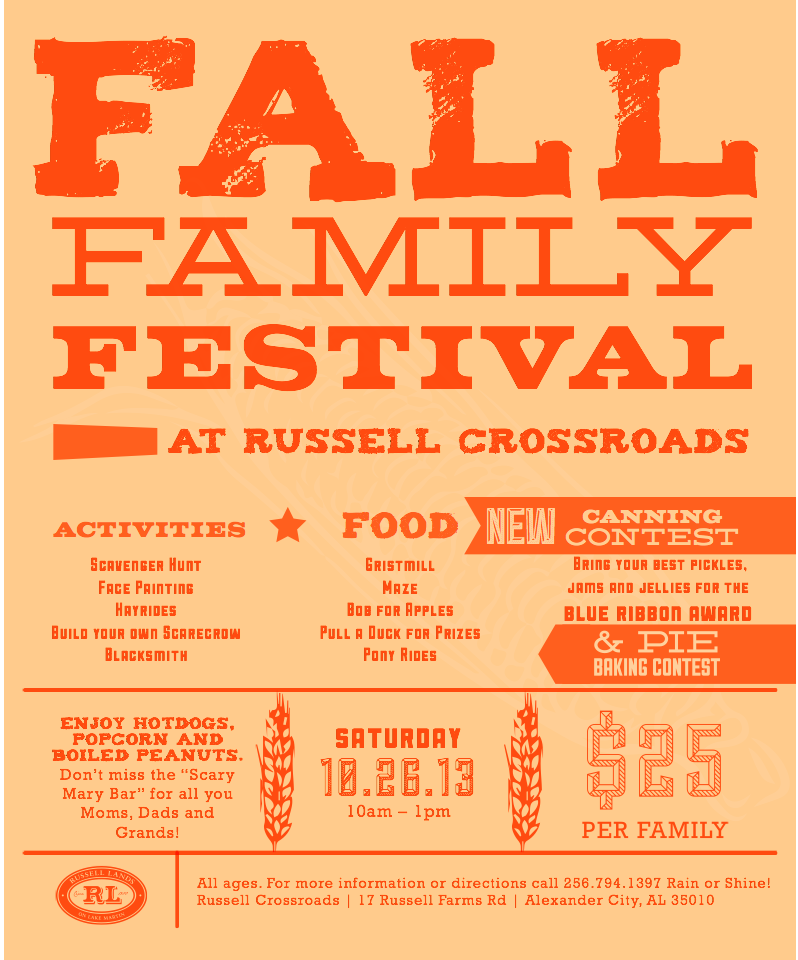 Yes, the weather was soggy at Lake Martin this 4th of July, but the fireworks at The Amp did not disappoint. If you've never been to The Amp (Lake Martin Amphitheater) to see the show, let me highly recommend it – there's just something about being incredibly close to the booming and bursting that makes time stand still. They're beautiful from the water, no doubt, and there is something so unique about watching the show from the boat.  But if you want to feel it in your guts, try it at The Amp. And barring a monsoon like this year, there's always a live concert leading up to the action.  Thank you, Russell Lands!
Our cabin is close enough to The Amp that we can watch them from our back yard – the occasional shrapnel burns holes in our boat bimini, and our guests sometimes walk away with gray soot on their faces.  But for kids and adults alike, this is thrilling.   Here are a few pictures I took that I think help capture the experience of fireworks at The Amp: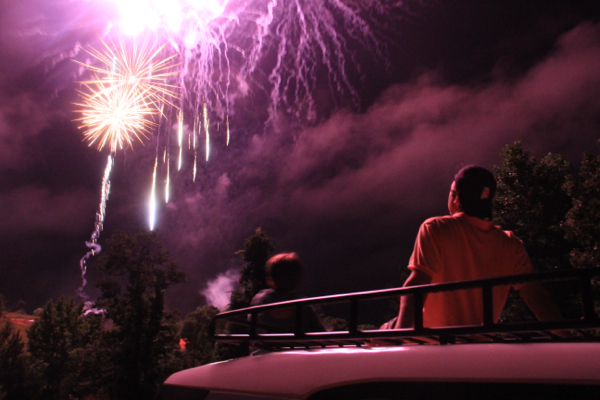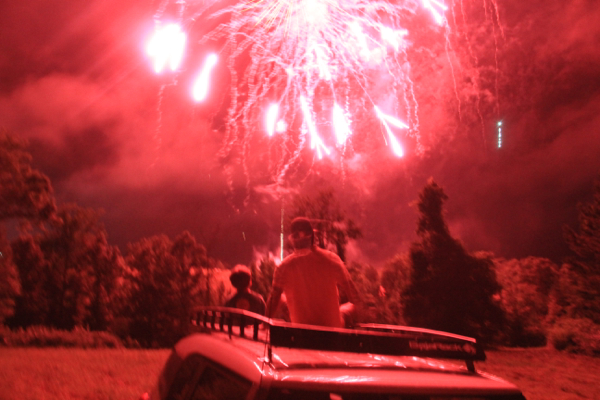 Our friend in these pictures brought his two young sons for their first fireworks experience, and it did not disappoint!  I imagine it will take a lot to wow these boys with fireworks in the future. Sparklers will no longer suffice.
In addition to fireworks, The Amp holds concerts throughout the year.  Click here to check out their website and schedule.  Some are ticketed events, but the fireworks are free!
If you'd like to invest in Lake Martin and add 4th of July fireworks at The Amp to your family's list of yearly traditions, give me a call and let's talk waterfront real estate. I sell Lake Martin full time, 100% of the time, and would love to help you with your search.  Call me at (334) 221-5862, email me at [email protected], or click here to contact me.
Here's a video of the finale of the Lake Martin Fireworks show for Independence Day 2013. The fireworks were provided by Russell Lands, and shot at The Lake Martin Amphitheater.
The fireworks show was originally scheduled on July 4, of course, along with a concert, as in prior years. But the Lord decided differently, and sent a rain storm that caused the show to be postponed until 9 PM on Friday, July 5, 2013.
As always, we at Lake Martin Voice Realty thank Russell Lands and The Amp for a great fireworks show! It looked great from the ground, and I am sure folks in the thousands of boats on Lake Martin enjoyed it, too!
We at Lake Martin Voice Realty give thanks to Almighty God for allowing us to live in America, blessing Her with another birthday, and we fervently pray for revival within and without the USA!
Russell Lands has postponed their Fourth of July Fireworks show. They shoot the fireworks from The Lake Martin Amphitheater on Friday at 9 o'clock.
According to their release:
"The weather has forced us to postpone The Amp event originally scheduled for tonight. The fireworks will take place at The Amp tomorrow night, Friday, July 5, at 9pm. Unfortunately, we are unable to include the concert portion of the event because of the artists' existing bookings. Everyone is welcome. No ticket purchases are required. If the weather forces further event schedule adjustments, you can find them on our Facebook pages."
June 8, 2013.  The Lil' Calypso Art Festival at Chuck's is a really fun Lake Martin event.  First of all, it's at the well known Chuck's Marina in Blue Creek, so there's pizza and live music.  Second, there's a broad, diverse group of artists represented – from t-shirt  and Lake Martin knick-knack vendors to what I consider to be serious artists, both painters and sculptors. I've videoed a few of the booths in the video below.
This is pretty famous Lake Martin annual event they do as a fundraiser for the Union Volunteer Fire Department.  It's the first time I've been in several years, and the parking is tight, but they have a shuttle to take you back and forth to your car.  You can check out Chuck's Facebook page for info on their events throughout the summer.
If you're not familiar with the restaurant side of Chuck's Marina, Chuckwalla Pizza, here's a quick video I shot about it several years ago:
The Blue Creek area is a really fun area of Lake Martin – lots of restaurants, marinas, and landmarks.  If you're interested in finding a home in the Blue Creek area – or any waterfront area of Lake Martin – give me a call at (334) 221-5862, email me at [email protected], or click here to contact me. 

One of the best times I've had with my kids at Lake Martin was the Slingshot Wakeboard Demo at Blue Creek Marina back in 2011.  If you're on the east side of Lake Martin, Blue Creek Marina is a great resource for boats, service, storage, a ship's store, plus cool boating and wakeboard gear.
Last summer we made a special trip over there to buy the kids a wakeboard, new rope, and yes, helmets (my nickname is "Safety John" around the house).  My teenage nephew was mortified by the helmet, and ok, at our skill level we can do without them.  But I do love to be prepared. Plus, I convinced them to wear the helmet by convincing them it was the best way to put a GoPro camera on while you wakeboard.
They have fun demos every summer, so check out their events calendar for the latest updates. If you are trying to reach Blue Creek Marina, call 256-825-8888. Ask for Justin or Kevin in boat sales, they will treat you right.
Here's a quick Blue Creek Marina tour:
and here's the wakeboard demo video we made back in 2011:
If you're interested in waterfront real estate on the eastern side of Lake Martin – or any side of Lake Martin – give me a call at (334) 221-5862 or click here to contact me via email.
I was glancing through the February issue of LAKE Magazine – looking for my monthly column –  and I had to grin when I saw this article.  Allison Trumbull got engaged at Children's Harbor.  I helped her parents find a lake home a few years ago, and clearly Lake Martin has become a big a part of their lives.  And now their daughter has added a Lake Martin engagement as a part of their family's "story. " Very cool.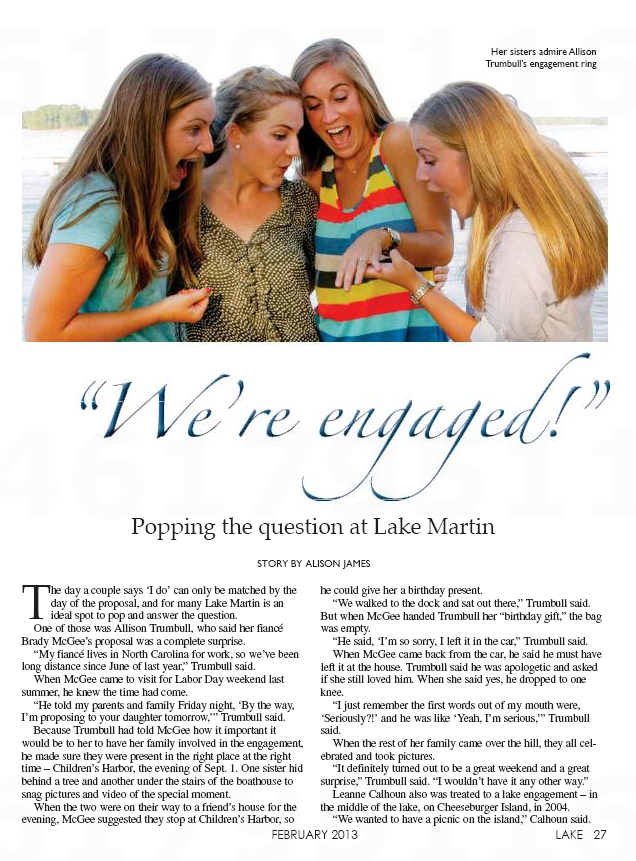 The fact that LAKE Magazine now has a "Wedding Edition" in February is proof that there are more couples getting engaged and married here. Maybe Lake Martin is becoming a destination to rival Cabo?  Glancing through LAKE's Wedding Edition, I can see that the Lake Martin community is responding with more venues, caterers, photographers, etc.  That's a great sign for the Lake Martin area economy.
Have you been to a wedding at Lake Martin?  Do you have any pics or advice to share? Use the comment box below and let us know about your experience.  And if any of your wedding guests decide they, too, need a Lake Martin home, I'm your man.  Give me a call at (334) 221-5862 or CLICK HERE to contact me.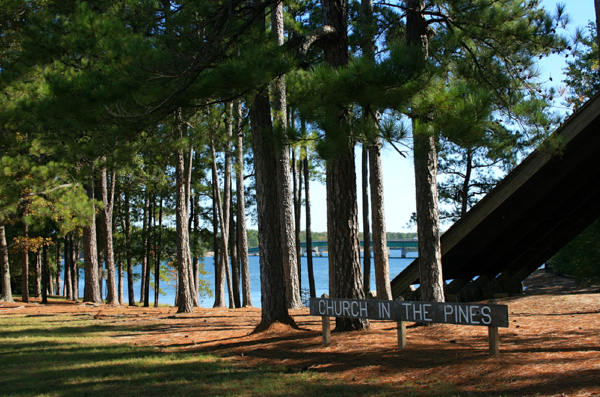 The other day I got a phone call from a lady in Pike Road, AL, asking about the above picture I took of Church in the Pines a few years ago.  Her friend plans to have a wedding there this summer, and wanted to send out a Save-the-Date postcard. They ran across this picture on my Lake Martin Voice Flickr account and wanted to use it on their card.  Of course I said yes!  What an honor.
For people who love Lake Martin, Church in the Pines is a popular place to get married.  It's a beautiful, open air, non-denominational worship facility that sits at the foot of Kowaliga Bridge on the western side of Lake Martin.  There's seating under the roof for up to 850 people, and areas on the lawn for more guests, if needed. It's part of the Children's Harbor's Lake Martin Campus, so FOR CHURCH IN THE PINES INFO AND SCHEDULING, CALL WANDA COKER AT (334) 857-2040, OR EMAIL HER AT [email protected] You can also visit their website by CLICKING HERE.

Here's a video I shot of a Sunday morning worship service a few summers ago.  The building has been renovated since then – they switched out the benches, and poured concrete walkways to help people get in and out more easily.
I have heard from several people that Church in the Pines books up quickly, so be sure to call as early as you can.  Children's Harbor also has the Children's Chapel available for weddings.  It's that pretty white church next to the lighthouse (on the opposite side of Kowaliga bridge from Church in the Pines).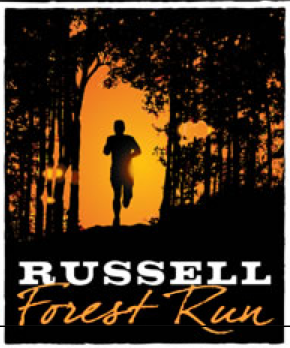 The 4th Annual Russell Forest Trail Run is Saturday, February 23rd.  I've enjoyed running it the past three years, and I plan on being there again this year.  Proceeds from the race benefit the Alexander City Schools Education Foundation (ACSEF), and there's always a super good reception after the  race with food from SpringHouse Restaurant. 
The trails are sand, clay and gravel roads, so it's a good change of pace for those of us who regularly run on asphalt.  The elevation is more than I am used to, but it's doable and fun because of the scenery.  People always ask me how hilly it is, so I've got the elevation and the route documented on RunKeeper.  CLICK HERE if you want to check it out.
You can CLICK HERE to register at Active.com
Race Information:
Saturday, February 23rd
10K at 7:45 am CST ($40)
5K at 8:45 am CST  ($20)
Race packets can be picked up on Friday, Feb. 22 from 4:00 – 6:00 pm and Saturday morning from 6:00 – 7:30 am (until 8:00 for 5K participants) at the Discovery Center at Russell Crossroads.
Here is a screen shot of the race route that I tracked on RunKeeper. RunKeeper tracks the elevation, too, so CLICK HERE to go to the live version and get the scoop: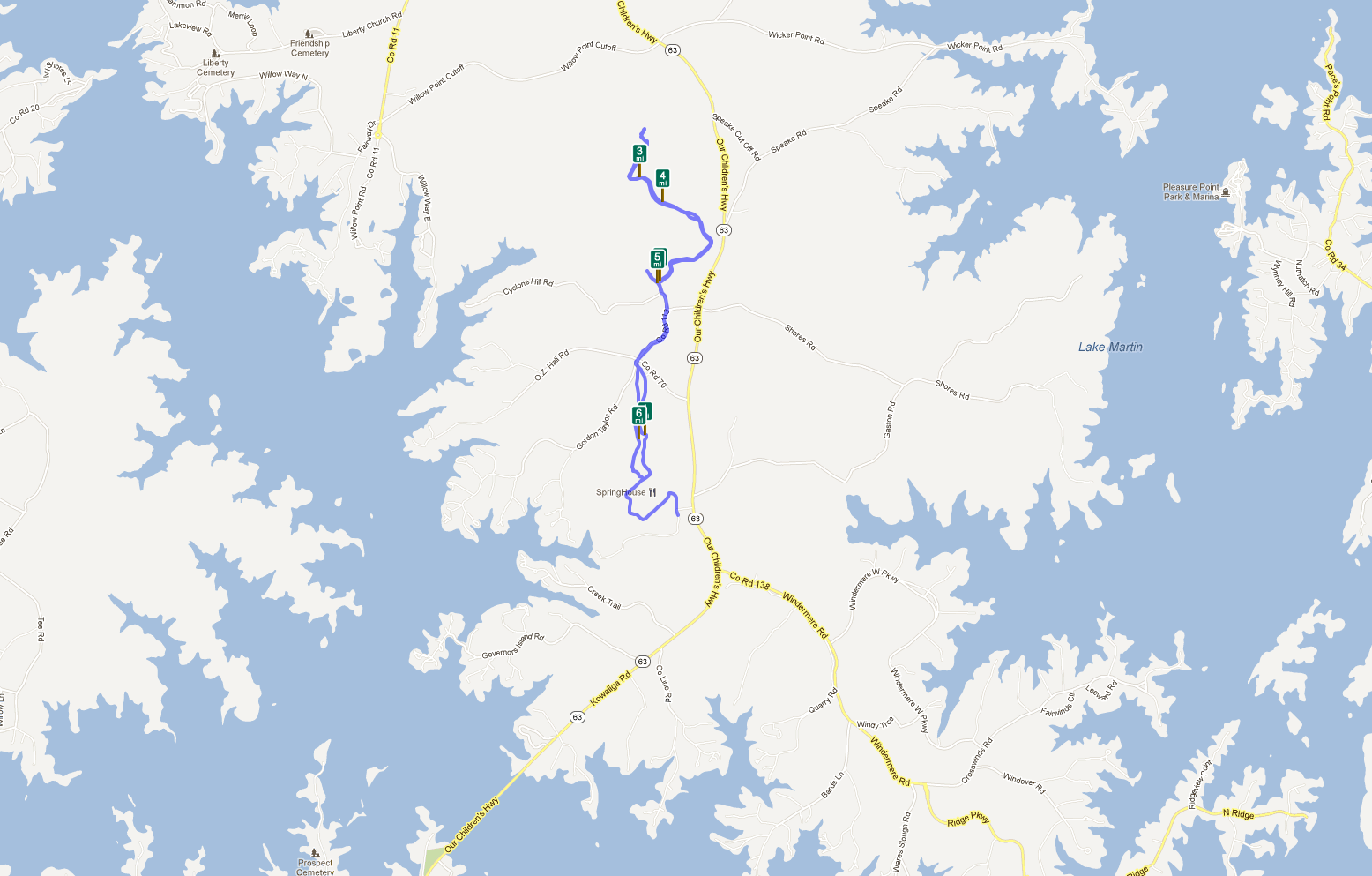 Here are pics from the starting and finish lines of a past race: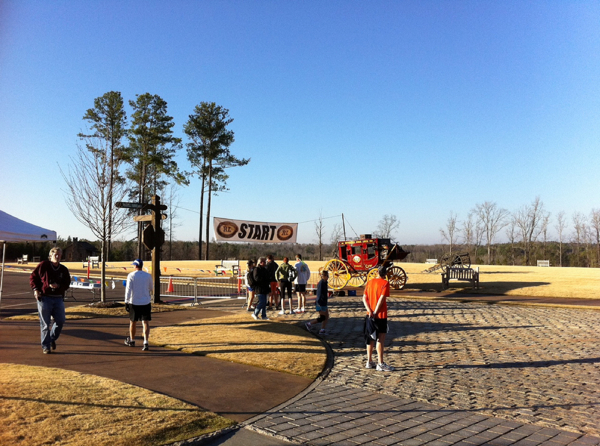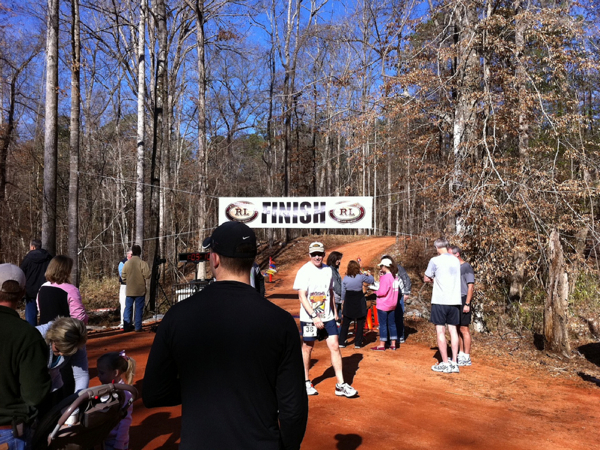 Hope to see you there!
Related Posts: